Milanese salad is an unusual and original dish, suitable for a family dinner or a festive table. Surprise guests and loved ones with an unusual combination of smoked fish and pasta. A harmonious and tasty salad you will definitely remember.
For the recipe, you will need smoked mackerel, pasta, sour green apple and onion for spiciness. The salad has a rich bright taste, it will not do without additives. If you often cook fish salads, then you will definitely like this option! The dish can be served as an appetizer with a glass of cold beer or other strong drinks.
Ingredients:
Smoked mackerel – 200 g.
Macaroni (like horns) – 100 g.
Green apple – 80 g.
Onion – 50 g.
Mayonnaise – 100 g.
Salt, black pepper – to taste.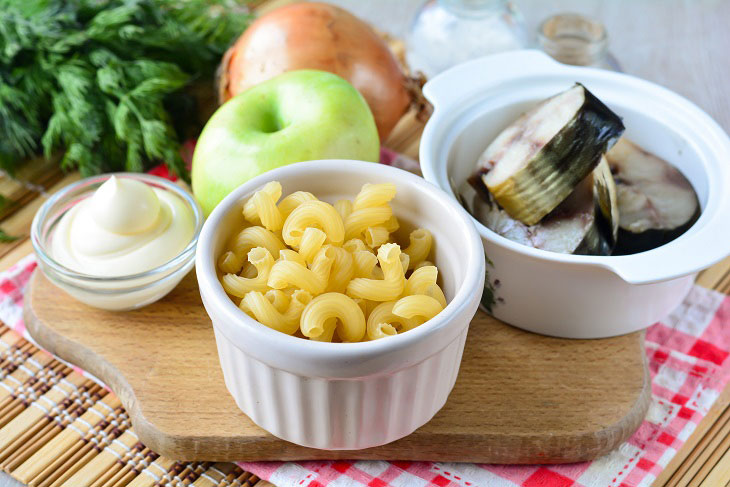 How to cook:
1. Boil macaroni until d1. Boil water, salt a little, add pasta, stir so as not to stick together and cook until tender, as written on the package, about 7-8 minutes. Drain water, let pasta cool.
For the recipe, use pasta in the form of horns or bows.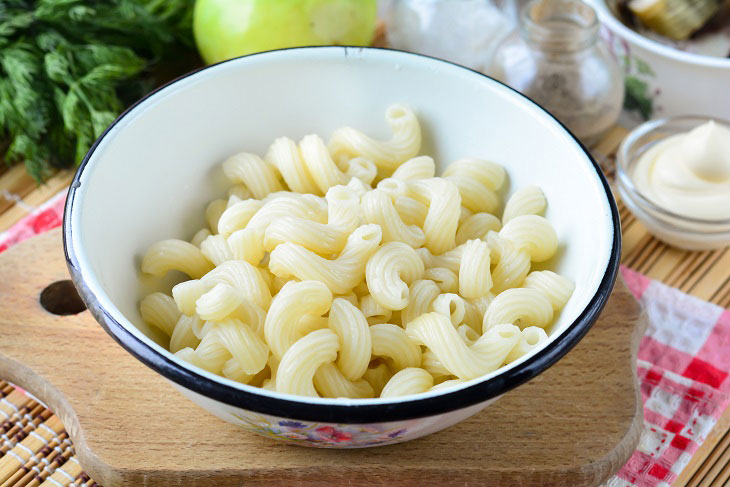 2. Clean smoked mackerel from skin and bones.
Mackerel has few bones and is easy to clean.
Cut the fish fillet into medium pieces for salad.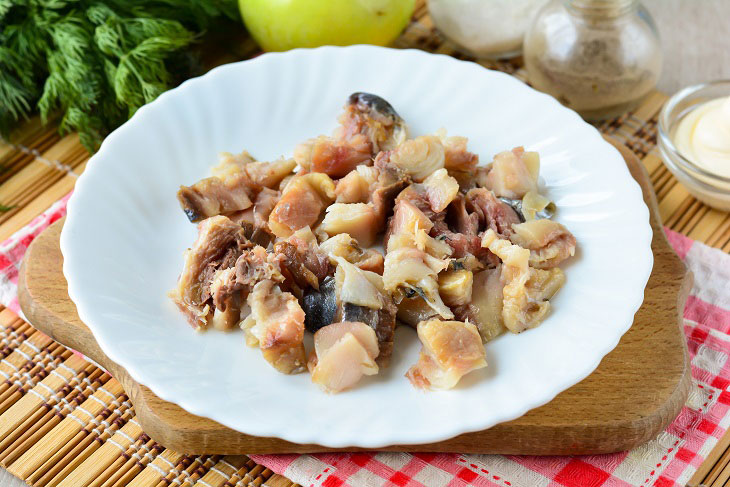 3. Peel the onion, cut into half rings or quarter rings. If you want to remove the sharpness, then scald the onion with boiling water, then pour cold water for a few seconds.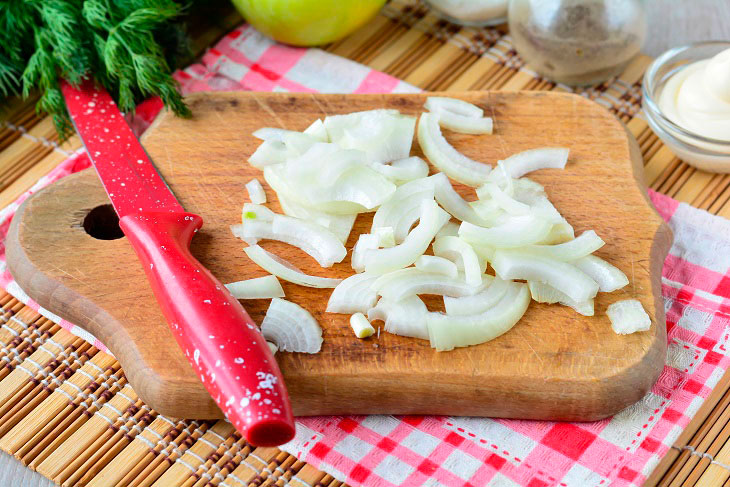 4. Cut the green sour apple into small cubes – you do not need to peel the apple. Sweet apples are not suitable here.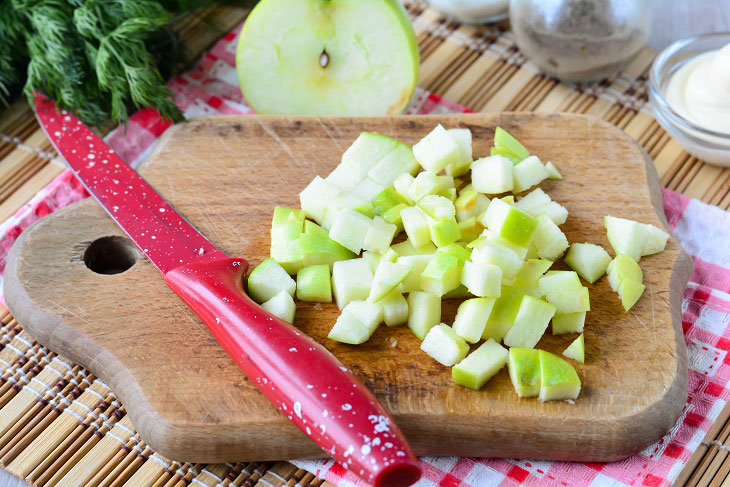 5. Pour all the prepared ingredients into a deep bowl and mix – pasta, smoked mackerel, apple and onion.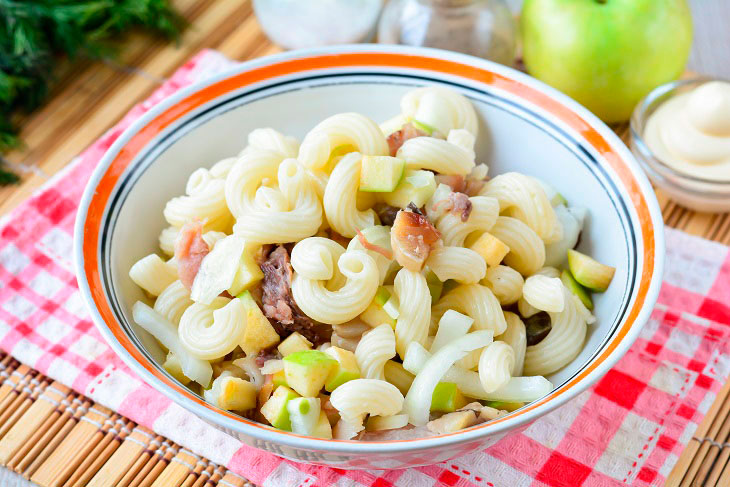 6. Pour salad with mayonnaise, salt and pepper to taste. Stir to combine all ingredients. Be careful with salt, as smoked fish is quite salty. Salt in this recipe can be omitted.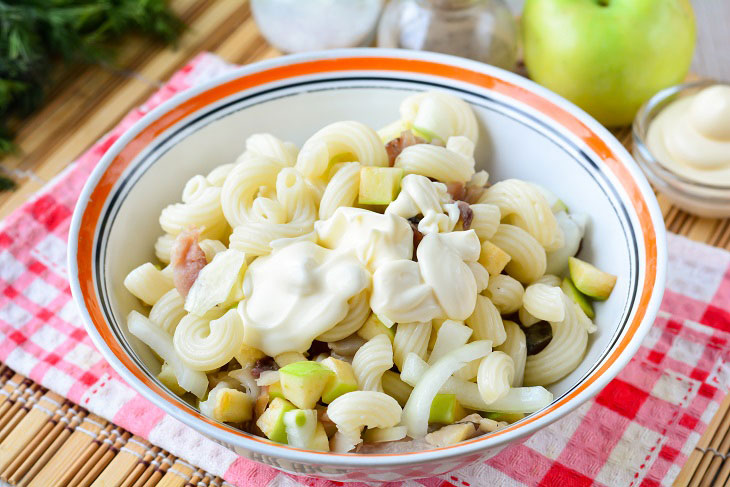 Serve the finished salad to the table in a suitable dish and in portioned form. Men will especially appreciate this appetizer!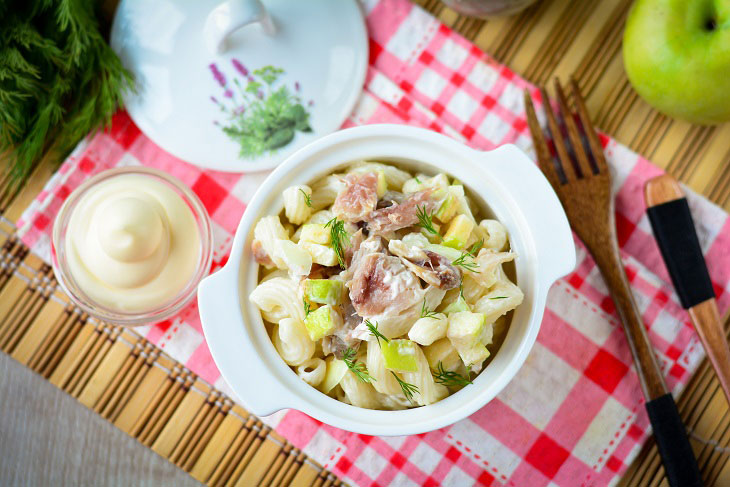 Bon appetit!