We offer to prepare an original and tasty Mimosa salad with corn. Corn is ideally combined with vegetables and canned fish, be sure to prepare such a dish for the festive table.
Use the classic set of salad ingredients – boiled potatoes and carrots, eggs, canned fish and mayonnaise. You will also need canned corn, which gives the salad extra juiciness, a bright look and a sweetish aftertaste. If you are preparing a menu for a festive table, then this recipe will definitely come in handy for you.
Ingredients:
Sardines in oil – 180 g.
Potatoes – 150 g.
Carrots – 100 g.
Canned corn – 100 g.
Chicken eggs – 1-2 pcs.
Mayonnaise – 150 g.
Salt, black pepper – to taste.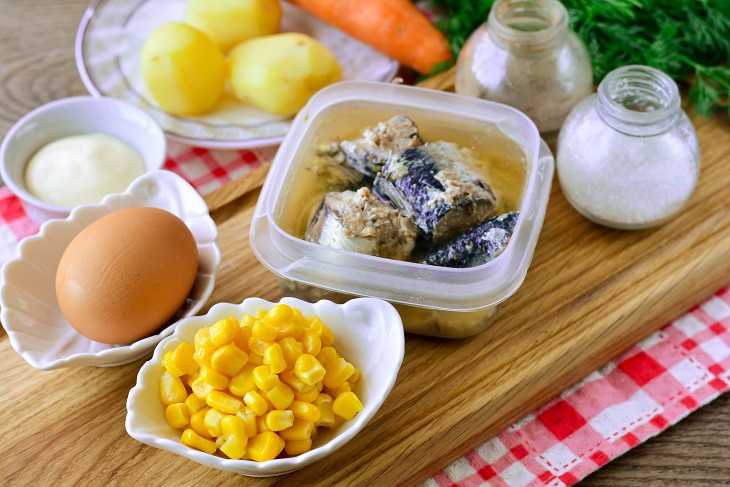 How to cook:
1. For salad, boil root vegetables in advance – potatoes and carrots. Potatoes and carrots are cooked for about the same time – about 20 minutes. Check readiness with a knife so that the vegetables are well pierced. Cut and peel the root crops, then grate the vegetables.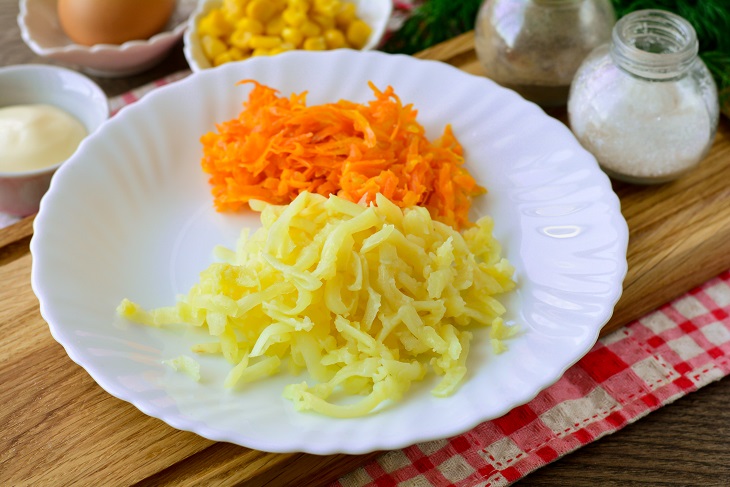 2. Start collecting lettuce. Put the boiled grated potatoes in the first layer, add some spices to taste, and pour over with mayonnaise.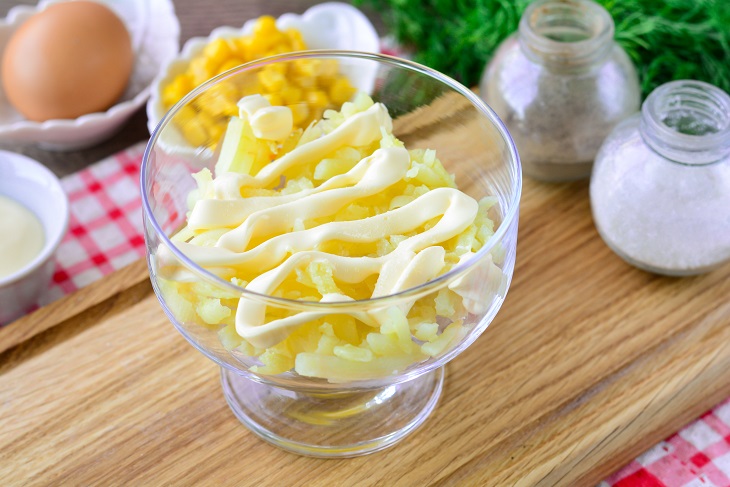 3. Remove canned fish from oil, remove large bones, central spinal bones, chop the fish – mash with a fork.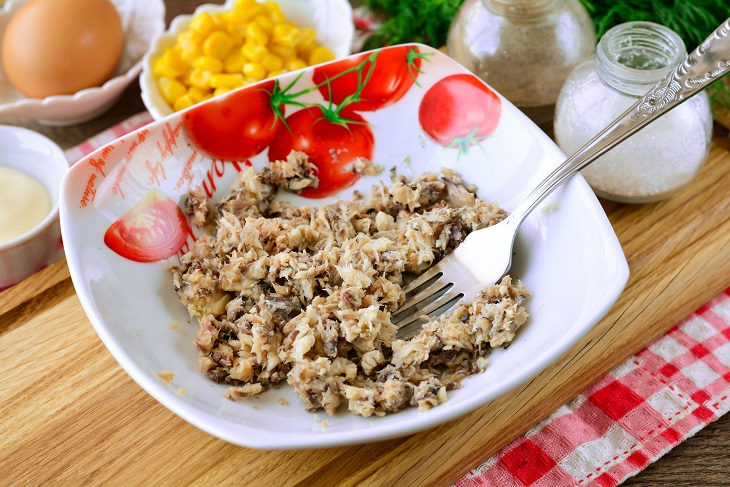 4. Put the canned fish in the second layer, grease with mayonnaise, but not much, the fish is already juicy.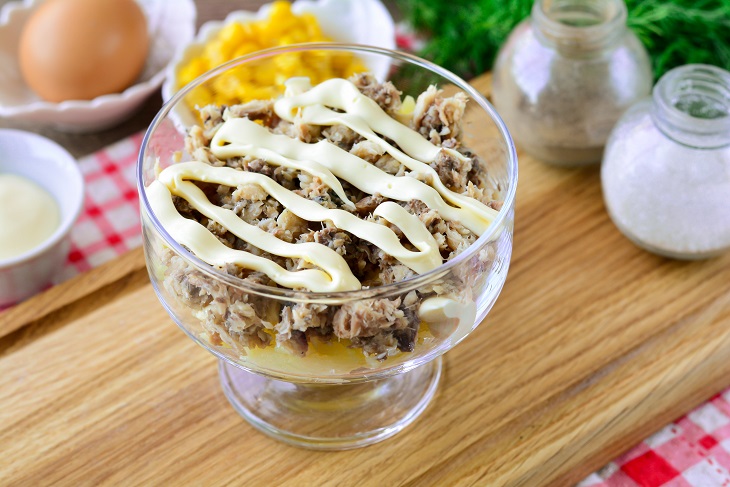 5. The third layer will be carrots. Flatten the carrot and pour it with mayonnaise, lightly salt.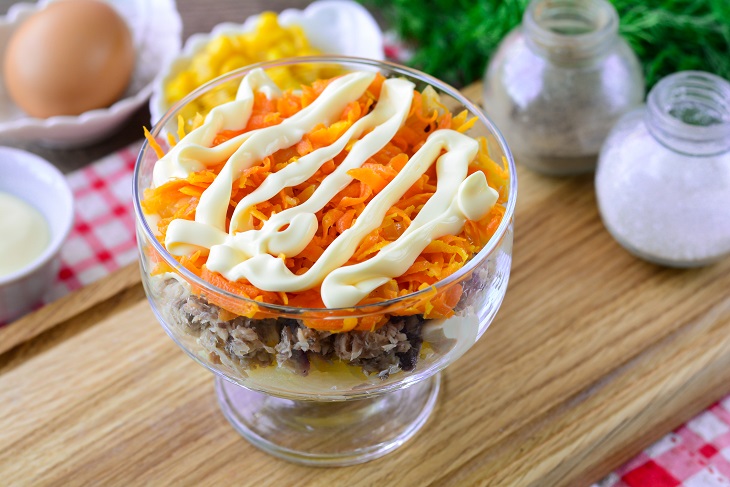 6. Cool the hard-boiled chicken eggs, and then peel them by removing the shell. Grate the eggs on a medium-sized grater and put in the salad in the next layer. Add spices to taste – salt and black pepper. Lubricate the egg layer with sauce – mayonnaise.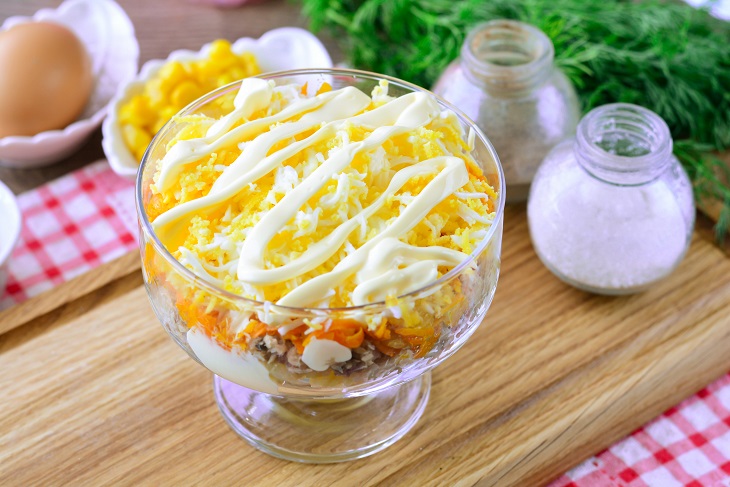 7. The last layer will be canned corn. Drain the marinade and spread the grains in an even layer.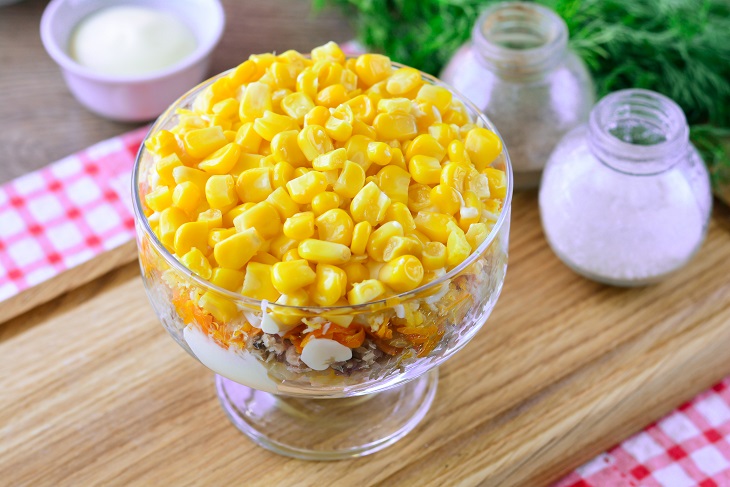 8. Put the dish in the refrigerator for 15-20 minutes, and then serve.
The salad turns out bright and very tasty. Juicy, appetizing and fragrant "Mimosa" is ready. The dish will certainly complement your holiday table.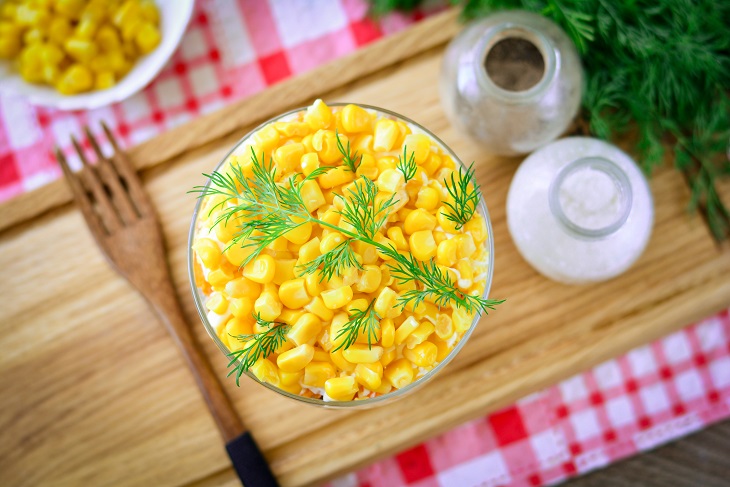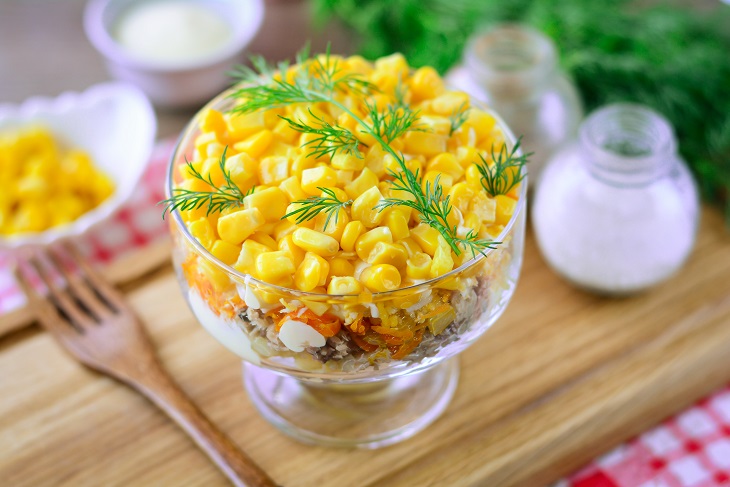 Enjoy your meal!