The composition of the Zhigulevsky salad includes products that contrast in taste and texture: chicken fillet, crispy cucumbers, juicy Korean carrots and boiled eggs. Due to this combination of products, the taste is unusual, with a slight sharpness and piquancy of pickled vegetables. A traditional dressing for hearty winter salads is made from mayonnaise.
Chicken can be cooked as convenient: boil, bake, fry or buy ready-made smoked breast – the latter option is relevant when there is absolutely no time for cooking. In the same case, ready-made Korean carrots will also help out – it is inexpensive and you don't have to wait several hours until it marinates. But if time allows, then it is better to cook carrots at home, adjusting the proportions and composition of spices to your taste. And boil the chicken – it will be soft, juicy and will perfectly fit into the flavor palette of a bright salad.
Ingredients:
Boiled chicken fillet – 200-250 g.
Pickled cucumbers – 1-2 pcs. or 4-5 gherkins.
Hard boiled eggs – 2 pcs.
Large carrots – 1 pc. (200 g).
Garlic – 1 clove.
Seasoning for Korean carrots – 1 tsp.
Vinegar 9% strength – 1 tbsp. l.
Vegetable oil – 1 tbsp. l.
Black ground pepper – 2-3 pinches.
Salt – to taste.
Sugar – 0.5 tsp.
Mayonnaise – to taste.
Leek – a small stalk or 4-5 shoots of green onions.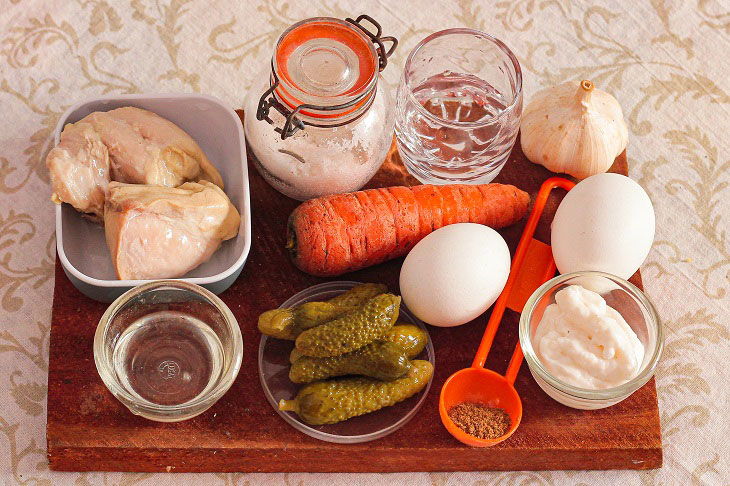 How to cook:
1. If we add ready-made Korean carrots to the salad, we skip this and the next two steps. If we cook on our own, then first we measure all the spices, peel the garlic and carrots. Then grate the carrots on a Korean grater with not very long straws. Add chopped garlic, salt with sugar, Korean seasoning and a fraction of ground black pepper.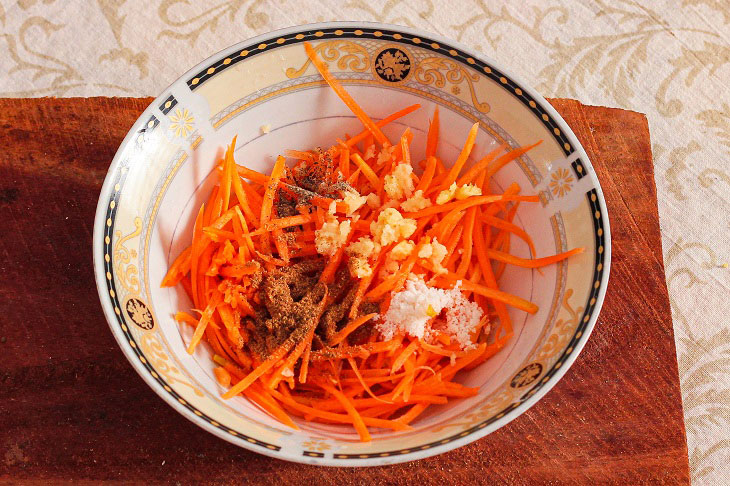 2. Without stirring, pour the spices and garlic with vegetable oil heated to a haze. Leave for half a minute and mix thoroughly.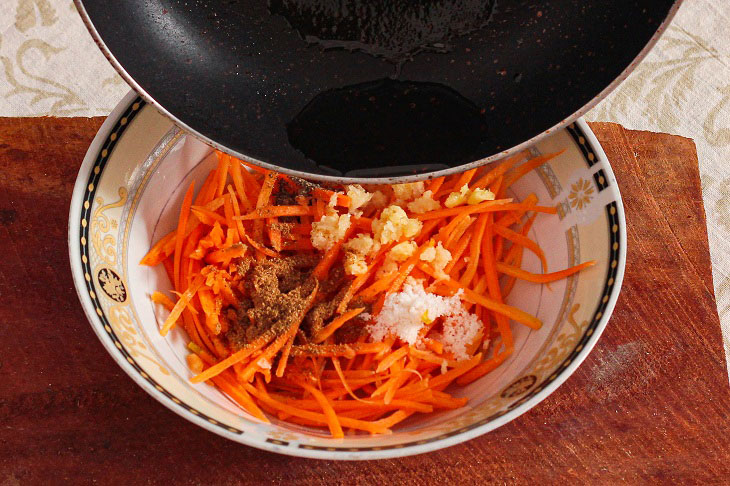 3. Season the carrots with vinegar, mix again. Cover, leave at room temperature for two to three hours or put in the refrigerator overnight.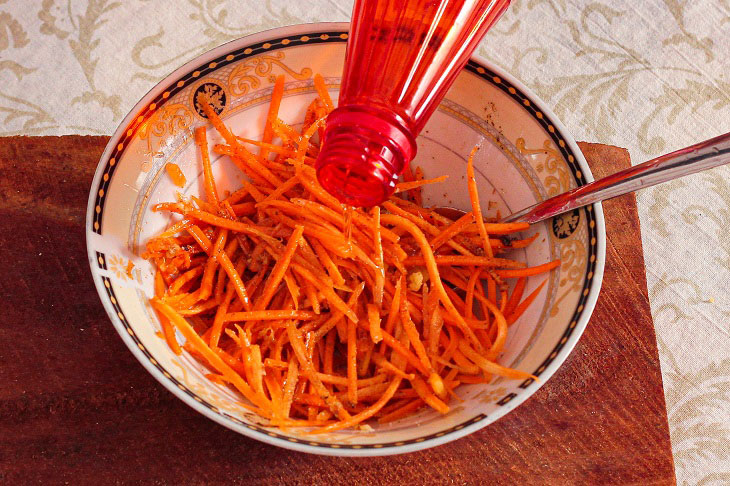 4. When the carrots are ready, we collect the salad. Strain marinade from carrots. Add coarsely chopped eggs (cut into slices or pieces). We cut pickled cucumbers into thin long strips or cubes.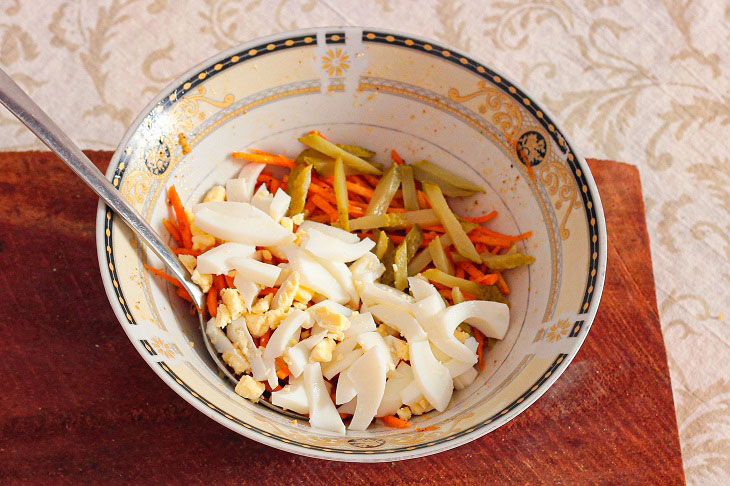 5. Chicken meat is disassembled into fibers. Cut a leek stalk or a small bunch of green onions into rings. Add to salad. Instead of onions, you can take any other greens or prepare a salad without it.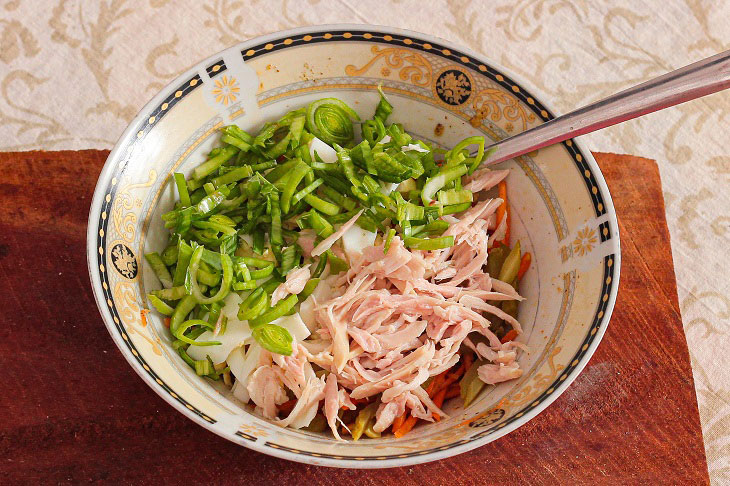 6. Season with ground pepper, dress the salad with thick mayonnaise.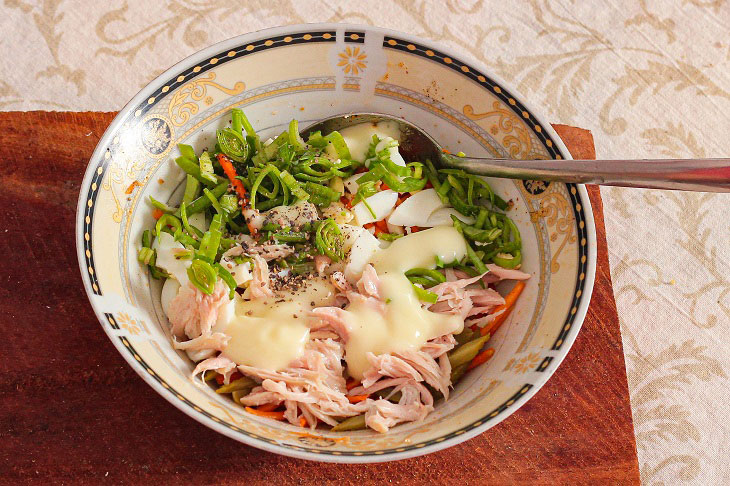 7. Mix everything well. We try, if there is not enough salt / pepper – we straighten the taste at our discretion.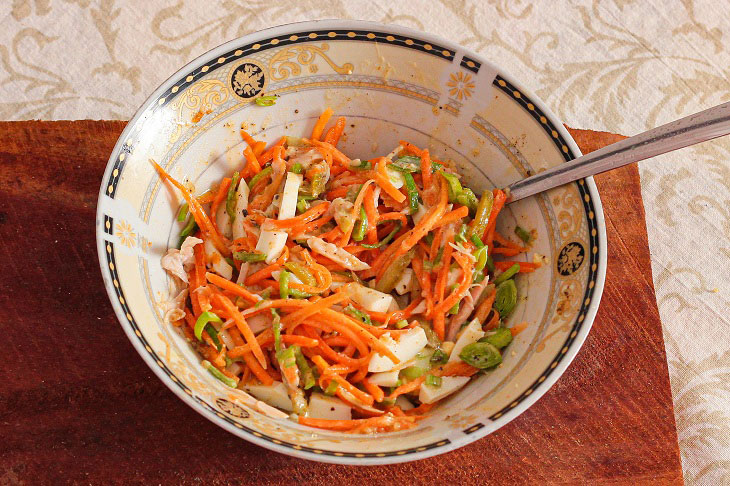 8. Put the salad in a rounded slide on a plate. Decorate with leek rings or make a rim of chopped greens. It is not necessary to infuse the salad, it is quite juicy, you can immediately serve it to the table.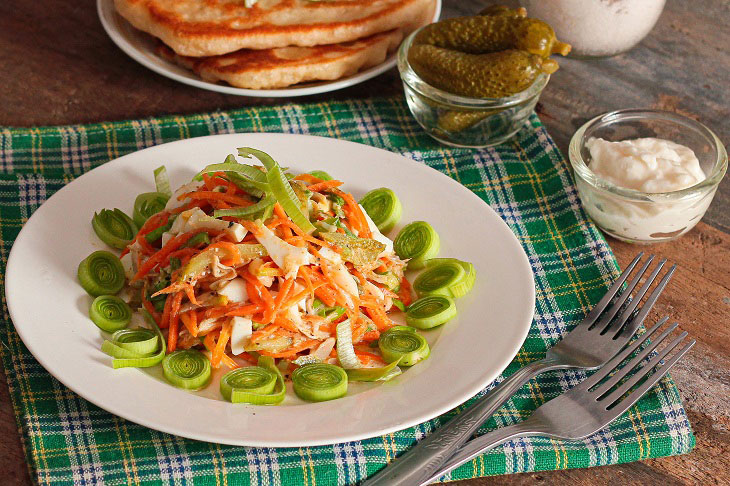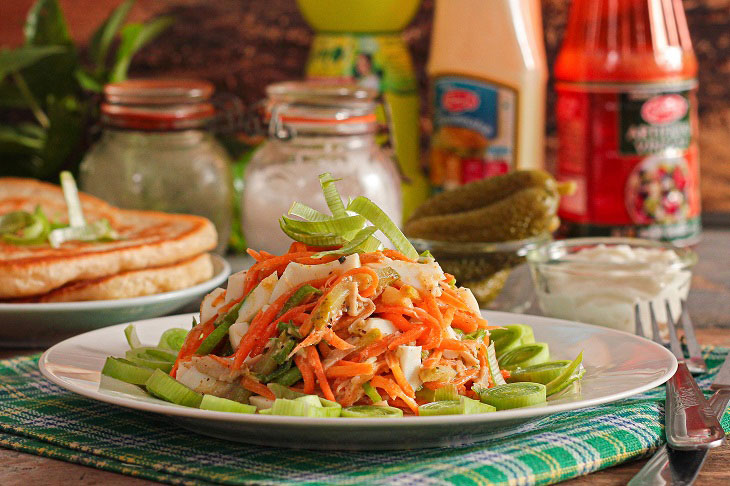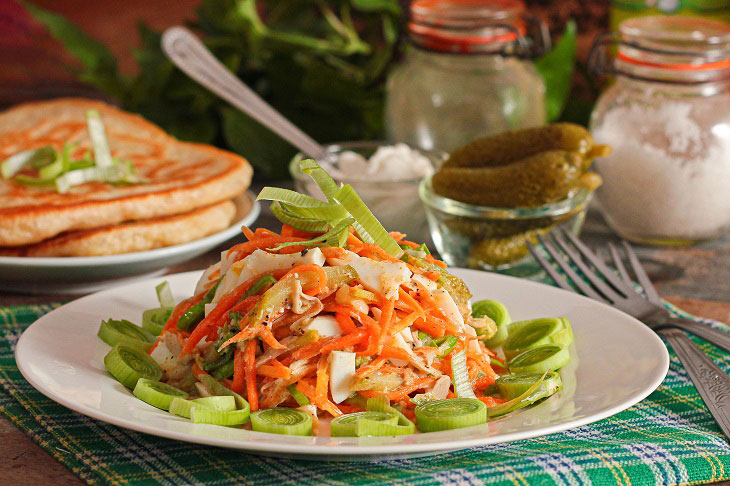 Enjoy your meal!