For a lean or dietary menu, the "Monastic" salad is ideal – it is prepared quickly and simply, from the most affordable vegetables. The dish turns out juicy, healthy and vitamin.
Everything is clear in terms of ingredients – here you will need white cabbage, sweet peppers and fresh cucumbers. For dressing, take any vegetable oil – olive, sunflower, grape, sesame or linseed. Also pour apple cider vinegar on the salad – it has a pleasant fruity aroma and, on top of that, the vegetables will become a little marinated after cooking.
Ingredients:
White cabbage – 200 g.
Cucumbers – 80 g.
Sweet red pepper – 70 g.
Vegetable oil – 2-3 tbsp. l.
Apple cider vinegar 9% – 2 tbsp. l.
Greens – to taste.
Spices – to taste.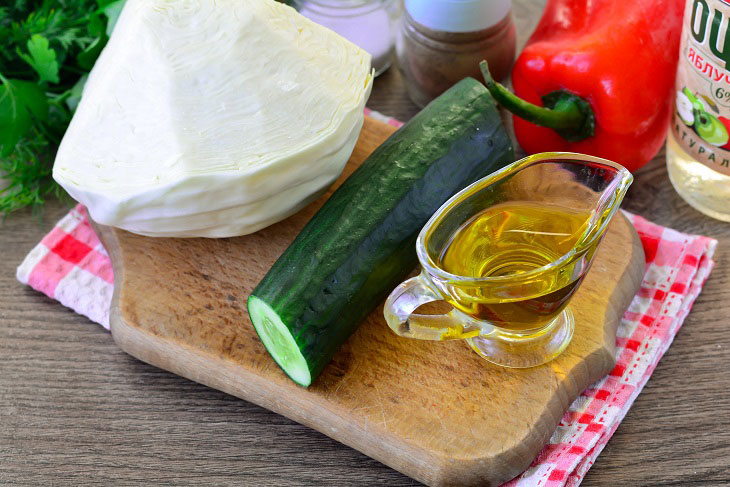 How to cook:
1. Take white cabbage for salad, rinse it or remove the top two leaves.
In spring and summer, use young cabbage.
Chop the cabbage into strips or grate on a grater-shredder. Knead the cabbage a little with your hands so that it becomes juicier and softer.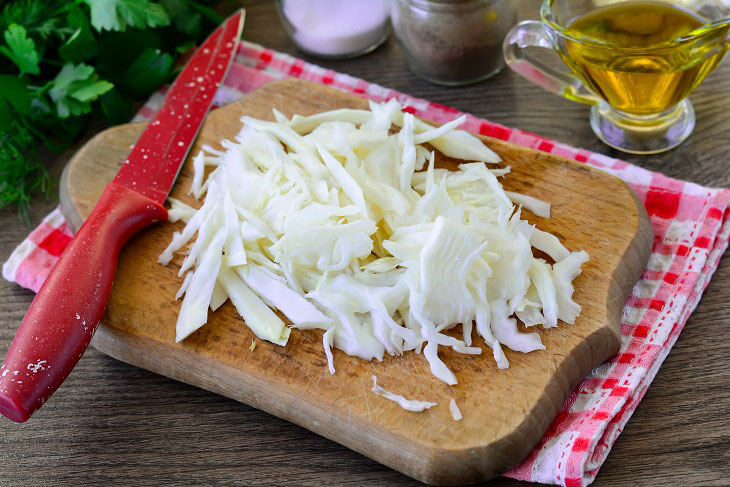 2. Rinse the cucumbers, cut off the tails, cut the vegetables into thin strips.
Fresh cucumber gives a unique flavor to the salad.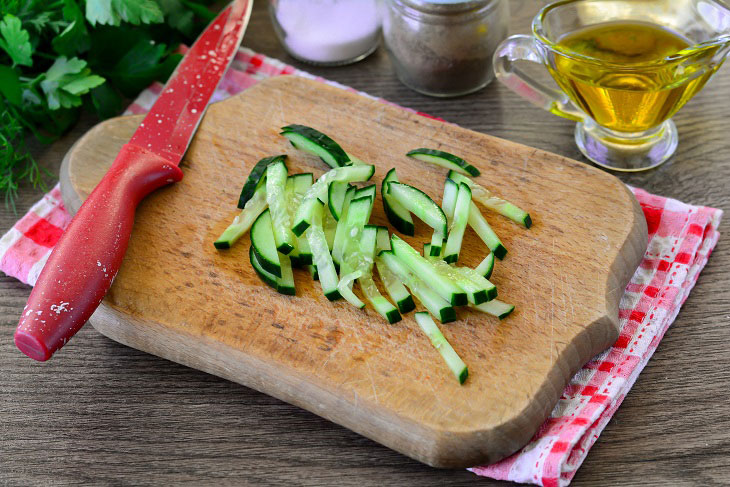 3. Put the previously chopped cabbage and cucumbers in a bowl.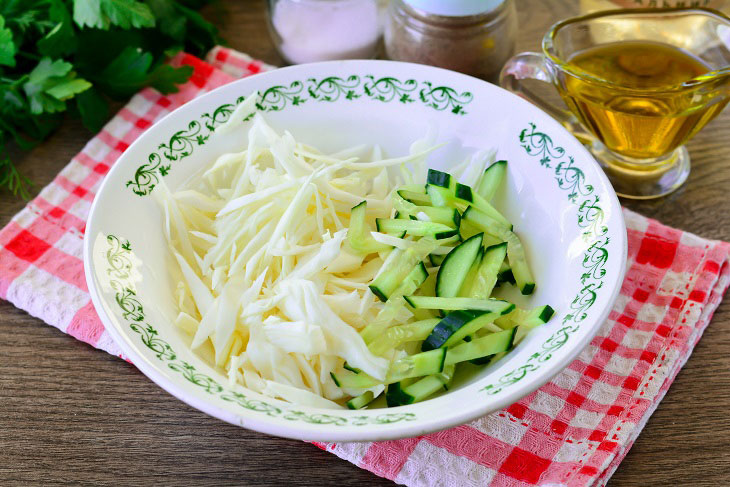 4. Cut sweet red pepper into strips – it is tasty and bright in color, it will cheer you up.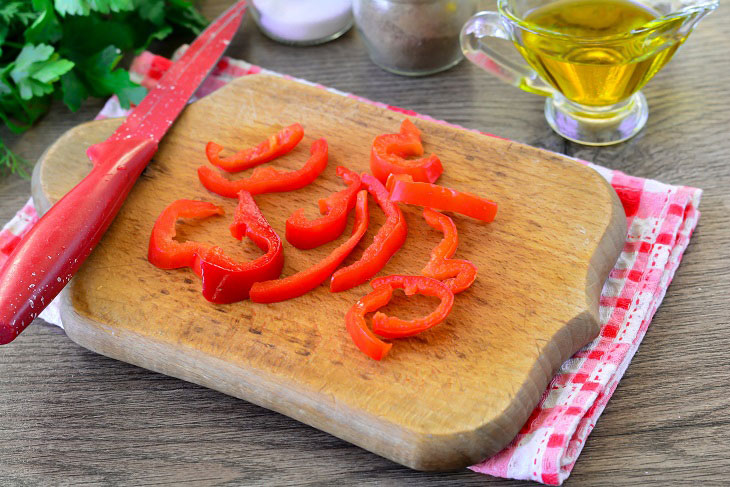 5. Throw the pepper slices into the salad.
In principle, use any color of pepper, but red or orange are the most beautiful and sweet.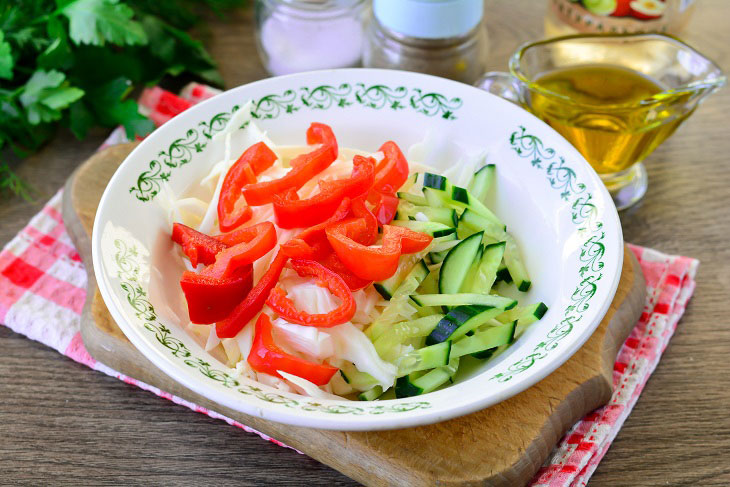 6. Salt and pepper to taste, pour salad oil, pour in apple cider vinegar. Mix everything well. And here I advise you to put the salad in the refrigerator, let the vegetables marinate a little. Let the salad infuse for 20-25 minutes.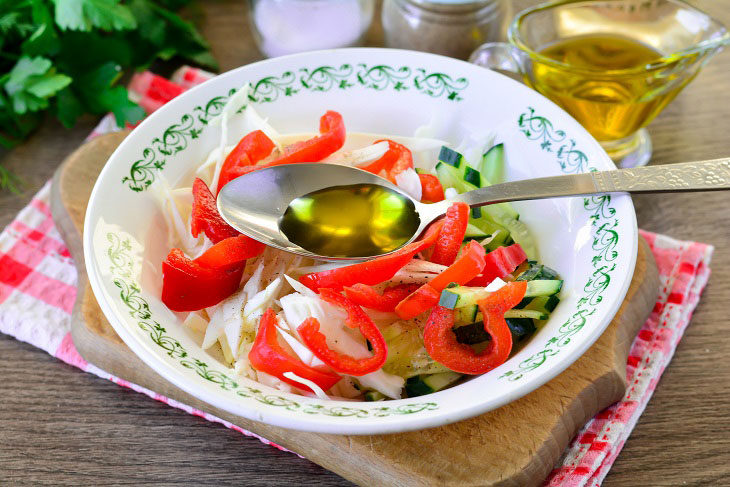 7. Sprinkle a little greenery for decor, then serve the dish on the table – it looks elegant and bright, immediately causes an appetite.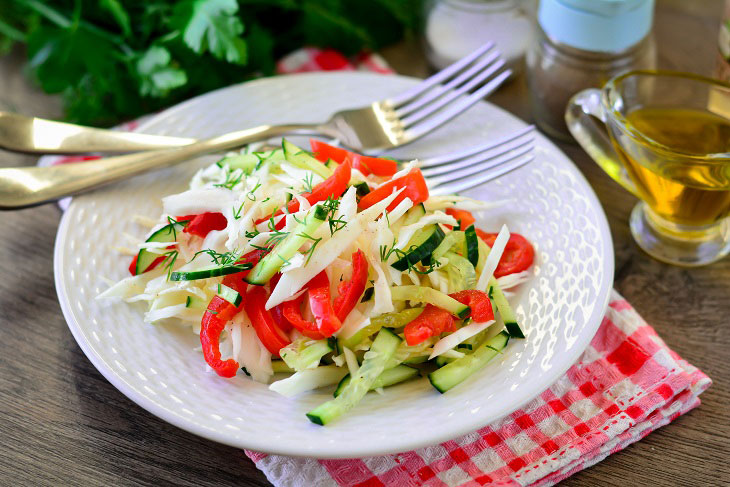 Salad "Monastyrsky" can be presented to the table as an independent dish or supplemented with any side dish. Potatoes or porridge will be good.
Enjoy your meal!