Crab sticks are a product that often appears on our menu. Moreover, dishes from crab sticks occupy a central place not only at a family dinner, but also at a festive table. There are a huge number of recipes for dishes from such an ingredient, and each housewife selects those recipes that suit her best. A special place is occupied by salads from crab sticks – they are always varied and original.
We offer a simple and delicious recipe for Velvet salad with crab sticks. For the recipe, defrost the fish product in advance, in addition, for the salad you will need boiled potatoes, raw carrots, eggs and hard cheese. for dressing, use delicious and high-quality mayonnaise. You can take the sauce both store-bought and homemade – cooked by yourself.
The salad really turns out to be "velvet", since almost all the ingredients are ground on a grater, and the structure of the salad turns out to be fluffy and tender.
Ingredients:
Crab sticks – 100 g.
Potatoes – 120 g.
Raw carrots – 70 g.
Hard cheese – 70 g.
Chicken eggs – 1-2 pcs.
Mayonnaise – 120-130 g.
Spices – to taste.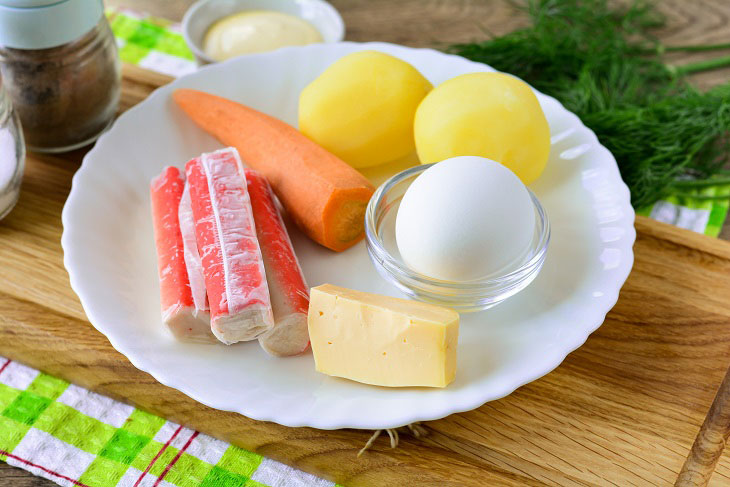 How to cook:
1. First of all, boil the peeled potatoes until soft. Boil in salted water for about 15-20 minutes. Check readiness with a knife.
Also boil hard-boiled chicken eggs, cook for 7-8 minutes, cool them well. Peel the boiled eggs.
Grate boiled potatoes on a medium grater and put in the salad in the first layer. Salt to taste and spread with mayonnaise.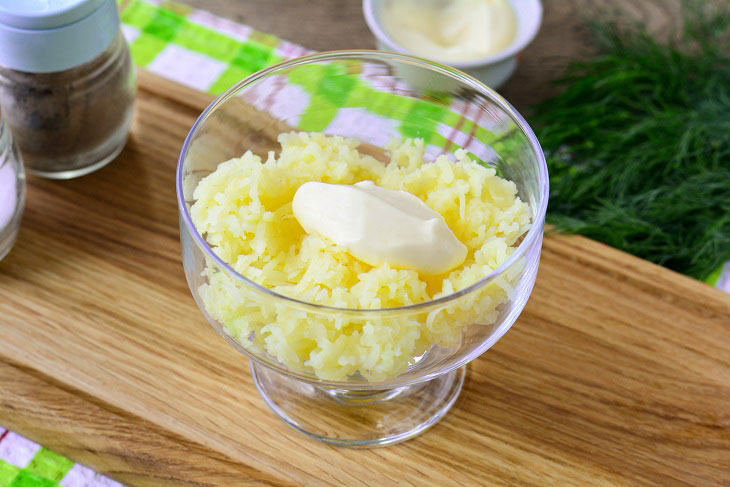 2. Grate boiled chicken eggs on a fine grater, put in a second layer, salt lightly and soak with mayonnaise.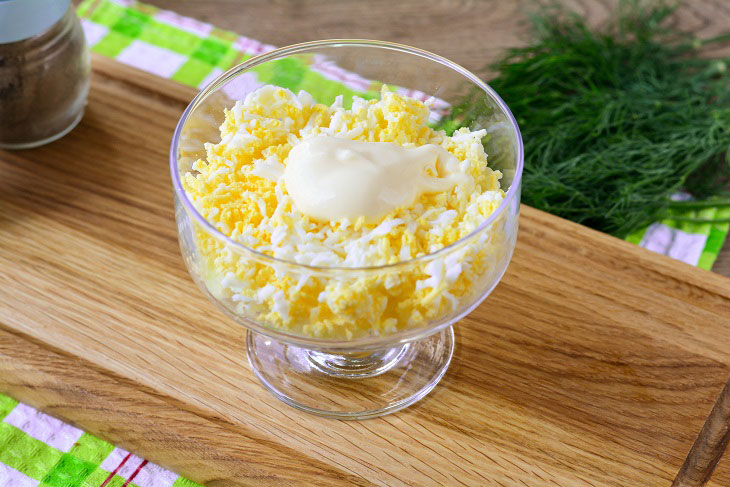 3. Peel the defrosted crab sticks from the packaging, then cut into small cubes, put in the salad with the next layer and pour over the sauce.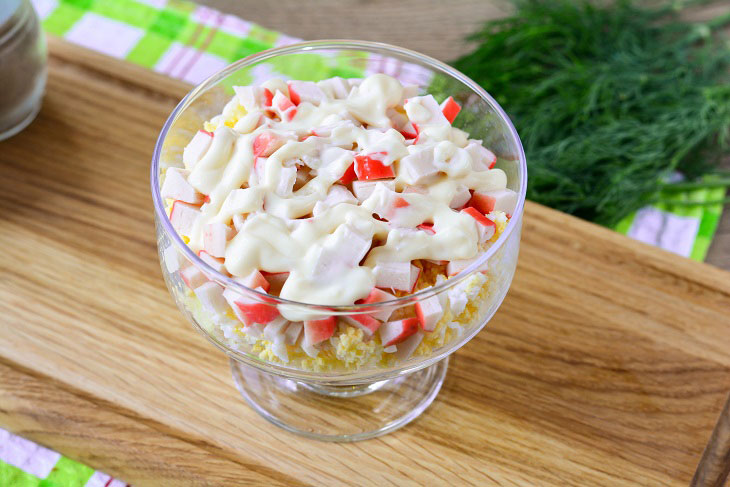 4. Grate hard cheese with a classic taste on a fine grater and sprinkle the salad, grease with mayonnaise.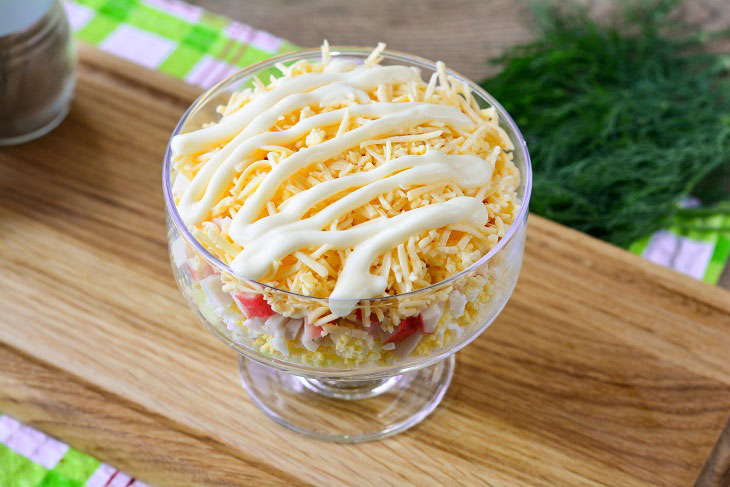 5. At the end, grate raw carrots on a fine grater – it should be sweet and juicy, pour the salad with mayonnaise and refrigerate, let it soak for 15-20 minutes.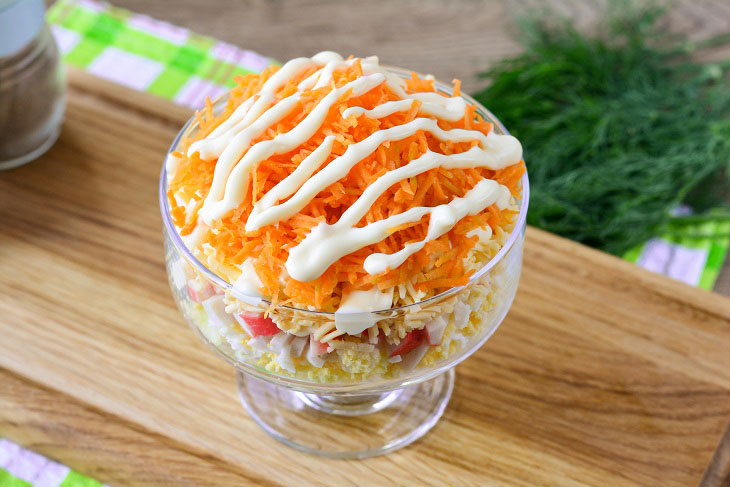 6. Then decorate with any fresh herbs and serve.
Ready salad can be served in portions to each guest. Everyone will appreciate the dish.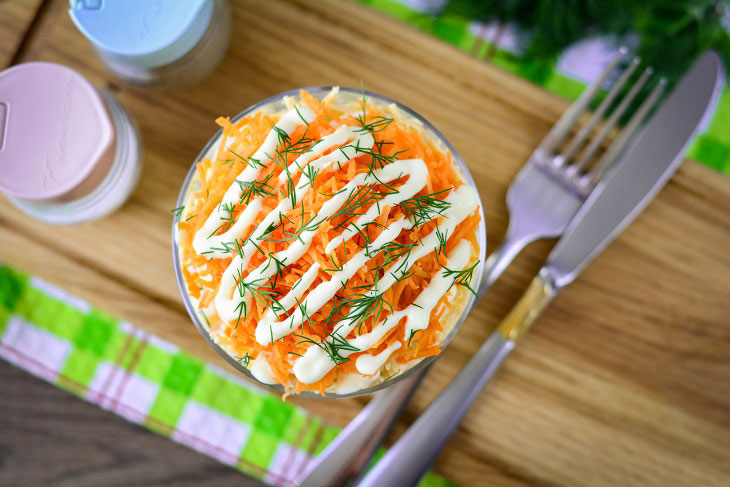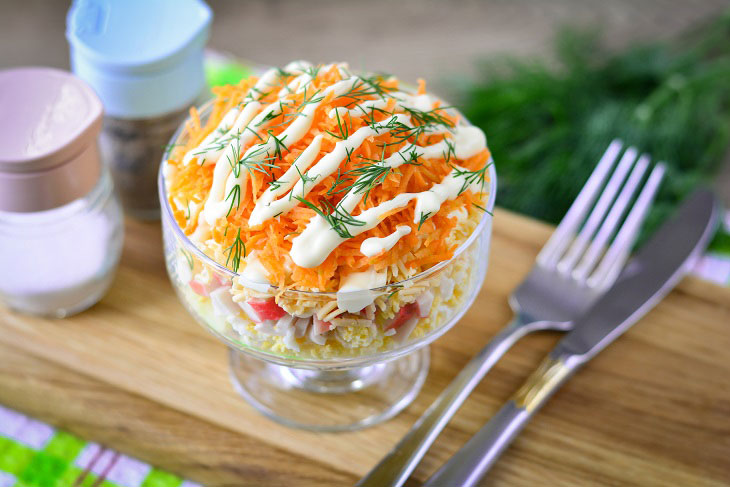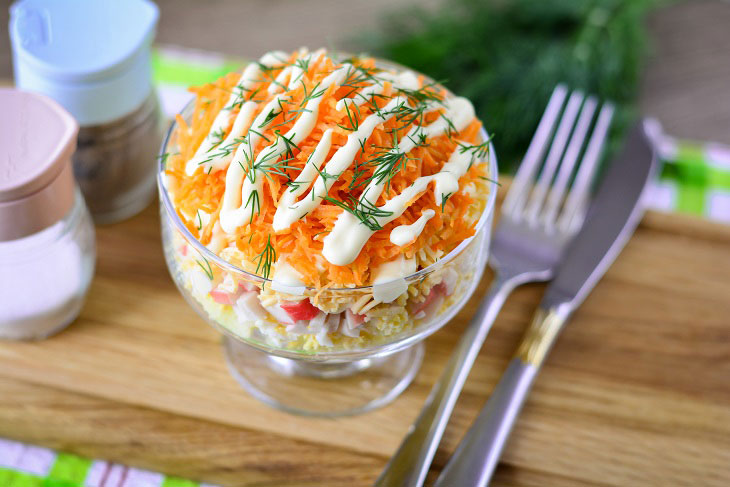 Enjoy your meal!