Mosaic salad turns out to be bright and appetizing in appearance, and it is very simple to prepare it. You can serve this dish on the festive table. Boiled chicken is used for salad, but meat can be baked or fried. Smoked meat is also suitable – more fatty or low-fat (breast). The composition of the salad includes bright vegetables – you can use colored sweet peppers, tomatoes, cucumbers, as well as legumes (peas), corn. For dressing, low-fat fresh sour cream, mayonnaise is suitable.
Prepare the necessary products – wash fresh vegetables with running water, boil chicken meat in water with salt and spices, cool. You can take store-bought mayonnaise (any fat content) or homemade, with various additives in the form of mustard, spices, lemon juice, garlic.
Ingredients:
Large tomato – 1 pc.
Bulgarian pepper – 1 pc.
Cucumber – ½ pc.
Canned corn – 120 g.
Chicken meat – 140 g.
Fresh herbs – 2-3 branches.
Mayonnaise – 30 ml.
Salt – 1 pinch.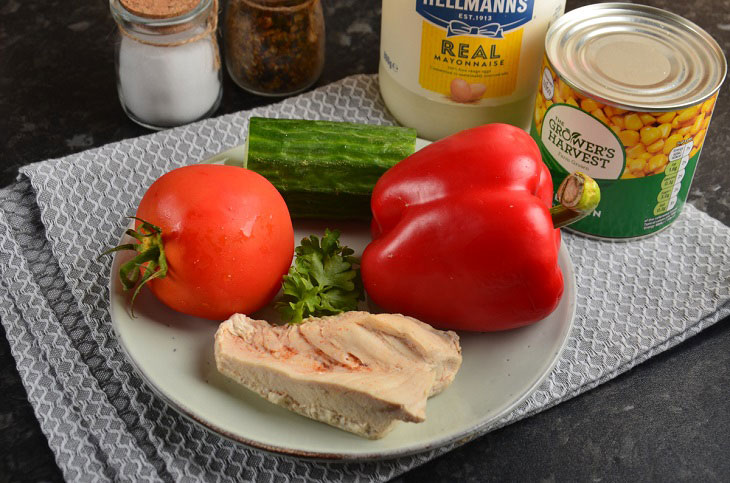 How to cook:
1. Cut a fresh cucumber into thin strips. If the peel is tough, it is best to cut it with a vegetable peeler first. Cut the bell pepper in half and remove the seeds. Cut the vegetable into thin strips.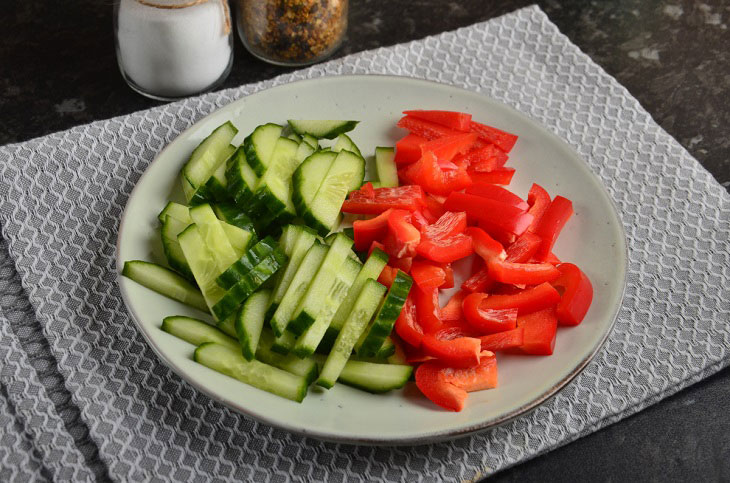 2. On a large flat dish, lay out the cucumber and sweet pepper in any order – you can asymmetrically, or vice versa.
The main thing is that vegetables occupy separate sectors and do not go beyond their borders. Then the salad will look neat and spectacular.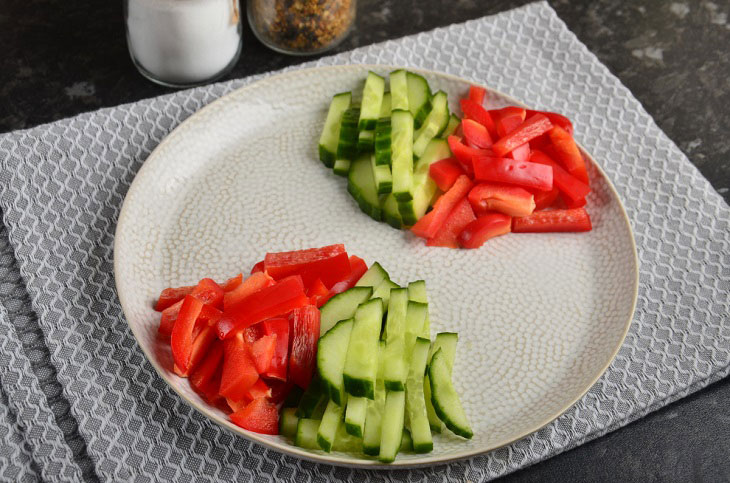 3. Next, cut the tomato into slices and also place on a dish.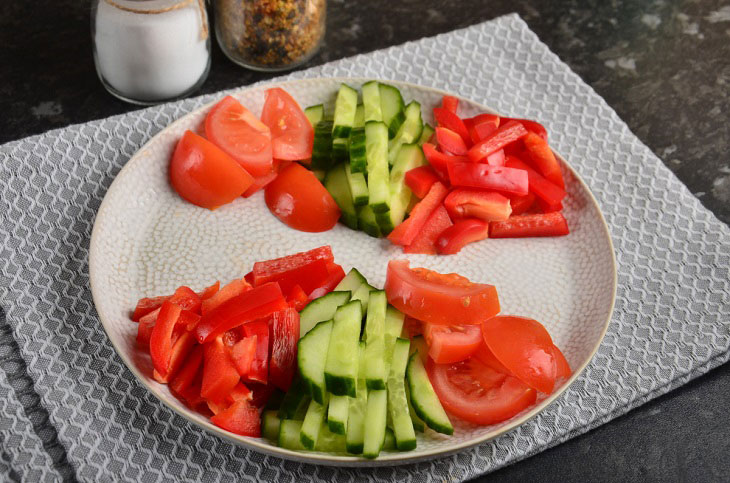 4. Open a can of canned corn and drain off the liquid. Fill the remaining two sectors with yellow grains – it will turn out bright. Leave a free space in the center.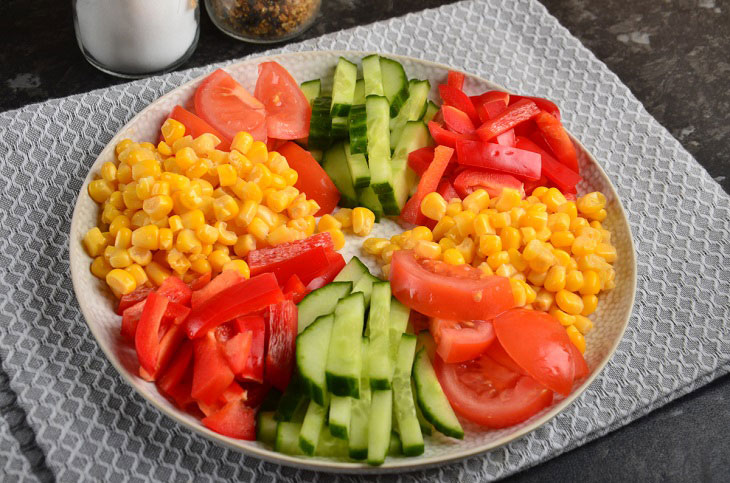 5. Cut the boiled chicken into small pieces or divide into fibers with a fork.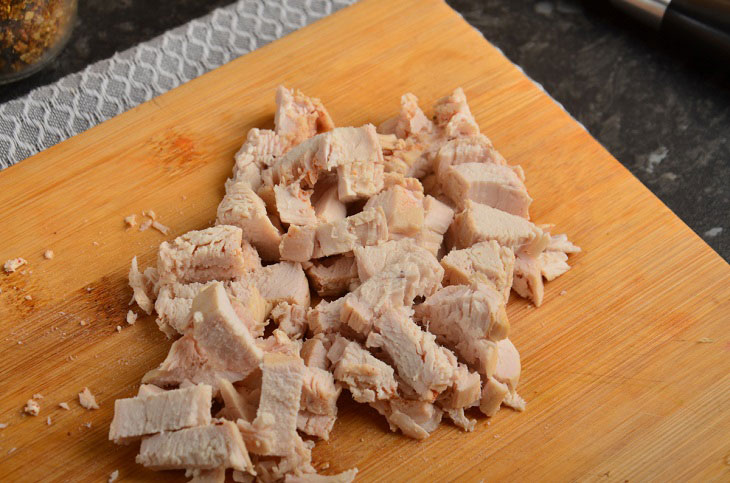 6. Put the chopped chicken in the center of the plate.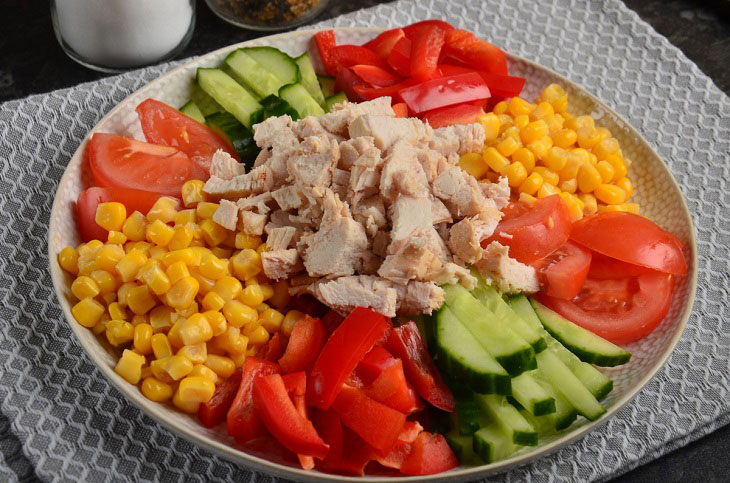 7. Put mayonnaise on a dish, dividing the whole amount into 5-6 parts. Finely chop the fresh herbs and decorate the salad with it before serving.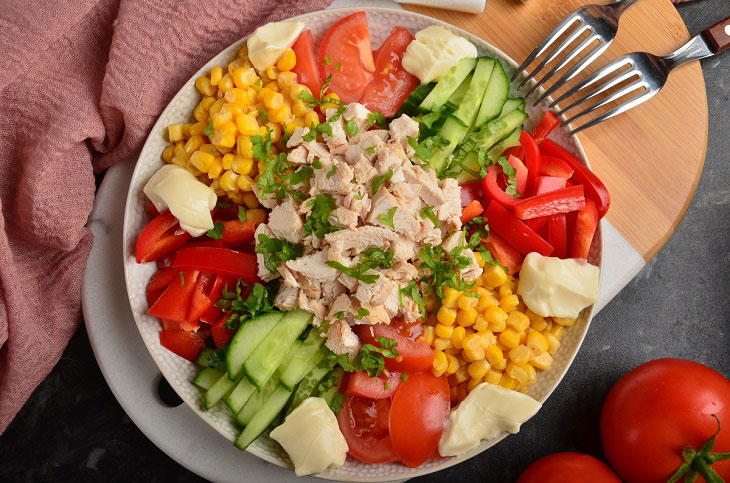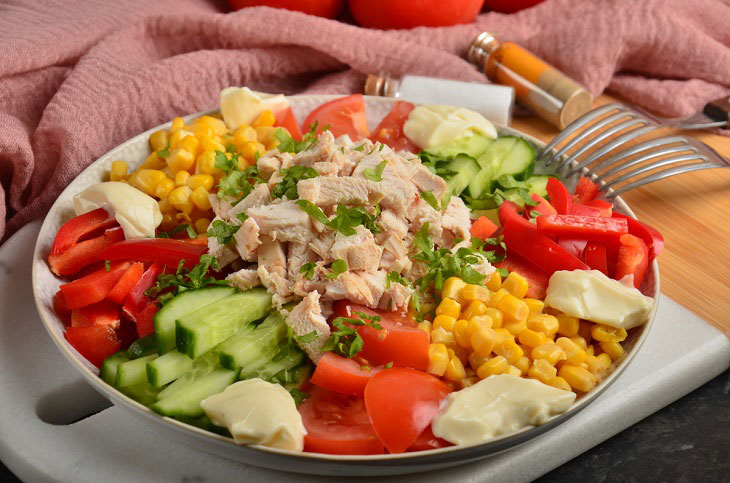 Enjoy your meal!