Layered salad "Nest" wins in design, despite the fact that it is quite simple to prepare and consists of affordable products that you can easily purchase at the supermarket closest to your house.
The basis of the salad is boiled cod. The fish goes well with juicy boiled carrots and fried onions. This composition is successfully complemented by hard cheese, introducing spicy notes. The dressing is mayonnaise. And the salad is decorated with a "nest" of quail eggs and sprigs of dill and parsley.
Ingredients:
Fresh frozen cod – 600 g.
Quail egg – 5 pcs.
Carrots (large) – 1 pc.
Onion – 1 head.
Hard cheese – 100 g.
Parsley greens – 5 branches.
Dill greens – 5 branches.
Mayonnaise – 200 g.
Sunflower oil – 1 tbsp. l.
Freshly ground black pepper – to taste.
Salt – to taste.
Bay leaf – 2 pcs.
Black peppercorns – 5 pcs.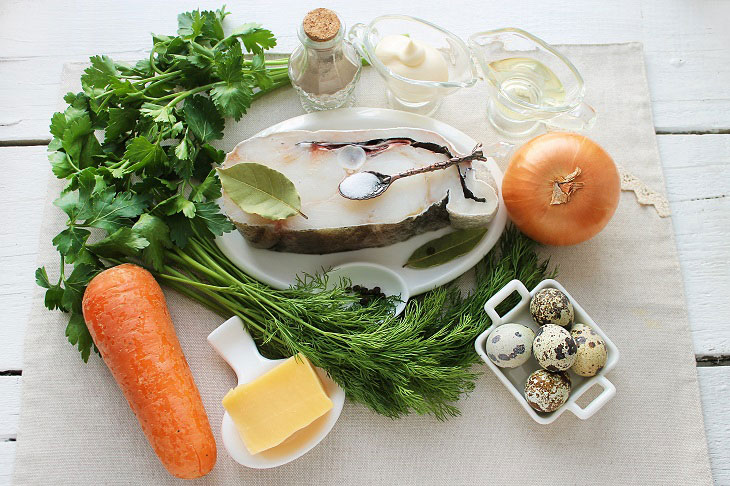 Cooking time: 1 hour. Servings Per Container: 2.
How to cook:
1. Clean the cod from scales, remove the black film, if any. Wash the fish, put in a saucepan and cover with cold water. Put on fire, bring to a boil, remove the foam. Put 3 sprigs of dill and parsley, black peppercorns and bay leaves in a saucepan. Salt and cook for 20 minutes.
You can replace cod with pike perch, sea bass, hake or, for example, ice fish.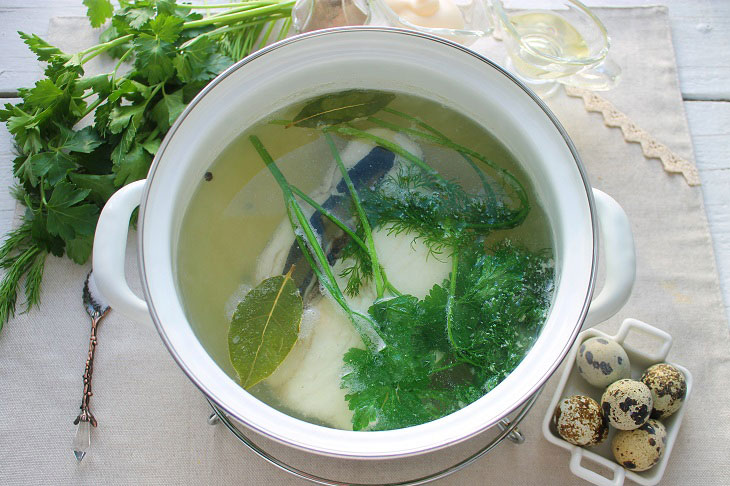 2. Boil carrots in another saucepan – 20-25 minutes from the moment of boiling.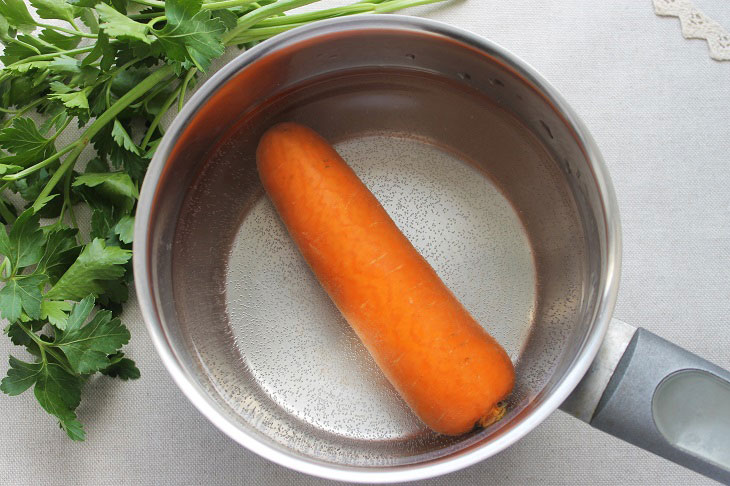 3. Hard boil the quail eggs – 5 minutes after the water boils.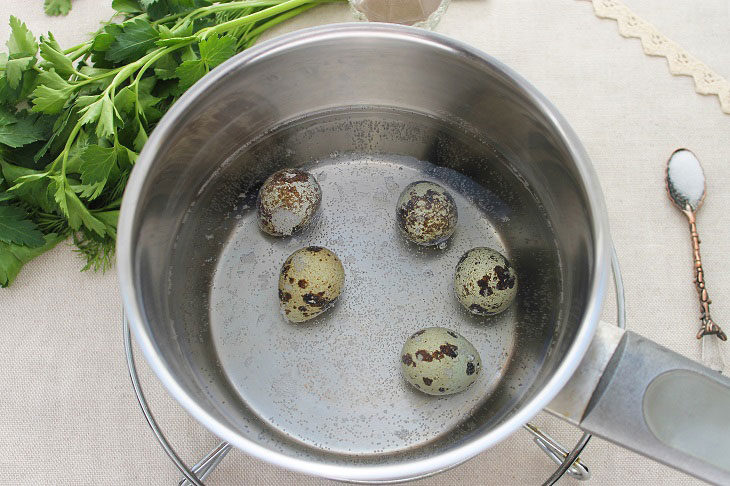 4. Peel the onion, rinse and chop finely.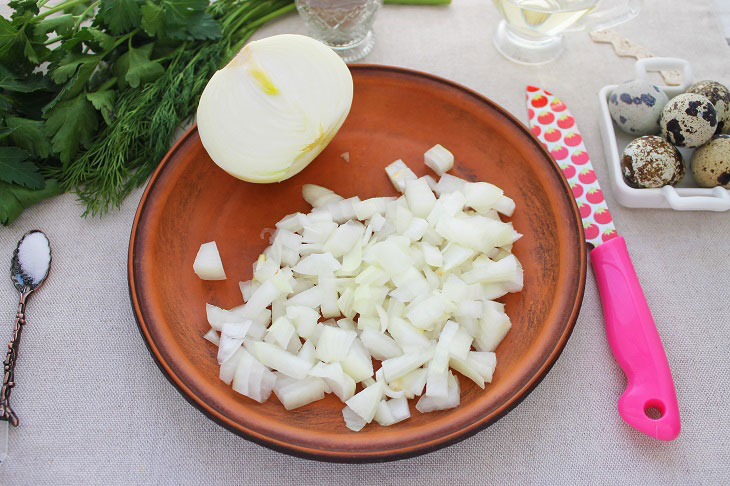 5. Heat the sunflower oil in a frying pan and fry the onion in it until golden brown.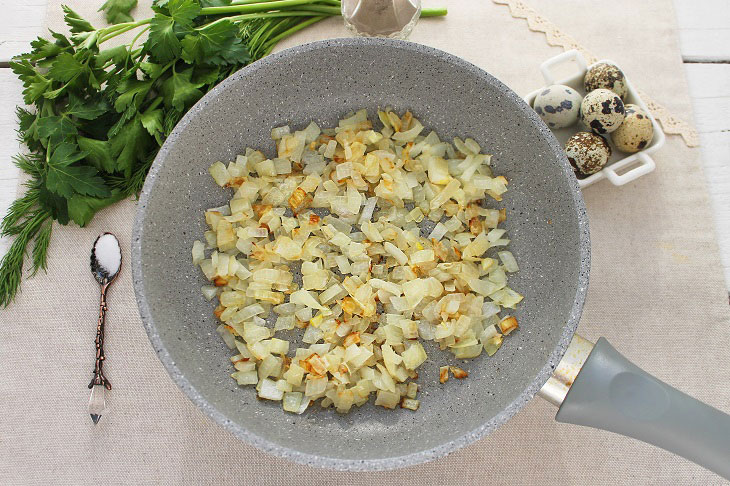 6. Remove the cod from the pan, cool and disassemble into small pieces.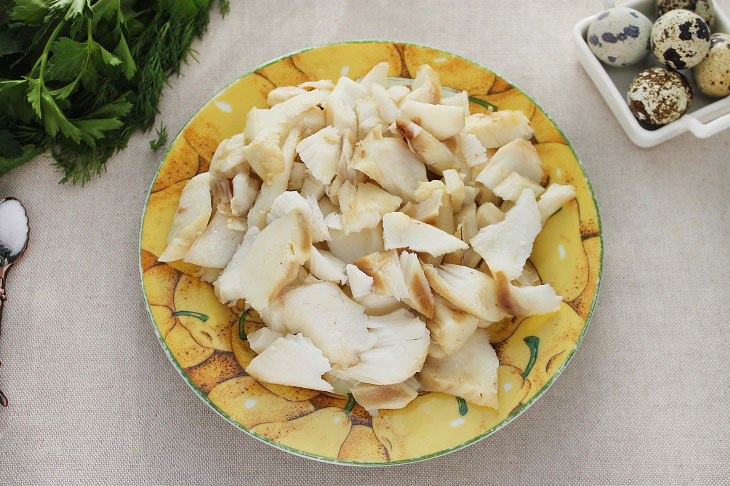 7. Peel the cooled carrots and grate on a coarse grater.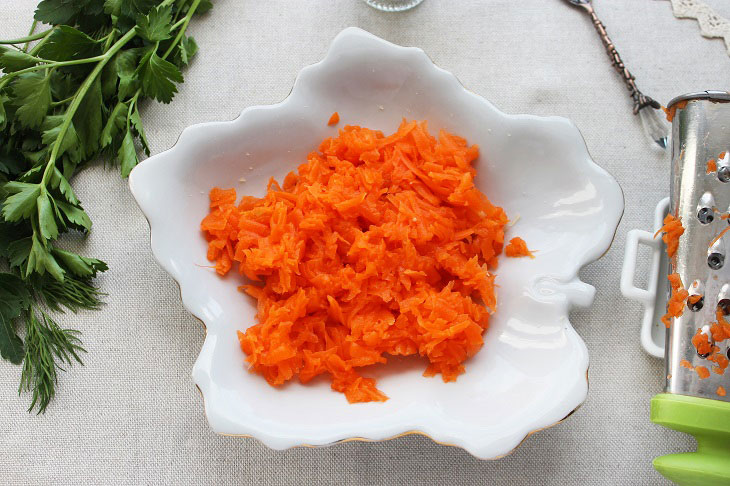 8. Grate hard cheese on a fine grater.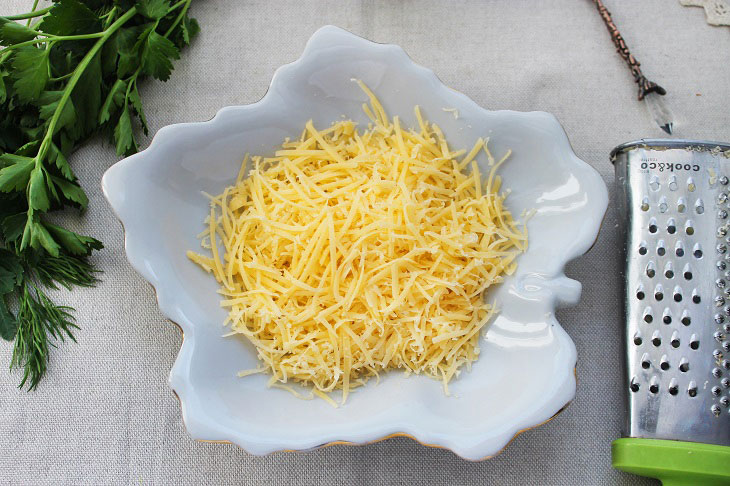 9. Next, lay out the Nest salad in layers using a modern kitchen tool – a culinary ring, which is also called a cutter. Put the cutter on a plate and put the boiled cod in it in the first layer. Lightly salt and pepper.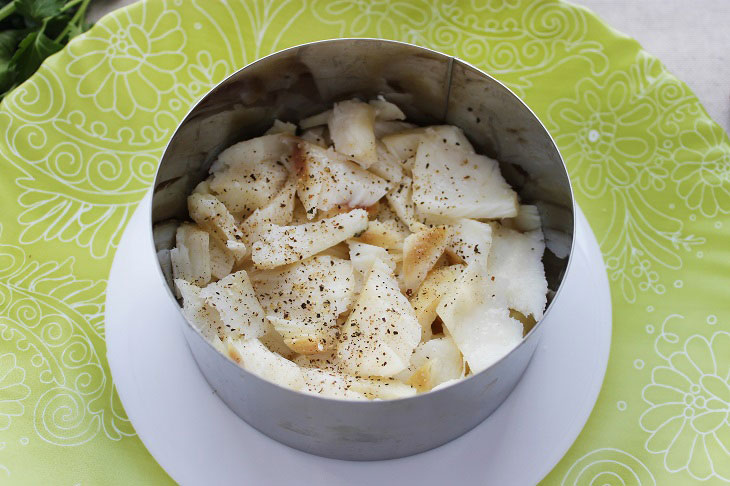 10. Lubricate the fish with mayonnaise.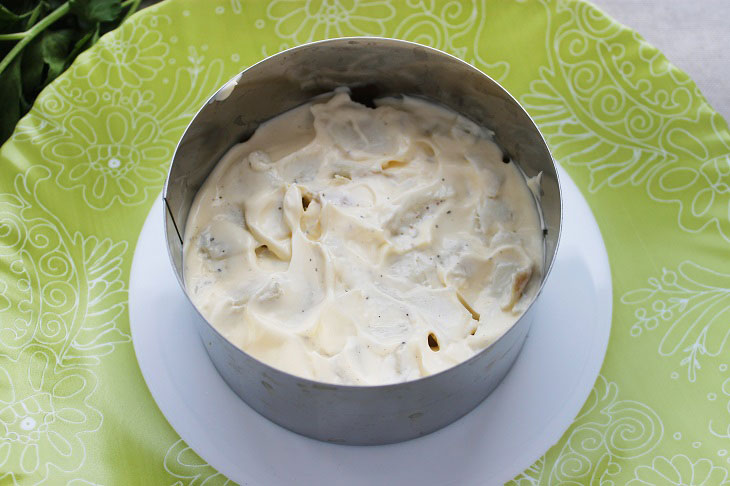 11. Next, lay out the carrots.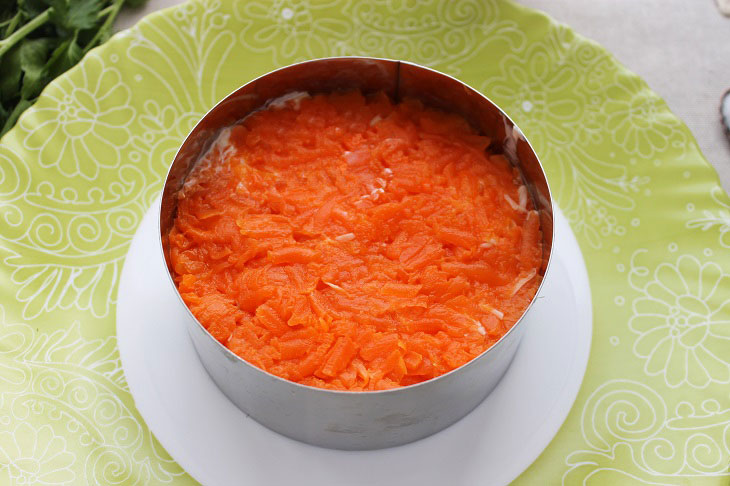 12. And brush with mayonnaise again.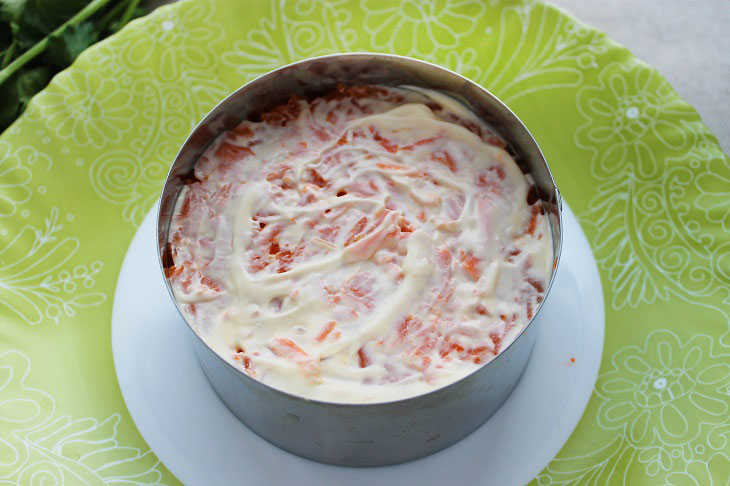 13. Put the fried onions in the next layer.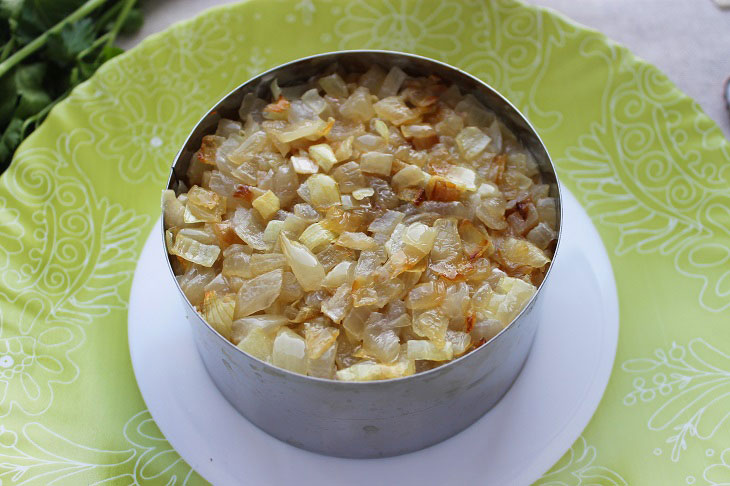 14. And again – a layer of mayonnaise.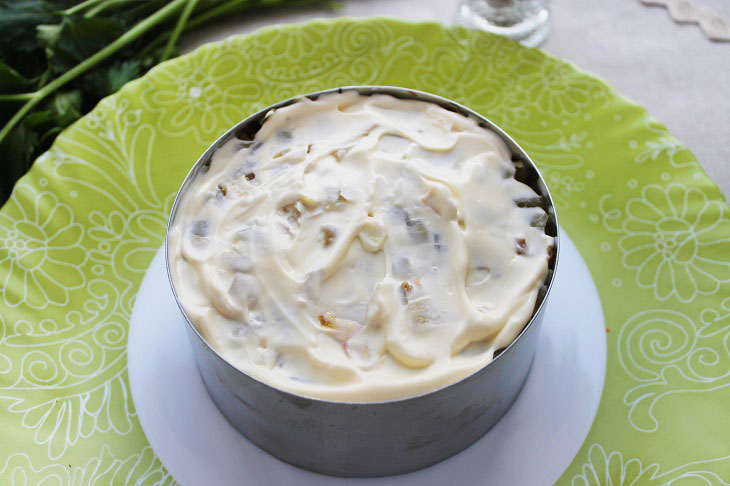 15. The final layer will be grated cheese, which is well tamped.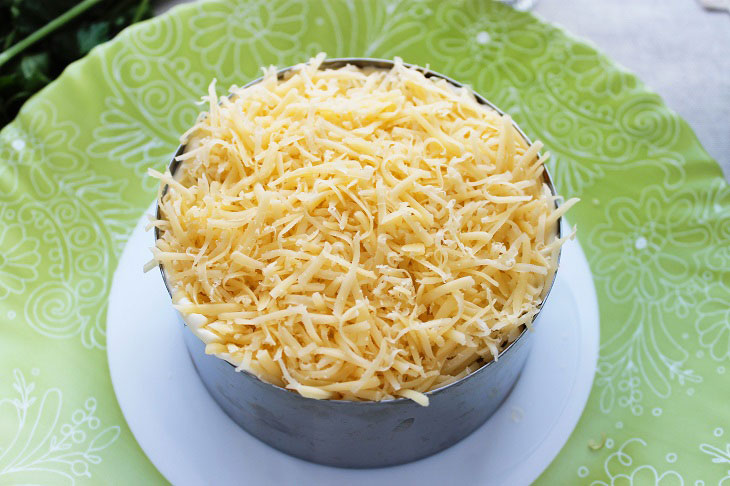 16. Peel the quail eggs. Wash and pat dry the rest of the dill and parsley.
Lay the quail eggs on top of the salad. Between them, place small branches of greenery. Sprinkle the top of the eggs with ground black pepper.
Salad "Nest" is ready. Put it in the refrigerator for an hour to soak, then serve.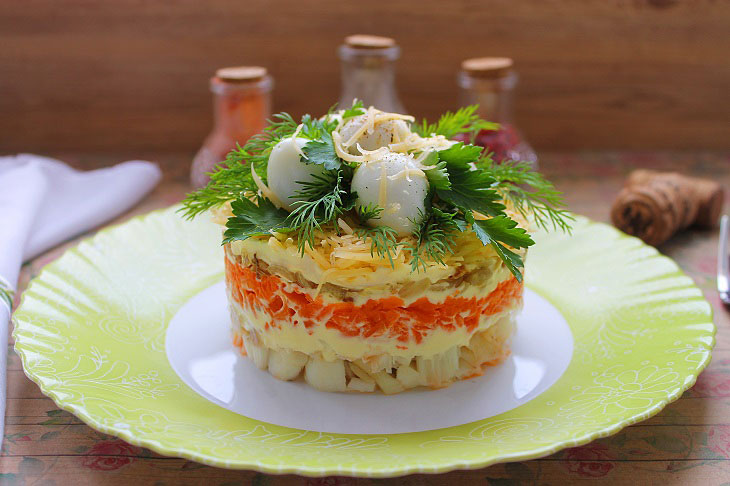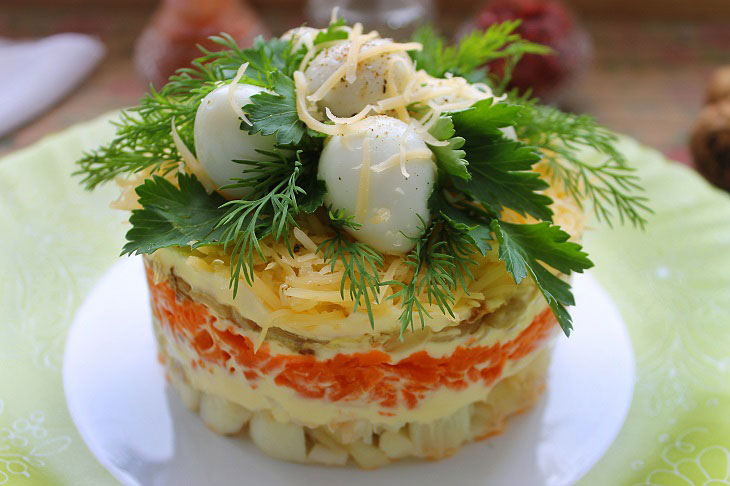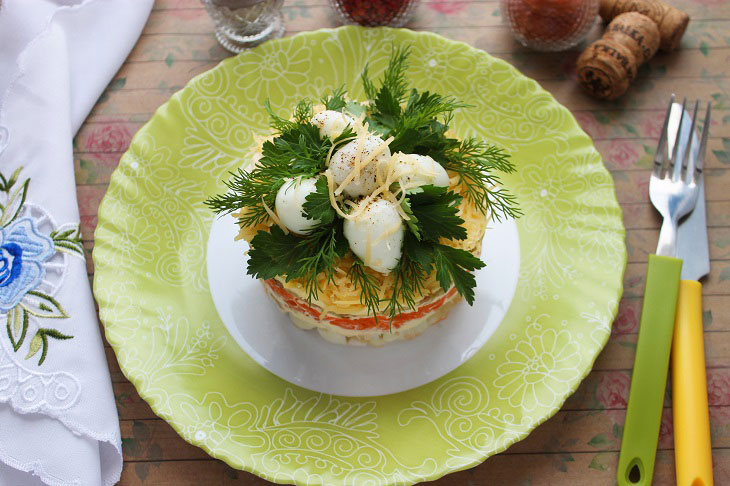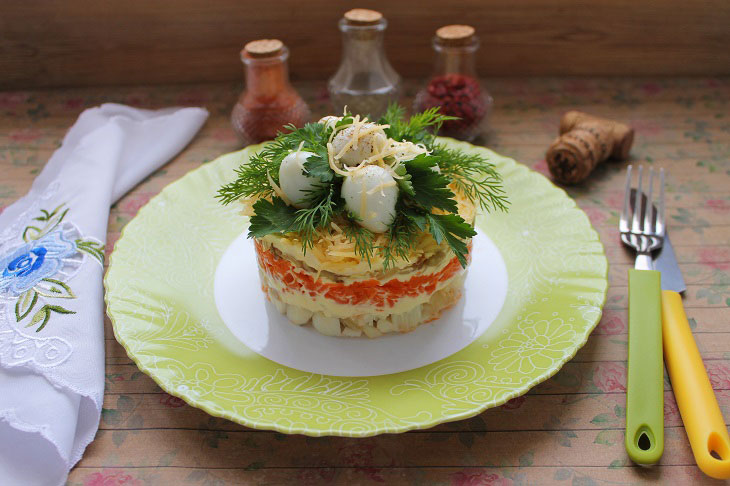 Enjoy your meal!