Salad Obzhorka with chicken is a rather popular dish and resourceful hostesses come up with more and more new variations. For example, chicken is successfully replaced with another bird, as well as beef, pork, tongue or sausages. Sometimes mushrooms are added. The rest of the salad remains unchanged – these are pickles and vegetable frying. For a characteristic and quite appropriate note, it is recommended to add garlic.
Ingredients:
Carrot – 1 pc.
Bulb – 1 pc.
Refined oil – 1 tbsp. l.
Mayonnaise – 2 tsp
Salt – 2 pinches.
Spices – 2 pinches.
Chicken meat – 150 g.
Pickled cucumber – 1 pc.
Garlic – 1-2 cloves.
Cooking time: 45 minutes. Servings Per Container: 2.
Cooking:
1. If the chicken is not cooked in advance, then the first thing you need to do is put it on the boil. It is advisable to add spices, spices, herbs and even roots to the water for a brighter aroma and taste of the bird.
If you use pieces on the bone, the broth will turn out to be more rich.
In any case, then it can be used for cooking soup or a side dish. While the meat is cooking, clean, wash and finely chop the vegetables.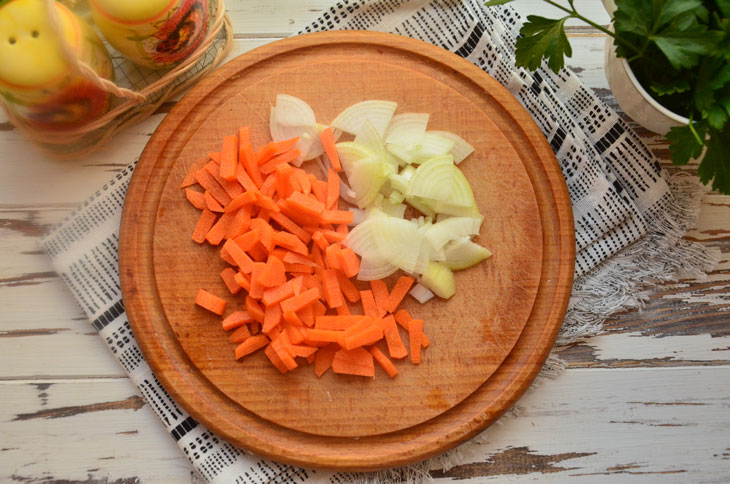 2. It is better to fry in refined oil. Heat it up and send the onions and carrots to the pan. Reduce heat, fry, stirring, 3-4 minutes.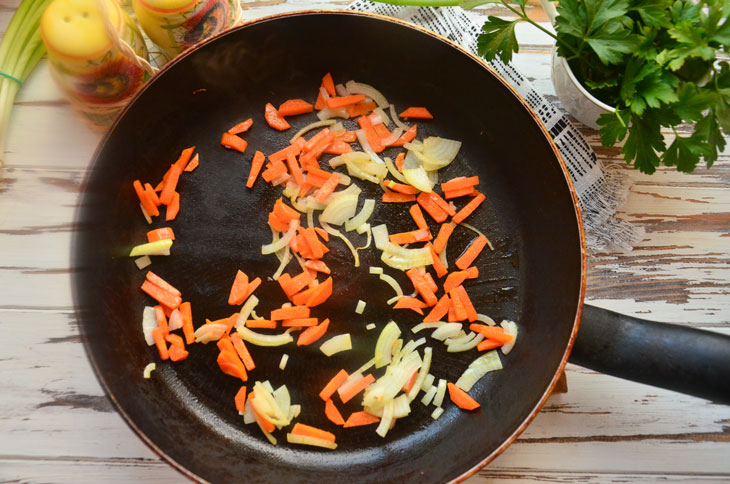 3. Cool the boiled chicken meat, then cut into small pieces.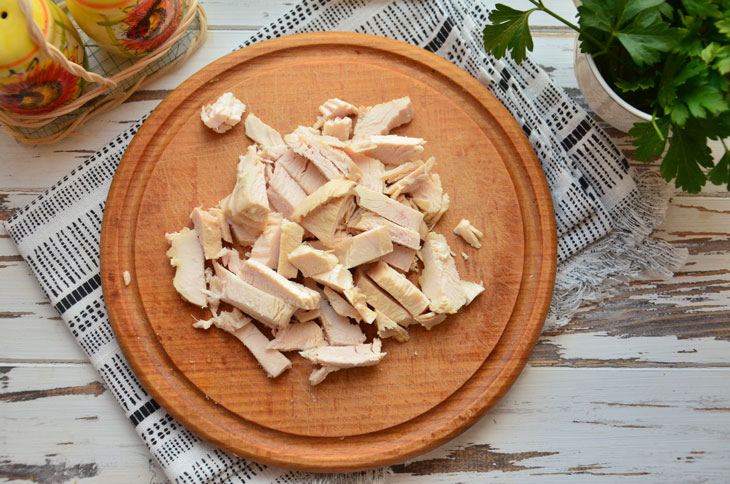 4. In a salad bowl, put the chopped chicken meat (in the fillet recipe), as well as the fried soft vegetables.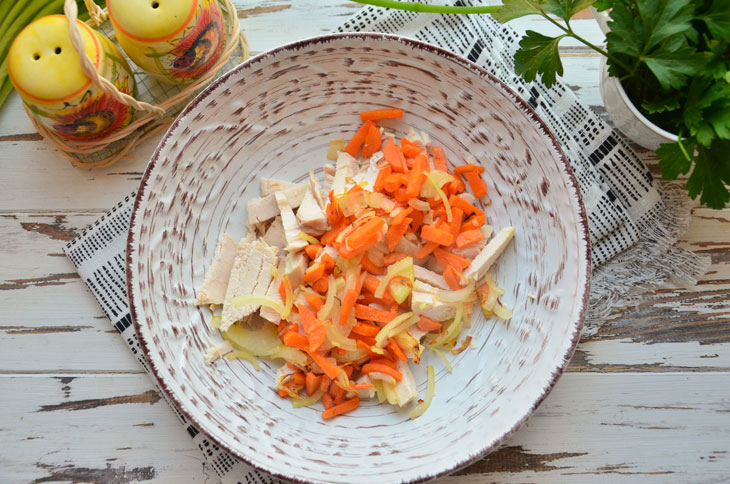 5. Cucumber for salad is suitable both salted and pickled. Cut it into thin strips.
6. Send the cucumber to the rest of the ingredients in a salad bowl. Peel the garlic from the husk, chop and transfer to a bowl.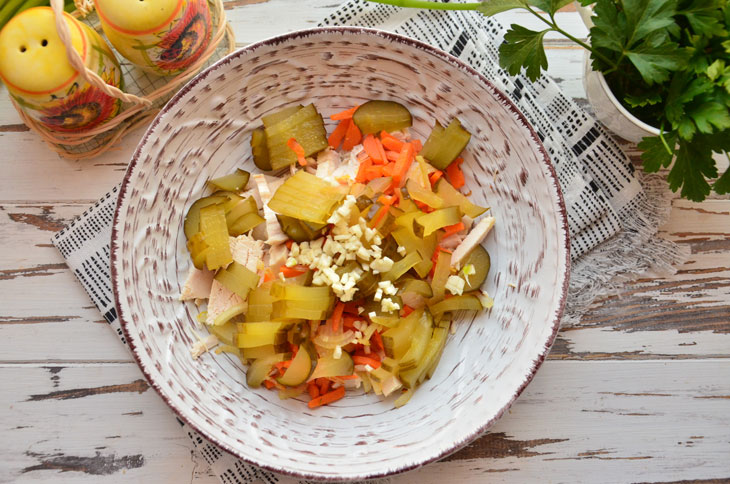 7. Dress the salad with mayonnaise – by the way, a homemade product is also suitable. Lightly salt the salad and add spices.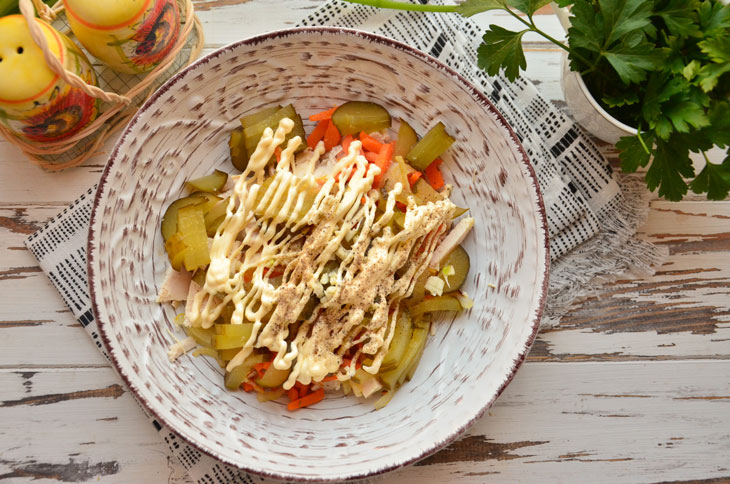 8. Mix all ingredients well. Before serving, it is better to taste the salad.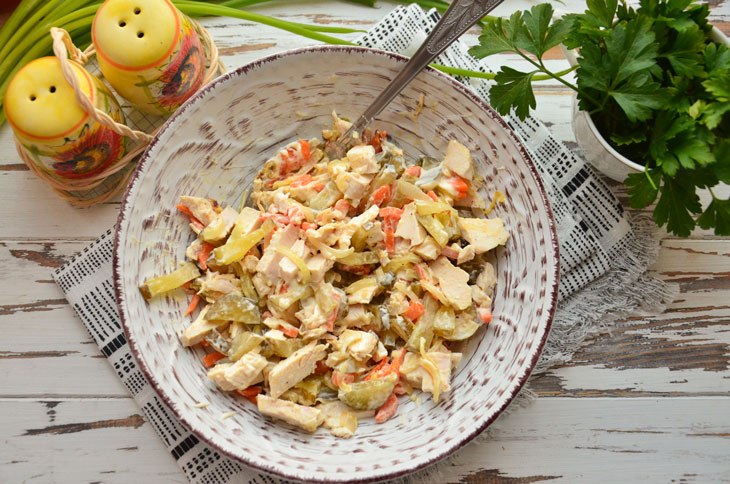 The dish is ready and it is better to serve it immediately after refueling. For serving, a common salad bowl or small bowls for one serving is suitable.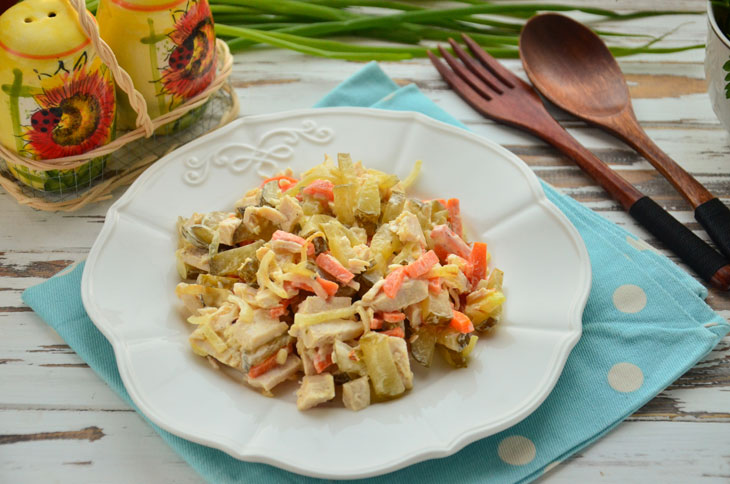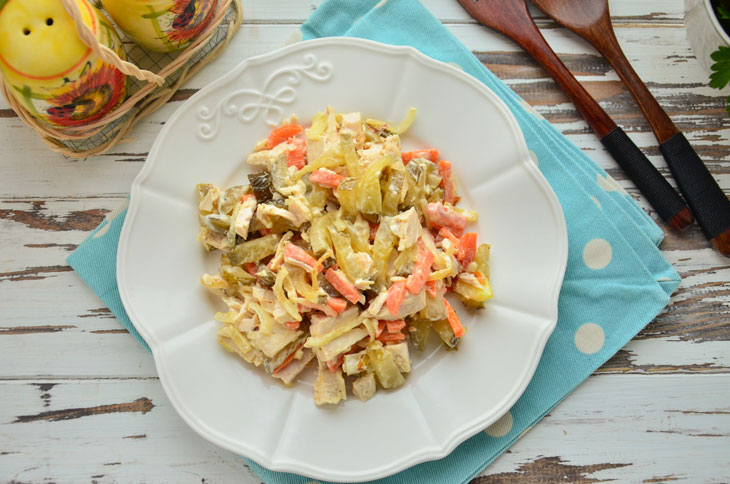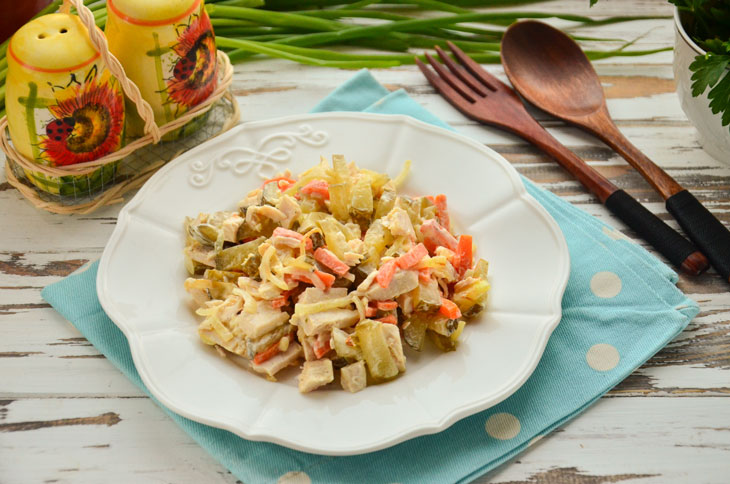 Enjoy your meal!