Salad "Odessa" can be prepared at any time of the year – it is tasty and light, easy to prepare, anyone who considers himself a culinary lover can handle it. For the recipe you will need fresh cucumbers, canned corn, eggs, cheese and a little garlic for spiciness.
The salad is dressed with sour cream, the dish comes out nutritious and tasty, with a fresh aroma and a spicy garlic note. It is not a problem to prepare such an original salad now, fresh cucumbers are always on sale, and a jar of canned corn is inexpensive – it is sweet and juicy, so cook it when you are in a good mood. Corn will make the dish hearty and high-calorie, also do not forget to add chicken eggs and hard cheese. You can present "Odessa" with any fresh herbs – it will be fresh and fragrant!
Ingredients:
Cucumbers – 100 g.
Canned corn – 100 g.
Chicken eggs – 1-2 pcs.
Hard cheese – 50 g.
Garlic – 1 clove.
Sour cream – 100 g.
Salt, black pepper – to taste.
Greens – to taste.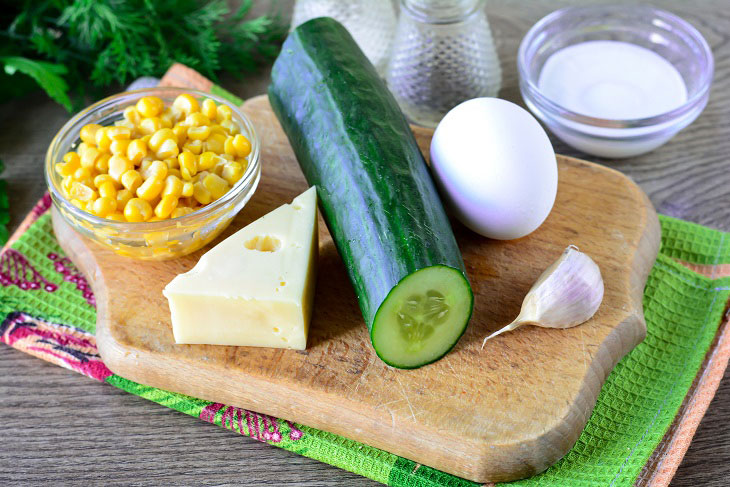 How to cook:
1. Cut the washed cucumbers into medium-sized cubes.
In a salad, fresh vegetables play an important role, giving the dish a unique taste and aroma.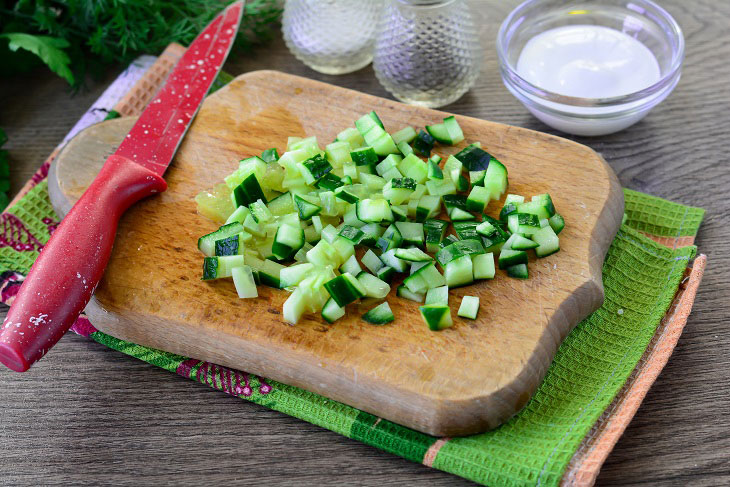 2. Drain the liquid from the corn, pour into a bowl, add the chopped ones there. Corn should be sweet, soft and juicy – this is important.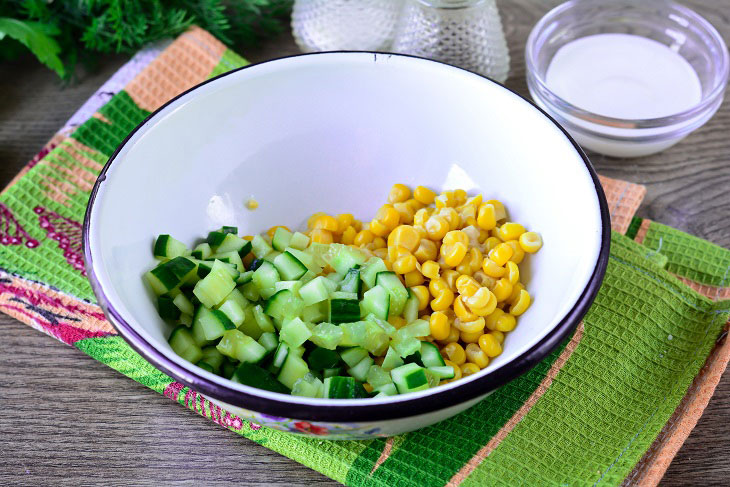 3. Grate hard cheese through a grater – the cheese will add a creamy taste to the salad.
Use classic types of cheese – for example, Dutch or Russian.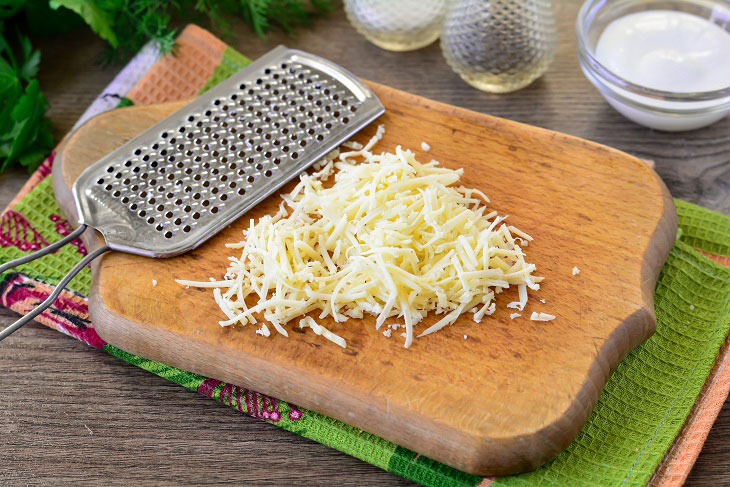 4. Add grated cheese to salad.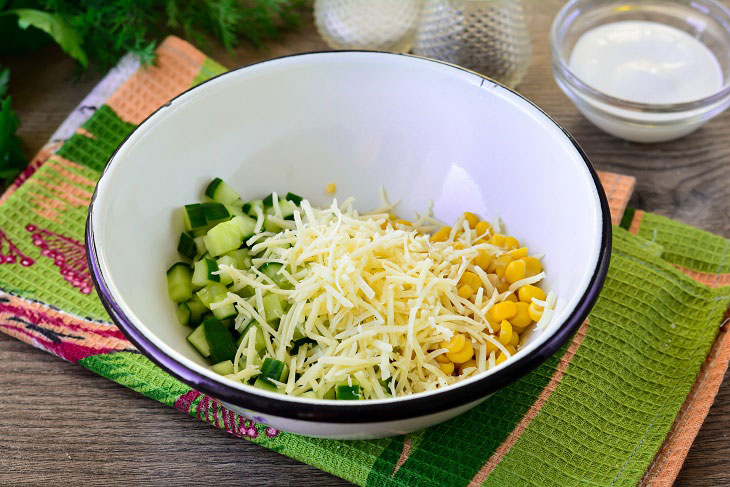 5. Hard boil chicken eggs for 7-8 minutes, cool them completely, and then peel them. Cut into cubes for salad.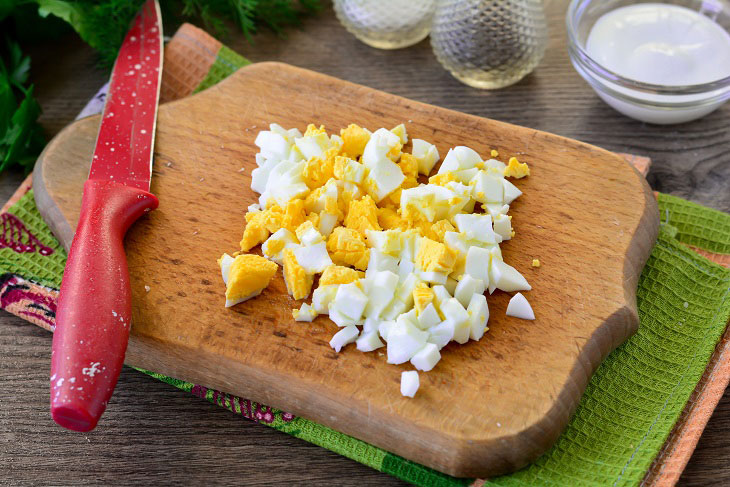 6. Pour the eggs into a salad bowl, and grate a clove of garlic on a fine grater. One medium clove will be enough to spice up the salad.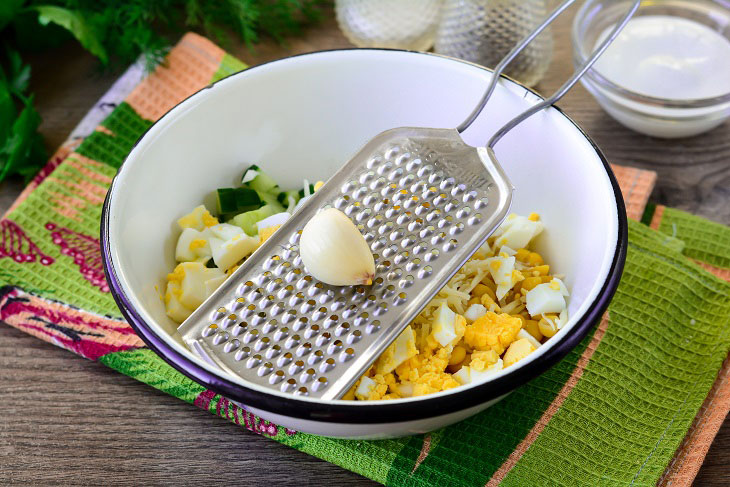 7. Toss salad with sour cream, add salt and black pepper to taste. Pour finely chopped greens – dill and parsley will do. Mix well and you're d1.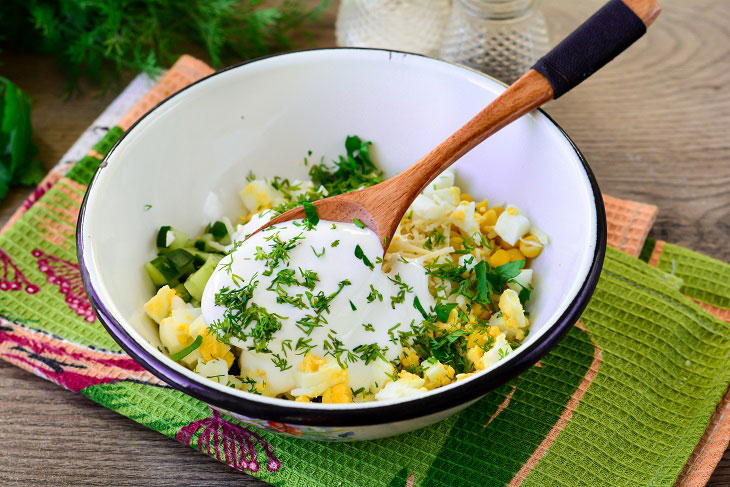 Serve the dish immediately to the table until the cucumbers have given up a lot of juice.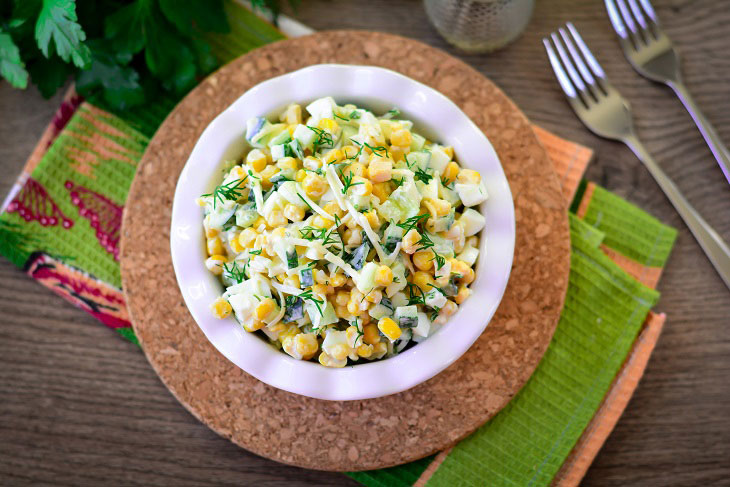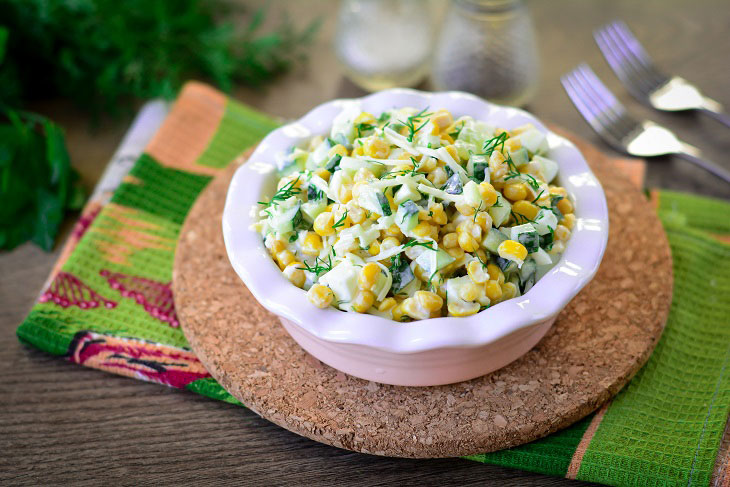 Enjoy your meal!