Salad from Mivina with boiled sausage is very tasty and satisfying. It can be served instead of a side dish and be sure that all family members will definitely be full. Also, this appetizer can be safely prepared even on the festive table.
For cooking, you should use Mivina of excellent quality, and you should also buy first-class boiled sausage. It is also necessary to add chicken eggs to the salad, it is better that they are homemade. In addition to these ingredients, you can add fresh cucumber or pepper cut into small cubes. Firm or smooth cheese complements and pairs well with the ingredients needed to make this salad.
Ingredients:
Mivina – 2 packs.
Mayonnaise – 1-2 tbsp. l.
Chicken eggs – 4 pcs.
Boiled sausage – 150 g.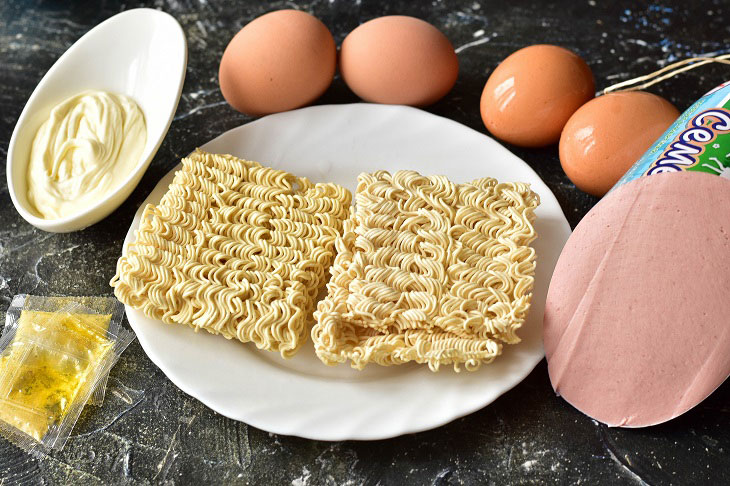 How to cook:
1. Eggs, first of all, wash well with a sponge and soda. After that, put them in a saucepan, fill with water so that it covers them completely. Put the pot on a high heat, when the water boils, reduce the heat. Boil chicken eggs for exactly 7 minutes.
After that, carefully remove the pan from the stove, pour the hot water into the sink and fill the eggs with cold water. When they have cooled, peel the shells and cut the eggs into cubes. For this purpose, you can use a special grate for slicing eggs.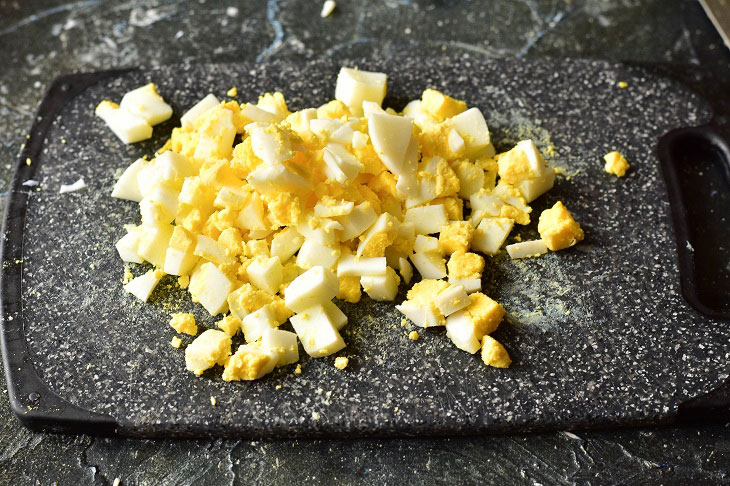 2. Remove the packaging from the boiled sausage, cut the sausage into the same cubes as the eggs.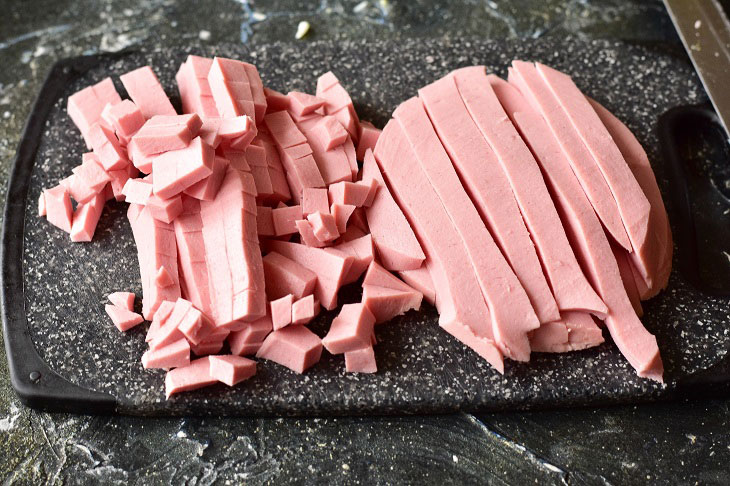 3. Remove Mivina from the packages, put it in a bowl. Pour boiling water over it and leave for 7 minutes, covered with a lid. Put the finished Mivina in a salad bowl with chopped eggs and sausage. Add spices, mayonnaise. Mix the salad very well.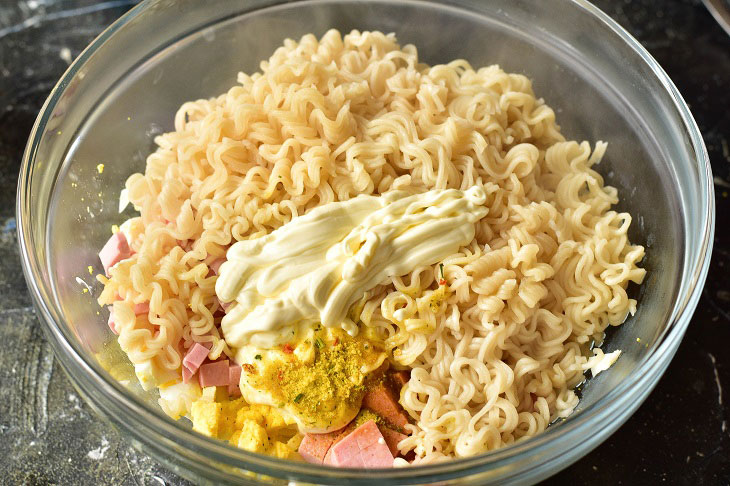 4. Now use a spoon to stir the salad. Place the bowl of prepared salad in the refrigerator for at least 30 minutes.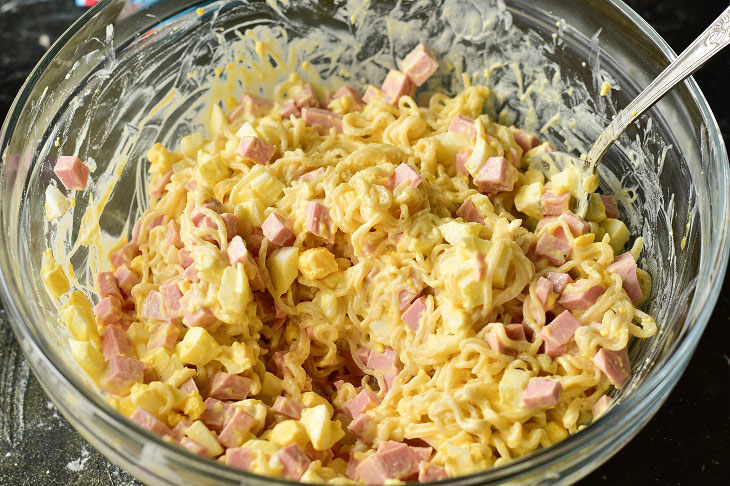 5. Transfer it to a beautiful bowl and serve it to the table.
This is how easy and quick you can make Mivina salad with boiled sausage.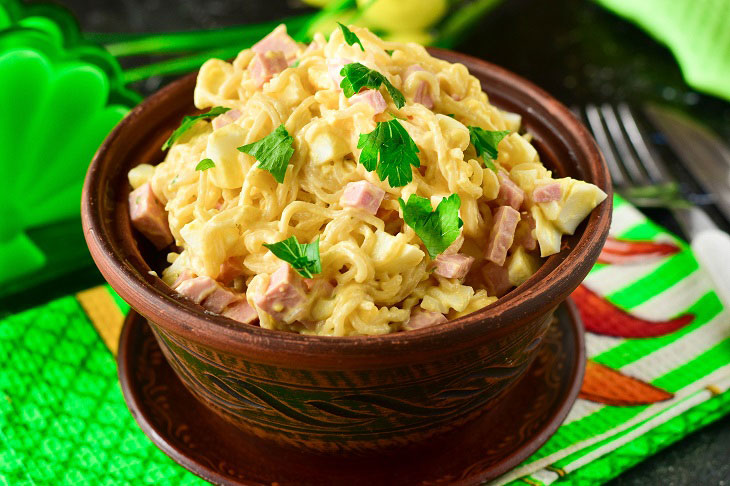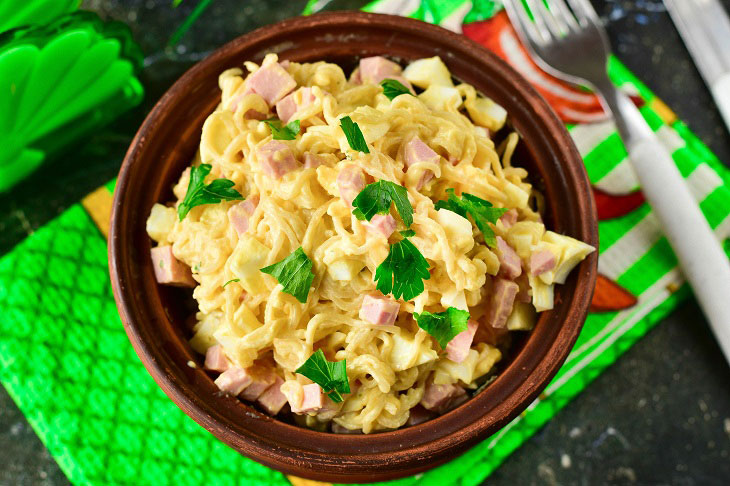 Enjoy your meal!