Salad "Olivier" – a classic salad for any celebration. It is cooked with sausage, various types of meat and even shrimp. If you decide to pamper your family with a delicious and satisfying dish, then cook Olivier with beef. Cooking such a salad with sausage is the easiest option, so we offer you a truly festive recipe. You can use any meat for Olivier – chicken, turkey or beef. Beef has a rich taste, so the salad becomes bright and tasty. For today's dish, it is better to boil the meat in advance, since the beef is cooked for at least an hour, and it should be cooled in the broth, so it will turn out juicy and tender.
Otherwise, everything is simple, prepare potatoes, eggs, pickled cucumbers and canned peas for the recipe. For dressing you will need mayonnaise – store or homemade, to your taste and choice.
Ingredients:
Boiled beef – 300 g.
Boiled potatoes – 300 g.
Pickled cucumbers – 200 g.
Chicken eggs (large) – 2 pcs.
Canned green peas – 250 g.
Mayonnaise – 150-180 g.
Salt, pepper – to taste.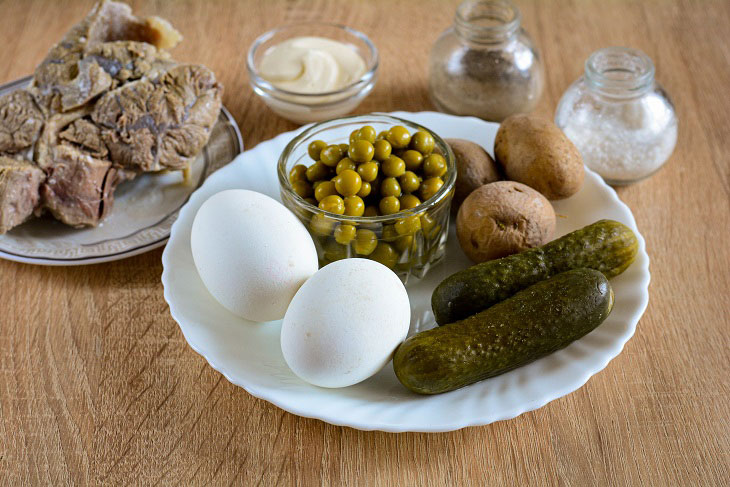 How to cook:
1. Boil hard-boiled eggs: Pour the washed eggs with cold water and bring to a boil. Lightly salt the water so that the shell does not crack, boil the eggs for 7-8 minutes. Then cool and peel off the shell. Cut eggs into cubes for salad.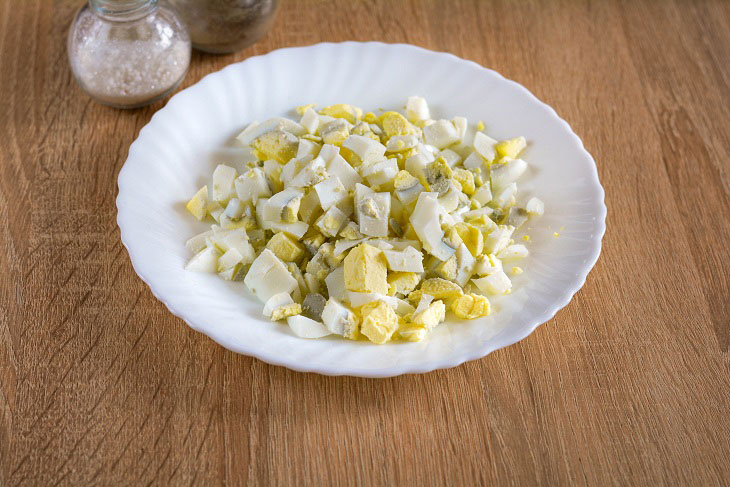 2. Peel the boiled potatoes until soft and cut into cubes. Potatoes can be boiled in their skins, and peeled.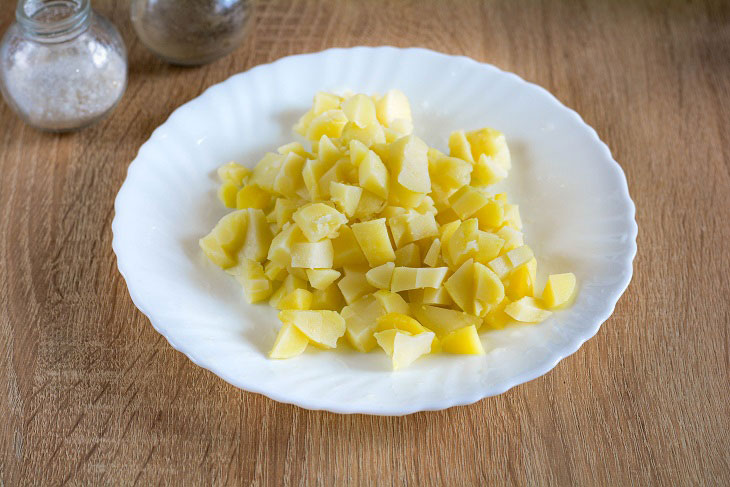 3. Cut the cooked beef into small pieces. It is important to cook the meat until fully cooked so that the beef is easily cut.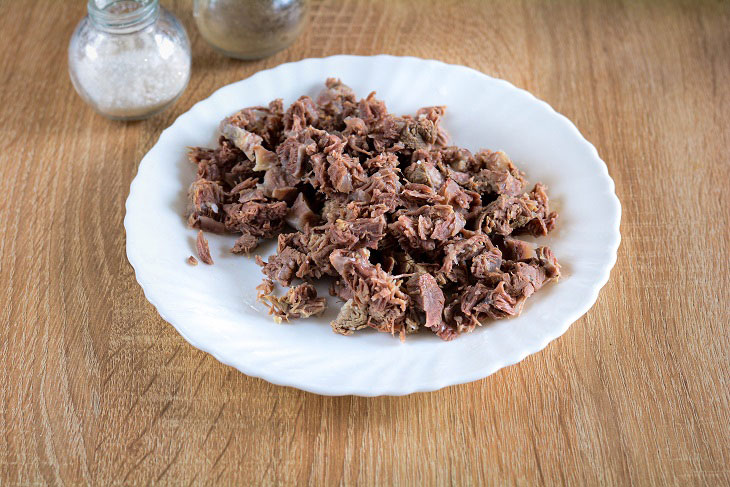 4. Cut the tails off the pickled cucumbers, then cut into medium cubes.
Barrel cucumbers are not quite suitable for the recipe, they are very sour.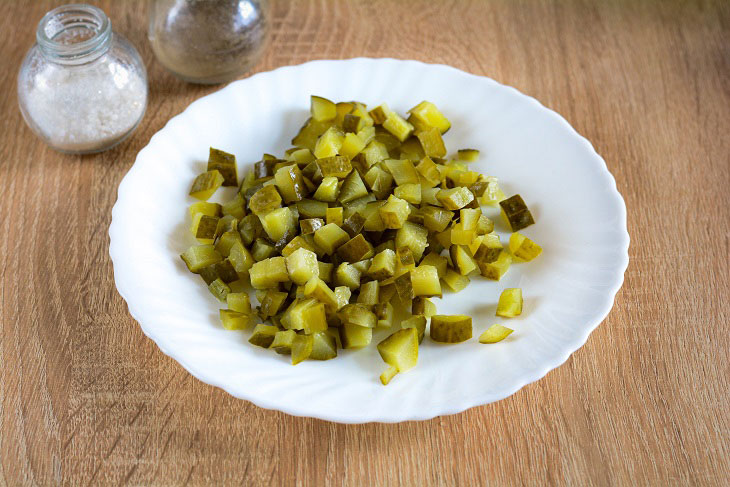 5. Combine all chopped components and mix: eggs, potatoes, cucumbers and beef. Drain the marinade from the peas and add the beans to the salad.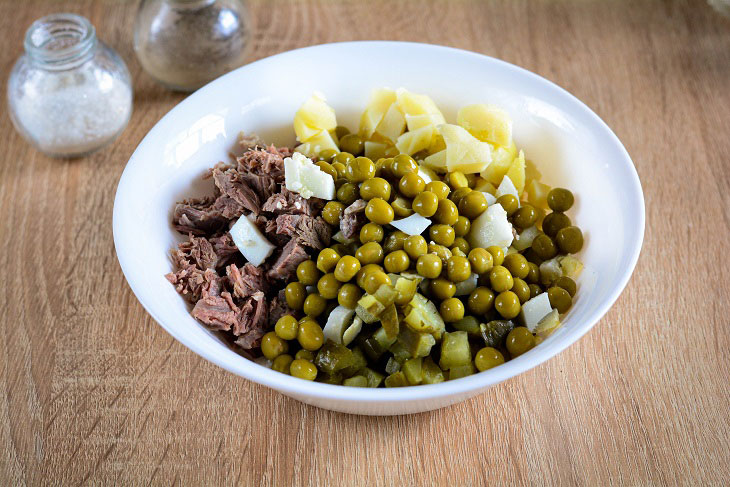 6. Salad and pepper to taste, add mayonnaise and mix.
The salad does not need to be soaked for a long time, it is enough to cool it in the refrigerator.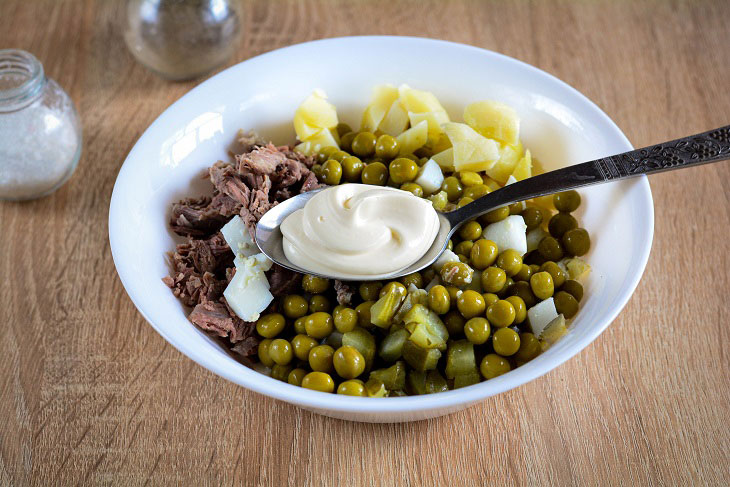 Ready salad can be served immediately to the table.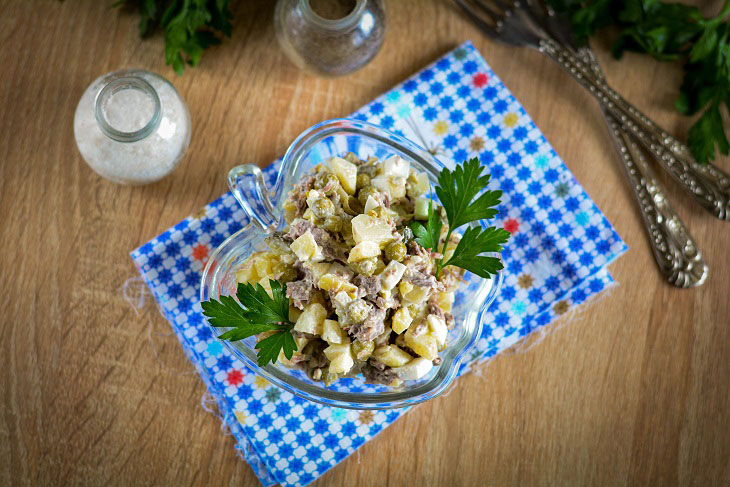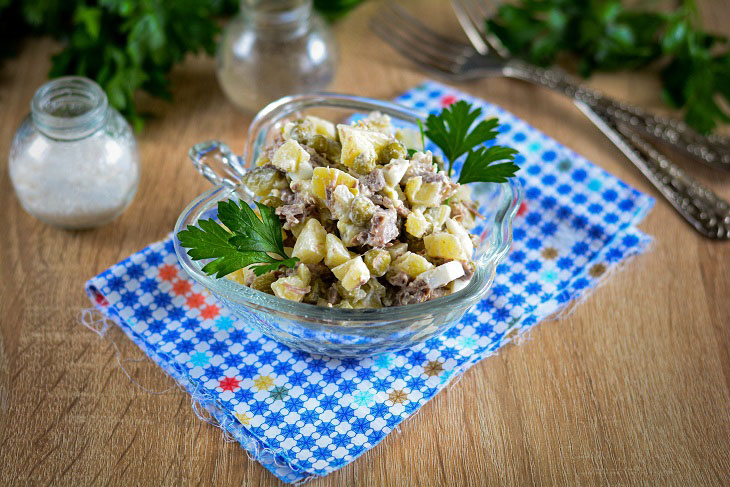 Enjoy your meal!