Salad "Orange Mood" has not only a bright color, but no less bright taste. The basis of the dish is the "queen" of the winter season – pumpkin. Its sweetish taste perfectly harmonizes with the light bitterness of the red Yalta onion and fragrant orange zest.
The composition of the salad includes a whole bunch of greens – arugula, parsley and mint. The highlight of the dish, do not believe it, is pearl barley. It is this ingredient that serves as a link and gives the dish harmony and balance. The dressing is a duo of orange juice and olive oil.
Ingredients:
Pumpkin – 400 g.
Orange (large) – 1 pc.
Pearl barley – 80 g.
Red onion (small) – 1 head.
Fresh mint – 1 small bunch.
Parsley greens – 1 small bunch.
Arugula – 1 small bunch.
Olive oil – 2 tbsp. l.
Freshly ground black pepper – to taste.
Salt – to taste.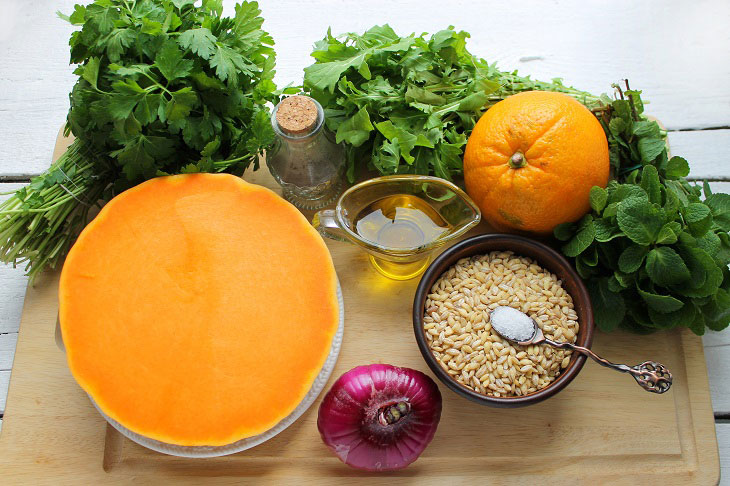 Cooking time: 60 minutes. Barley soaking time: from 3 to 8 hours. Servings Per Container: 4.
Cooking:
1. Soak pearl barley in cold water. The minimum soaking time is 3 hours. Then rinse well and cook until tender. Cooking time will be 1 hour – 1 hour 30 minutes.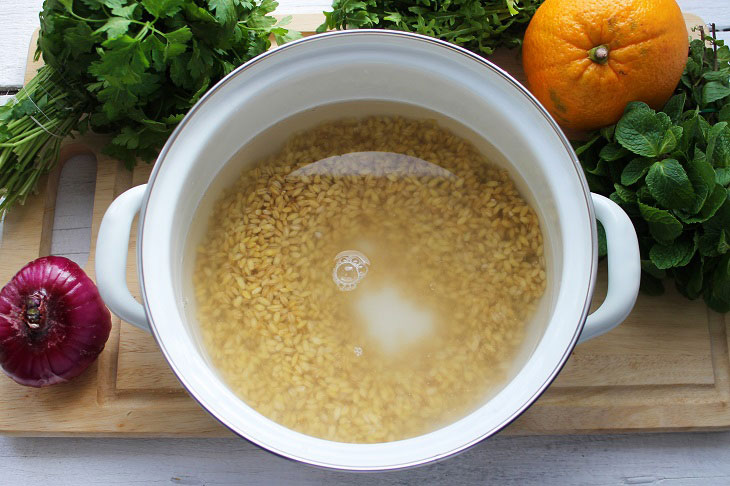 2. Peel the pumpkin and cut into cubes with a side of about 1.5 cm.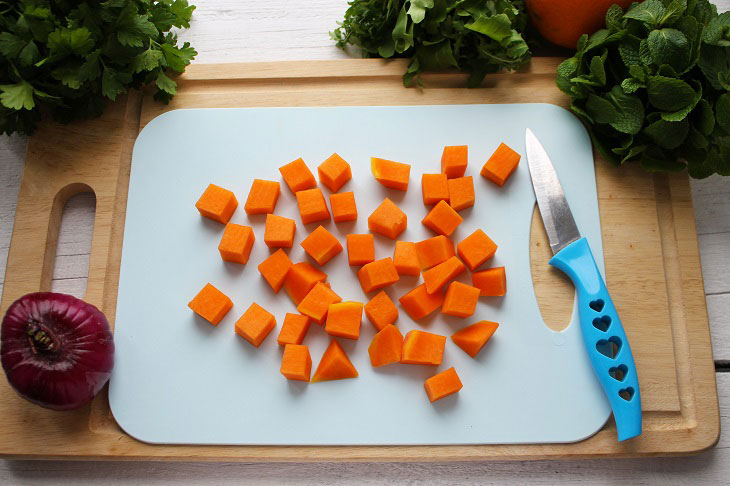 3. Wash the orange and remove the zest from it with a special knife, only the orange layer.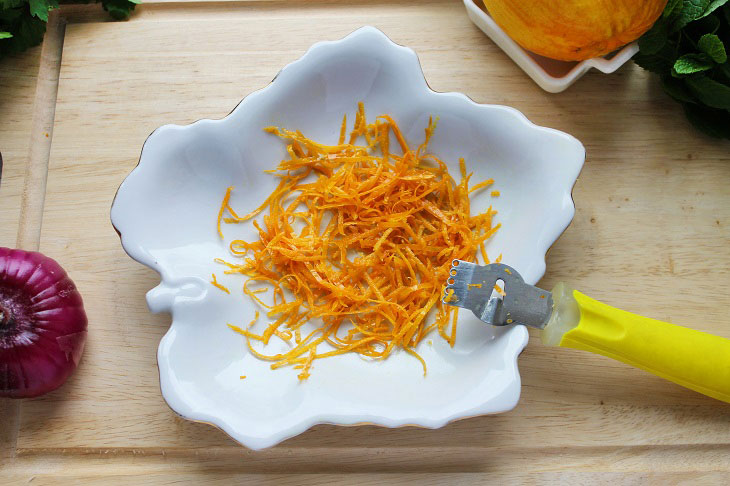 4. Put the pumpkin in a refractory form and pour 1 tbsp. l. olive oil.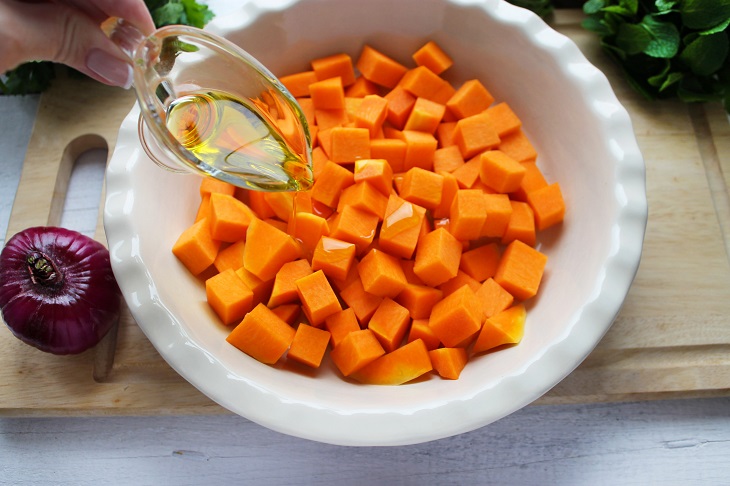 5. Sprinkle with orange zest and stir.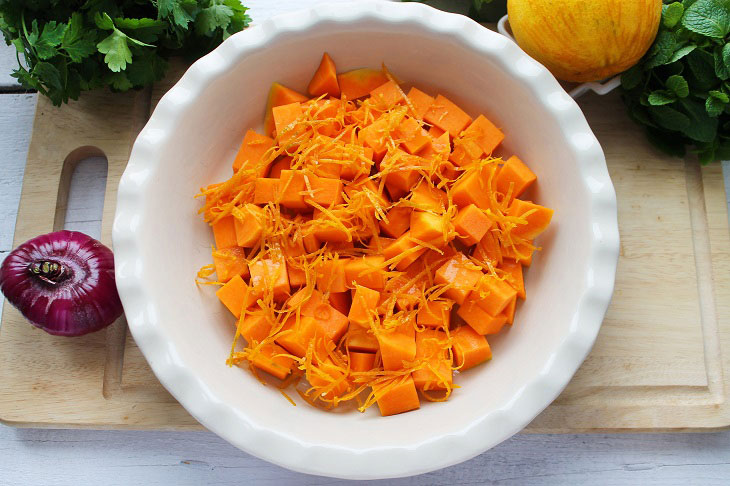 6. Preheat oven to 200⁰ C. Roast pumpkin until soft, about 25-30 minutes. Make sure the pumpkin doesn't burn.
Cut the orange in half. Cut off one circle and set aside to decorate the dish. Squeeze out the juice from the halves.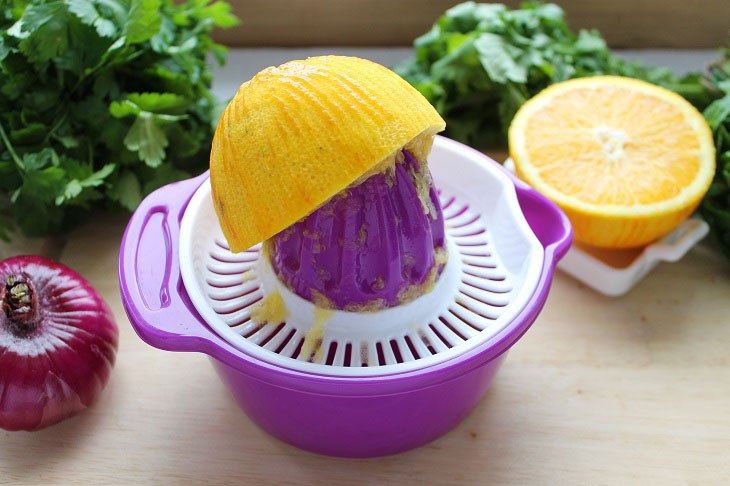 7. Peel the onion and cut into thin half rings.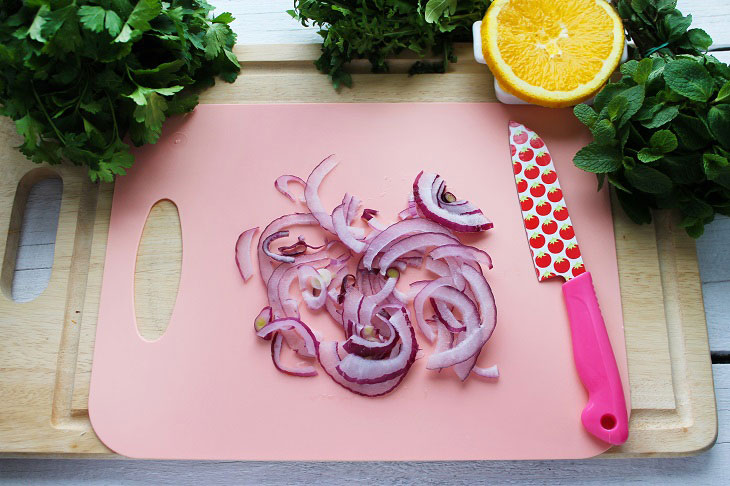 8. Rinse the greens well and dry. Finely chop the parsley and mint, reserving a couple of sprigs for garnish. Tear the arugula into large pieces with your hands.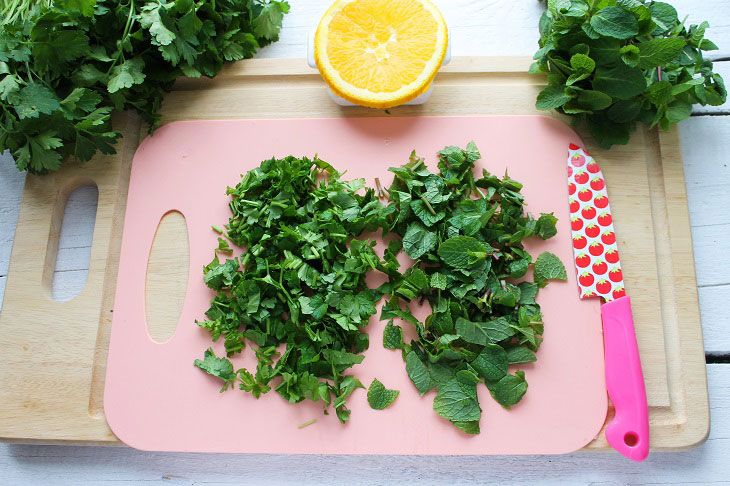 9. Put pearl barley in a deep salad bowl. Drizzle with remaining oil.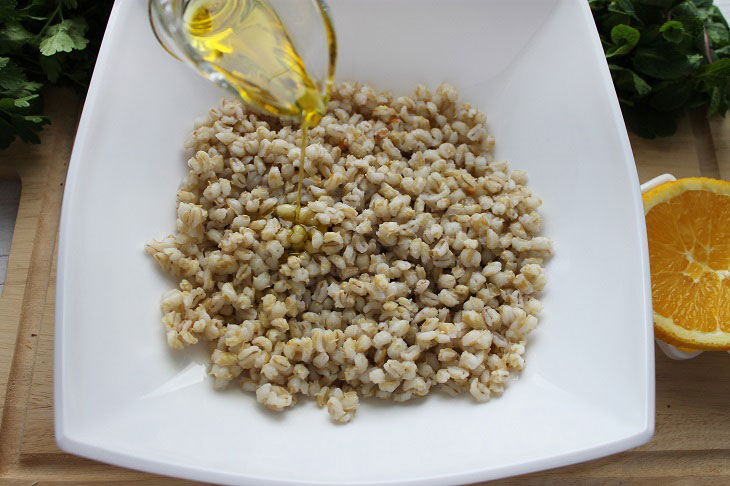 10. Then pour in the orange juice.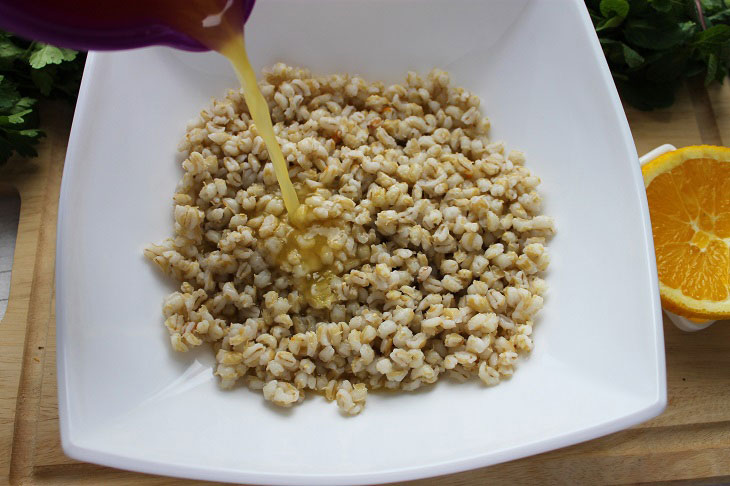 11. Salt and pepper to taste. Mix thoroughly.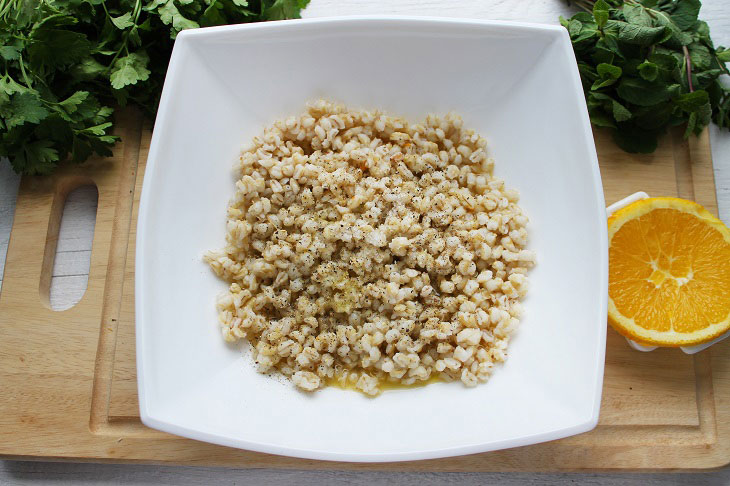 12. Add onion, parsley and mint.
13. Lay out the pumpkin. Stir gently.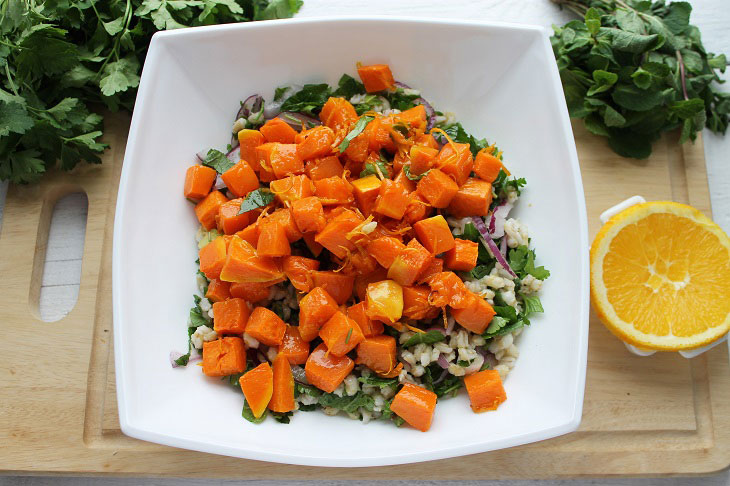 14. Top with arugula.
Garnish the Orange Mood salad with mint and parsley leaves. Cut the orange circle into slices and place on top. Serve immediately.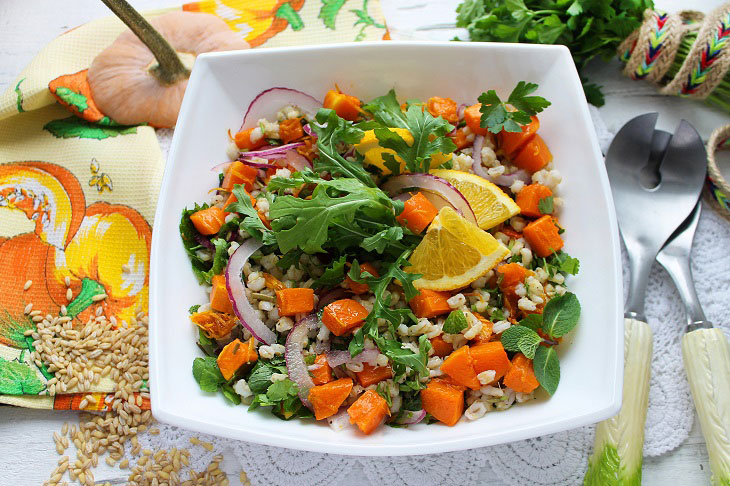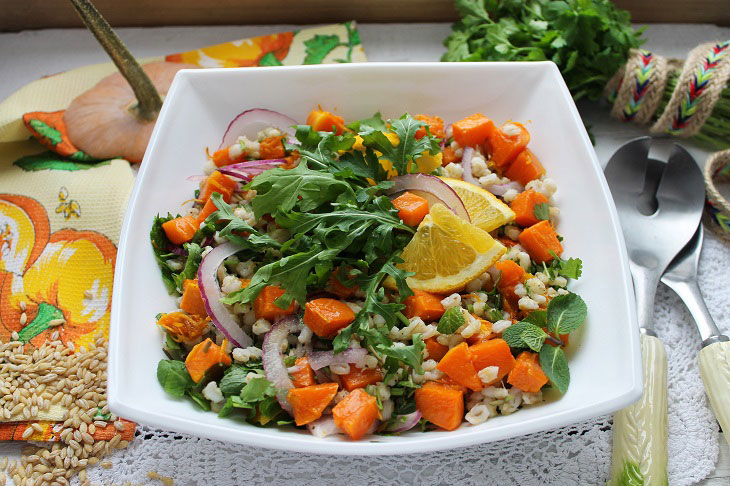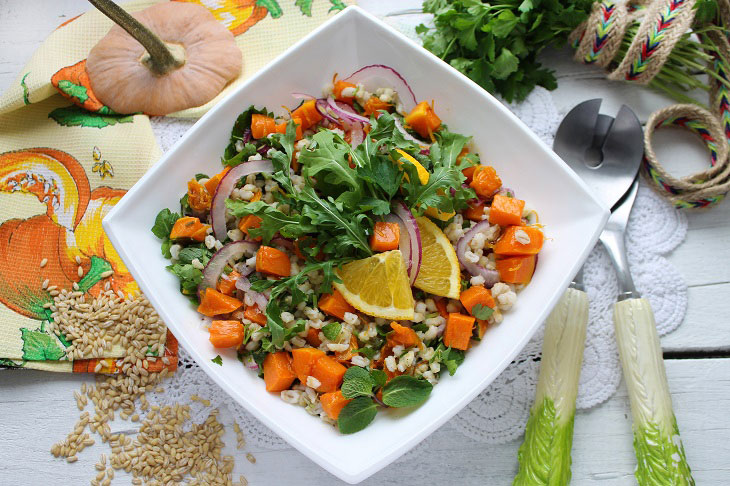 Enjoy your meal!