Salad "Peterhof" is a bright-looking salad, but most importantly, it is quite healthy, since its main ingredients are bell peppers, carrots, herbs and chicken breast.
By the way, the most useful ingredient (breast) can be used fried, boiled, or you can buy ready-made smoked. Of course, if you are a supporter of a healthy diet, then it is better to opt for boiled meat and in this case it is better to season it not with mayonnaise, but with yogurt without any additives. Any bell pepper will do. Korean-style carrots should be purchased at the store or made at home according to a proprietary recipe. You need to serve a ready-made salad to the table when it has been in the refrigerator for at least 30 minutes. So all the ingredients will become the same temperature, and the salad itself will be well saturated and become as tasty as possible.
It is combined with any side dishes, but it can also be served as an independent dish.
Ingredients:
Bulgarian pepper (you can use sweet pepper) – 1 pc.
Chicken breast (boiled, fried or smoked) – 1 pc.
Carrots in Korean – 100 g.
Mayonnaise with any percentage of fat content – 1 tbsp. l.
Salt – to taste.
Greens – to taste.
Ground black pepper – to taste.
How to cook:
1. Boil the meat. To do this, put it in a saucepan, add salt and a little ground pepper. Fill the meat with water so that it completely covers it. Send to fire. Boil the meat for at least 30 minutes.
If you are using homemade chicken breast, then boil it for 50 minutes. Cut the boiled meat into pieces.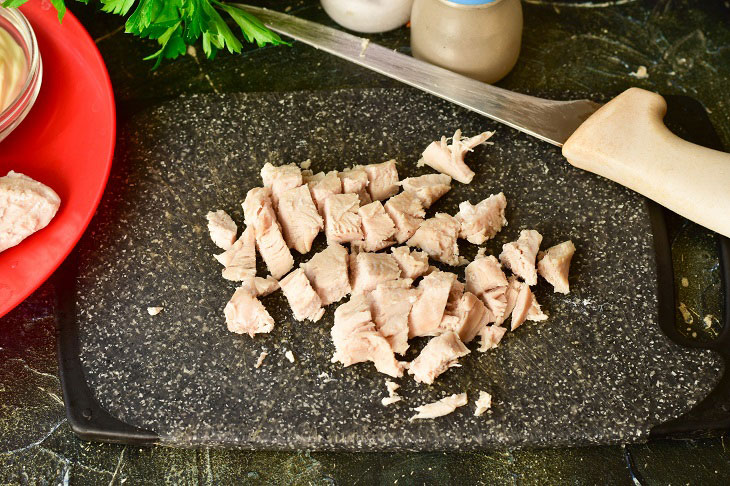 2. Wash the bell pepper. Be sure to remove the seeds. Now cut the vegetable in a way that is more convenient, for example, cubes or straws.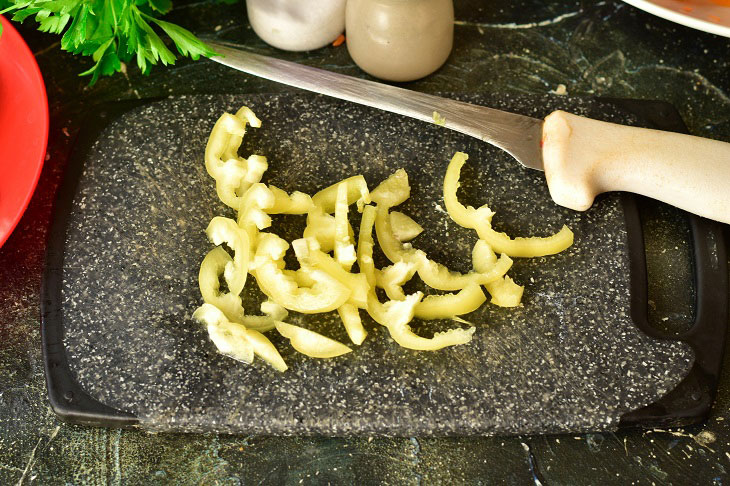 3. Rinse greens under running water. Finely chop it. In addition to parsley, you can put dill or green onions in the salad.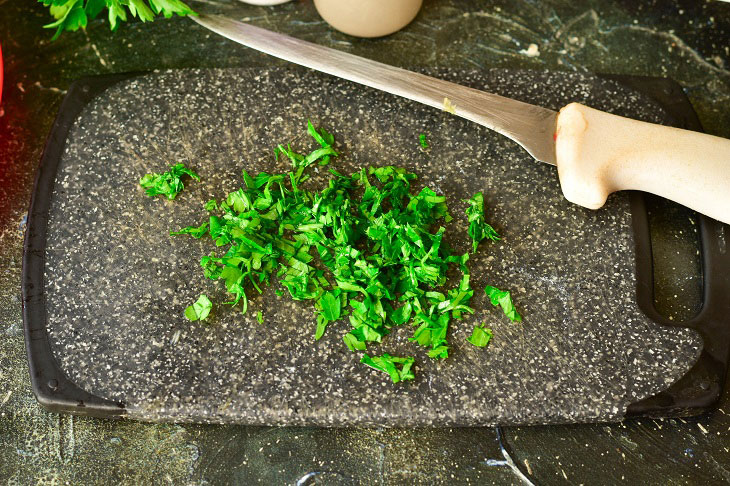 4. Put Korean-style carrots and all chopped ingredients in a deep bowl.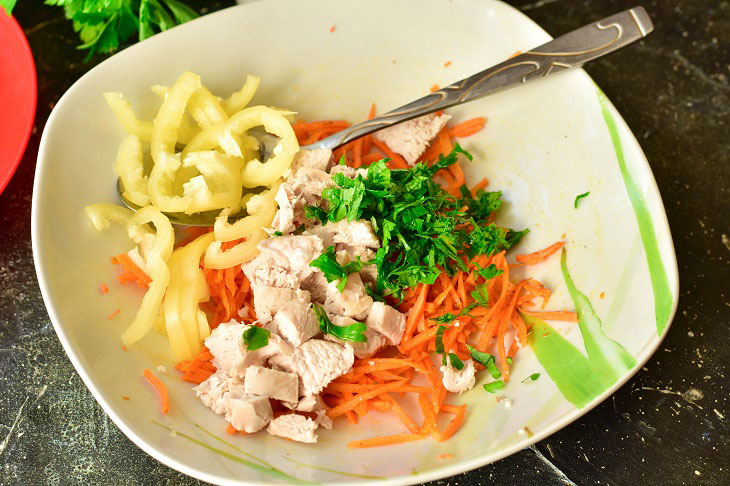 5. Add mayonnaise.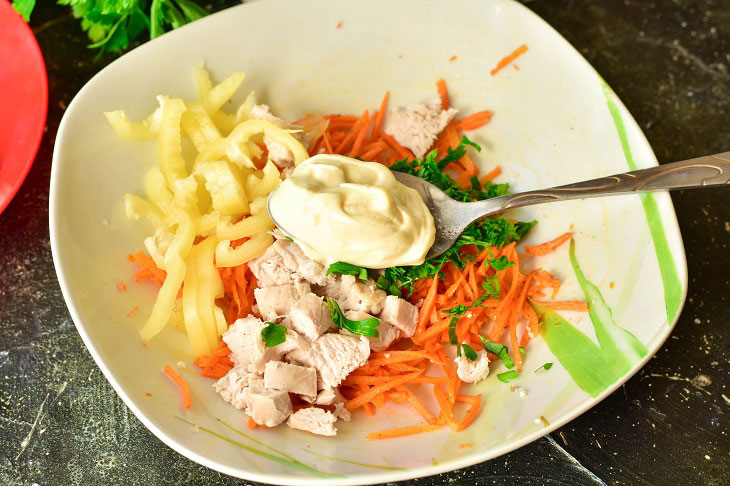 6. Stir the salad and send it to the refrigerator for 30 minutes. After that, put it in a beautiful bowl, set it on a front dish.
Serve the salad "Peterhof" to the table.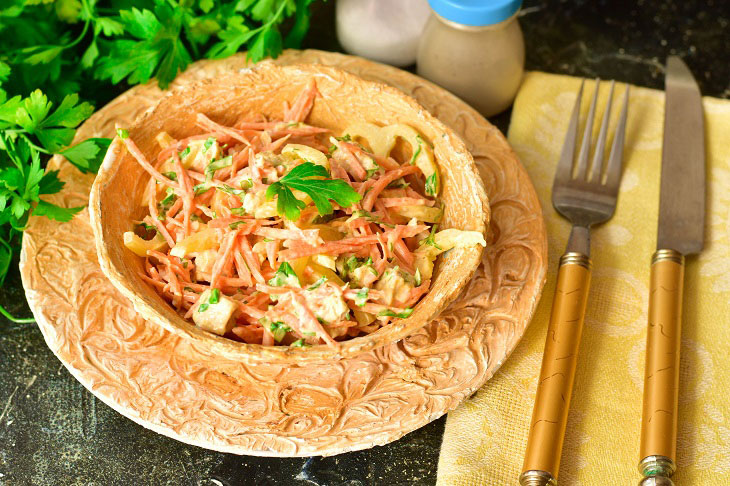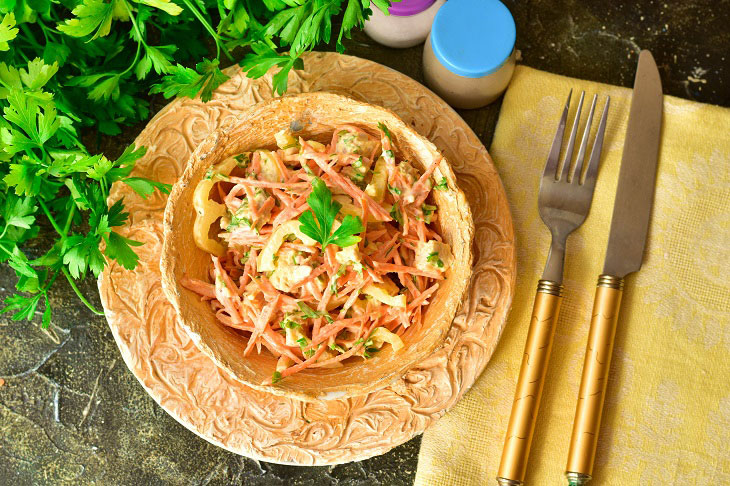 Enjoy your meal!