Salad Riddle with egg pancakes is an original dish that can be prepared both for a regular dinner and on the occasion of a festive feast. The components of the salad are perfectly combined with each other, cabbage leaves and fresh cucumber make the dish easy to digest. And if you use not mayonnaise as a dressing, but low-fat sour cream or yogurt in general, then the dish will turn out to be completely dietary.
To minimize the calorie content of the salad (if necessary), you can not add flour to the egg mass and use chicken fillet.
Ingredients:
Beijing cabbage – 2-3 leaves.
Fresh cucumber – 1 pc.
Hard cheese – 50 g.
Chicken egg – 1 pc.
Milk – 50 ml.
Oil for frying – 1 tbsp. l.
Wheat flour – 1 tbsp. l.
Chicken meat – 120 g.
Mayonnaise – 1.5 tbsp. l.
Salt – 2 pinches.
Cooking time: 45 minutes. Servings Per Container: 2.
Cooking:
1. First of all, put the chicken meat on the boil – you need to salt the water and add spices. While the chicken is cooking, you can prepare the rest of the ingredients. Peking cabbage leaves should be washed with running water and cut into small pieces, sent to a salad bowl.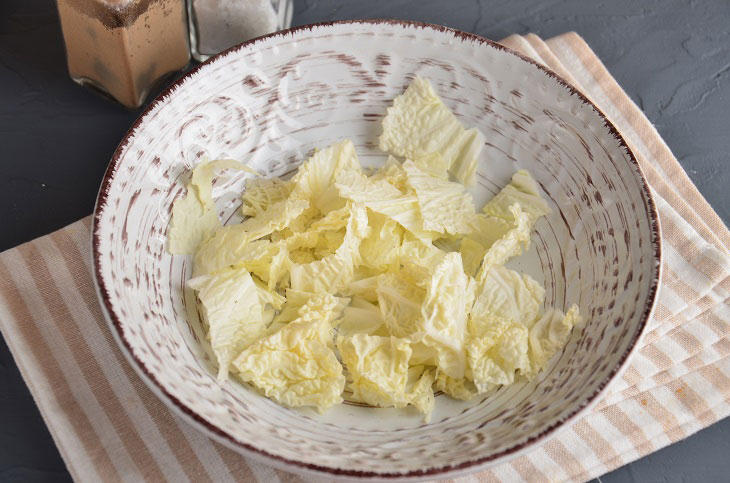 2. Next is the turn of fresh cucumber. You need to wash the vegetable, cut it off on both sides and check if it is bitter. Next, the vegetable must be cut into strips or cubes, put in a salad bowl.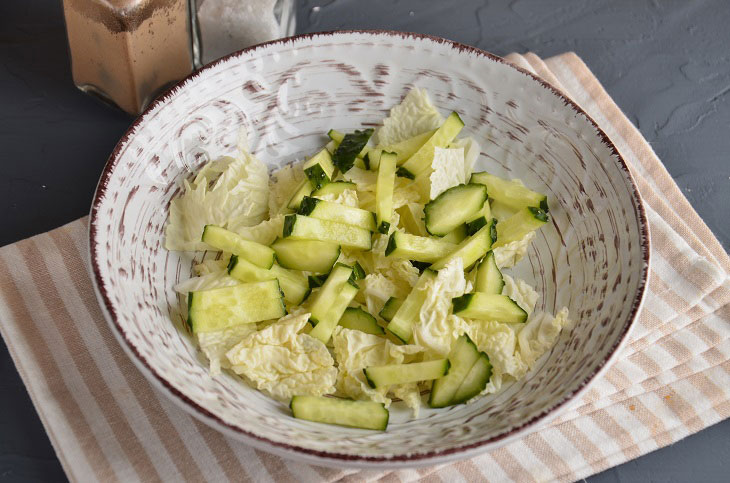 3. Any hard cheese will do – with or without additives, more salty or more fresh. Grate it on a grater and send it to a bowl.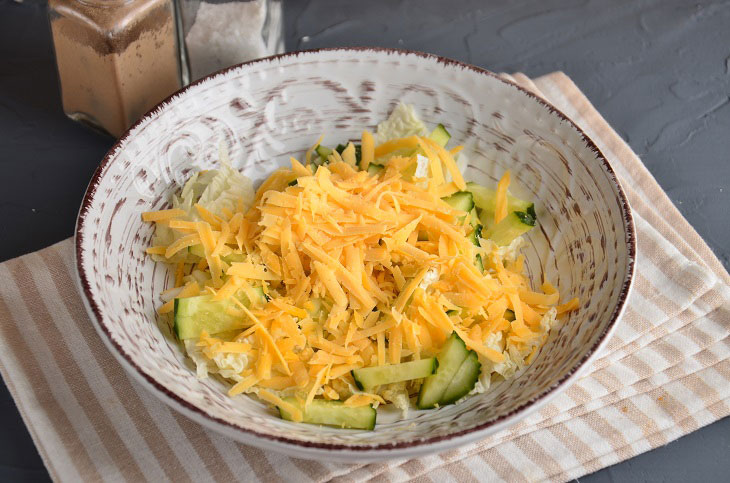 4. To prepare an egg pancake, you need to mix the egg, milk and wheat flour in a bowl.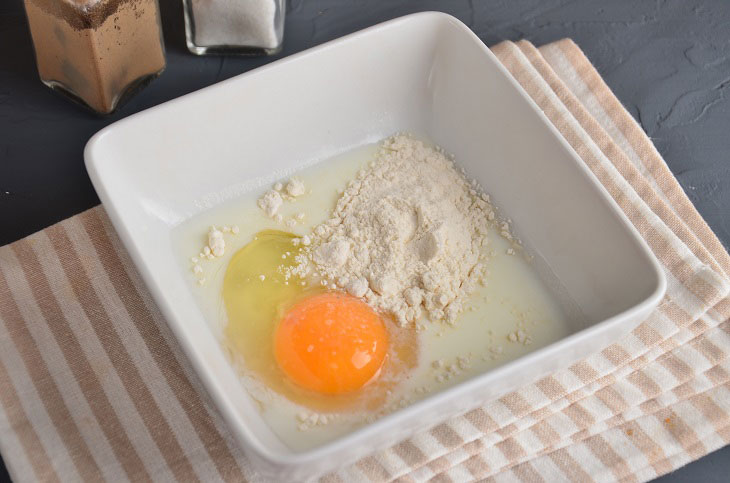 5. Add salt and spices to the egg mass, mix everything well so that not a single flour lump remains.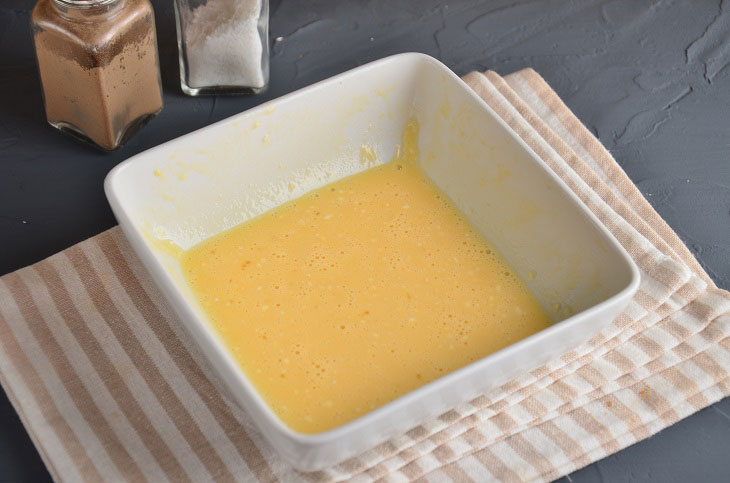 6. Pour the egg mass into a hot frying pan greased with vegetable oil and fry a thin pancake (for 2-3 minutes). Chicken meat should be cooled and cut into small pieces, then put to the rest of the products. Also, the salad should be seasoned with mayonnaise or sour cream.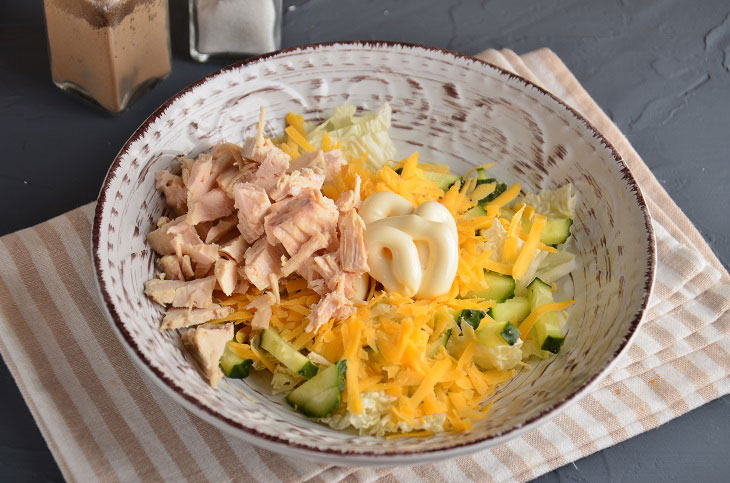 7. Lightly salt the salad, add spices if desired and mix.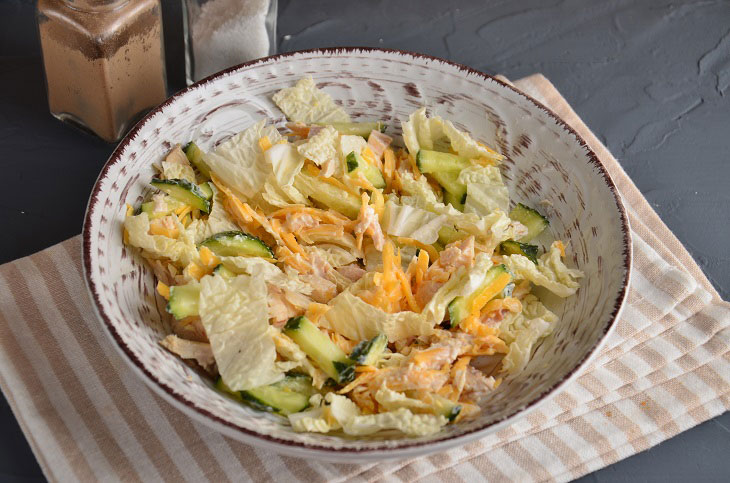 8. Roll up the hot egg pancake and let cool in this form. Then cut the roll crosswise into thin slices. Put the finished salad on a dish and decorate with spirals on top.
The dish can be served!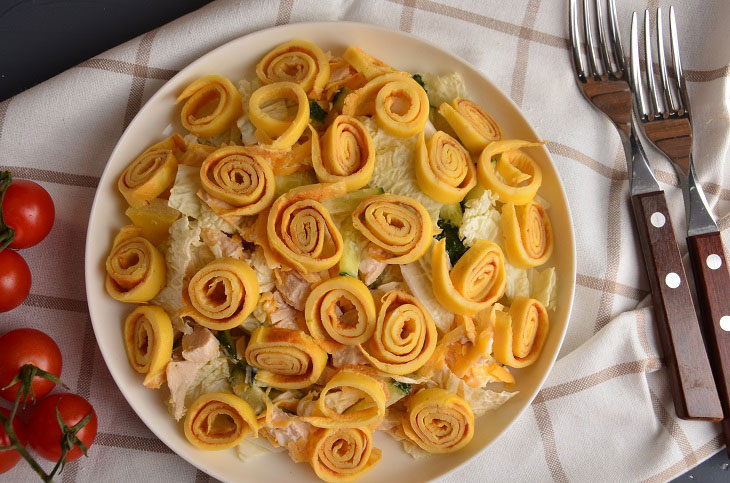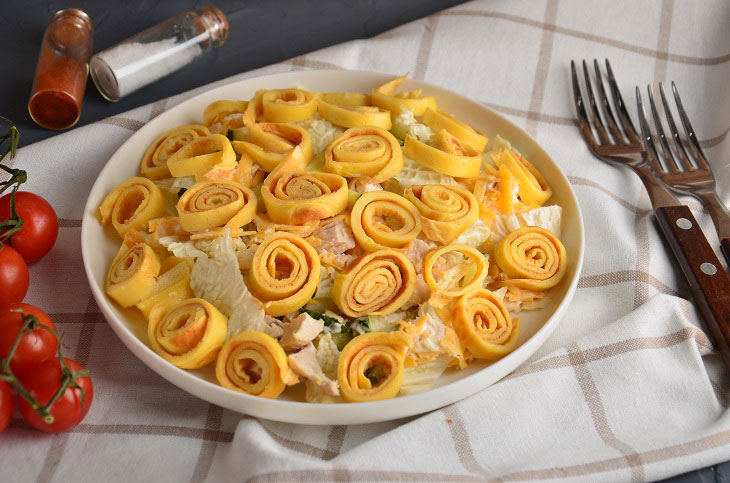 Enjoy your meal!