Salad "Rubies in the Snow" instantly attracts attention at the festive table. Bright pomegranate seeds sparkle like rubies, making the dish appetizing. The components of the salad are affordable and perfectly harmonize with each other.
For the recipe you will need chicken fillet, hard cheese, Korean carrots, eggs and mayonnaise as a sauce. Place the salad in the fridge before serving so that it is thoroughly soaked. When decorating a dish with pomegranate seeds, remember that they give it not only an elegant appearance, but also a piquant sourness.
Ingredients:
Chicken fillet – 200 g.
Hard cheese – 70-80 g.
Carrots in Korean – 100-150 g.
Chicken eggs – 1-2 pcs.
Pomegranate – 40 g.
Mayonnaise – 80 g.
Salt, black pepper – to taste.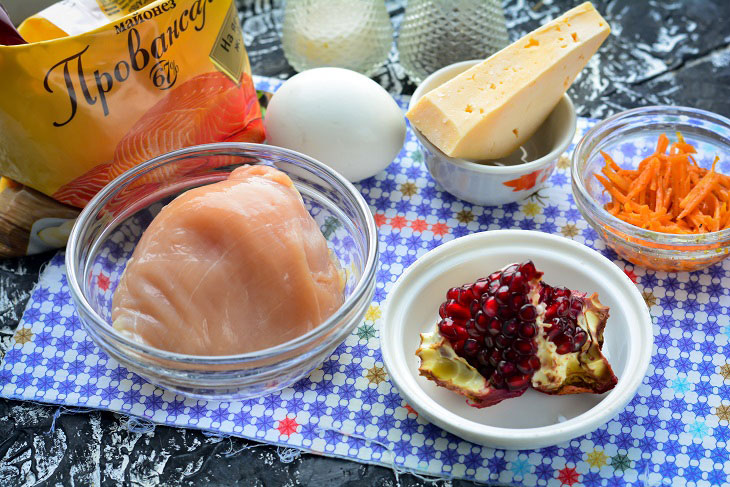 How to cook:
1. You can do different things with chicken fillet – as the first option – fry, the second – cook. The choice is yours. We will cook the meat, in our opinion, so the chicken will be softer and more tender.
Rinse the chicken fillet, put it in cold water and cook with salt for 20-25 minutes. Then cool the meat in the broth, remove and chop. Disassemble into small fibers or simply cut with a sharp knife.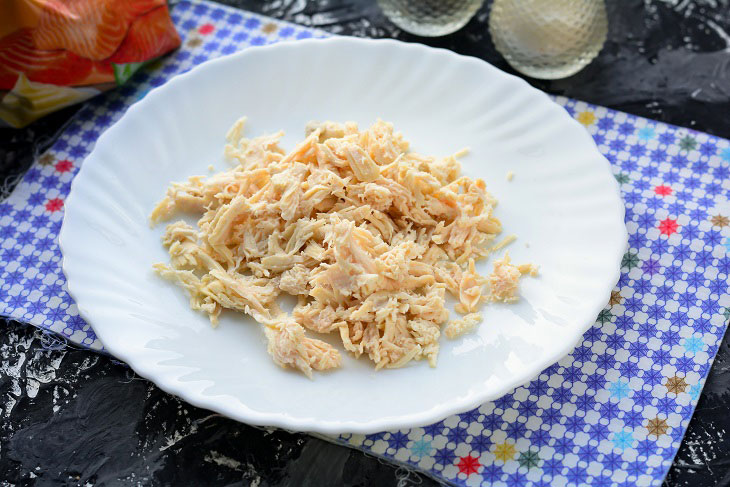 2. Start laying out the salad in layers – the first layer of chicken flavored with mayonnaise.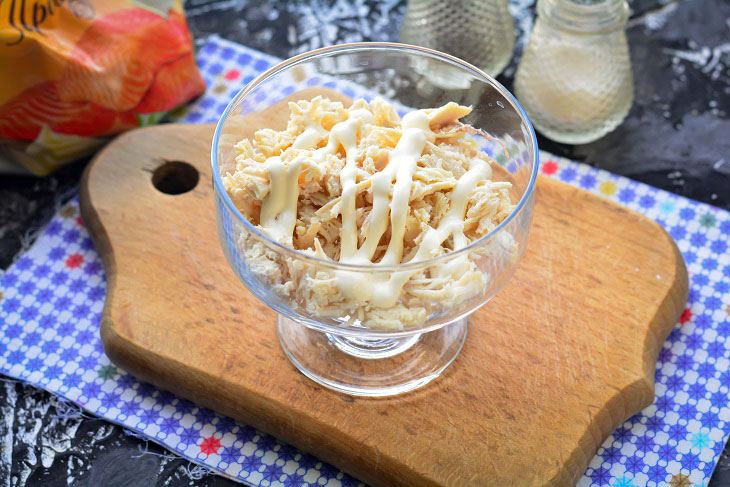 3. Spread Korean carrots on top of the chicken – this is the second layer, pour sauce over it.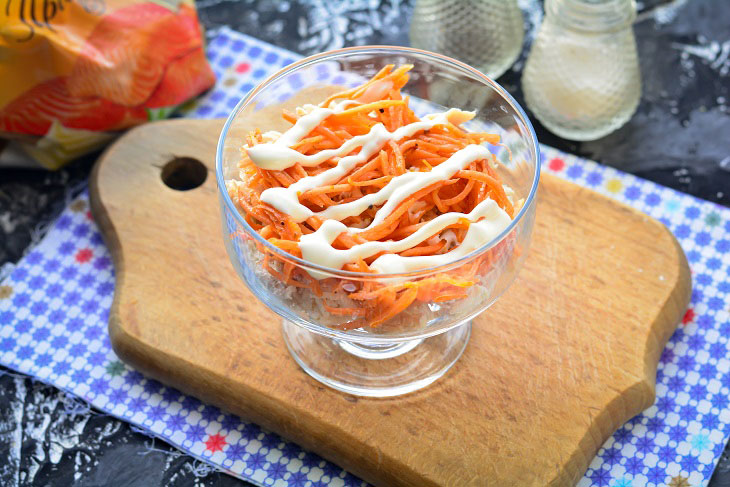 4. Cool hard-boiled chicken eggs and peel, grate.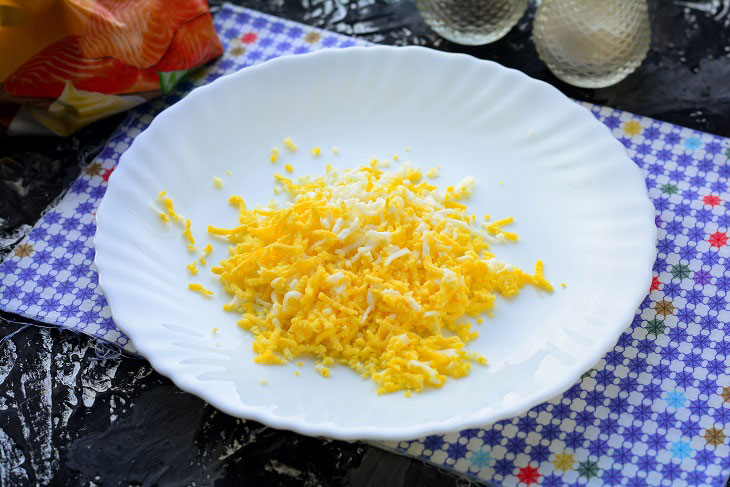 5. The next layer in the salad is egg. Pour this layer well with mayonnaise and lightly salt. You can pepper to taste.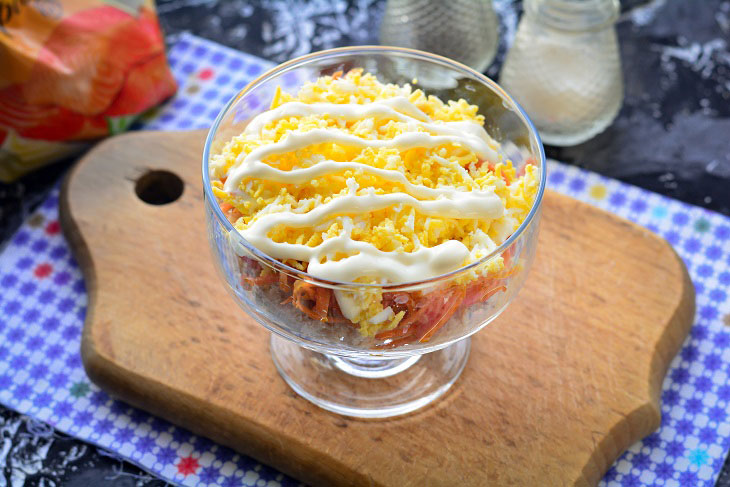 6. Grate cheese – take the variety to taste that you like.
7. The final layer in the salad is cheese, sprinkled with mayonnaise.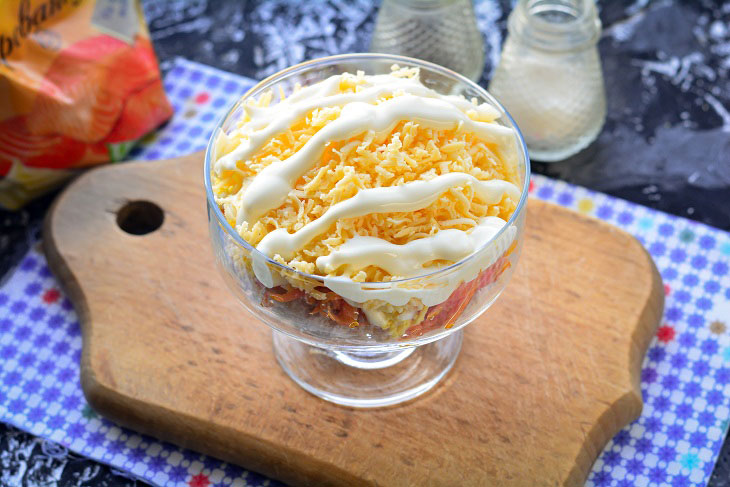 8. At the end, decorate the salad with pomegranate seeds and refrigerate for at least 25 minutes to completely soak and cool well.
Then serve with a sprig of fresh herbs.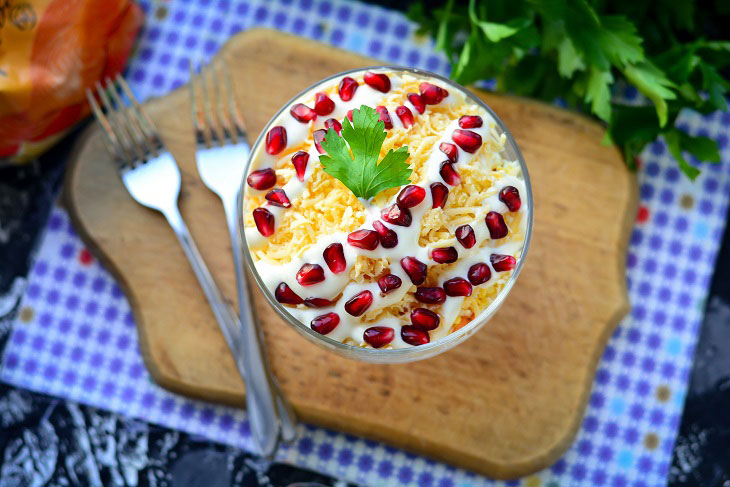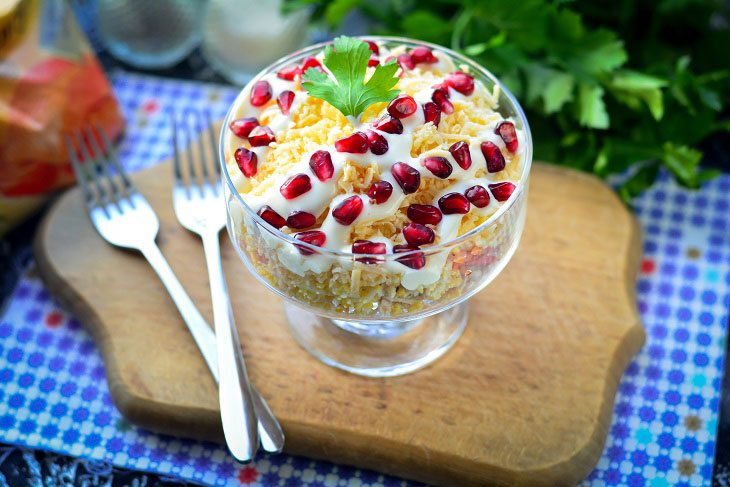 Enjoy your meal!