Parus salad with chips is a very easy-to-prepare appetizer that can be made on a normal day or on a holiday.
This salad is unusual in that it is interestingly decorated. A sail is made from chips, it is thanks to him that he looks more elegant and festive. When buying them, you can opt for those that you like the most in taste. Chicken fillet can be smoked, boiled or fried. Any eggs will do, however, homemade ones will be better and tastier.
It is worth dressing the salad with mayonnaise with a high percentage of fat content, but sour cream is also suitable. It is better to make Korean-style carrots at home, but if there is no time for this procedure, then feel free to buy it ready-made, especially since it is sold in any grocery store. Just be sure to look at its expiration date.
Ingredients:
Chicken breast – 150 g.
Chicken egg – 1 pc.
Carrots in Korean – 40-60 g.
Mayonnaise – 2 tsp
Salt – to taste.
Chips – a few pcs.
Ground black pepper – to taste.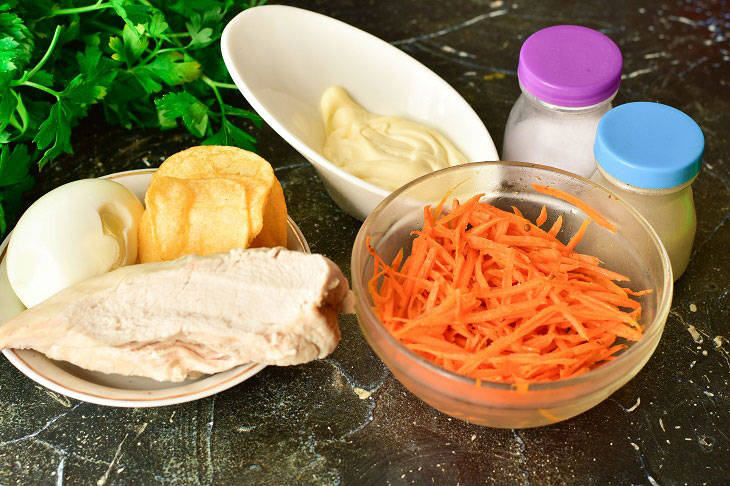 How to cook:
1. If you have Korean-style carrots ready, then simply put them on a dish and brush with mayonnaise on top or squeeze it in the form of a grid directly from the tube. If you cook it yourself, then clean it, grate it on a special grater. Add spices for Korean carrots and mix. You can also add garlic to it to taste, which you must first squeeze through a press and vegetable oil.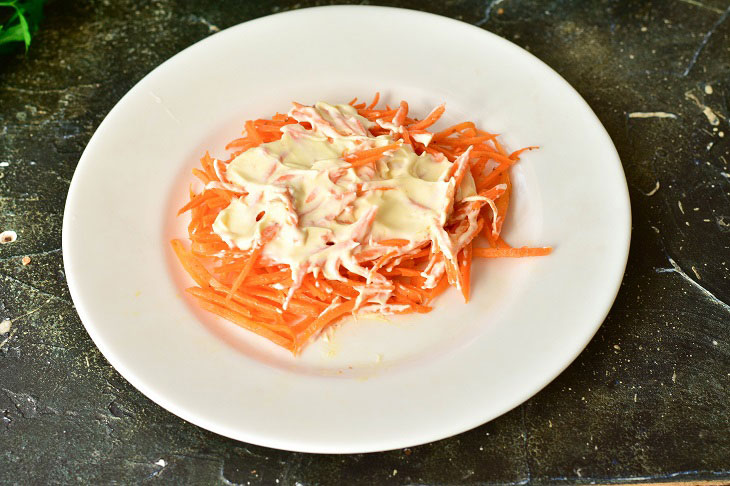 2. Boil the chicken egg, peel and cut into medium-sized cubes.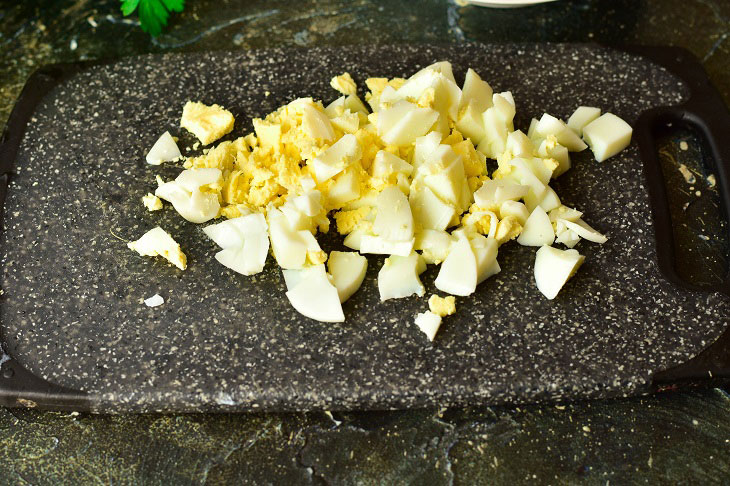 3. Put them on top of the carrots. Lubricate with mayonnaise.
This sauce can be safely replaced with yogurt without additives or sour cream.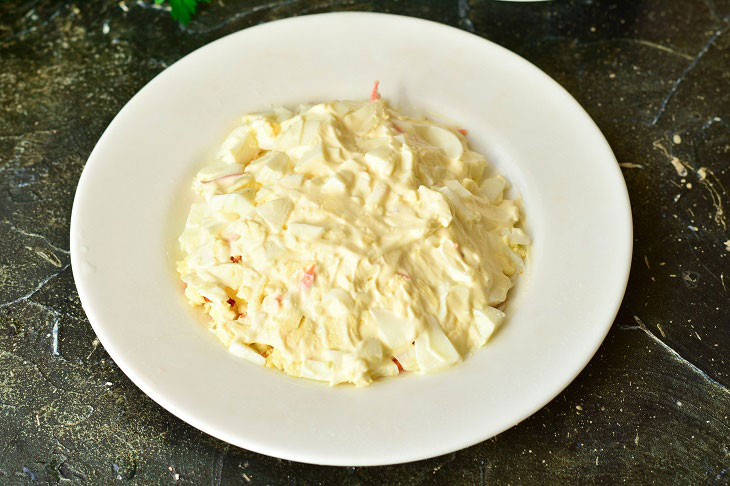 4. Boil the chicken breast for 25-30 minutes, add ¼ teaspoon of salt and a pinch of ground pepper to the water. If you are using smoked breast, then just cut it into pieces. With boiled do the same, just let it cool after cooking.
5. Lay the meat on top of the eggs. Repeat steps with mayonnaise.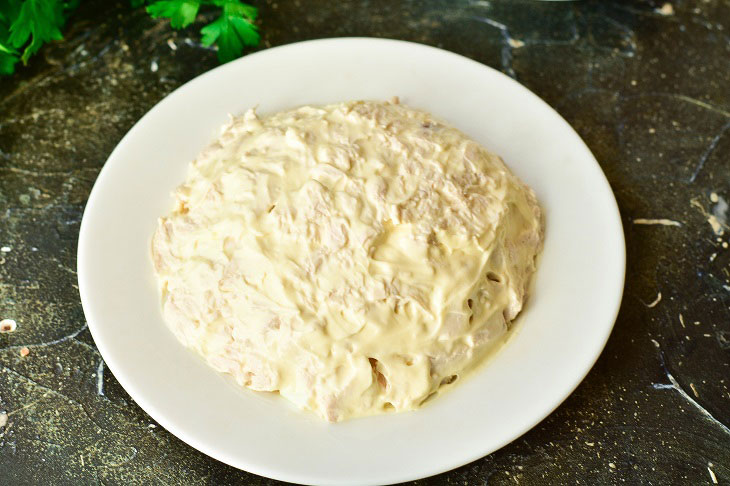 6. Now decorate the salad with chips, millet them, inserting them into it.
Here is such a salad "Sail" turned out!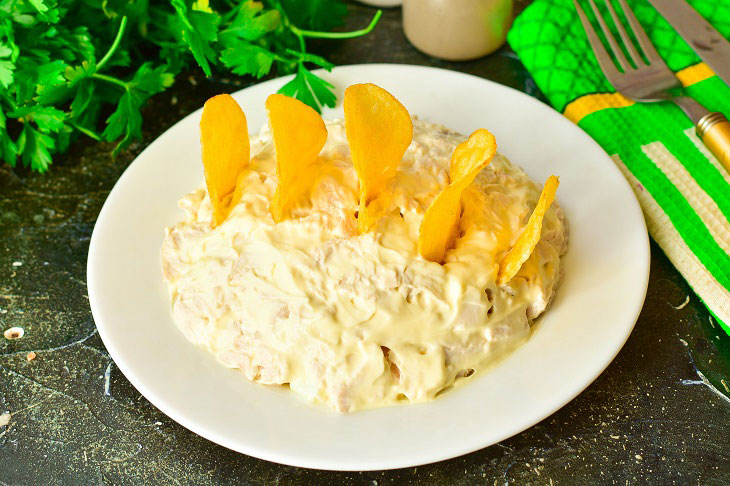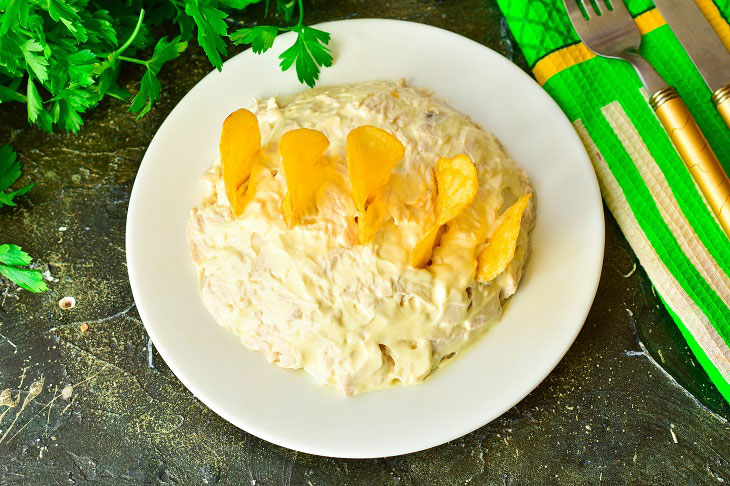 Enjoy your meal!