Salad "Sun" can be safely prepared on the festive table, as it turns out to be original and beautiful in appearance.
The main ingredient in the salad is boiled chicken fillet and vegetables, it is dressed with mayonnaise, however, instead of it, you can safely use sour cream or make mayonnaise at home. It is better to boil carrots, potatoes and chicken eggs in advance so that you do not waste time on this procedure later, but immediately prepare the salad. The salad is decorated with chips, they should be bought of excellent quality so that they are round in shape, and not some other.
Ingredients:
Boiled carrots – 0.5 pcs.
Boiled potatoes – 1 pc.
Chicken eggs – 2 pcs.
Onion – ¼ pcs.
Boiled chicken fillet – 70 g.
Salt – 1 pinch.
Sugar – 1 pinch.
Vinegar 9% – 2 tbsp. l. (dilute it 1:1 with water).
Canned corn – 2-3 tbsp. l.
Mayonnaise – 3.5-4 tbsp. l.
Potato chips round – to decorate the salad.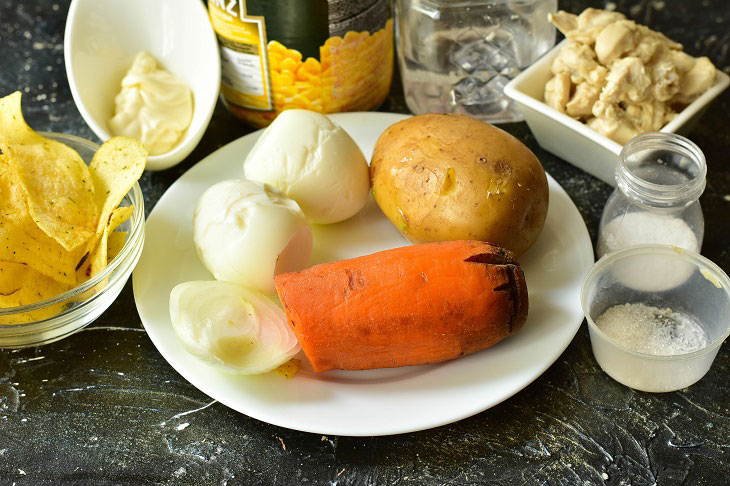 How to cook:
1. Peel the onion, chop finely. Put it in a bowl. Pour vinegar and water into it, add a pinch of salt, sugar and mix everything well. Leave the onion to marinate.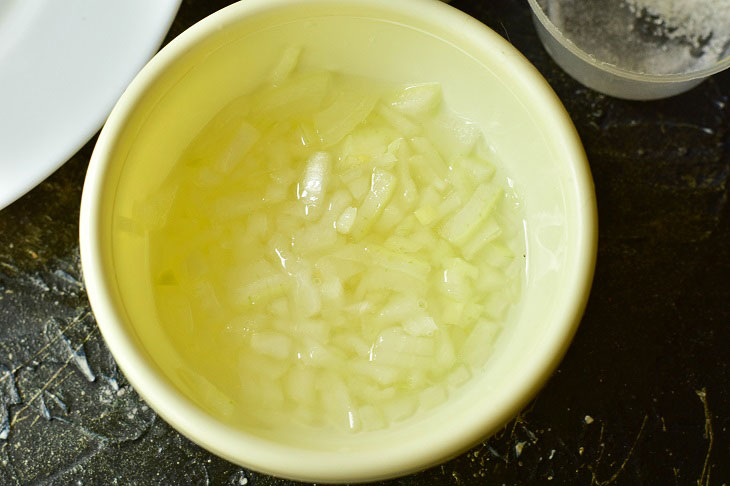 2. Cut the boiled chicken fillet into small pieces and put them on a dish. Lubricate each layer with mayonnaise.
If your meat is fresh, then fill it with water, add ¼ teaspoon of salt and boil for 30-40 minutes.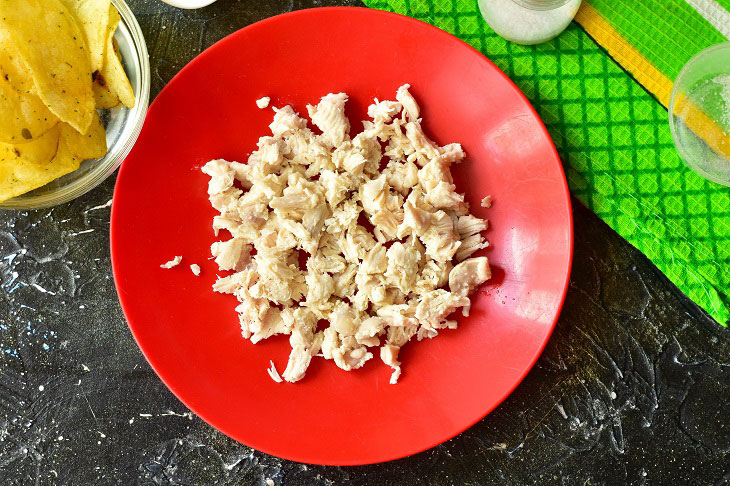 3. Put the pickled onion on top of the meat.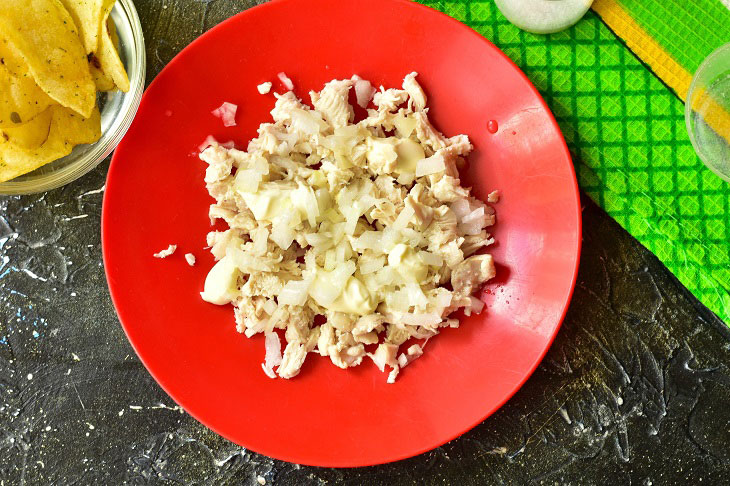 4. Grate the carrots on the onion.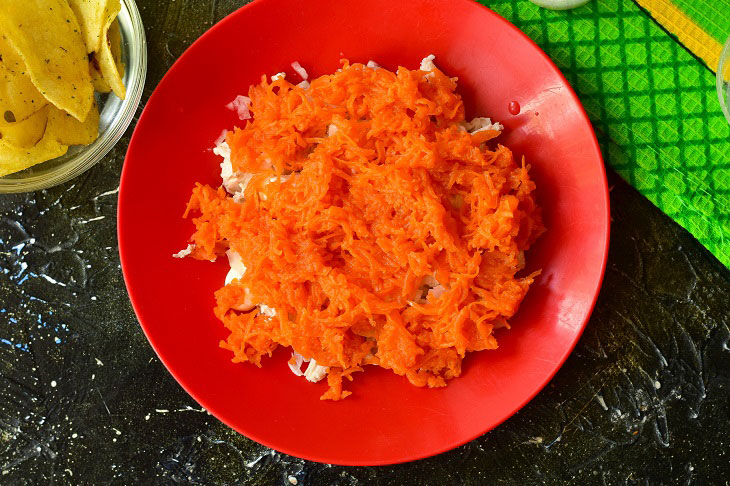 5. Then grate the boiled potatoes. Do not forget to grease each layer with mayonnaise.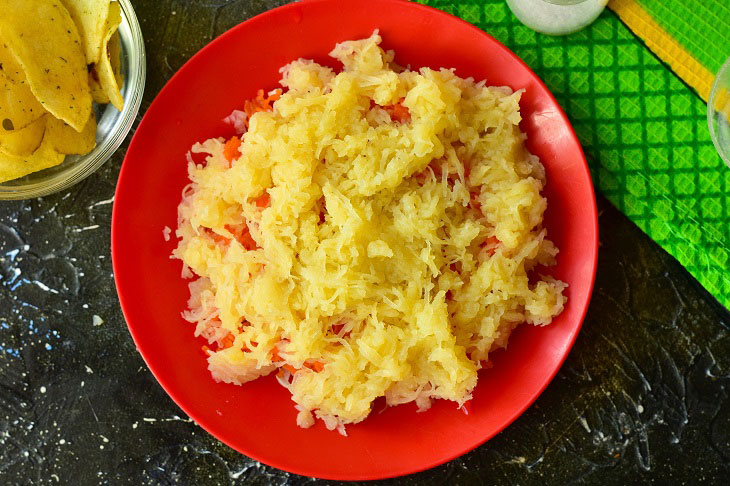 6. Grate boiled chicken eggs on potatoes.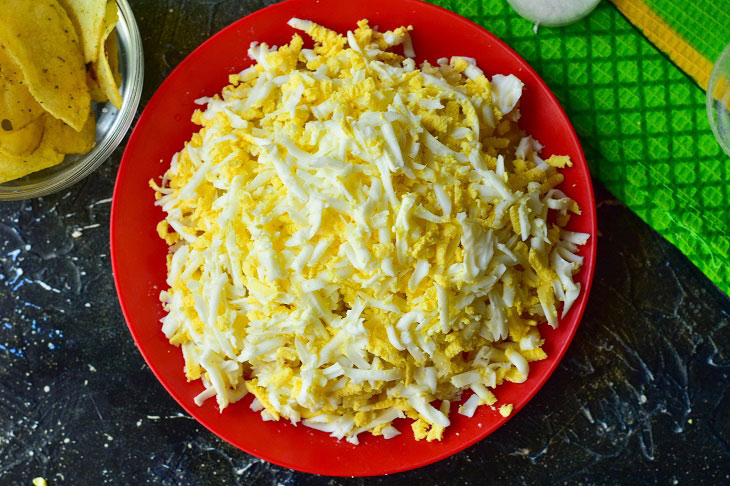 7. Now grease them very generously with mayonnaise and align the edges of the salad, giving it a round shape. Open a can of canned corn and use a slotted spoon to scoop it on top of the eggs, allowing any excess marinade to drip into the jar.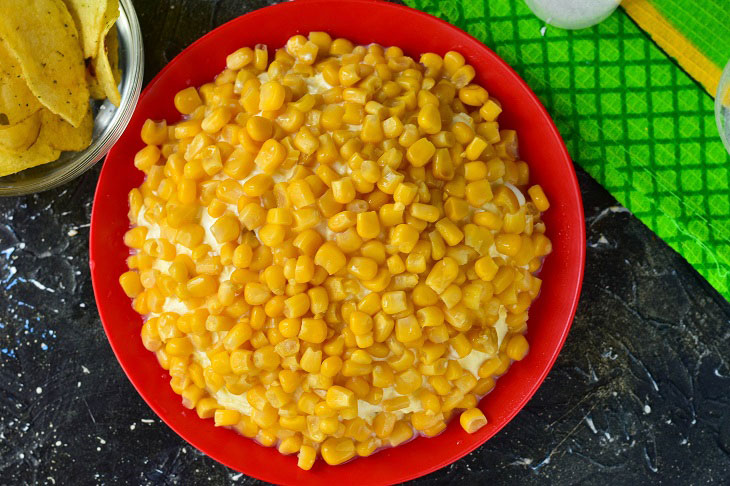 8. Now decorate the salad with chips, laying them out in a circle and using only those chips that have the correct and beautiful shape.
Here is such a salad "Sunshine" came out!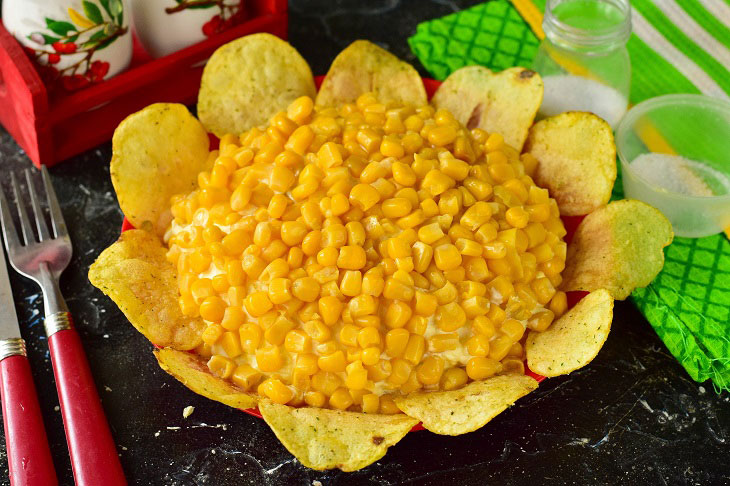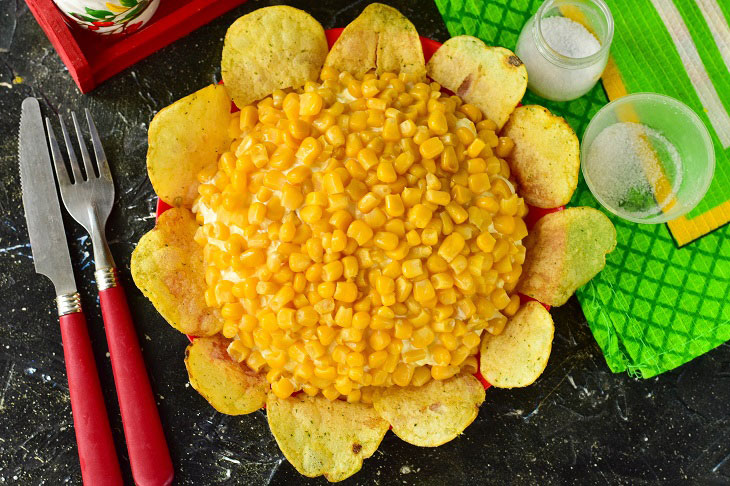 Enjoy your meal!