This time, for a family dinner, we decided to cook the original Tiffany salad with chicken and grapes, adding some marinated mushrooms and tender ham of our favorite variety to it.
It turned out really tasty and everyone really liked the salad. Mushrooms were our own, homemade, but you can take absolutely any you want. It is advisable to choose a ham that is not very greasy, of high quality, without cartilaginous inclusions.
Let's prepare the necessary ingredients according to the recipe to prepare Tiffany salad with ham and pickled mushrooms.
Ingredients:
Chicken fillet – 300 g.
Ham – 100 g.
Hard cheese – 50 g.
Boiled chicken eggs – 2 pcs.
Pickled mushrooms – 50 g.
Grapes – 150 g.
Walnut – 5-6 pcs.
Mayonnaise – 30 g.
Salt, a mixture of ground peppers – to taste.
Salad greens, parsley – for serving.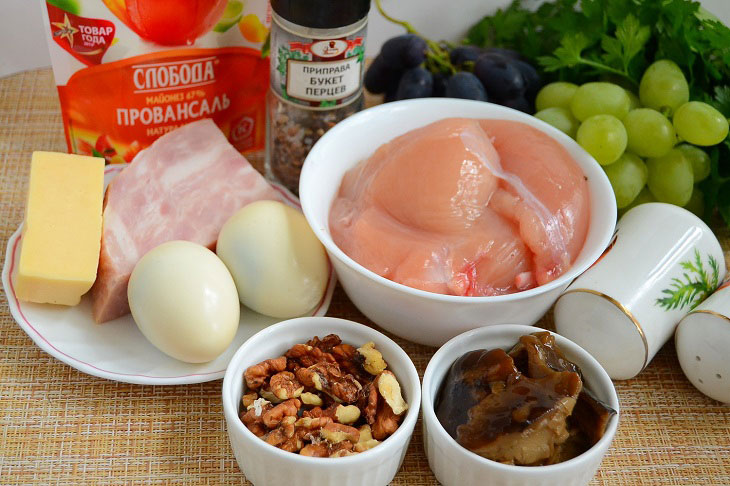 How to cook:
1. Wash the chicken fillet in running water, dry it on a paper towel and cut into thin slices. Fry them over medium heat on both sides until cooked in a small amount of vegetable oil under the lid, after a little salt and sprinkling with ground pepper.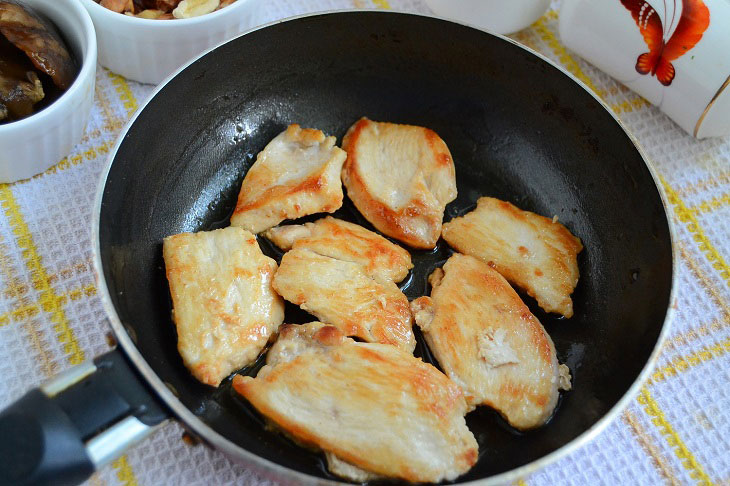 2. Fried slices of chicken fillet and ham cut into small cubes.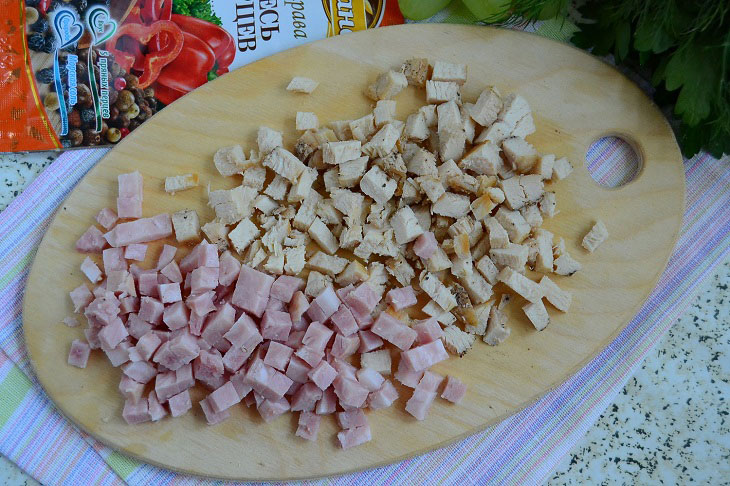 3. Grate hard cheese on a fine grater (we have Russian cheese).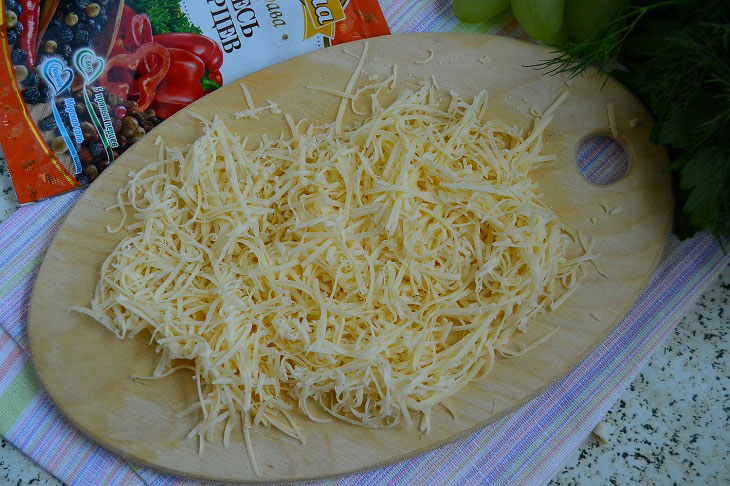 4. We free the pickled mushrooms from excess liquid and cut them into cubes as well.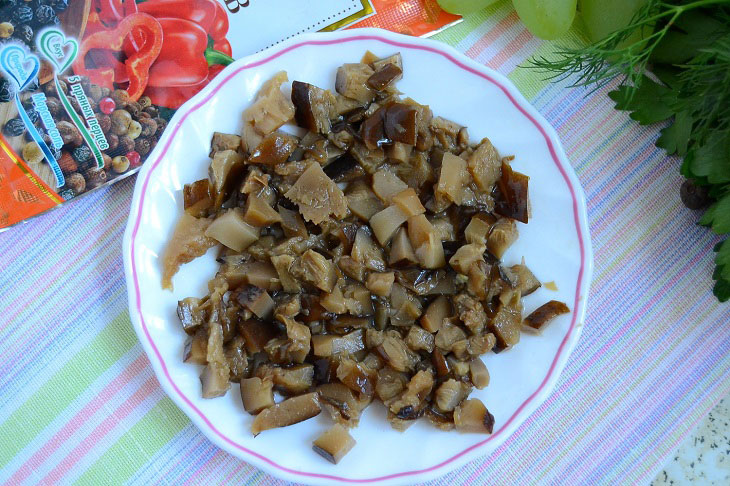 5. In a bowl, put cold cuts, mushrooms, grated cheese (leave a little for sprinkling), finely chopped walnut kernel, diced boiled eggs.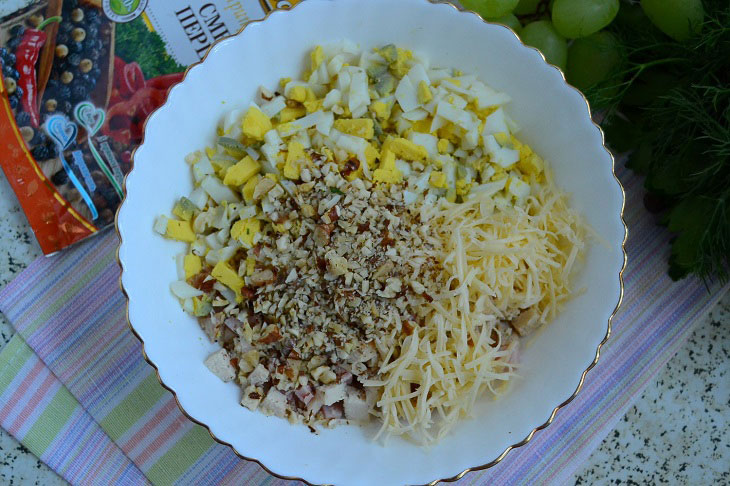 6. Add mayonnaise, salt and ground pepper to taste.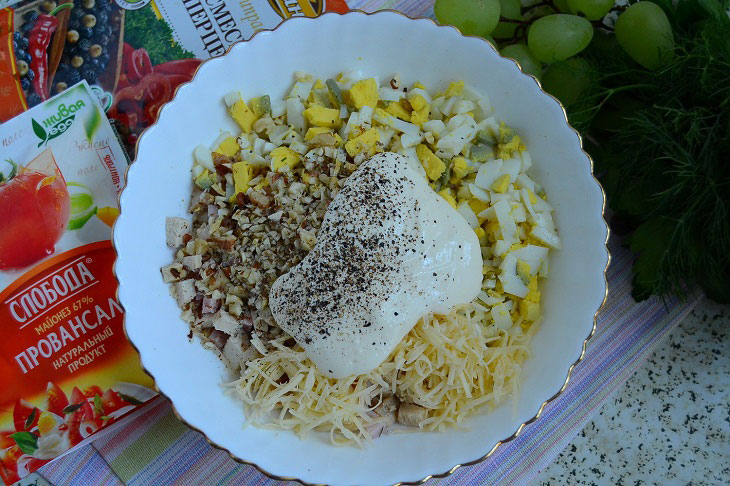 7. Gently mix everything and taste for salt. If necessary, then add a little, but without fanaticism, since both mayonnaise and fillet already contain a sufficient amount of salt.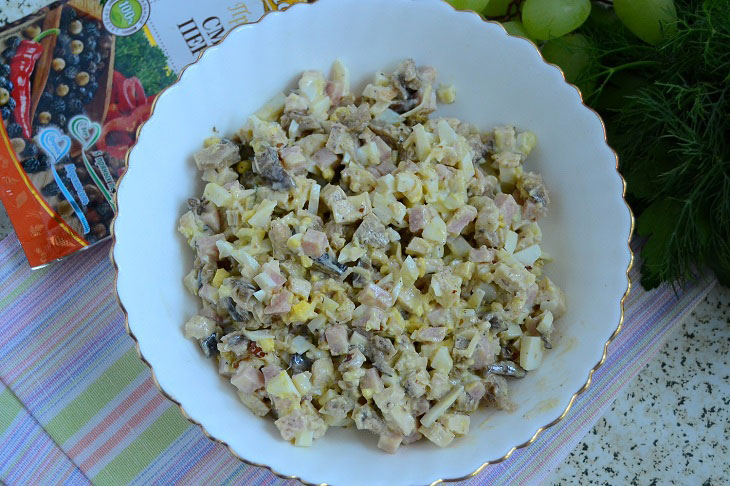 8. Put the salad in the shape of a hemisphere on the prepared dish and level the surface with a spoon.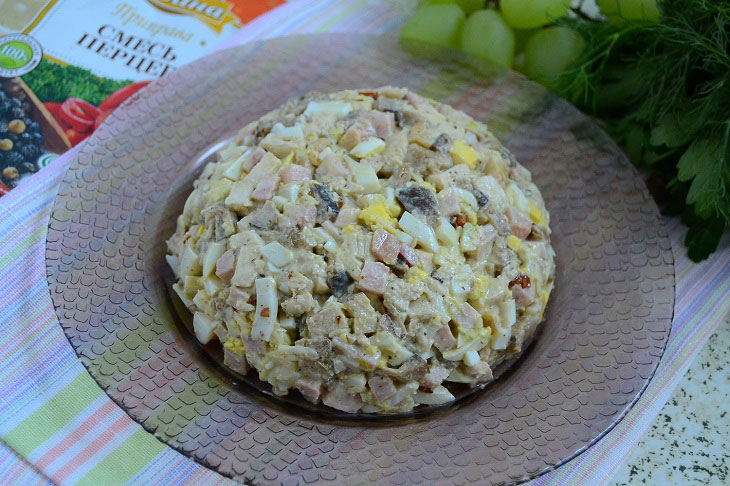 9. Lubricate the top with a thin layer of mayonnaise and sprinkle with grated cheese. And sprinkle the remaining handful of crushed nuts on top of the cheese, but this can not be d1.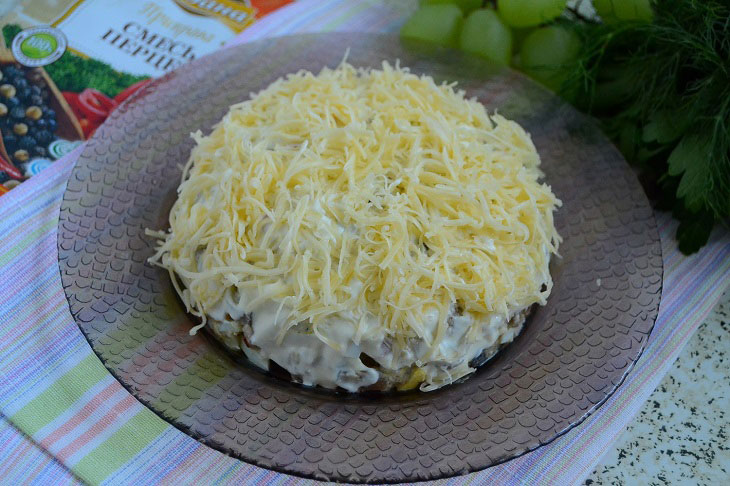 10. Remove the grapes from the twig, rinse in water and cut the berries in half. If you have grapes with seeds, like ours, then they need to be removed.
It is advisable to use seedless quiche-mish grapes for decoration, but this is optional.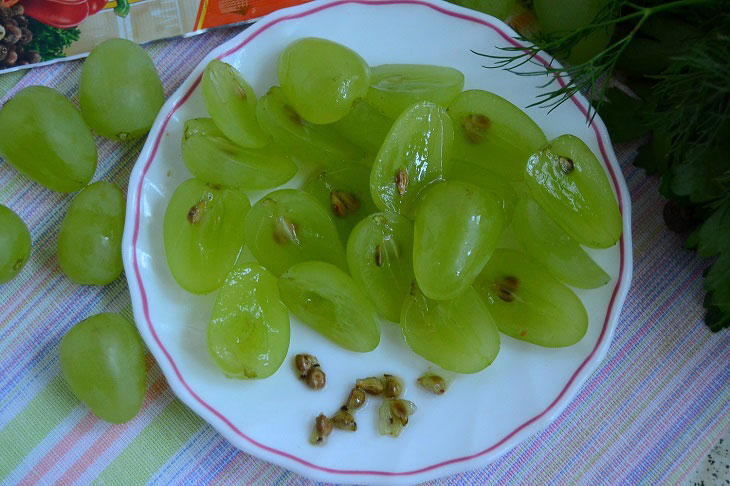 11. We decorate the salad with halves of grapes, distributing them over its entire surface.
Add parsley and lettuce to your liking. We placed a green salad around the edge of the dish along with parsley leaves. It turned out very nice and appetizing.
Salad "Tiffany" with ham and pickled mushrooms is ready. Very tasty, satisfying, elegant and quite simple to prepare. It will decorate your table on weekdays and on holidays.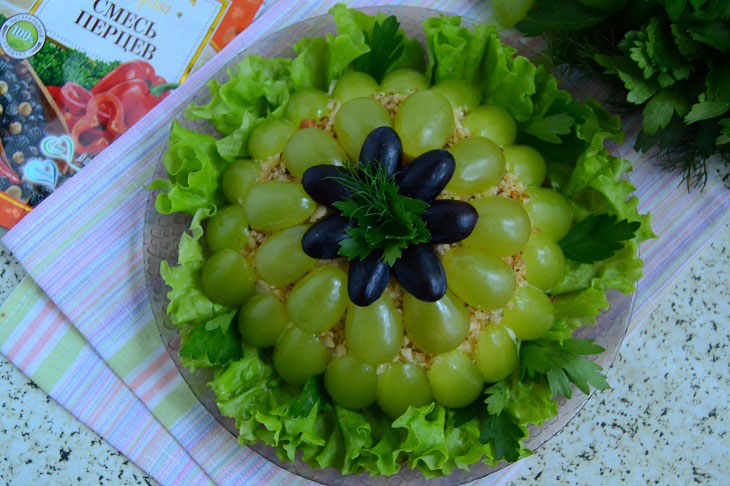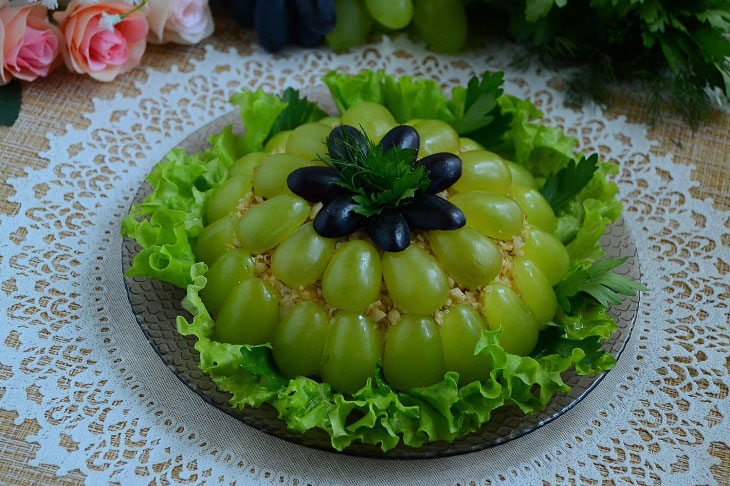 Enjoy your meal!