The dish is decorated with slices of salmon that are bright in color and dense in texture, and we usually associate red fish with holidays.
The salad is layered on a large platter and looks more like a cake than a salad. In addition to salmon, the dish includes boiled potatoes and eggs, which are in perfect harmony with fish and make the dish quite satisfying. Piquant cheese emphasizes the soft taste of the last two ingredients and successfully sets them off. And tender crab sticks fit perfectly into the overall composition, helping to better reveal the taste of the rest of the ingredients. Mayonnaise is used as a link.
Yes, the dish is also quick to prepare, which is important at our pace of life.
Ingredients:
Salted salmon fillet – 150 g.
Potatoes (medium size) – 3 tubers.
Crab sticks – 150 g.
Egg – 3 pcs.
Hard cheese – 150 g.
Mayonnaise – 150 g.
Lemon – 1 pc.
Parsley – a few branches.
Salt – to taste.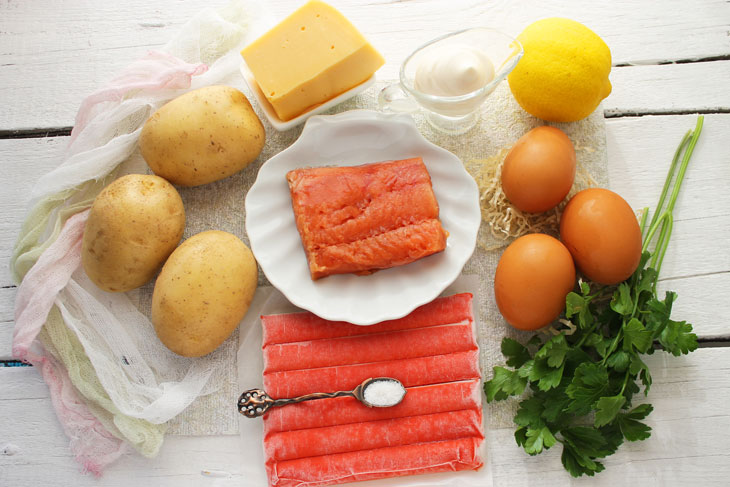 How to cook:
1. Wash the potatoes thoroughly with a vegetable brush and boil in salted water until tender.
Cooking time depends on the type of potato and the size of the tubers and is approximately 20 minutes.
Then drain the water, cool the potatoes.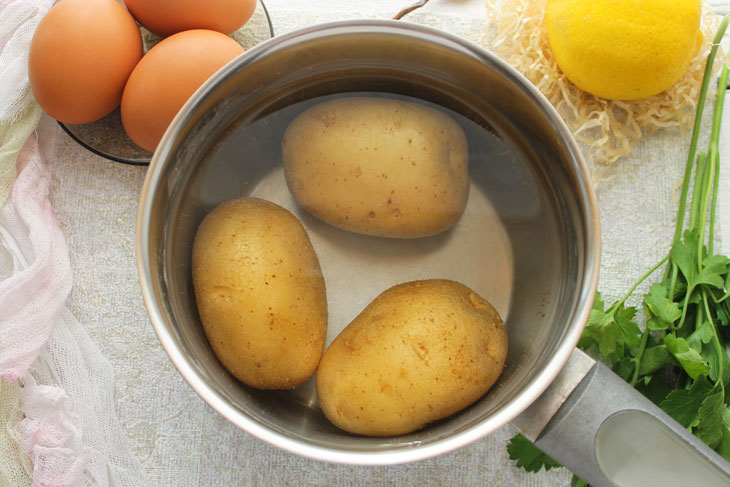 2. Hard boil eggs – 10 minutes after boiling. Then fill them with cold water, and after they have cooled, peel them from the shell.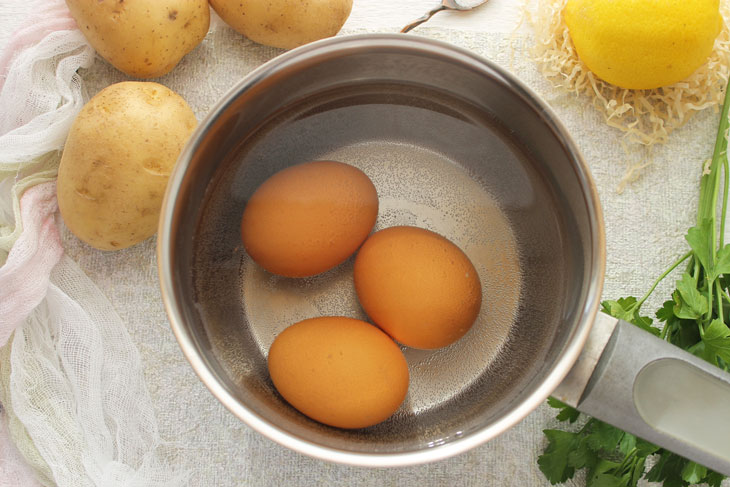 3. Next, start assembling the salad. Place a serving ring on a large flat dish. The proposed recipe uses a ring from a cake mold with a diameter of 20 cm.
Peel the potatoes, grate on a coarse grater and put in a ring on a dish. Pack well with a spoon. Lightly salt.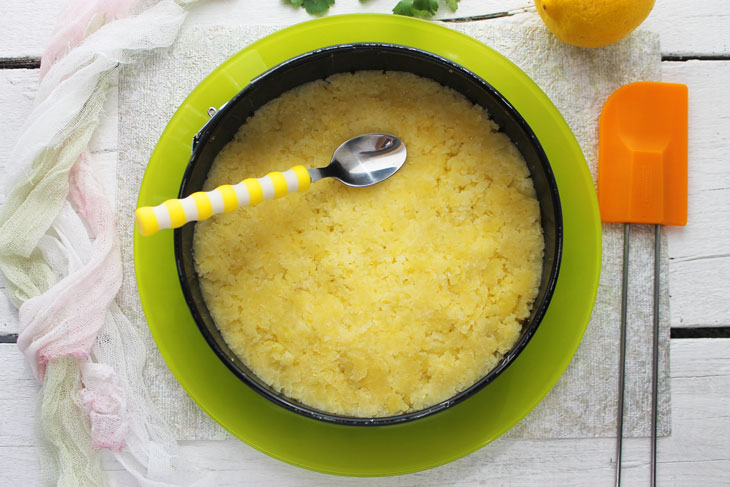 4. Lubricate the potatoes with a layer of mayonnaise.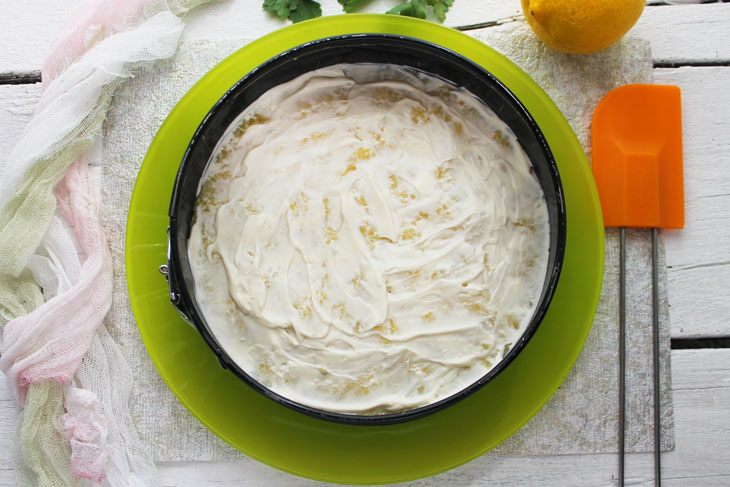 5. Eggs, too, grate on a grater with large holes. Put in a ring, tamp.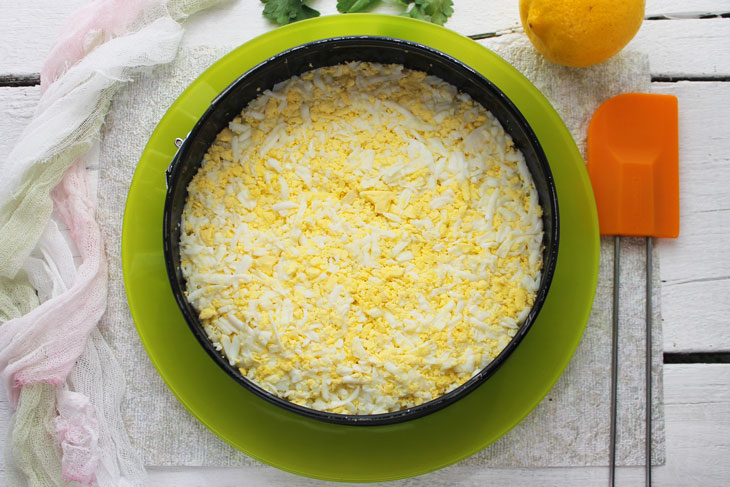 6. Next – a layer of mayonnaise.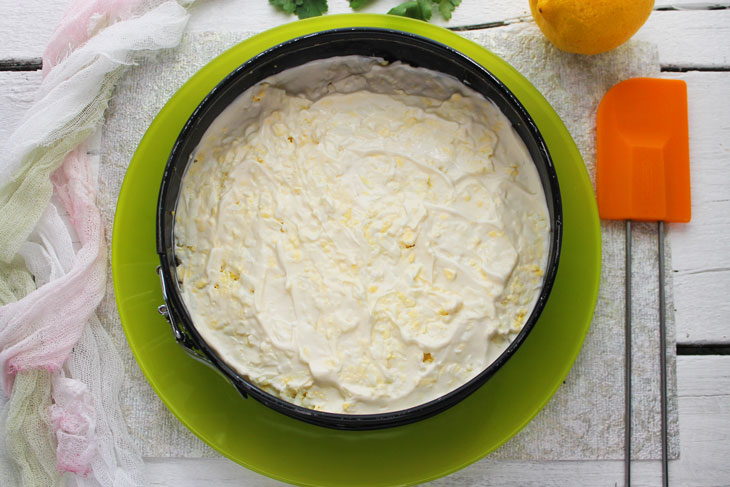 7. Grate the cheese on a coarse grater, lay out the next layer.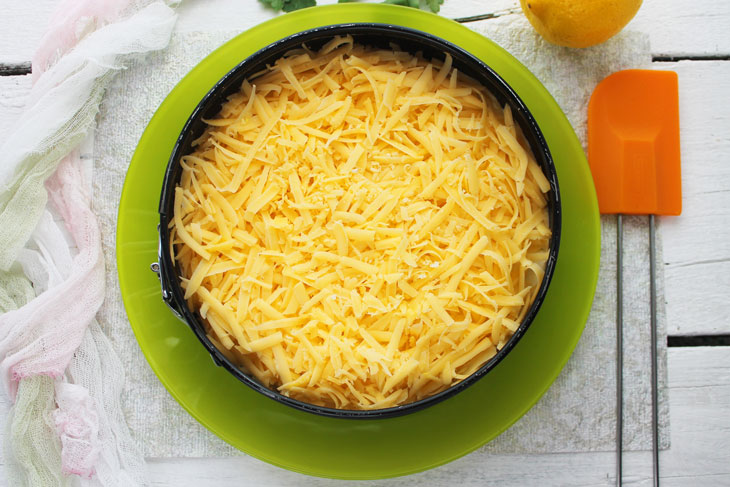 8. Cover with mayonnaise.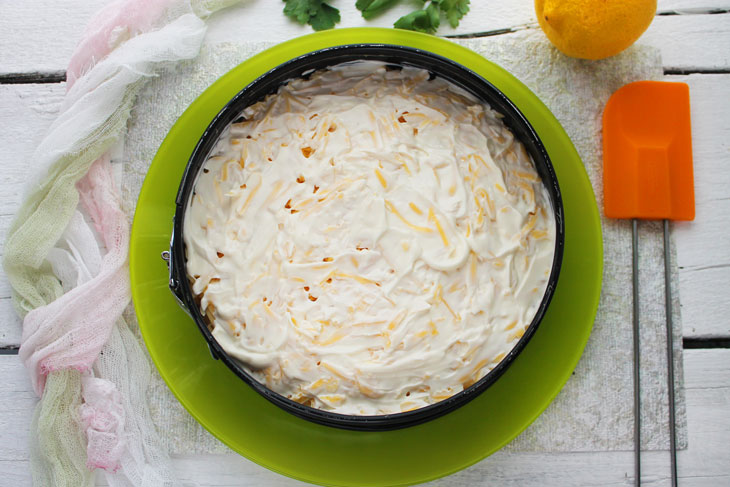 9. Next, chop the crab sticks. You can finely chop them with a knife or, as in this recipe, in a blender.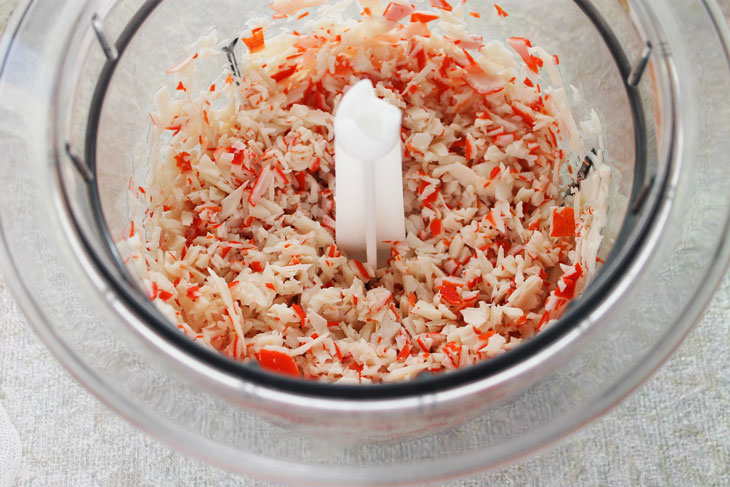 10. Place the crab chips in the serving ring, tamp down.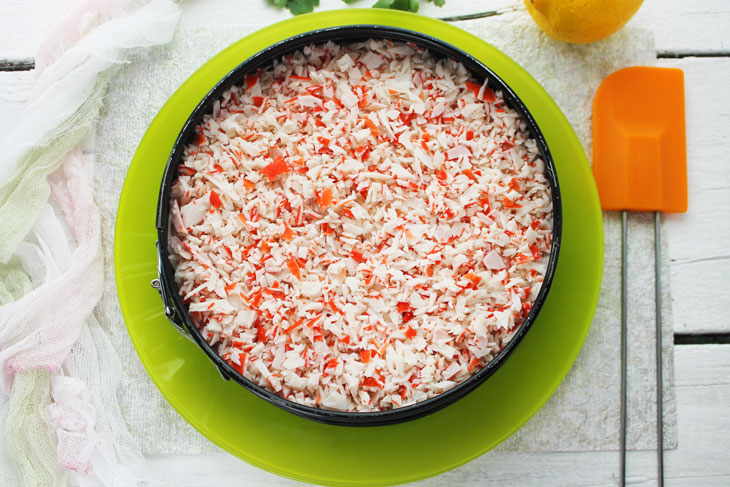 11. Lubricate with a layer of mayonnaise.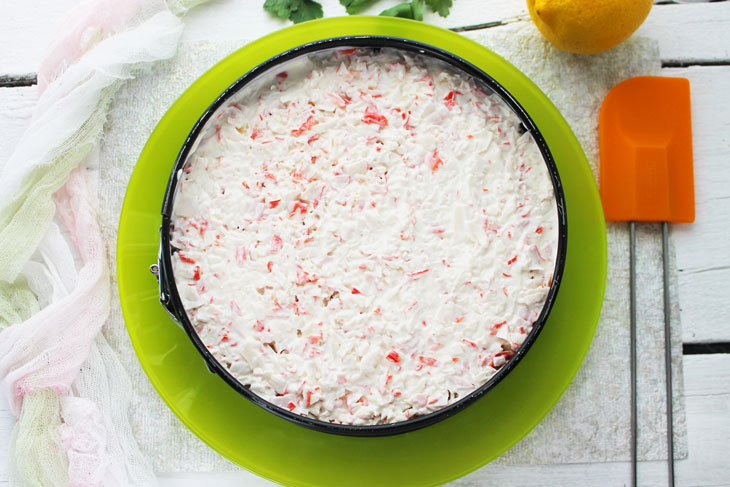 12. Cut salmon into small pieces. Lay in a single layer on top of the mayonnaise.
Instead of salmon, you can use fillets of any other red fish, such as salmon or chum salmon, to prepare the salad.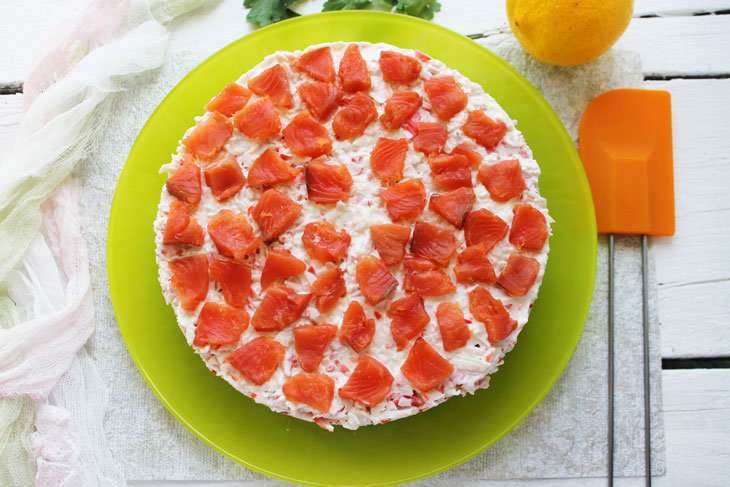 13. Remove the serving ring very carefully.
Salad "Ural Gems" is ready. It remains only to decorate it. Wash the lemon, dry it, cut a few thin slices. Cut each slice into 6 sectors. Place a lemon in the center of the salad in the form of a flower. And around the perimeter of the flower, spread the parsley leaves. However, you can decorate the salad however you like.
Put the salad "Ural gems" for 30 minutes in the refrigerator, and then serve.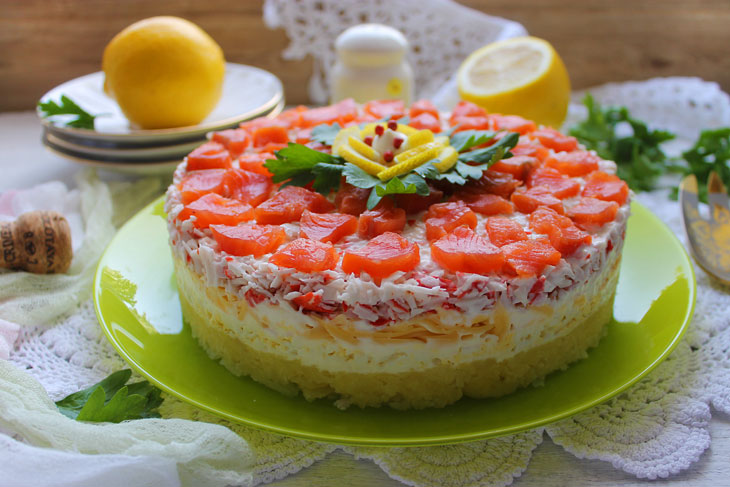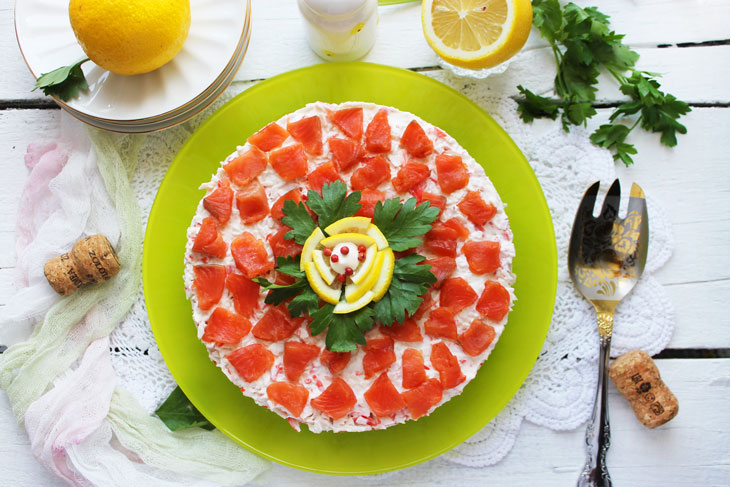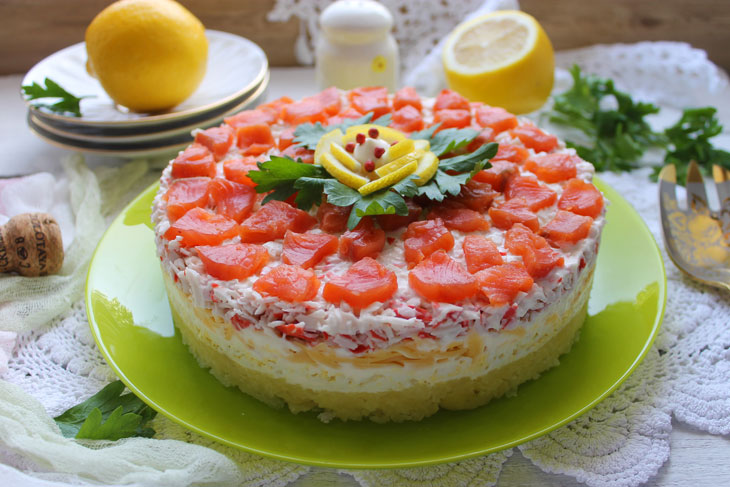 Enjoy your meal!