Today we will prepare the original Watermelon Slice salad. This salad will definitely decorate any festive table, it will become its center dish due to its appearance. In addition to a memorable and bright appearance, the taste of the salad itself is undoubtedly important.
As the main component, we use chicken breast, which we fry in spices in a pan. The meat is very soft and juicy, we supplement it with potatoes, eggs and cheese. At the end, with the help of tomatoes, herbs and olives, we form a salad in the form of a slice of watermelon.
Ingredients:
Chicken breast – 300 g.
Potatoes – 2 pcs.
Eggs – 2 pcs.
Cheese – 150 g.
Tomatoes – 150 g.
Olives – 20 g.
Fresh herbs – 30 g.
Mayonnaise – 100 g.
Spices for chicken (curry) – 1 tsp.
Salt, pepper – to taste.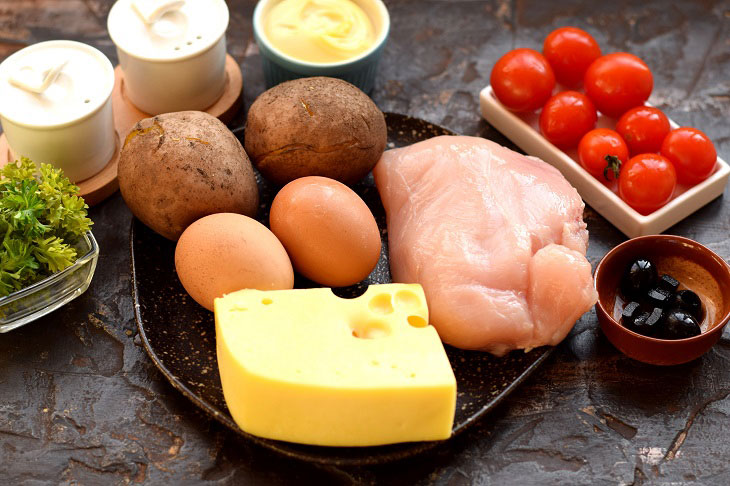 Cooking:
1. Rinse the chicken breast, blot the moisture with a napkin. Rub the meat on both sides with spices, salt and pepper. Heat the pan to a peak, pour in the oil, lay the spicy breast as a whole. Fry the meat for 3 minutes on each side until golden brown. Then reduce the fire, pour a few tablespoons of water into the pan, cover with a lid, simmer for 8 minutes until the meat is fully cooked.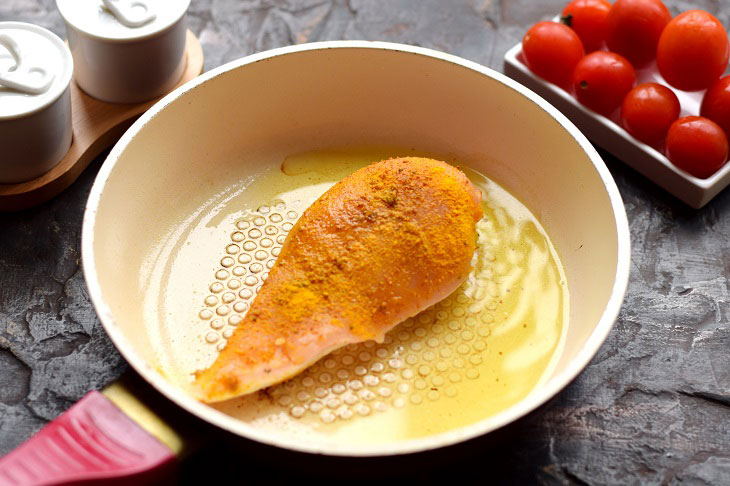 2. After frying, cool the meat, cut into medium-sized cubes.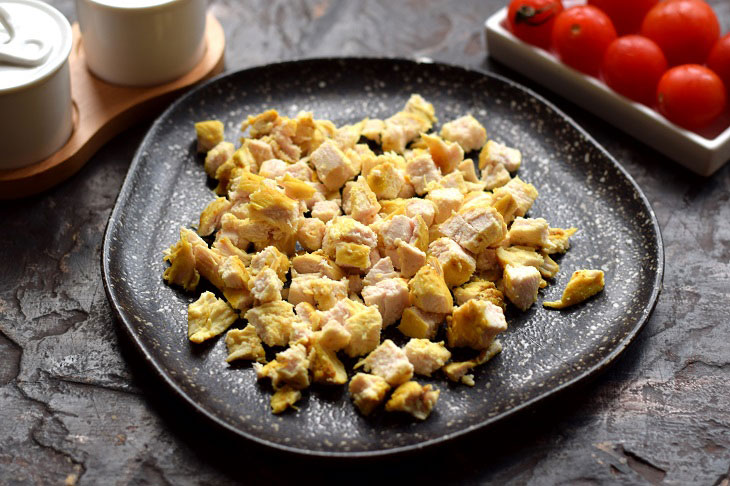 3. Boil the potatoes in their skins until cooked, that is, until soft. Cool the tubers, peel, chop on a grater with large holes. Lay the shavings on a flat plate, forming a slice of watermelon. The potatoes will be the first layer of the salad.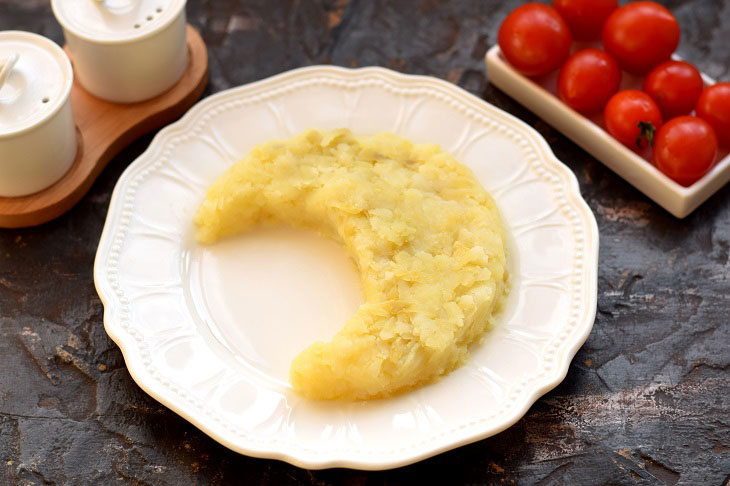 4. Potatoes, like all other layers of lettuce, cover with mayonnaise.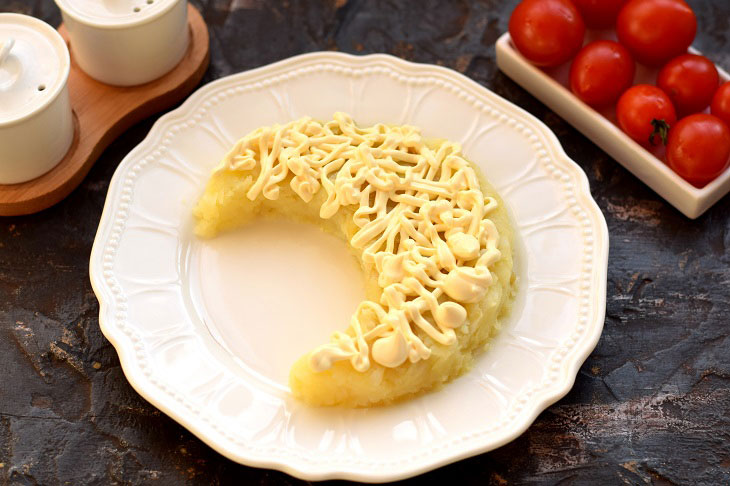 5. Place the fried chicken pieces on top of the potato layer.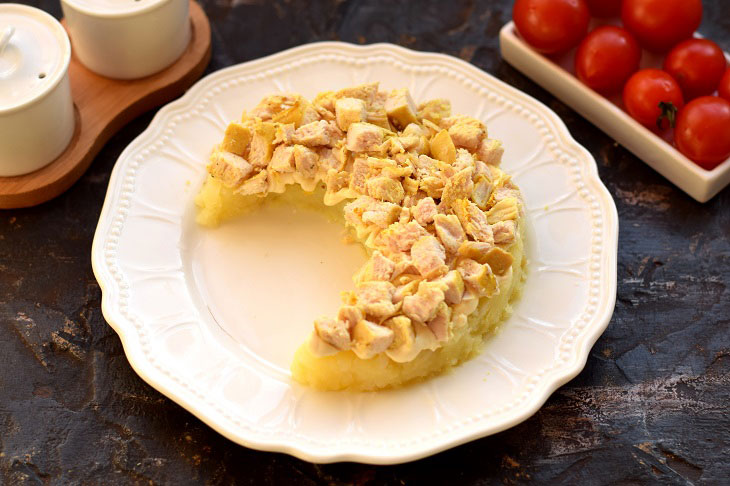 6. Pre-boil the eggs until hard-boiled, cool, scrape off the top layer. Grind the yolk and protein on a grater, sprinkle the meat with chips, apply mayonnaise.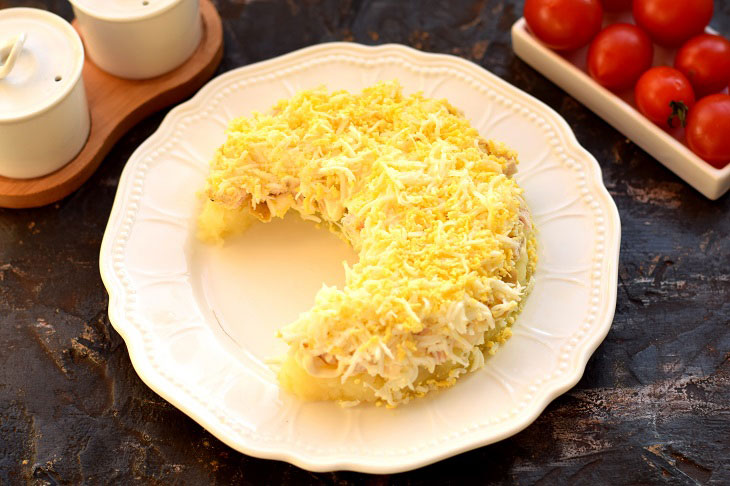 7. Chop the greens, cover the side of the salad with it as thickly as possible.
8. Grate the cheese, put it in the next layer, do not cover with mayonnaise.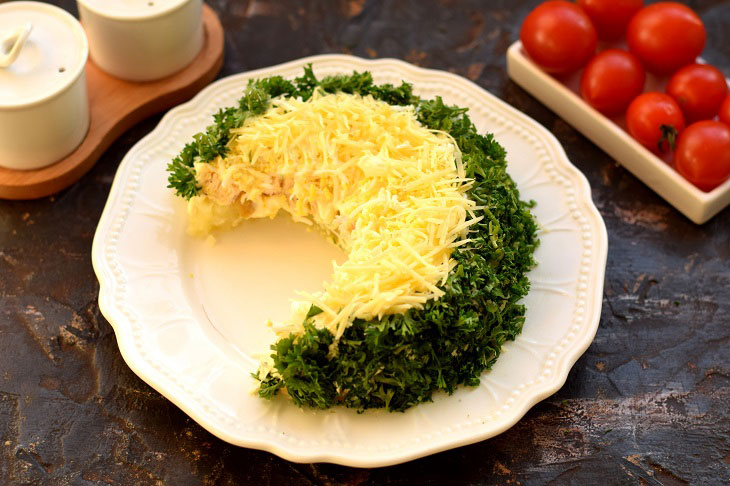 9. Put thin slices of tomatoes on the cheese. Place strips of olives on the tomatoes.
As a result, you will get a bright salad in the form of a watermelon slice. Let it soak for 1 hour in the refrigerator, then serve.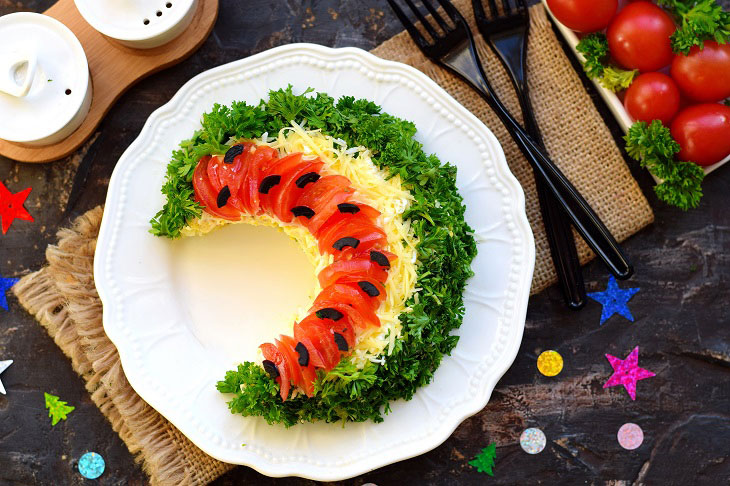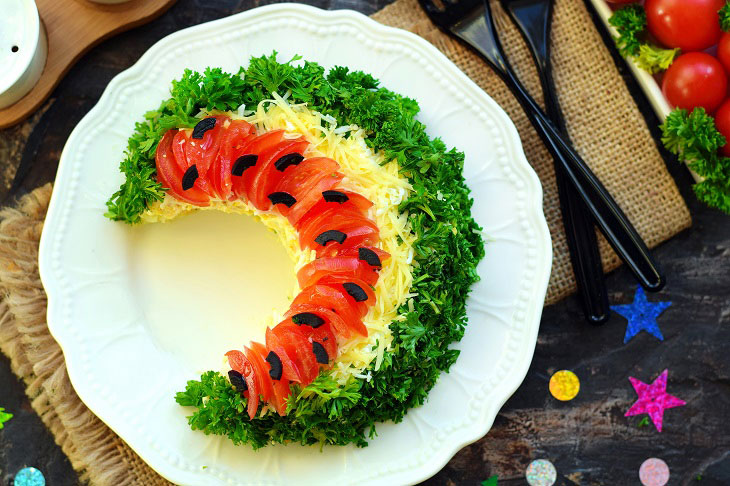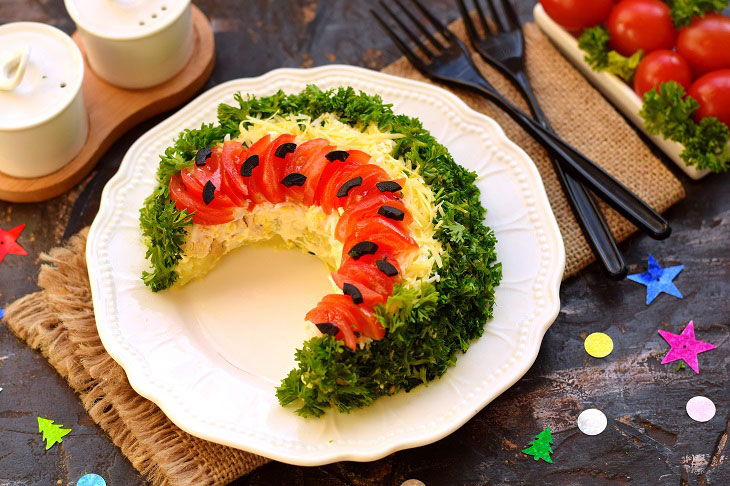 Enjoy your meal!