Salad "Winter's Tale" will ideally complement your festive or everyday table, this dish can also be prepared for a family dinner. The salad is very hearty and tasty. The perfect combination of ingredients makes the dish unforgettable.
For the recipe, you will need smoked sausage. An ordinary boiled-smoked servelat is suitable – it should be tasty and of high quality, of the highest grade and preferably more expensive. The price also affects the quality. Also take fresh cucumbers, prunes, cheese and blemishes. Dressing will be classic – high-fat mayonnaise.
It is worth noting that you do not need to cook anything for the Winter's Tale salad. Just cut all the ingredients and you're d1. The main thing is that you have all the products on the list.
Ingredients:
Smoked sausage – 150 g.
Cucumbers – 100 g.
Hard cheese – 70 g.
Prunes – 40 g.
Walnuts – 40 g.
Mayonnaise – 70 g.
Salt, black pepper – to taste.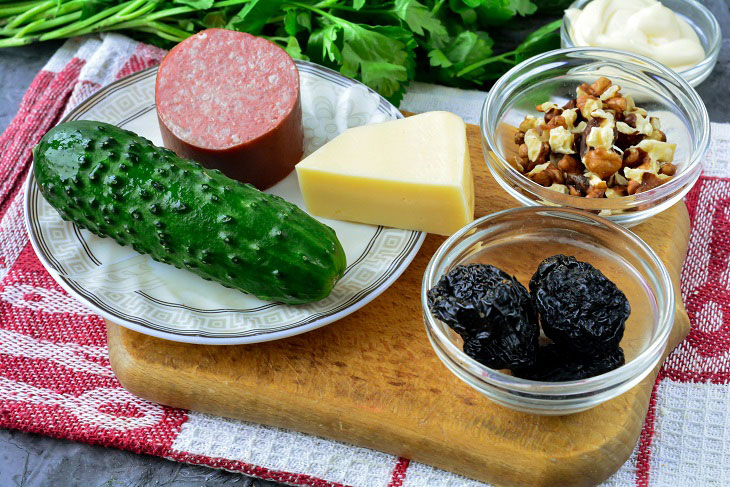 How to cook:
1. Rinse fresh cucumbers, cut off the tails on both sides. Then cut the vegetables into medium cubes for salad.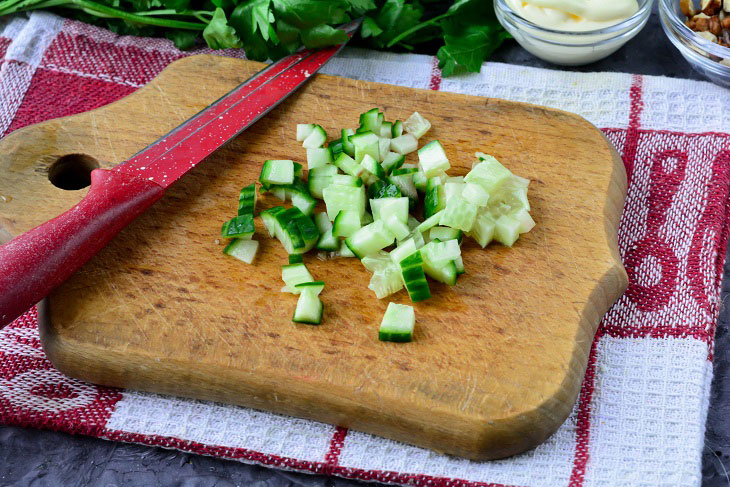 2. Next, chop the smoked sausage. Clean the cervelat from the packaging film, cut the sausage into medium cubes.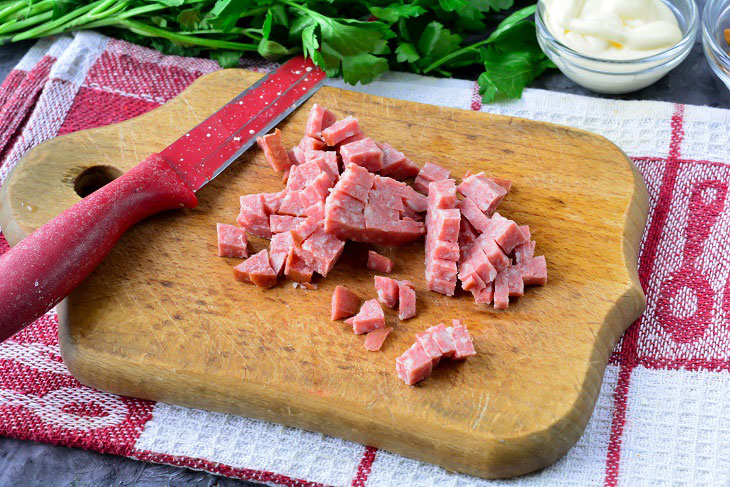 3. Rinse the prunes and pat dry on paper towels. Then cut the dried fruits into medium-sized cubes.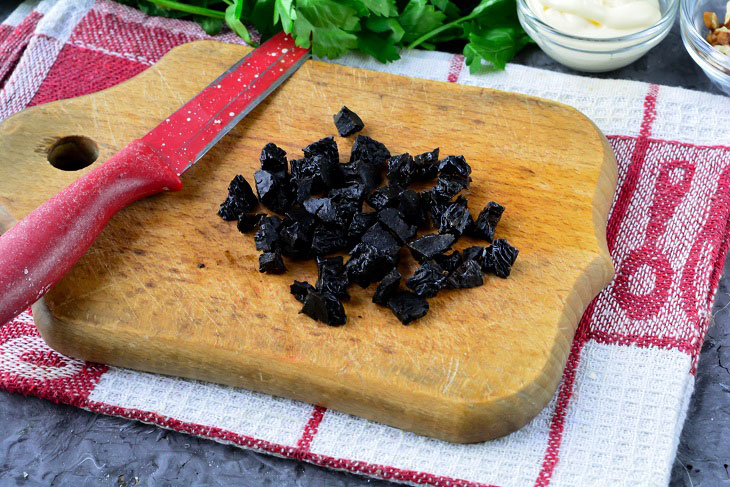 4. Pour the chopped and prepared ingredients into a deep bowl: sausage. Cucumbers and prunes.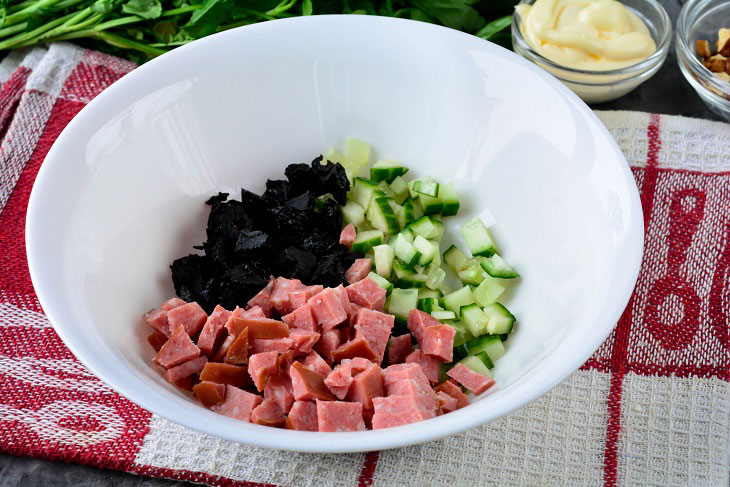 5. Grate hard cheese, and simply cut the walnuts with a knife.
To enhance the nutty flavor, you can lightly toast the nuts in a dry frying pan.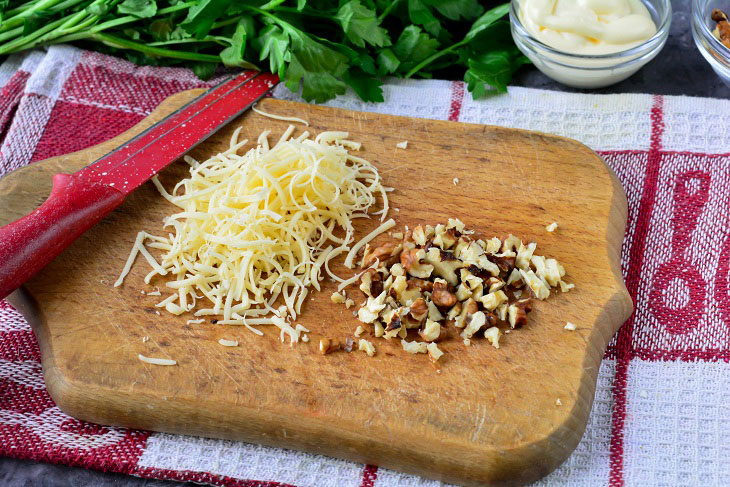 6. Stir nuts and grated cheese into salad. Nuts will crunch in the salad and this will be its highlight. Cheese will give the salad airiness and a delicate creamy taste.
7. Season the dish with sauce – add mayonnaise. It is better when the mayonnaise is at least 67% fat.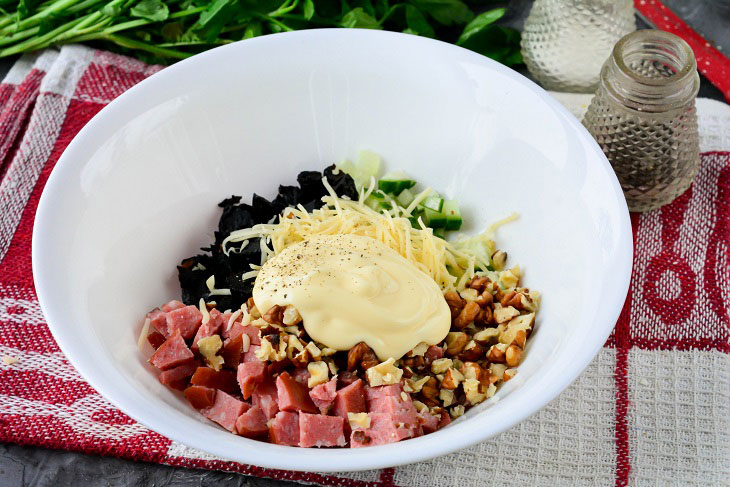 8. Also salt and pepper to taste and mix well.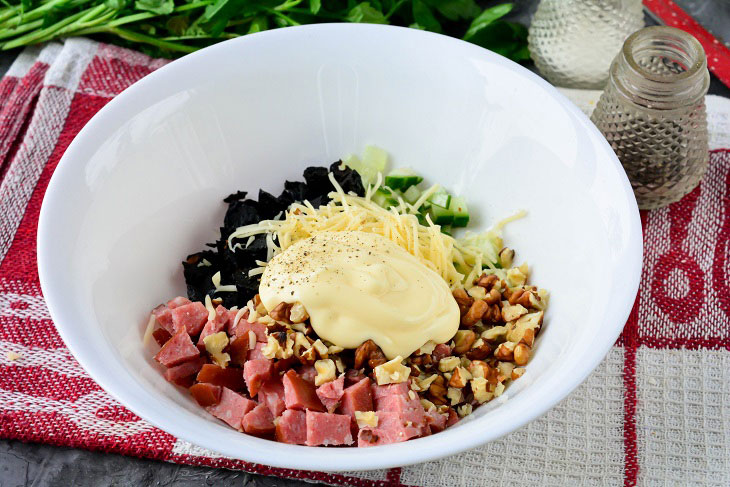 Let the dish stand in the refrigerator for 20-30 minutes, let it soak, and then serve. Garnish with fresh herbs before serving.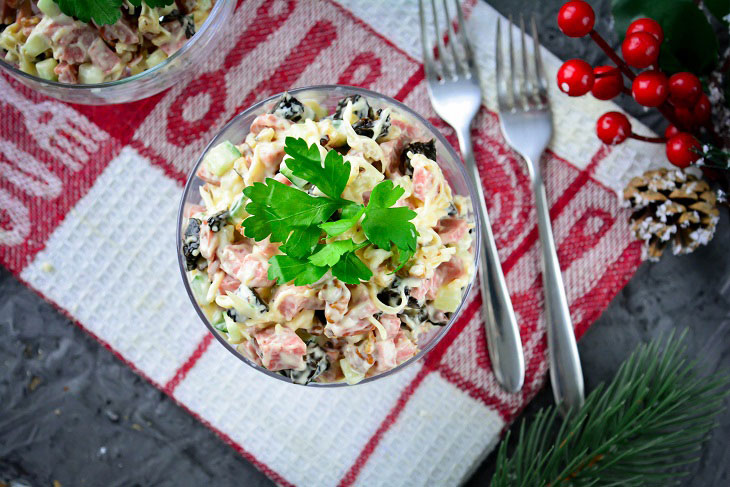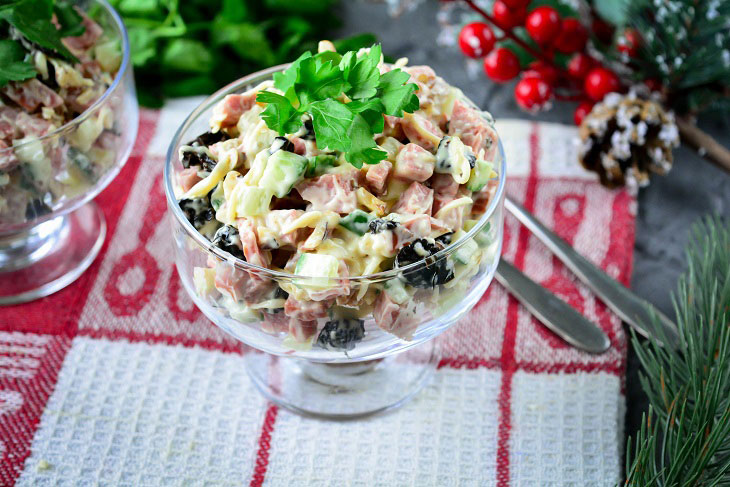 Bon Appetit!