Sauerkraut is a popular snack in Russian cuisine. It is served as an independent dish, added to vinaigrette and salads, cooked cabbage soup and used as a filling for pancakes and pies. It is very easy to prepare this snack at home. Each housewife has her own recipe for sauerkraut. We offer you an interesting option for cooking cabbage in a simple food package. The recipe will be appreciated by housewives who do not ferment cabbage in large portions. The cooking method is very convenient – no grinding of vegetables, pickles and jars covered with gauze. Cabbage turns out crispy, moderately sour and medium-salted.
For the recipe, autumn varieties of cabbage are best suited. After all, they contain the amount of lactic acid necessary for fermentation. Do not put a lot of carrots – cabbage can become soft. The composition of the spice is allowed to choose to taste. For additional flavor, you can add a couple of slices of autumn apples, and replace sugar with honey.
Ingredients:
Cabbage – 400 g.
Carrots – 30 g.
Salt – 13 g.
Sugar – 15 g.
Bay leaf – 1-2 pcs.
Allspice – 2 peas.
Hot pepper flakes – 1 g.
Thyme – 0.5 g.
Cumin – 1.5 g.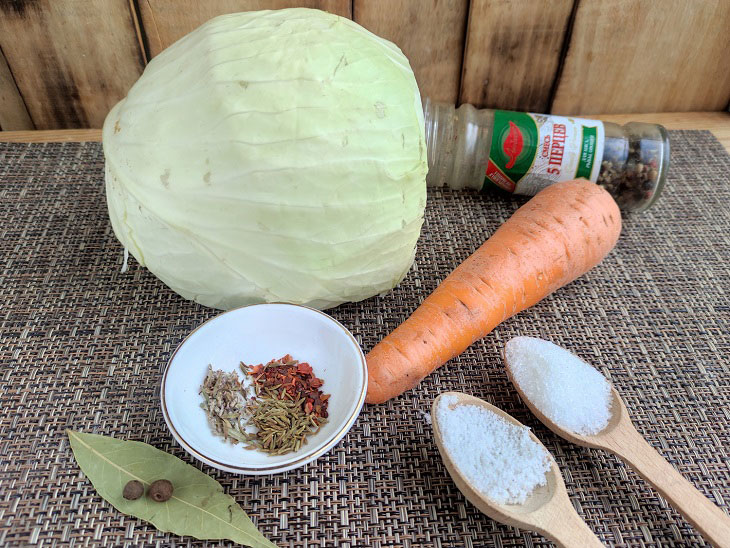 How to cook:
1. Peel the top leaves from the cabbage. Remove the stalk from the vegetable. Finely chop the cabbage – it is convenient to do this with a special shredder.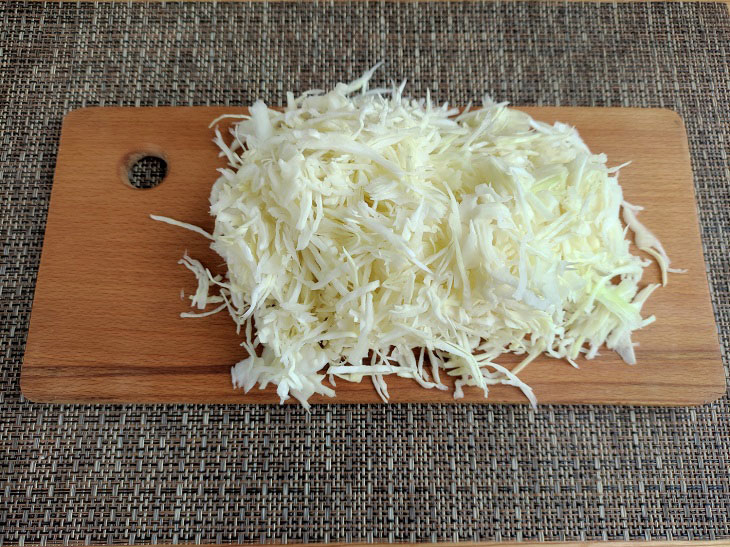 2. Take two food bags, fold it, fold them one-on-1. Put the prepared shredded cabbage in bags.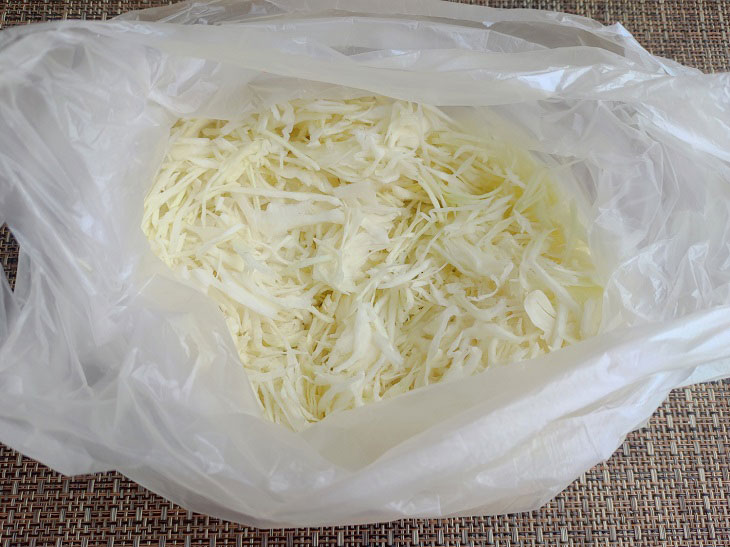 3. Grate peeled carrots. Lay it on top of the cabbage.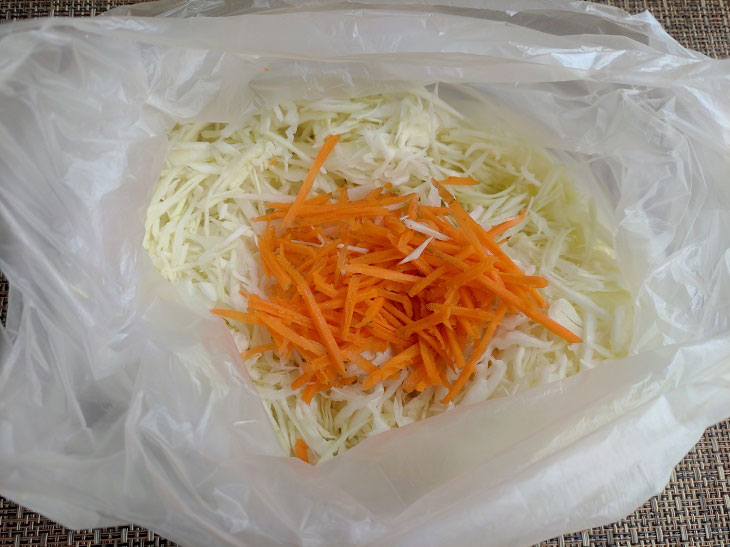 4. Pour in salt and sugar.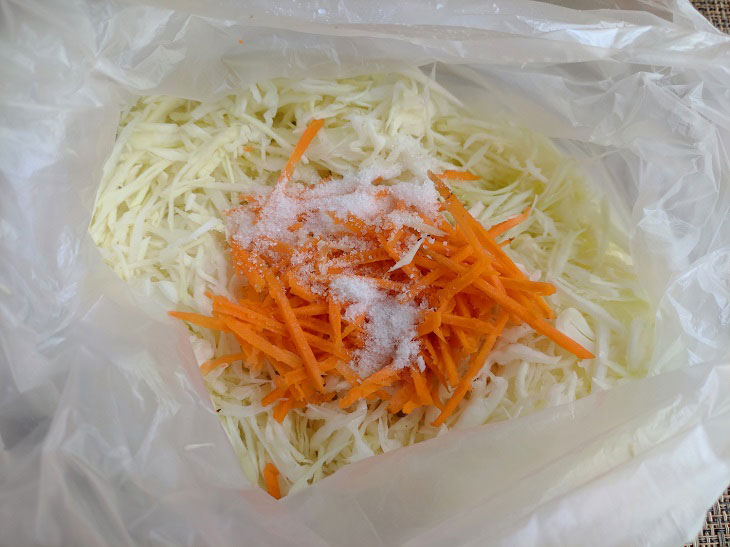 5. Break the bay leaf into pieces. Put it in a bag along with the rest of the spices.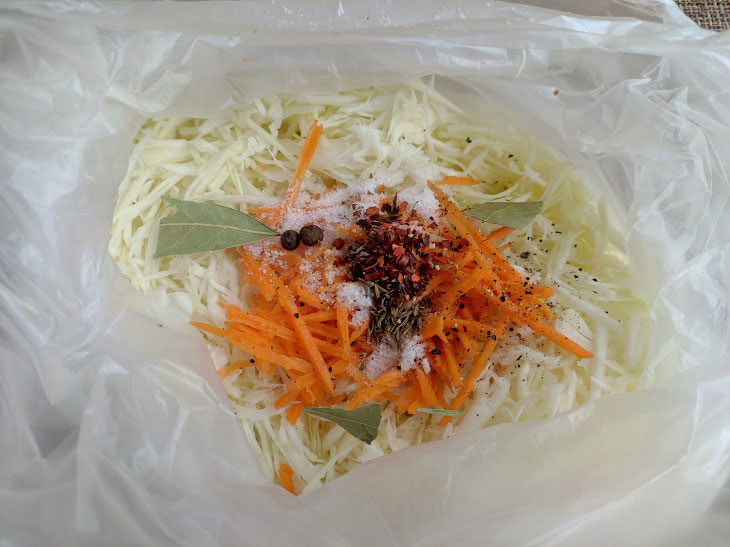 6. Tie the bag tightly so that there is air inside. Shake the cabbage several times, leave at room temperature for 4 hours. Transfer the package to the refrigerator. In 2-3 days the cabbage will be ready. Try it. If the snack is not sour enough, leave for another day.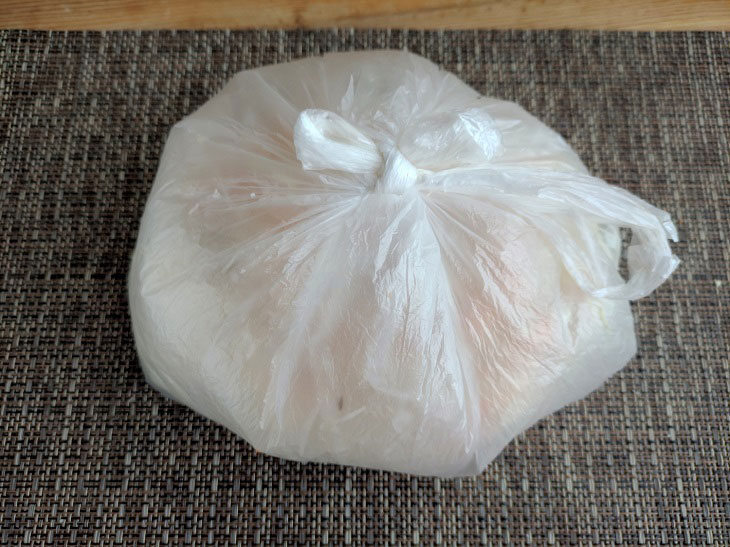 7. Put sauerkraut on a serving plate, drizzle with vegetable oil, garnish with herbs and serve.
Cabbage looks appetizing, it has a pleasant aroma, it is deliciously crunchy.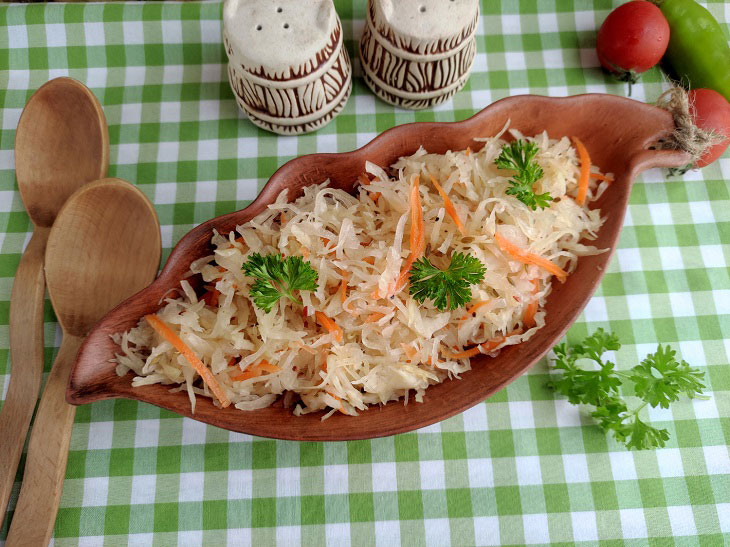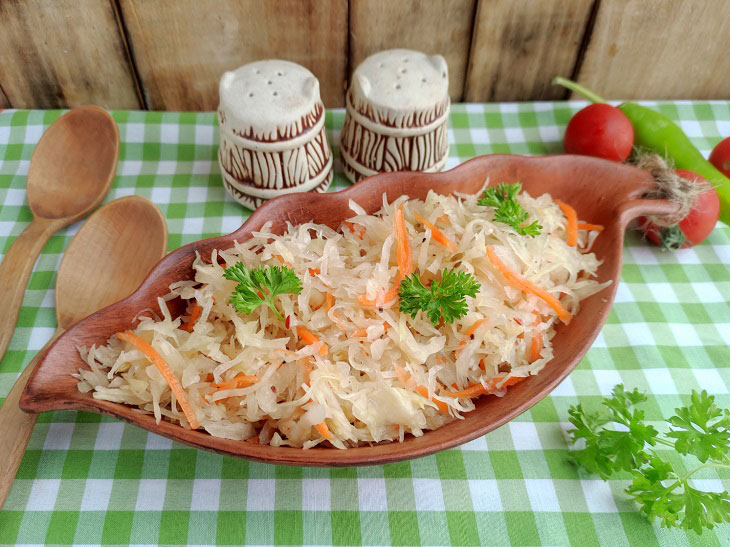 Bon appetit!