Pancake cake turns out to be the most tender, juicy and incomparably tasty. Thin pancakes, smeared with appetizing filling, just melt in your mouth. And it seems to be all the same products that are put in the usual salad, but cannot be compared with any appetizer. This dish is really worthy to tinker with it a little in the kitchen.
Ingredients:
For pancakes:
Egg – 1 pc.
Water – 2.5 tbsp.
Sugar sand – 1 tbsp. l.
Salt – 1 pinch.
Flour – 1.5 tbsp.
Vegetable oil – 2 tbsp. l.
For filling:
Potatoes – 3 pcs.
Canned fish (saury) – 1 pc.
Cheese – 30 g.
Butter – 30 g.
Egg – 2 pcs.
Greens (dill, parsley) – to taste.
Canned corn – 2 tbsp. l.
Mayonnaise – to taste.
Glass 200 ml.
How to cook:
1. First, let's make pancakes. They will need 5 pieces, but there is more dough according to the recipe, since thin pancakes tend to tear when turned over, and you should not exclude the possibility that someone will not endure and taste your creation during the cooking process … Mix the egg with salt.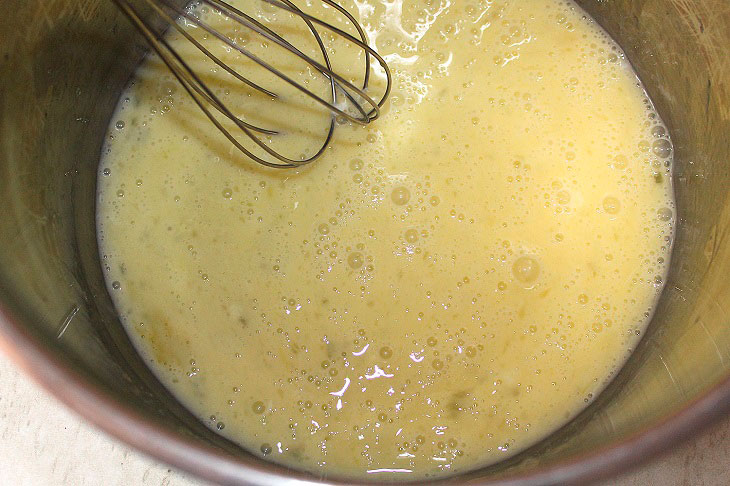 2. Add water, sugar, flour. To make the dough without lumps, it is easiest to stir it with a whisk. The consistency should be like liquid sour cream.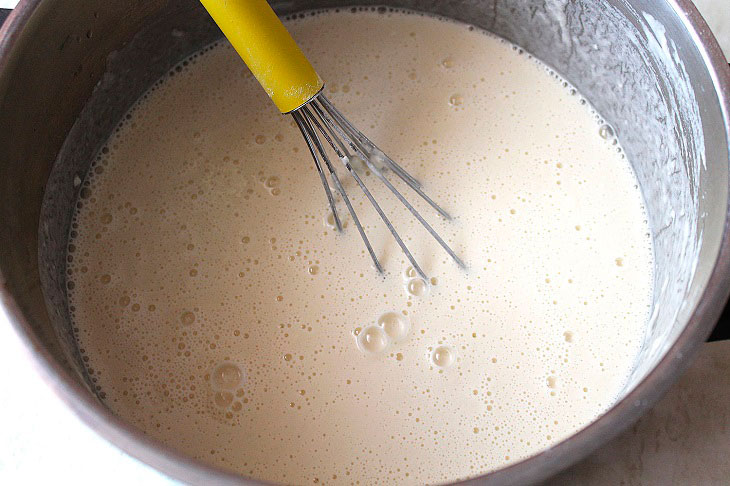 3. We will mix vegetable oil into the finished dough.
If during the baking process it seems to you that the dough is not thick or liquid enough, add flour or water accordingly.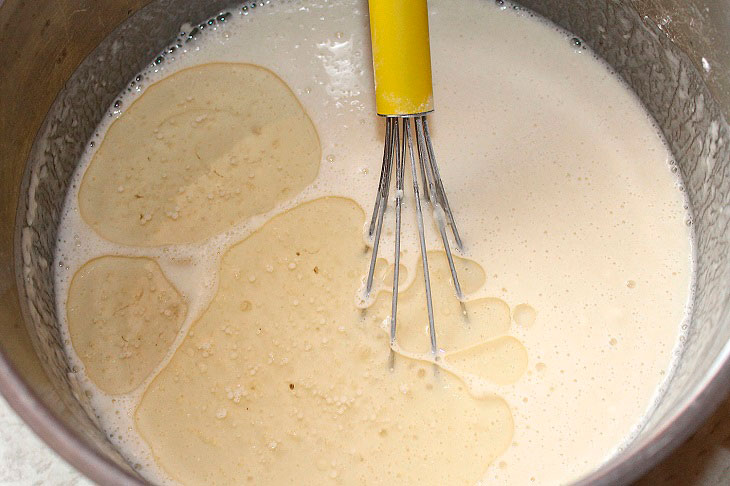 4. Warm up the pan for pancakes over medium heat, grease, pour a small amount (I have a small ladle for this). Turning the pan in different directions, let the dough spread. When the edges of the pancake are browned, you can carefully turn it over.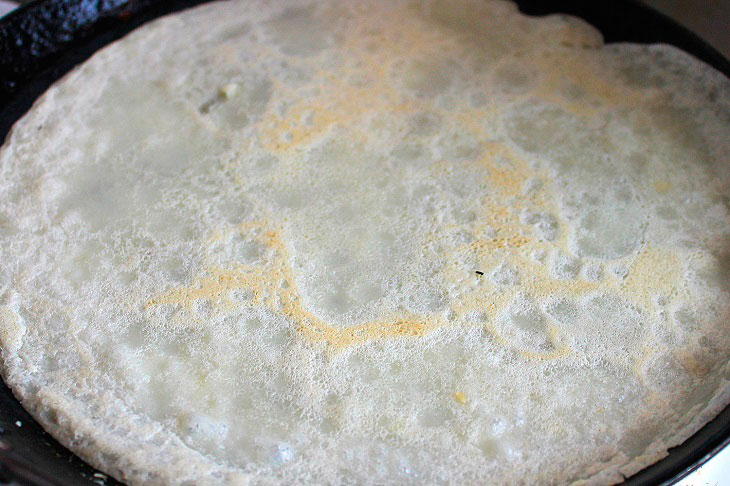 5. Bake pancakes from all available dough.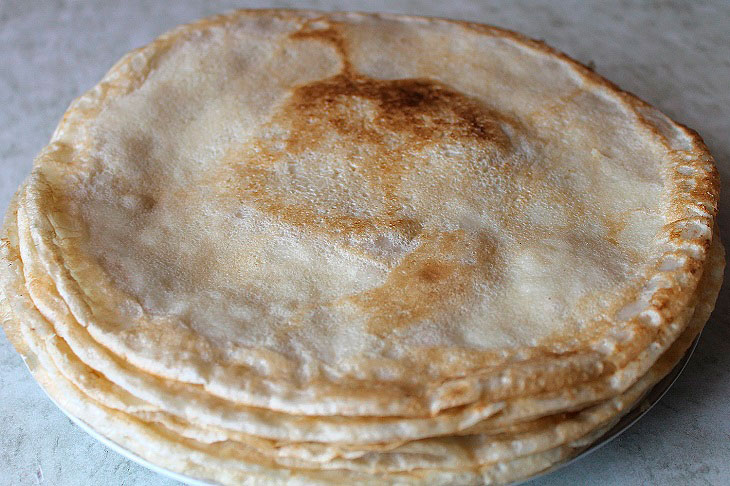 6. Let's start preparing the filling and assembling the cake at the same time. Boil potatoes in uniform, peel. Grate two pieces and mix with mayonnaise (about 2 tablespoons).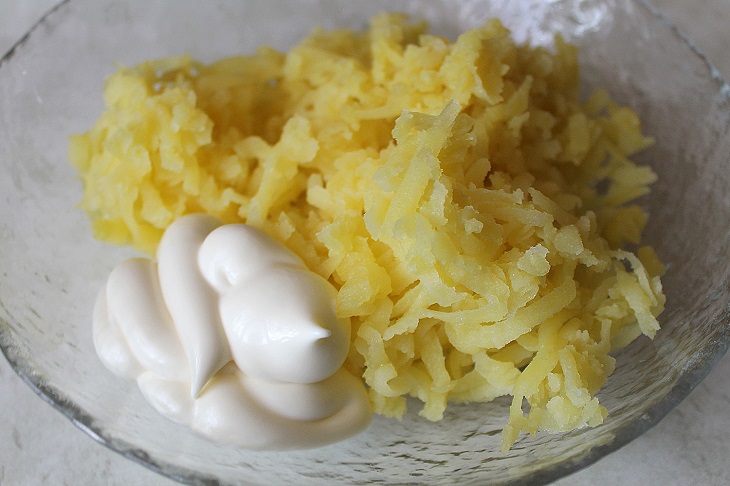 7. Put the pancake on a plate and cover with potato mass.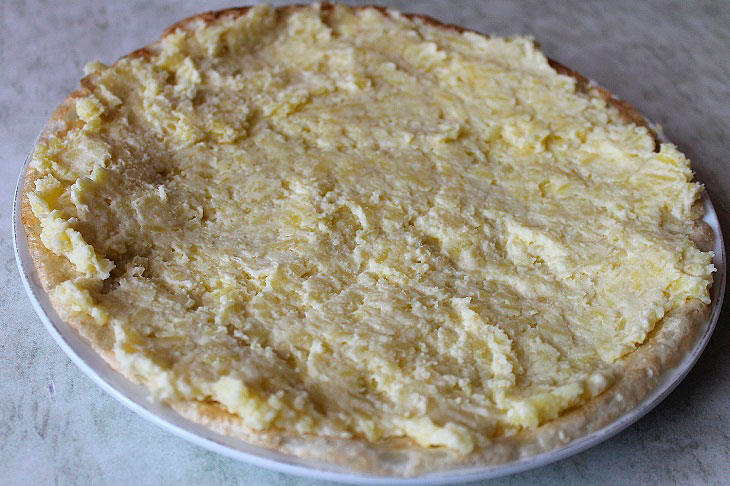 8. Mash canned fish with a little juice and oil from a tin. Mayonnaise is not required here.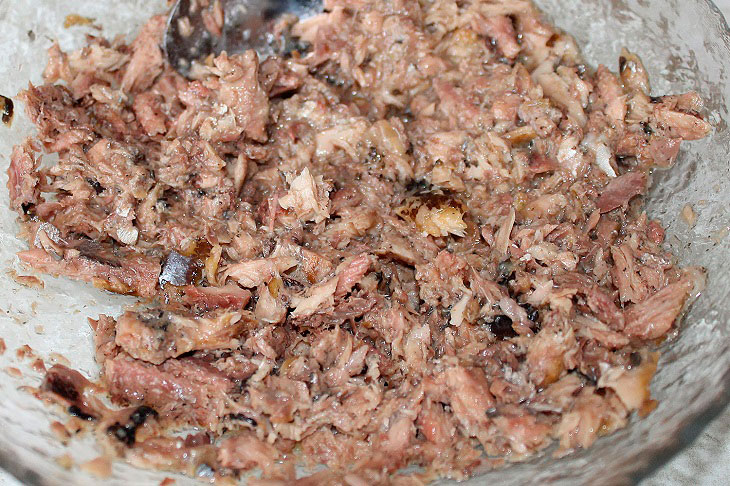 9. The second pancake, with which we will cover the potato filling, grease with minced fish that we have obtained. Fans of spicy snacks at this stage can sprinkle the fish with finely chopped onions.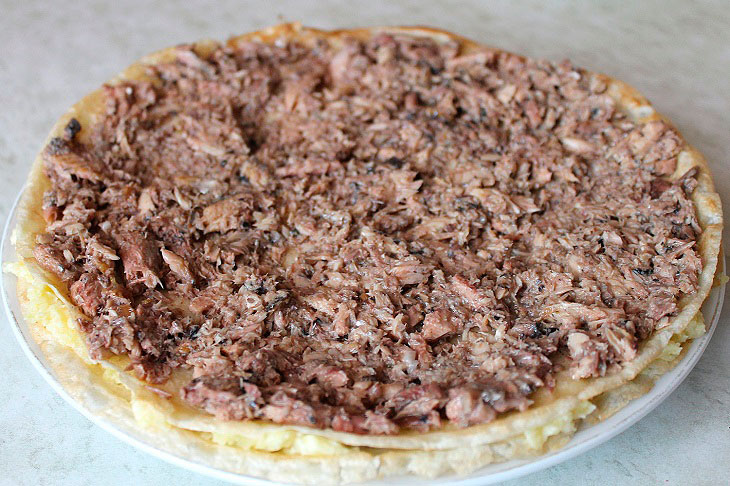 10. Grate cheese and frozen butter with a coarse grater, season with mayonnaise. This is the filling for the third pancake.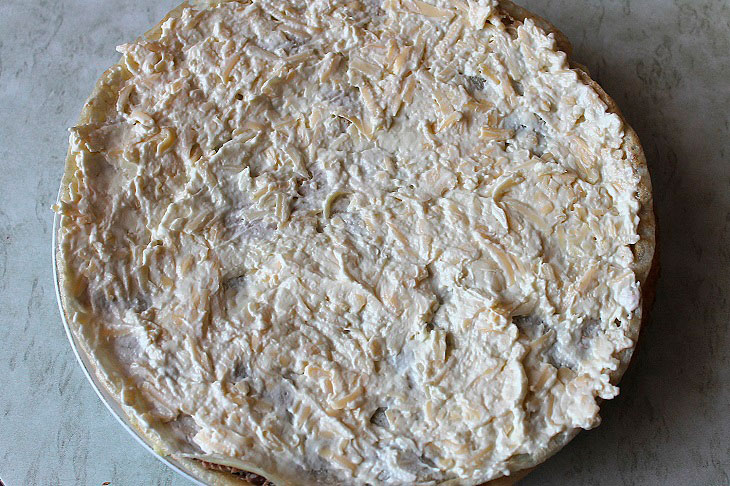 11. Peel the boiled eggs, rub and mix with mayonnaise. Lubricate the fourth pancake.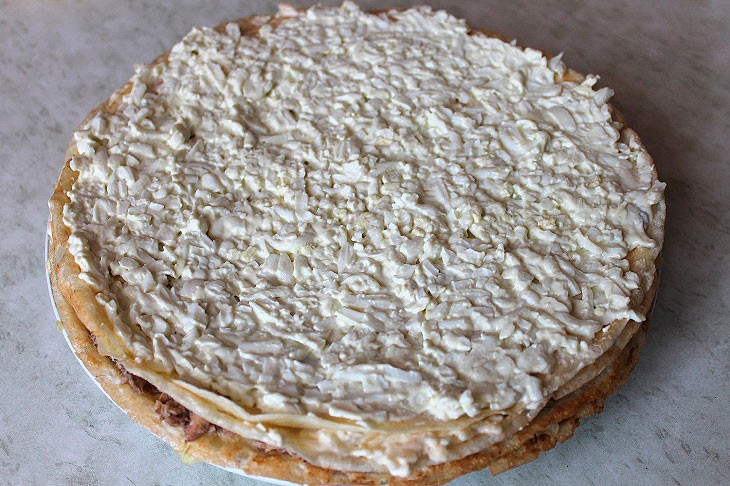 12. Having covered the egg filling with the fifth pancake, rub the remaining boiled potato on top, distribute evenly.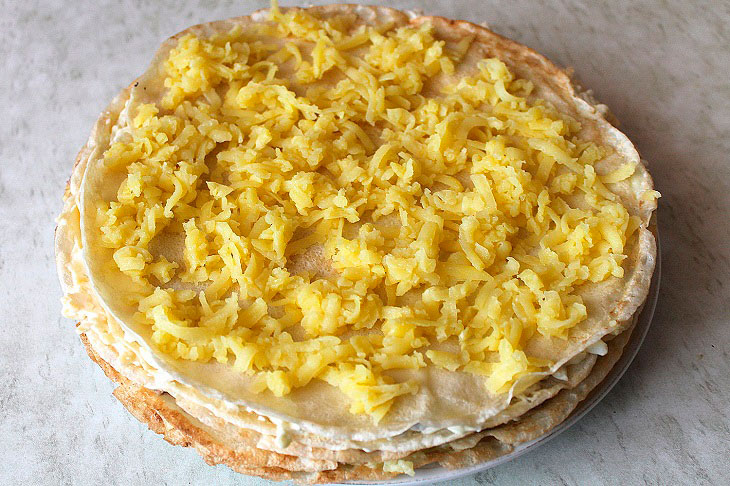 13. Lubricate with mayonnaise. This is done so that the maximum amount of sauce is not in the potatoes, but on top.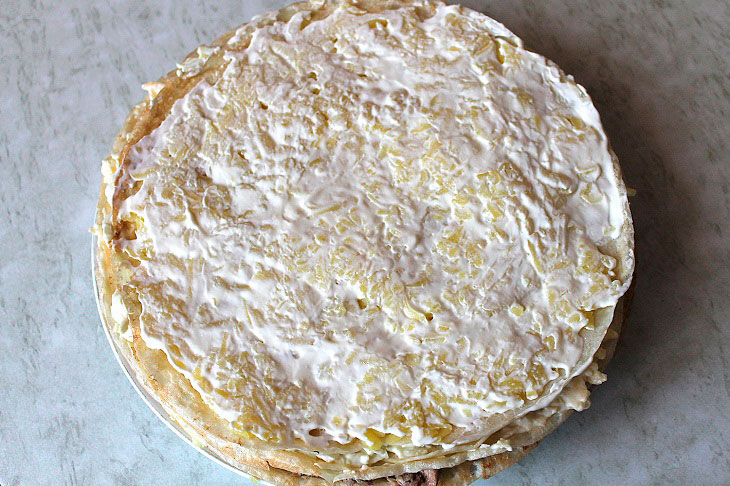 14. Finely chop fresh herbs.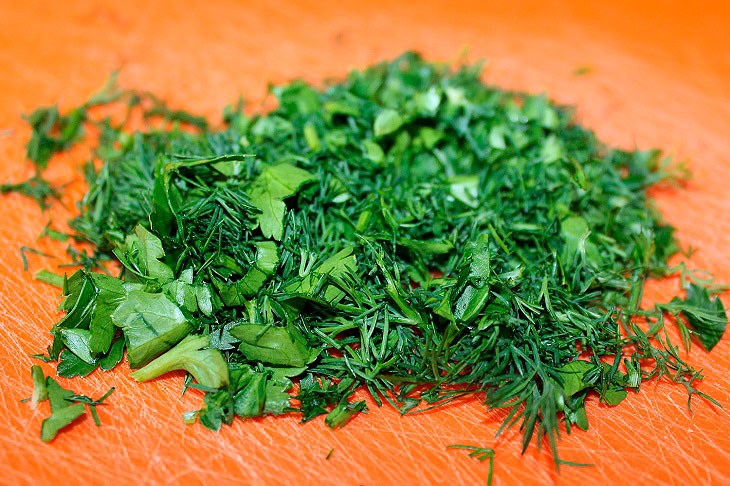 15. Sprinkle mayonnaise with herbs and corn. Both of these will not only add freshness and piquancy to the dish, but also decorate the cake with bright colors.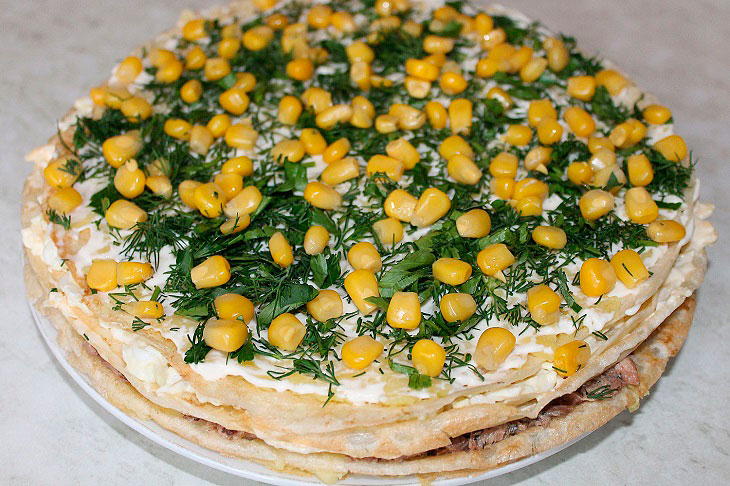 The pancake snack cake should be in the refrigerator for about 3-4 hours before serving.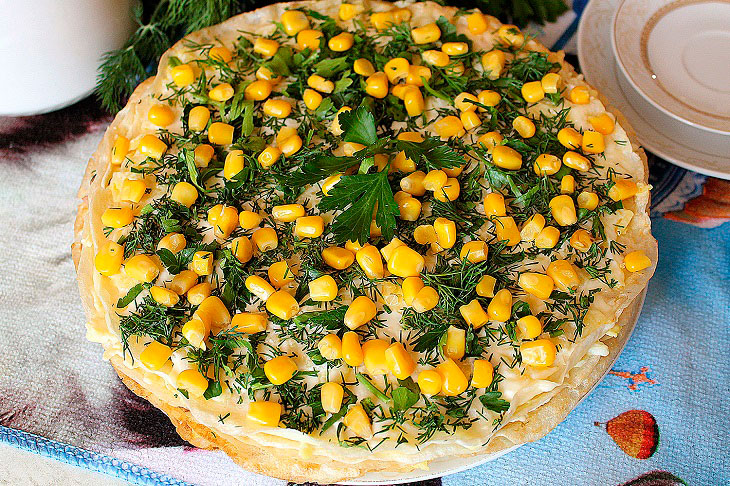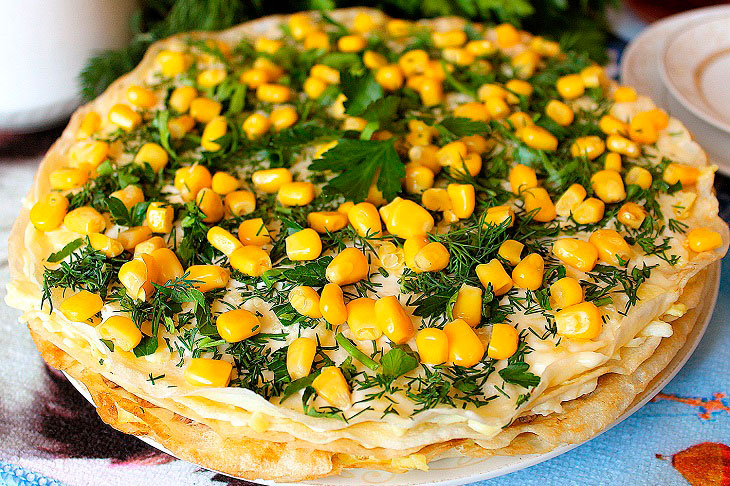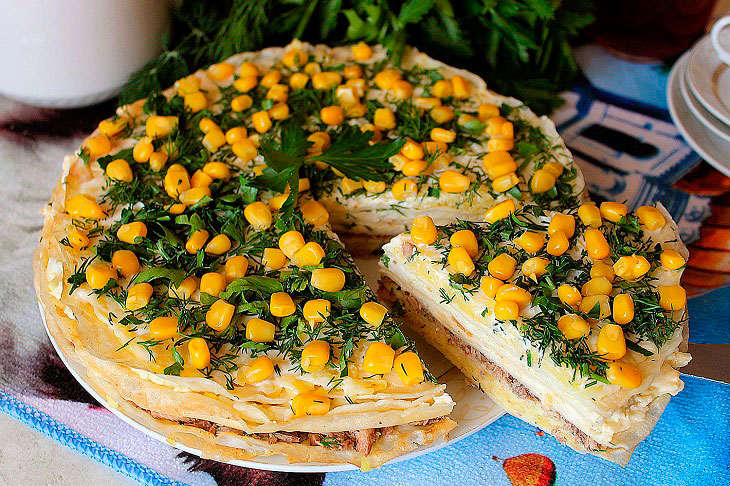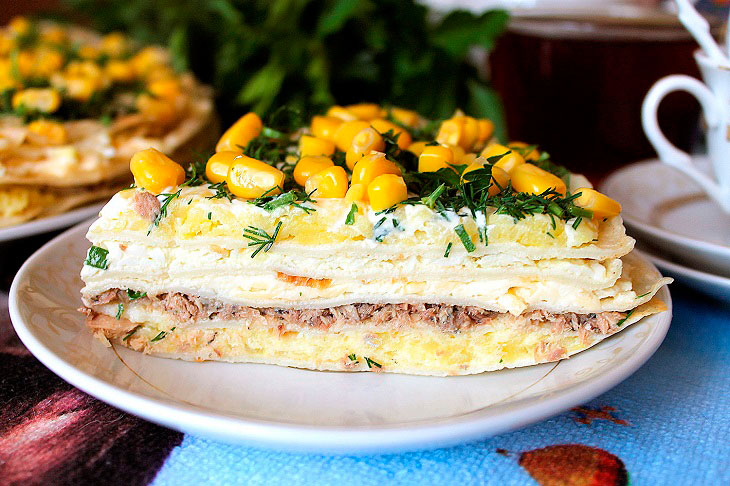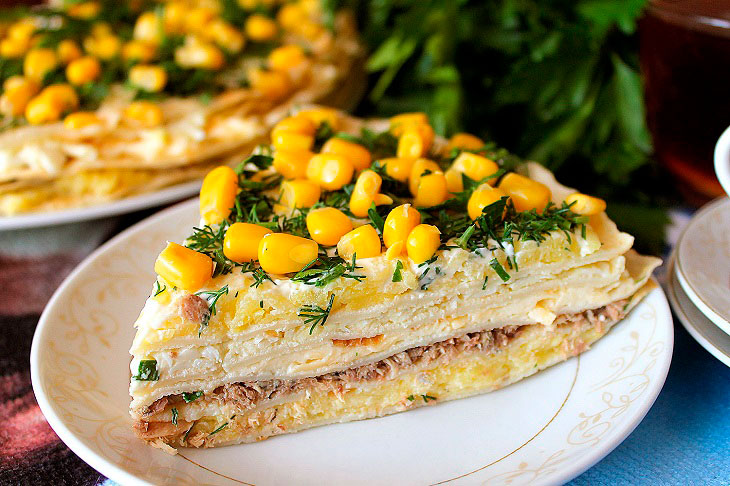 Enjoy your meal!