Solyanka can hardly be called an original Russian dish; its interpretations are found in all world cuisines. And there is no single recipe for hodgepodge. Salted cucumbers and meat ingredients are unchanged in its composition.
The hodgepodge is hearty, tasty, all family members eat it with pleasure, from a little nehochuha to a sedate cat. And all because it is simply impossible to imagine this dish without smoked meats, and it is they that give the hodgepodge a bright indescribable taste.
We will cook it with three meat ingredients: chicken, smoked sausage and sausages. It is better to take sausages slightly smoked – the aroma of hodgepodge will intensify even more.
You can have any cucumbers, we added small gherkins – cut into circles, they look beautiful on a plate.
Ingredients:
Sausages – 3 pcs.
Smoked sausage – 100 g.
Pickled cucumbers – 50-60 g.
Tomatoes (medium size) – 2 pcs.
Onion – 1 pc.
Chicken thighs – 2 pcs.
Hot pepper "Spark" – 1 pc.
Sour cream – to taste.
Parsley and dill – to taste.
Vegetable oil – 1 tbsp. l.
Lemon – half a circle (on a plate).
Salt, ground black pepper – to taste.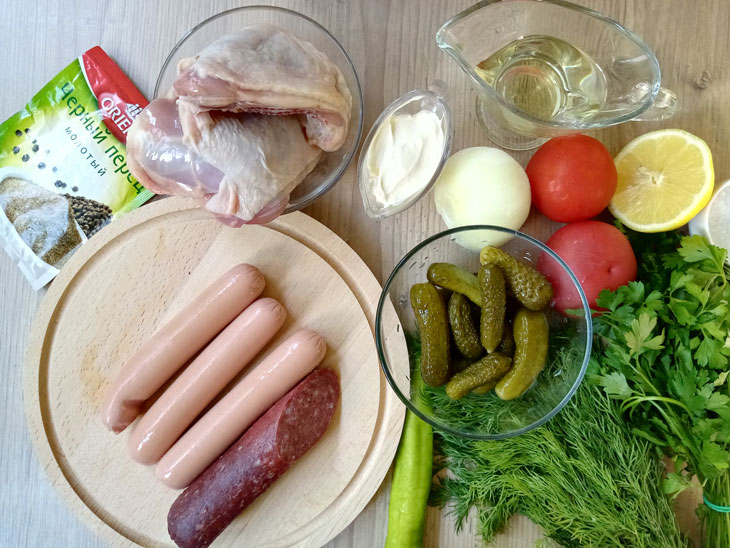 How to cook:
1. Pour 2 liters of water into a large saucepan and dip the washed chicken thighs into it. If you prefer a less fatty dish, remove the skin and remove the fat. Boil the chicken for 40 minutes.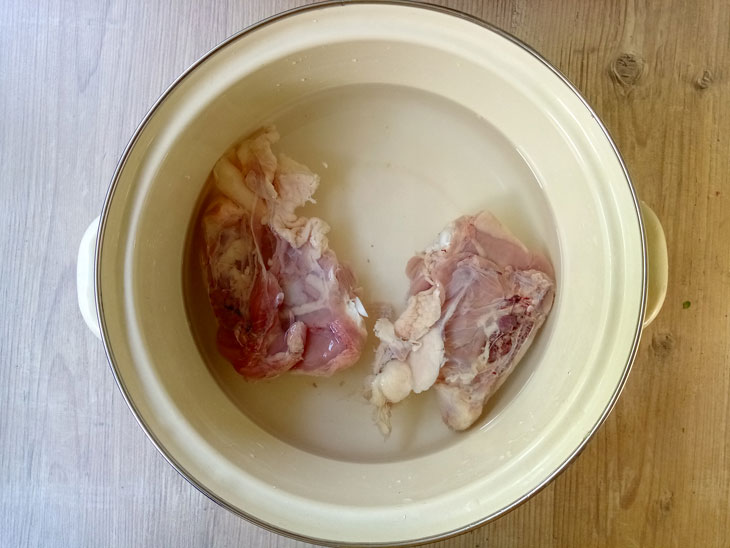 2. Chop the onion into cubes and send it to a frying pan greased with vegetable oil. Simmer the onion for 3 minutes.
3. Cucumbers cut into thin circles (you can straws), add to the pan, simmer with onions for 5 minutes.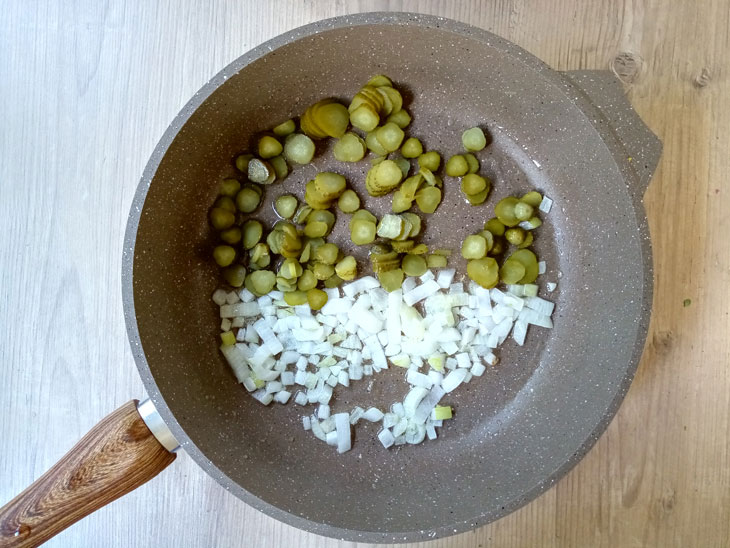 4. Chop the tomatoes into cubes, and chop the "Spark" pepper as finely as possible. The last procedure is best done with gloves, as the pepper juice eats into the skin and "pinches". Simmer the vegetables for 10 minutes, until the tomatoes sof10.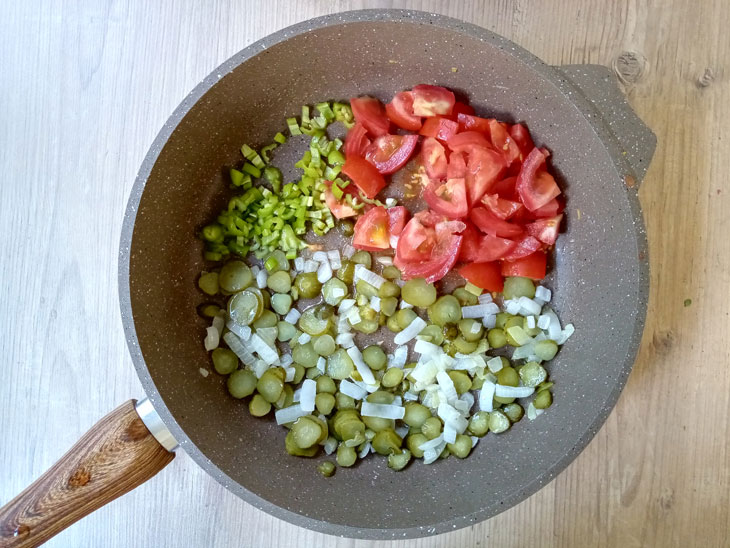 5. Chop sausages and sausage into slices, straws, any shapes you like.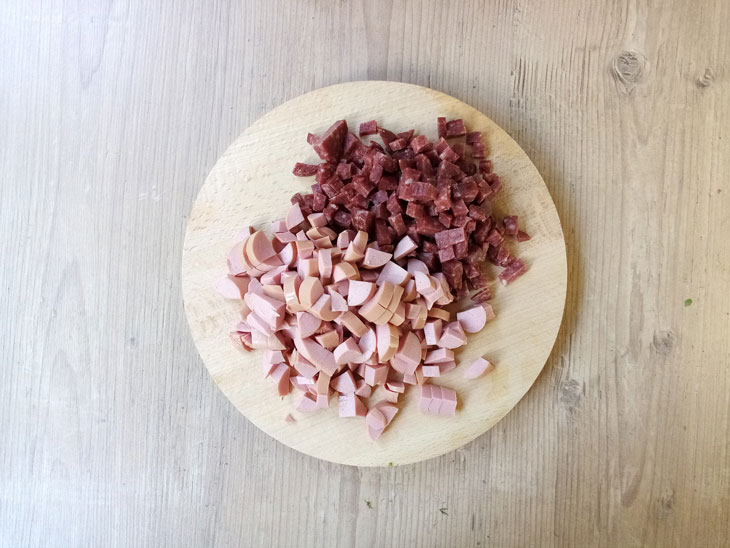 6. When the broth is ready, remove the thighs, and "send" the roast with vegetables to the pan. Chop the chicken.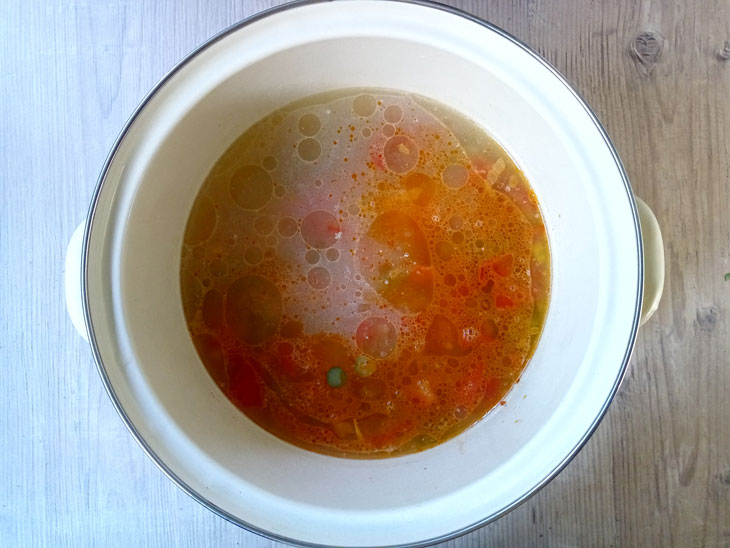 7. Let's force the vacated pan to "work" again. Fry chopped sausages, sausage and pieces of thighs on it for 3 minutes.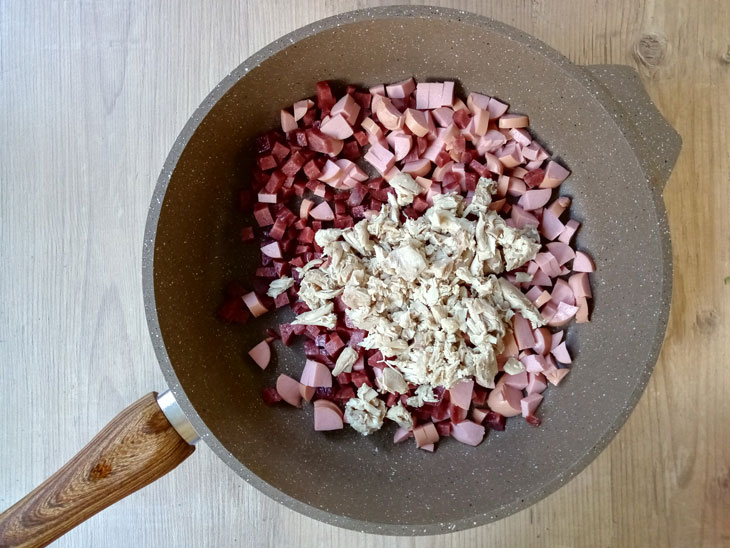 8. Send the meat ingredients also to the pan, bring to a boil, and cook for 15 minutes. The dish is ready!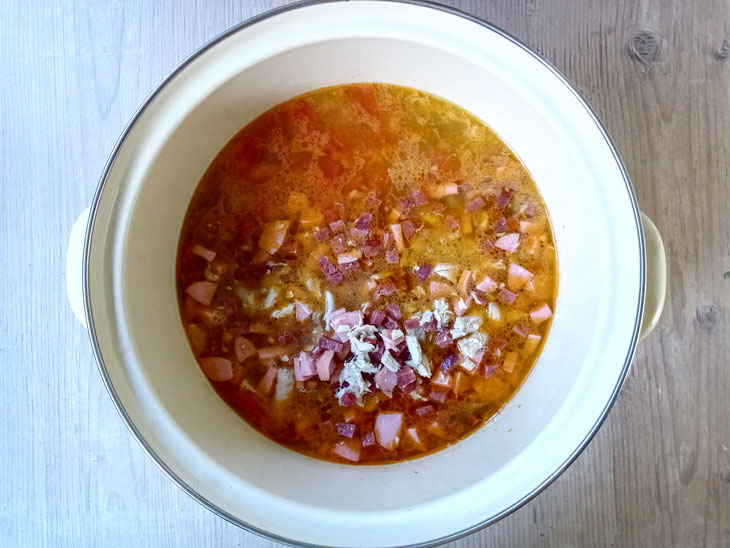 Decorate a plate with hodgepodge with half a lemon, chopped parsley and dill, add a spoonful of sour cream.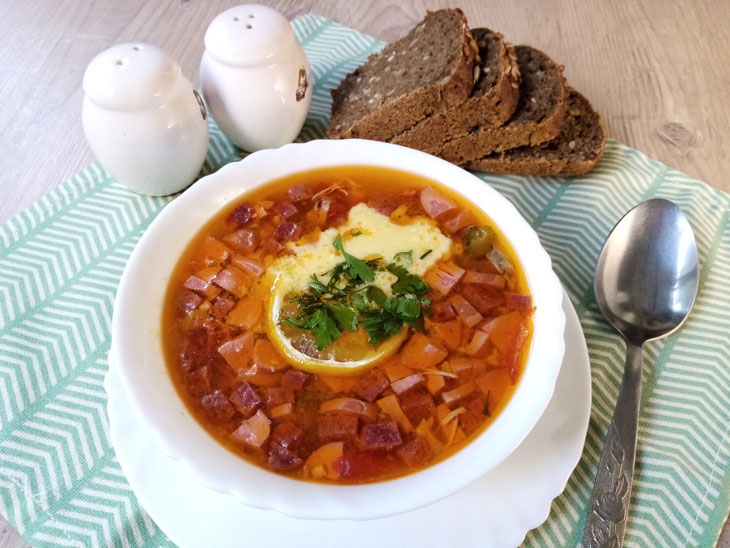 Bon appetit!