Italian pasta is a simple, tried-and-tested dish that is worth learning how to cook. A variety of sauces and additives to pasta allows you to cook different dishes according to the same basic recipe. We offer you a recipe for delicious spaghetti in peanut sauce. You don't have to go to an expensive restaurant to enjoy this dish. It is enough to visit a small supermarket and choose durum wheat spaghetti. For nut sauce, you can use any nuts of your choice or a mix of them. For the recipe, you will need cow's cream with a fat content of 10% and high-quality butter, which can be replaced with an olive counterpart.
To cook spaghetti, use a spacious enamel pan, and to cook the dish, you need a frying pan with a diameter of 24 cm.
Ingredients:
Spaghetti – 140 g.
Butter – 15 g.
Walnuts – 80 g.
Garlic – 2 cloves.
Coriander – 2 g.
Thyme – 1.5 g.
Nutmeg – 1 g.
Granulated garlic – 2 g.
Salt, pepper – to taste.
Microgreens – for serving.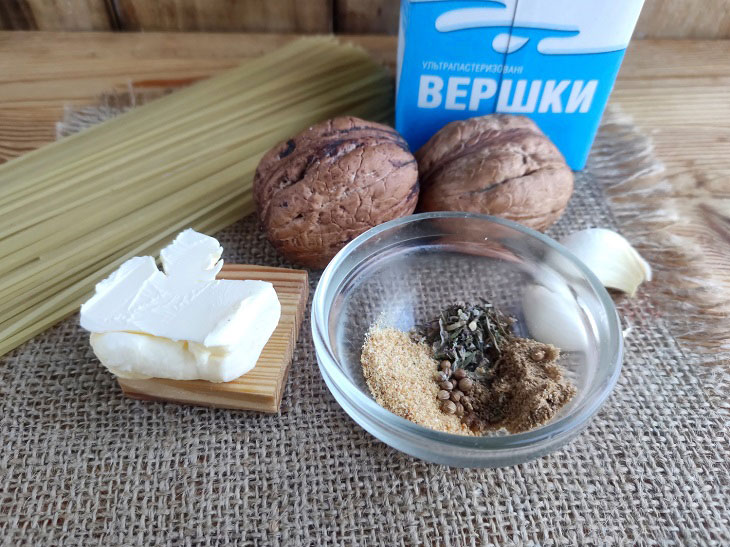 How to cook:
1. Peel the nuts from the shell, put in a mortar and grind into a pulp. You can grind them in a blender.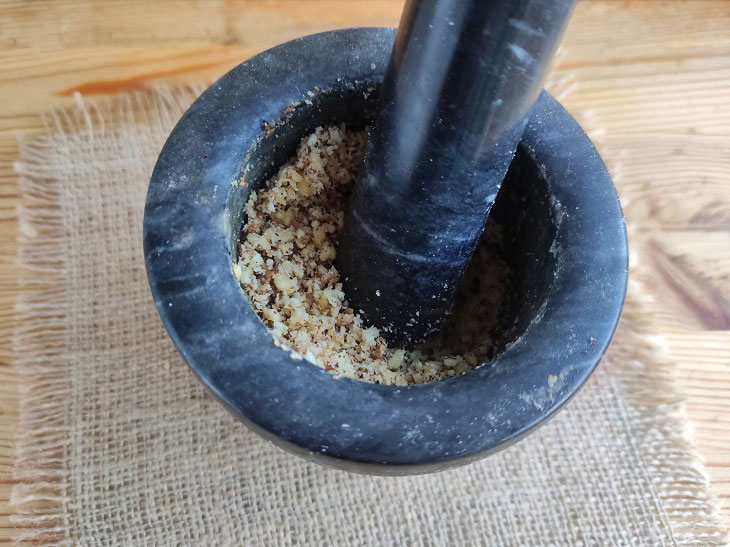 2. Boil 1.4 liters of water in a saucepan, add 14 g of salt and fan the spaghetti into hot water. Cook them until al dente (one to one and a half minutes less than indicated on the package). Drain the spaghetti in a colander and rinse under running water.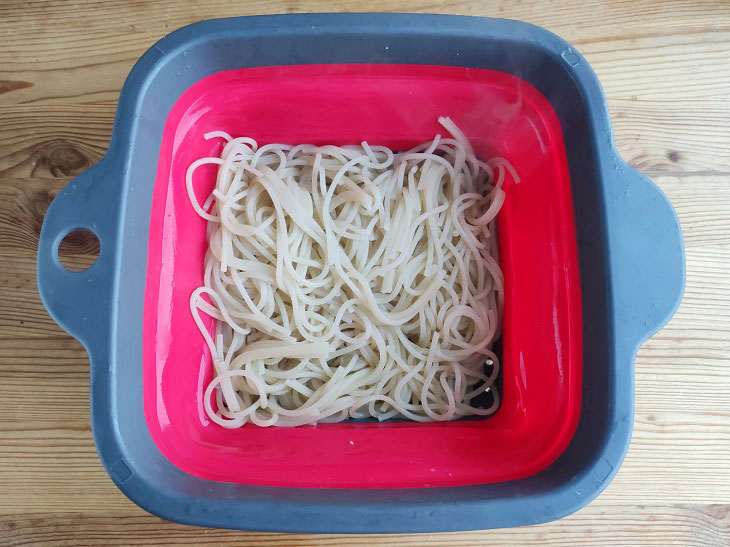 3. Melt the butter in a frying pan, add dry spices and garlic, cut into slices. Saute garlic until browned and remove.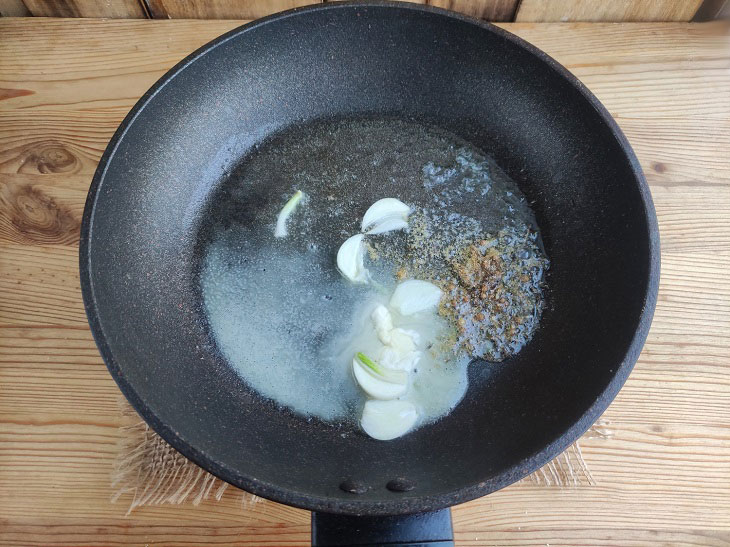 4. Add chopped nuts, lightly fry them in fragrant oil, stirring occasionally.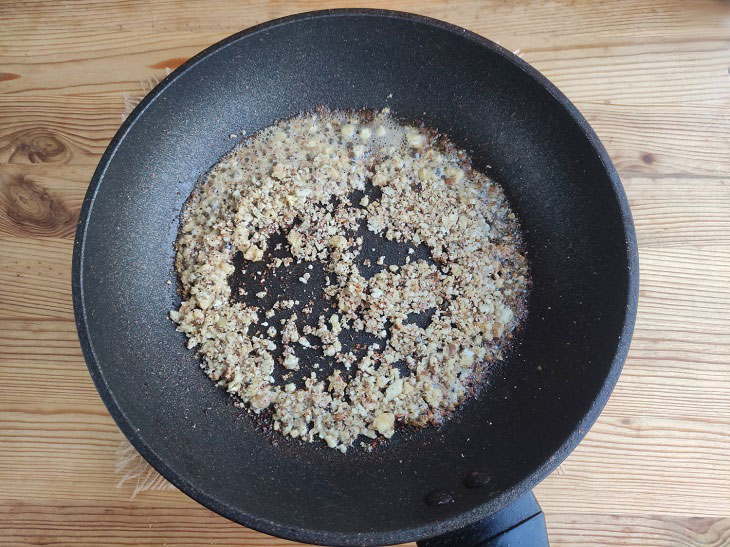 5. Add cream, boil sauce. Salt it, pepper it.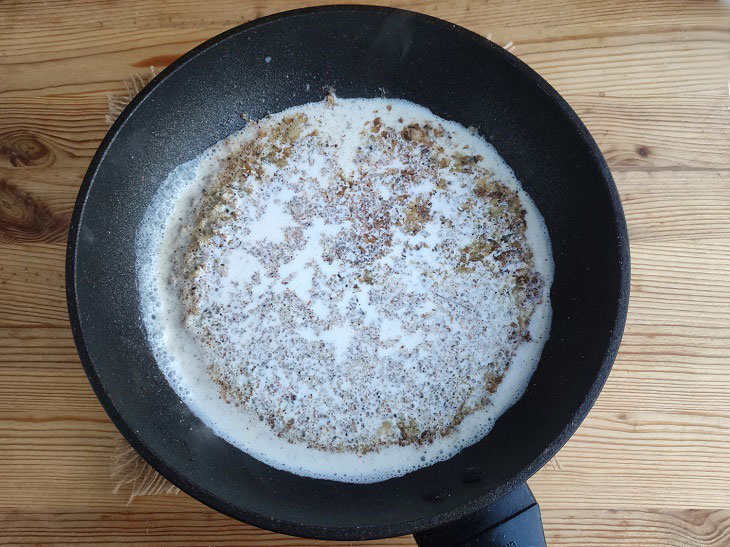 6. Put the spaghetti in the sauce, shake the pan several times. Gently stir the pasta until the sauce is evenly distributed. Heat the contents of the pan for one to two minutes.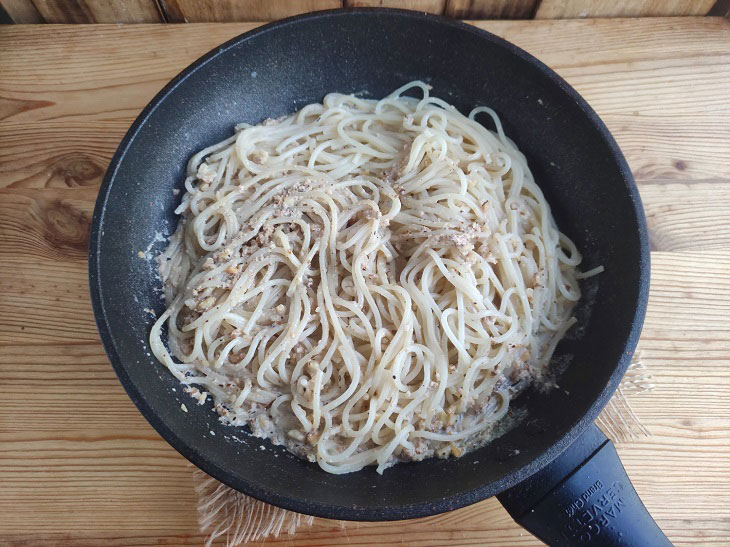 7. Place the spaghetti in a nest on a serving plate, pour over the sauce, garnish with herbs and serve.
An appetizing dish will be appreciated even by refined gourmets. Spaghetti in walnut sauce has a nice milky flavor with a nutty flavor and a great texture.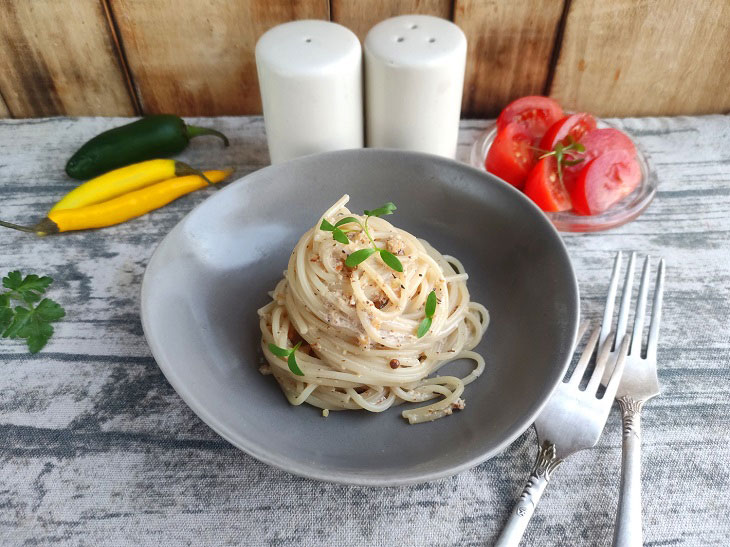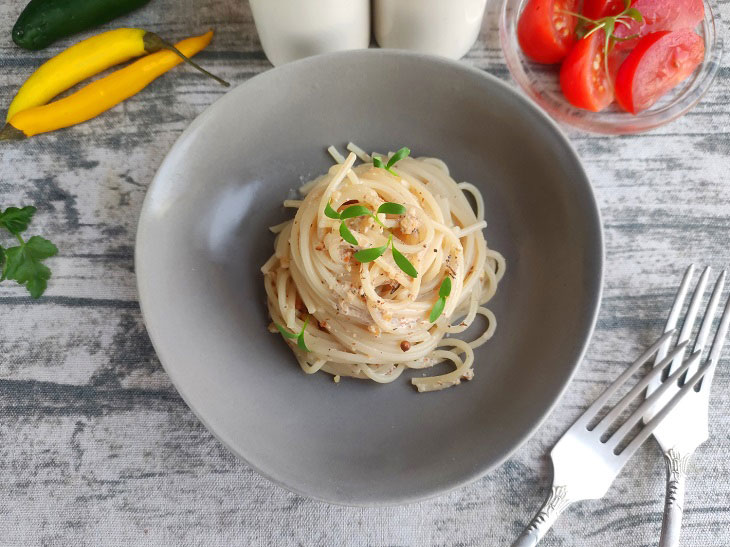 Bon appetit!