A quick spectacular dish for the festive table for the whole family – Spanish meat cake. Prepare it for the New Year's celebration – we promise you will not regret it! Like all authentic Spanish dishes, the cake is cooked for one or two or three times from the available products and it turns out to be hearty and appetizing. Men will appreciate this dish, they love snack cakes.
The basis of baking is grated potatoes, which are mixed with chopped cheese and smoked meats. When choosing cheese, give preference to a solid product with a fat content of 50%. In Spain, for such a cake, they use a national product – jamon ham. If it is not possible to purchase jamon, feel free to use brisket, smoked chicken fillet and ham in various proportions. In addition to these components, fleshy vegetables are added to the cake – fresh, sun-dried tomatoes and bell peppers. For a piquant taste, the use of green or onions and aromatic spices is allowed. Flour is added to baking in a limited amount.
The cake is baked in the oven in a detachable metal form. After cooling, the products are decorated with olives, eggs, tomatoes and cold cuts.
Ingredients:
Potatoes – 0.5 kg.
Flour – 35 g.
Onion – 60 g.
Bulgarian pepper – 40 g.
Eggs – 1 pc.
Cheese – 100 g.
Ham – 100 g.
Bacon – 100 g.
Chicken fillet (smoked) – 100 g.
Dried garlic – 5 g.
Thyme – 2 g.
Paprika – 5 g.
Nutmeg – 2 g.
Salt, pepper – to taste.
Pepper, cherry tomatoes, peas – for decoration.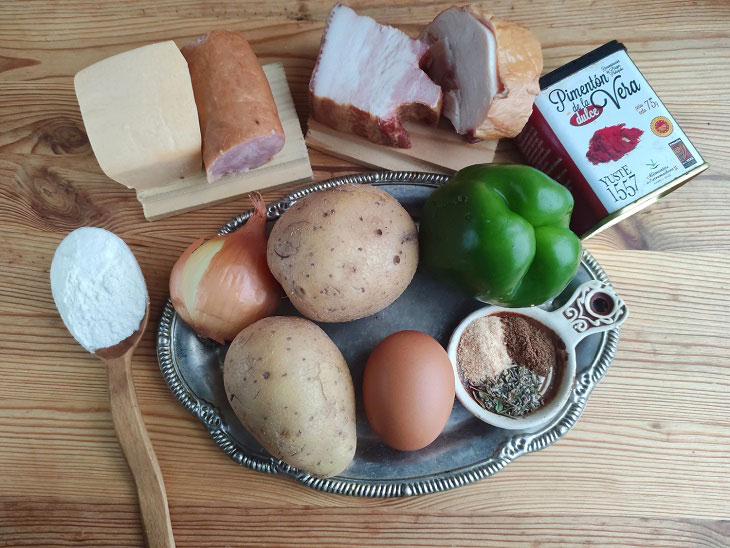 How to cook:
1. Peel the potatoes and grate, squeeze out the juice. Put in a bowl.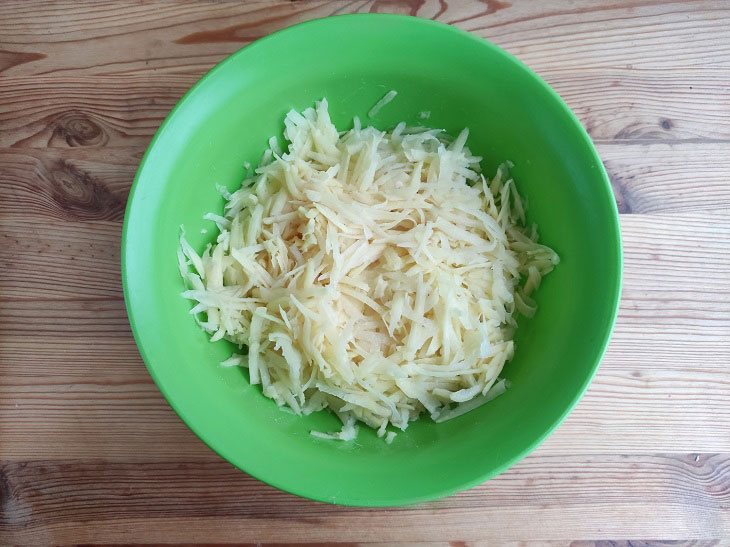 2. Add cheese, chopped similarly. Sprinkle the mass with salt, pepper and spices. Stir the mixture until smooth. Set aside one third of the potato-cheese mass.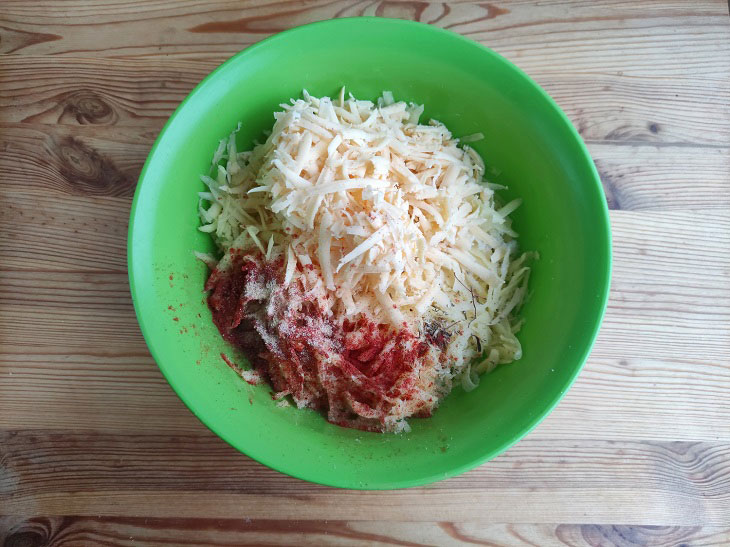 3. Crack an egg into a bowl. Pour in the flour. Mix.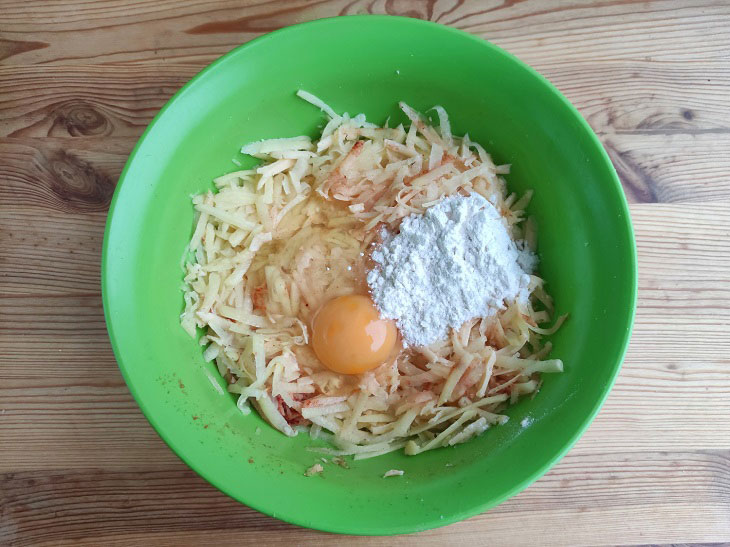 4. Finely chop onion, pepper. Put in a bowl.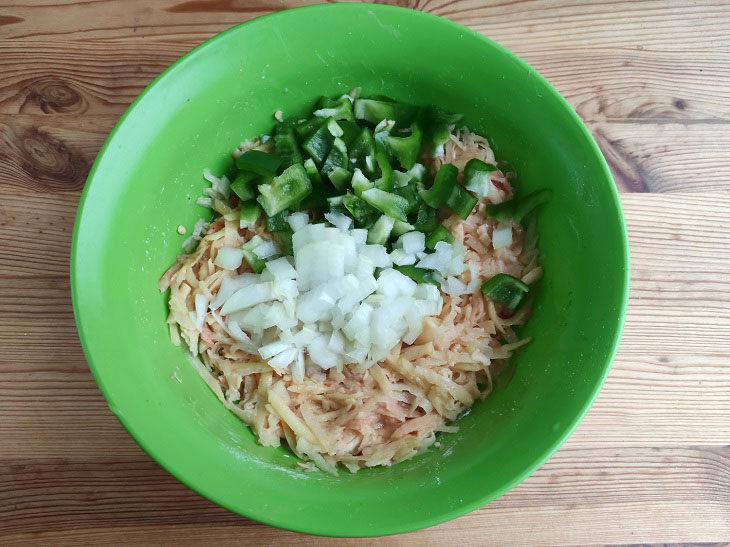 5. Grind smoked meats, lay to the rest of the components.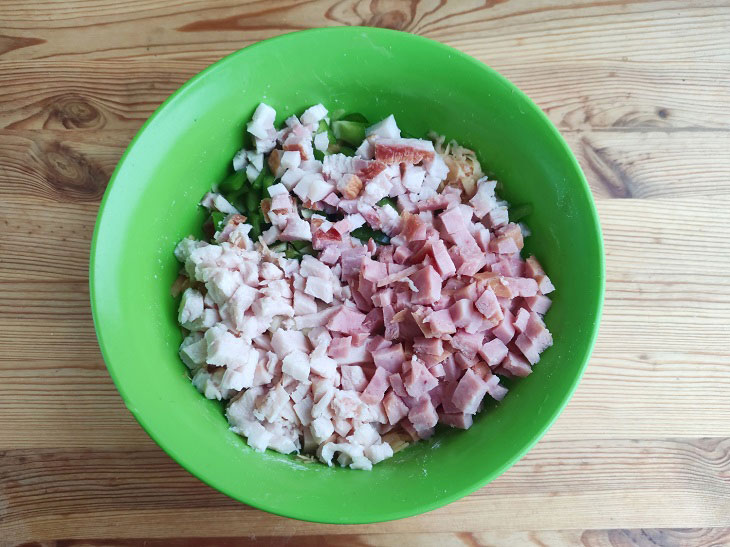 6. Cover the baking dish with parchment paper, lay out the mass, level it.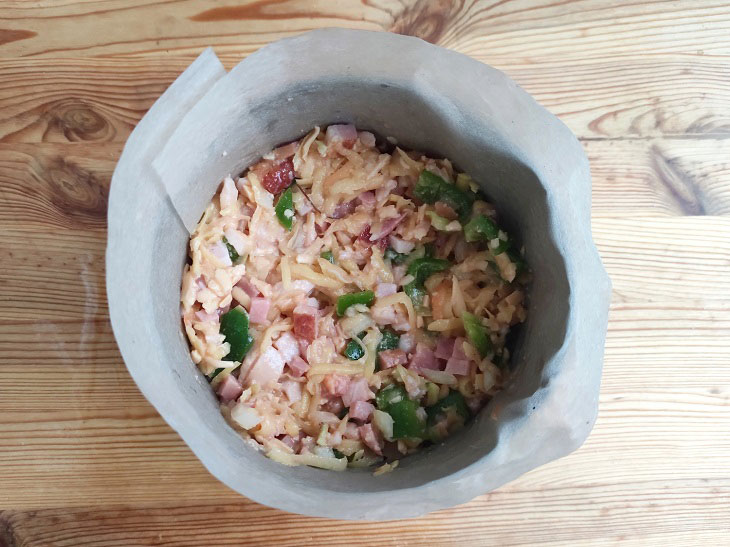 7. Place the reserved potato-cheese mass on top. Bake in the oven at 190 degrees for 70 minutes.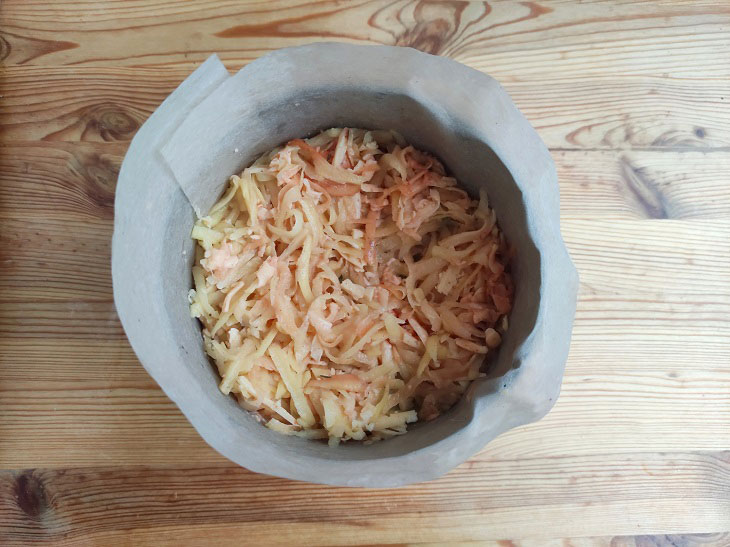 8. Cool the finished cake in the form, remove the parchment and put on a serving plate. Decorate the dish and serve.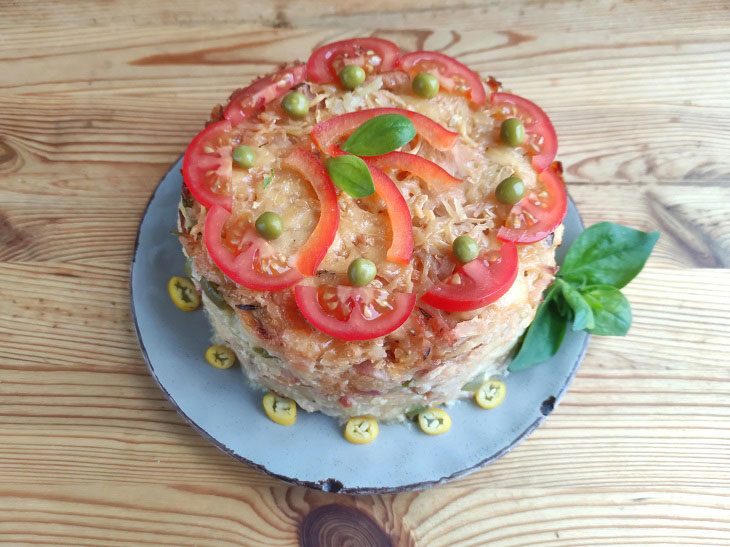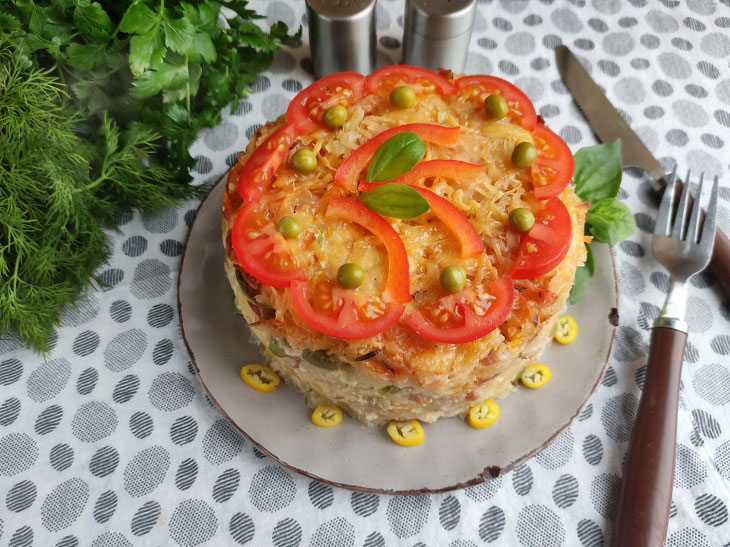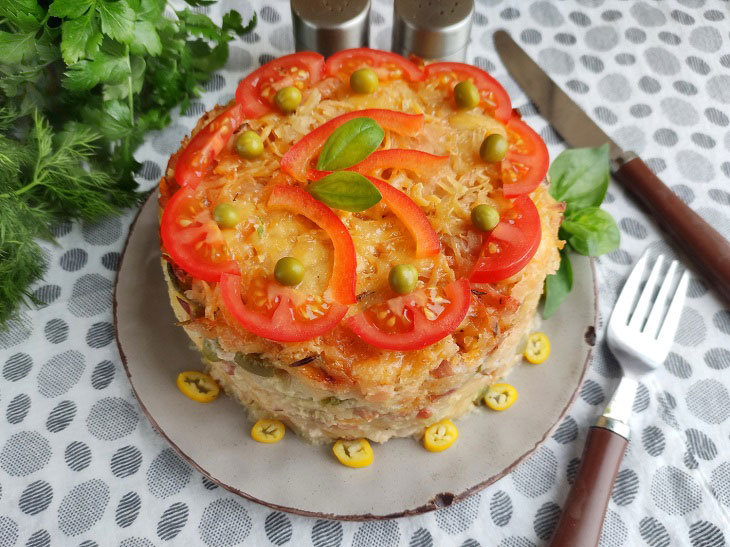 Bon appetit!