From seasonal vegetables you can cook a huge number of tasty and satisfying dishes. The recipe for zucchini caviar in pieces will surely be appreciated by all lovers of this vegetable. The appetizer turns out to be very tasty and is perfect as an addition to a homemade lunch or dinner or as an independent snack throughout the day. If you do not like pieces in caviar, grind the finished dish with a blender to a homogeneous consistency.
Ingredients:
Zucchini – 2 pcs. (450-500 g).
Carrot – 1 pc.
Onion – 1-2 pcs.
Tomato paste – 1-1.5 tbsp. l.
Mayonnaise – 2 tbsp. l.
Vegetable oil – 50 g.
Salt – to taste.
Ground black pepper – to taste.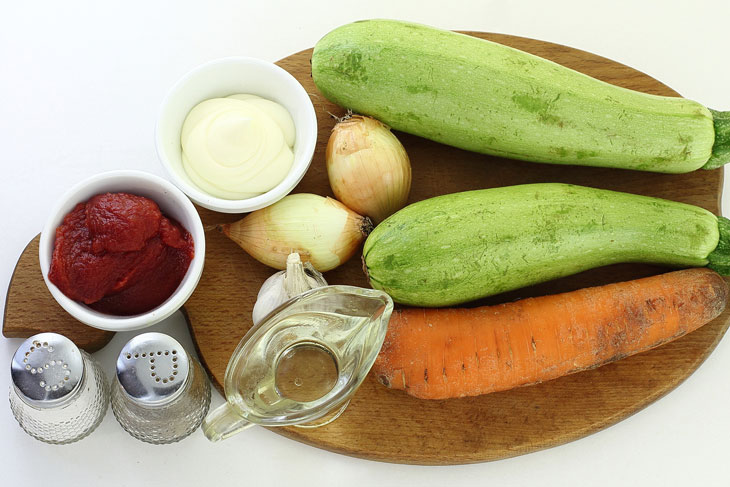 How to cook:
1. Peel the onion and carrot. Rinse vegetables thoroughly with cold water. Pat dry with paper towel. Grate the carrot on a coarse grater, cut the onion into half rings.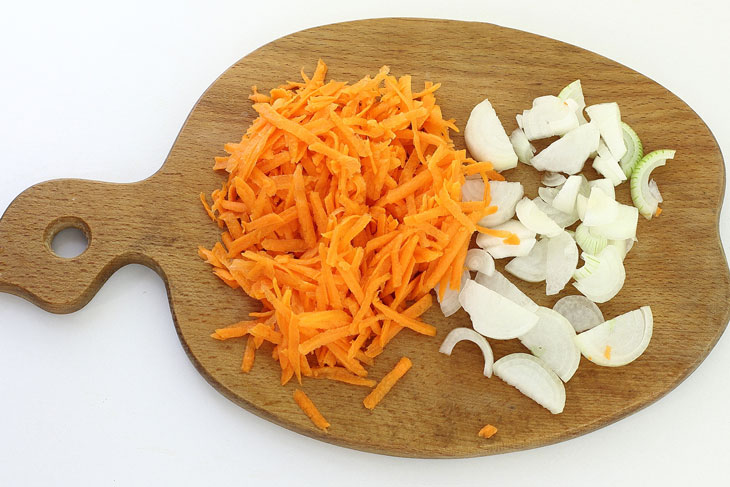 2. To extinguish, use a thick-walled deep frying pan, saucepan or cauldron. Pour in odorless oil. Warm it up well. Add carrot and onion. Stirring, fry over moderate heat for 5-7 minutes until soft.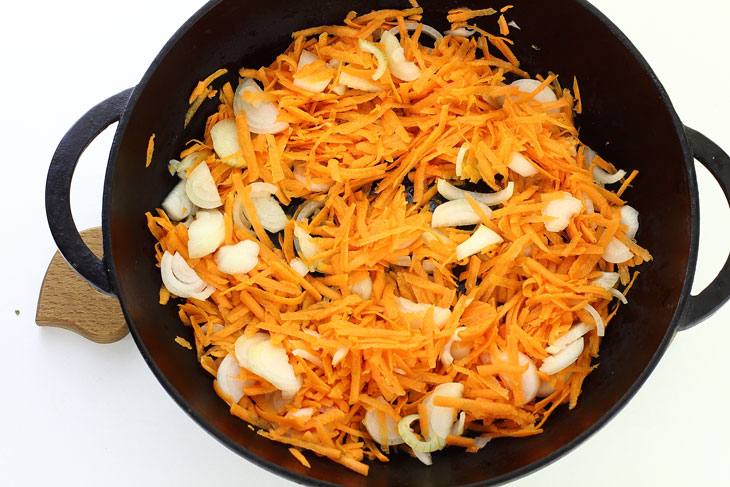 3. Meanwhile, prepare the zucchini. It can be young or mature fruits. In the second option, remove the rough skin and seeds. Young zucchini just need to be washed and dried. Cut into small cubes. Any variety is suitable for stewing, for example, zucchini or yellow zucchini.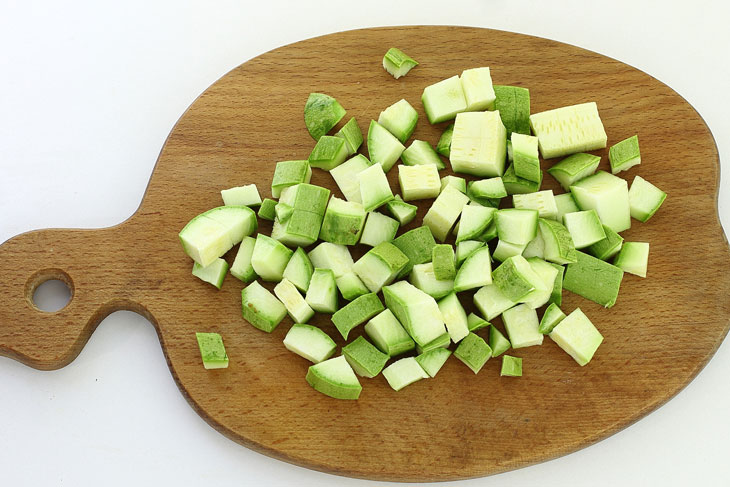 4. Add the chopped zucchini to the pan with the sautéed vegetables. Salt lightly and stir. Make a small fire, cover and simmer for 25-40 minutes, until the zucchini is soft. Stir occasionally for more even browning.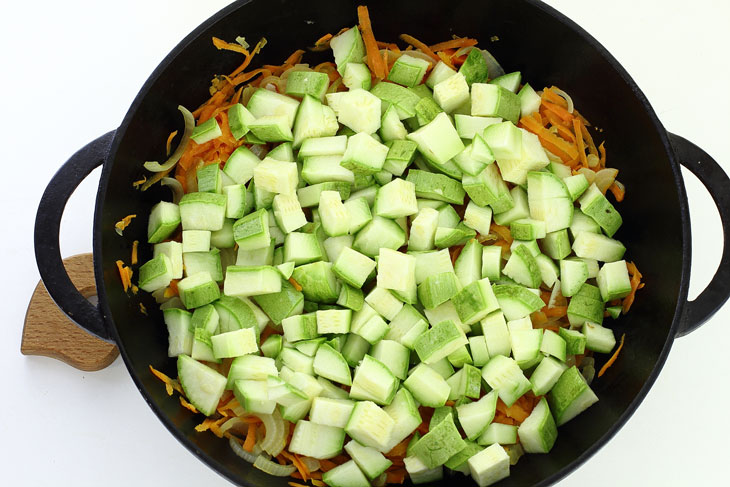 5. When the zucchini becomes soft, it's time to add the tomato paste and mayonnaise. Stir. Continue to simmer on low heat covered for 10-15 minutes, stirring occasionally.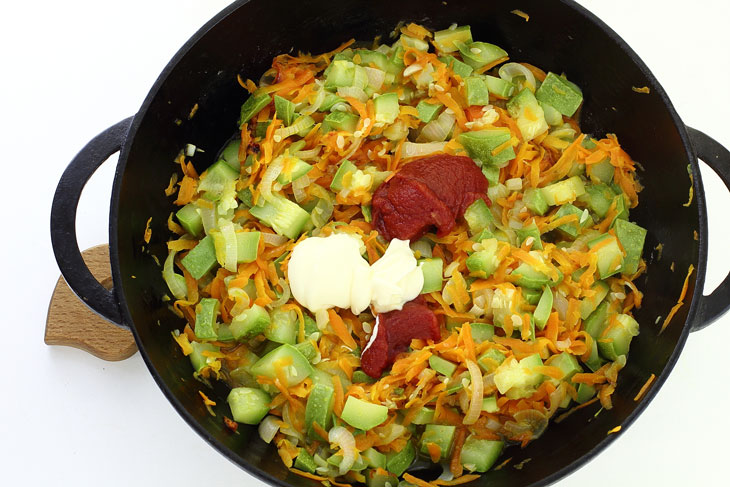 6. Peel the garlic. Take its amount according to your taste. Rinse, cut into thin rings. Add to skillet. Season to taste with crushed pepper and salt. Simmer covered for 5-8 minutes.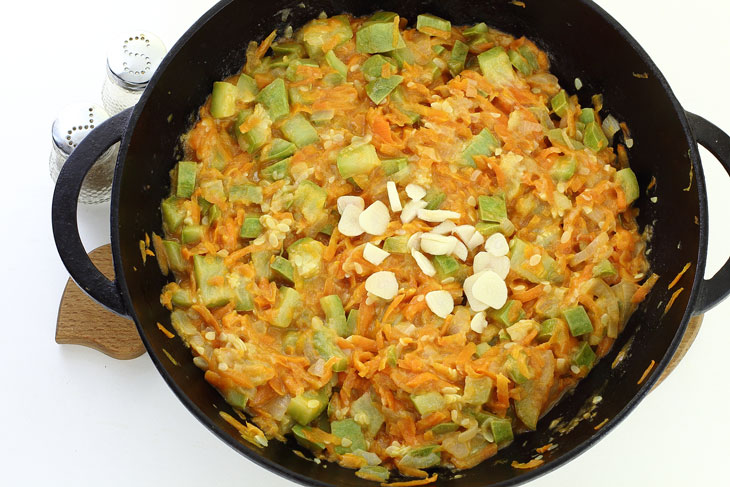 Squash caviar pieces are ready. Serve to the table, garnished with chopped herbs.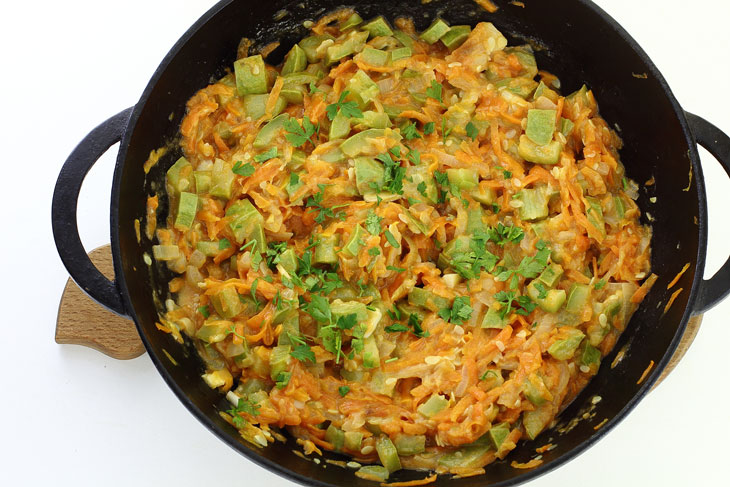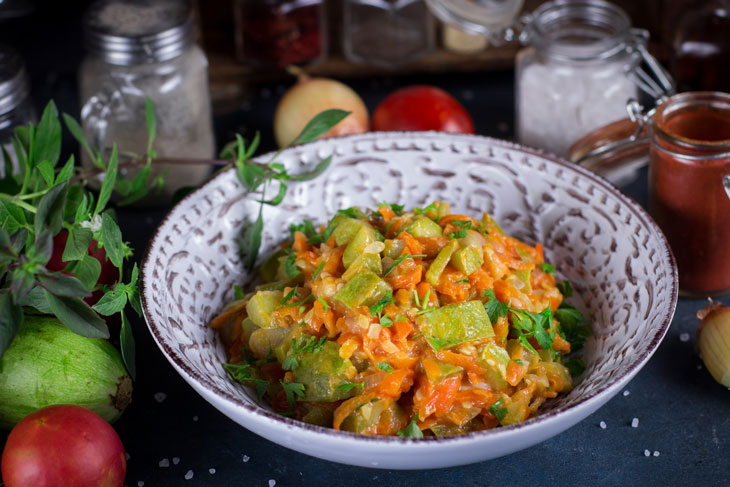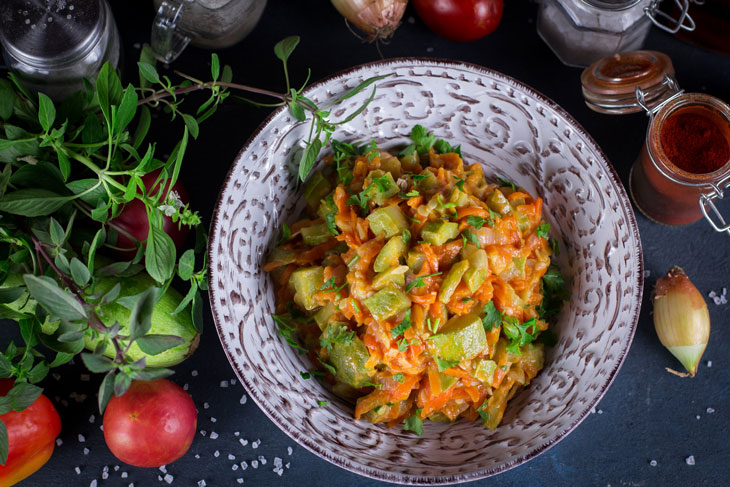 Enjoy your meal!