Salad "Stargazer" will be able to diversify both your everyday and festive menu. If you like vegetable salads with chicken meat, then you will definitely like this recipe. The salad is formed in layers, each one is soaked with mayonnaise. The salad will be juicy and tasty.
To speed up the cooking process, boil the beets and chicken separately in advance. Cool these products completely – then you can collect the salad. If you prepare everything in the evening, then the next day the dish is prepared in 15-20 minutes. Beetroot perfectly complements the chicken fillet, giving the salad a bright color and a pleasant slightly sweet aftertaste. You will also need prunes, hard cheese and hard-boiled chicken eggs. All the ingredients are in perfect harmony with each other, do not hesitate.
Ingredients:
Beets – 180 g.
Chicken fillet – 150 g.
Hard cheese – 60-70 g.
Prunes – 50 g.
Chicken eggs – 1-2 pcs.
Mayonnaise – 80-100 g.
Spices – to taste.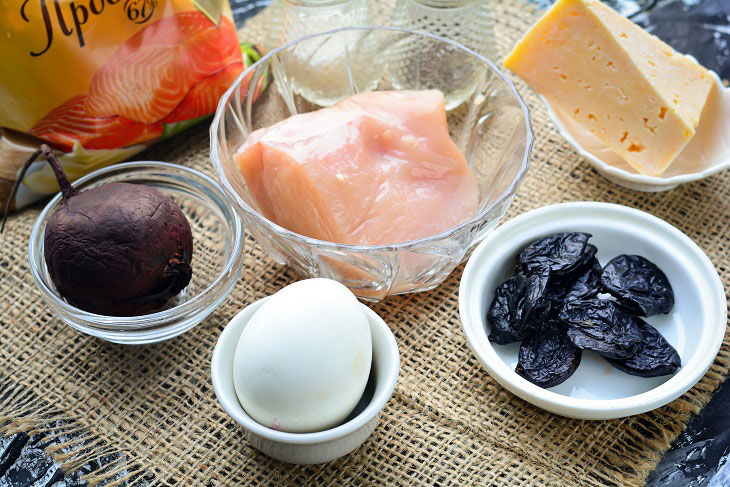 How to cook:
1. Cool and peel the beets cooked until soft. Then grate on a regular grater with medium holes.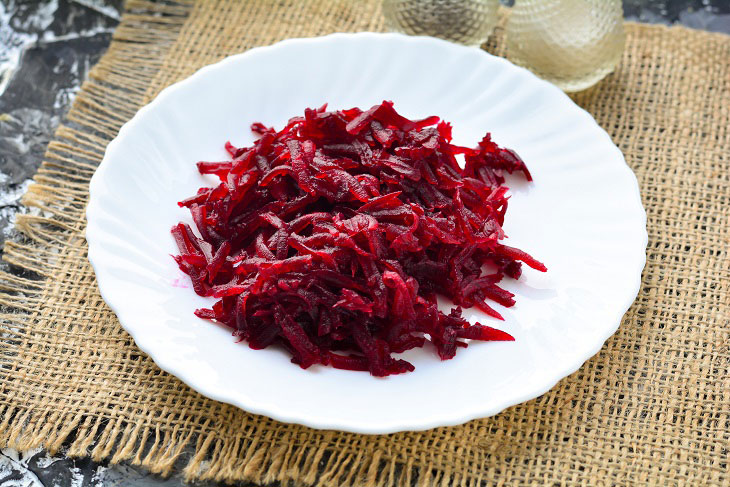 2. In the first layer, lay out half a serving of all the beets, level, lightly salt. Pepper and pour a thin layer of mayonnaise.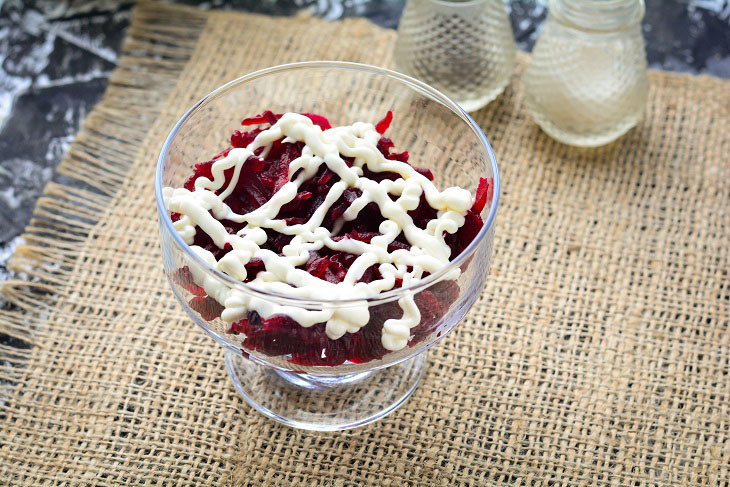 3. Divide the cooked chicken fillet with clean hands into small pieces or cut with a knife. Grate hard cheese on a fine grater.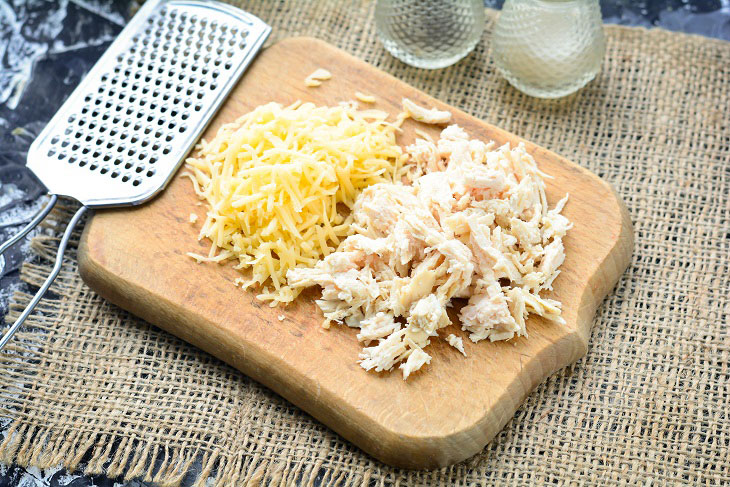 4. Cheese will go in the second layer – level it and pour it with mayonnaise.
Take the sauce either from the store, or homemade, freshly prepared.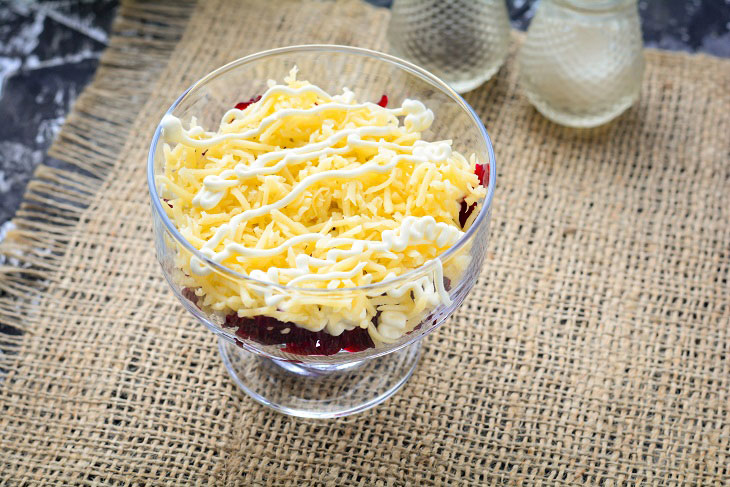 5. Rinse the prunes and cut into small pieces. Put in a salad and add a little mayonnaise.
If the prunes are too dry, leave them to soak in warm water in advance, then dry them on napkins.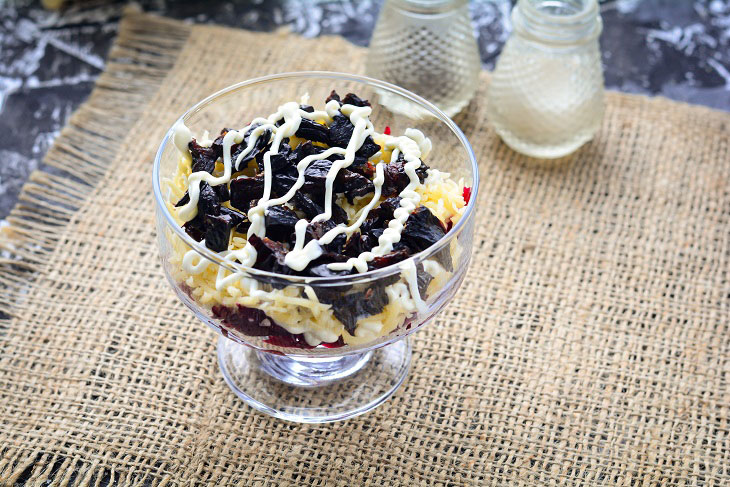 6. Next, lay out the chicken meat, salt and pepper this layer to taste, pour well with mayonnaise to make the dryish fillet juicier.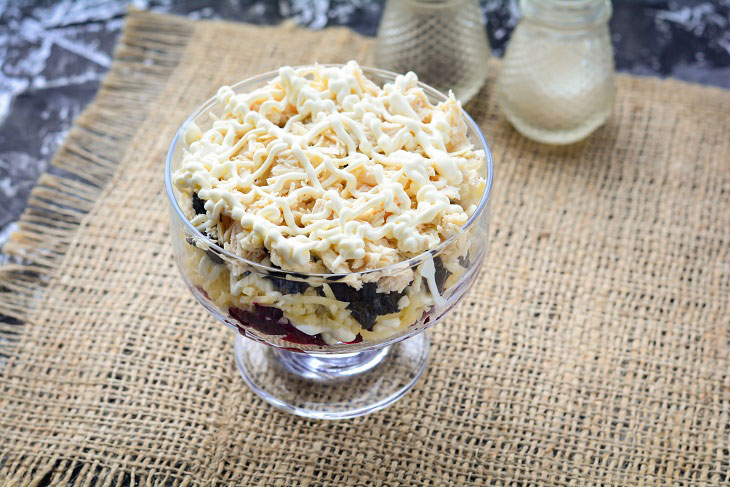 7. Then grate the hard-boiled chicken eggs on a fine grater and add to the salad, leveling this layer. Salt and pour over the sauce.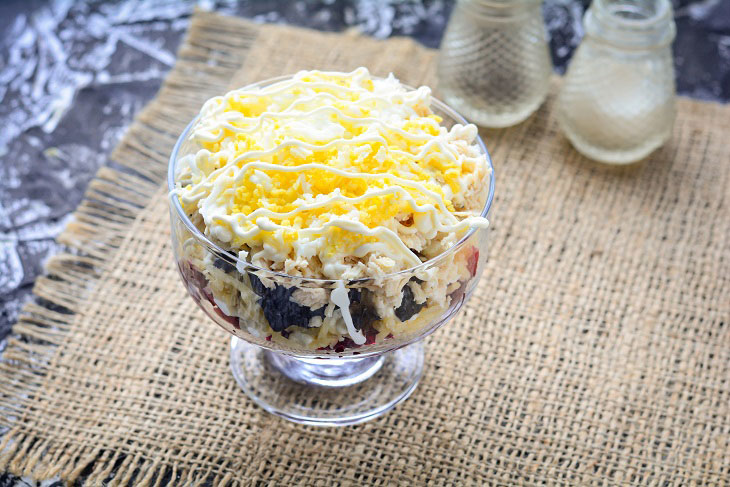 8. The final layer is the remaining beets, smeared with mayonnaise. Decorate the salad with stars cut out of, for example, cheese. Leave the salad in the refrigerator to soak for 20-25 minutes.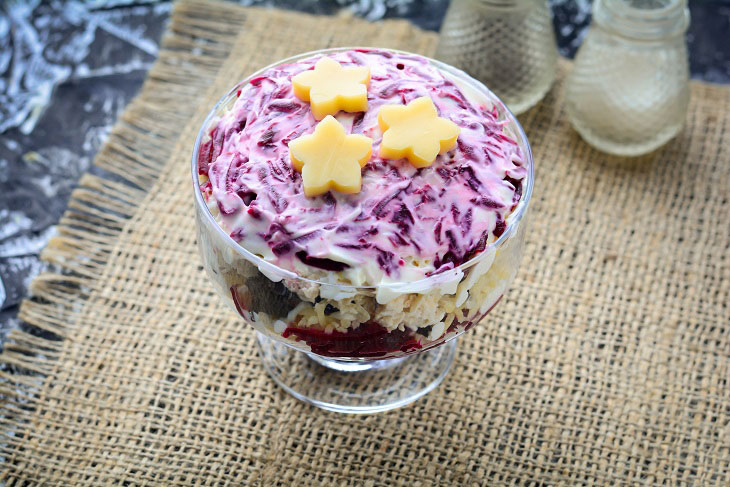 Serve the delicious Stargazer salad to the table, your guests will appreciate your efforts.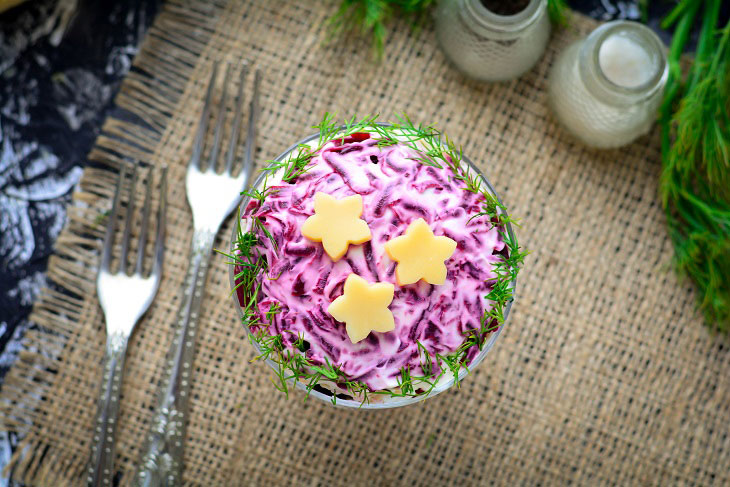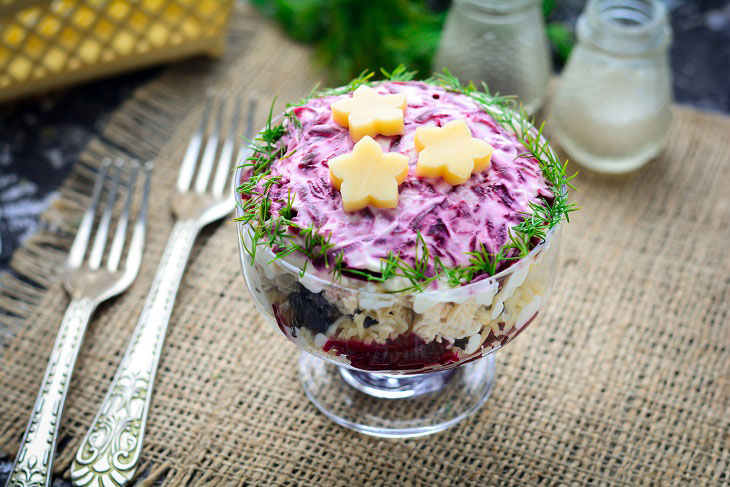 Enjoy your meal!