Delicious and fragrant tomatoes always suggest an idea to cook something original from them. Our recipe today is great for people who love different snacks and quick tomato dishes. By the way, it also applies to proper nutrition, if the filling is filled with oil. These will be stuffed tomatoes with couscous and cheese. It turns out a hearty and nutritious dish that is suitable for both the everyday table and the festive feast.
Ingredients:
Large tomatoes – 2 pcs.
Couscous – 3 tbsp. l.
Processed cheese – 50-70 g.
Hard cheese – 20-30 g.
Nuts – to taste.
Olive oil – 1-2 tbsp. l.
Salt – to taste.
Garlic – optional.
Parsley – to taste.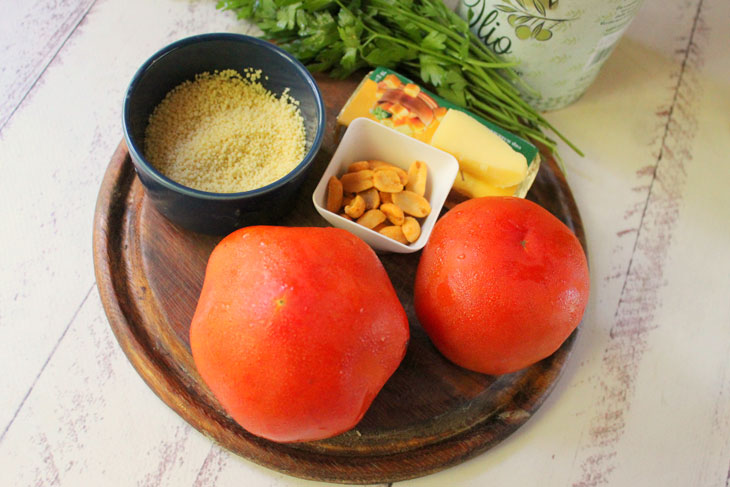 How to cook:
1. Prepare the couscous. Pour three tablespoons of couscous into a bowl and pour boiling water over it. Pour water so that it covers the couscous by a few fingers. Cover the bowl with a flat plate and leave for 10 minutes.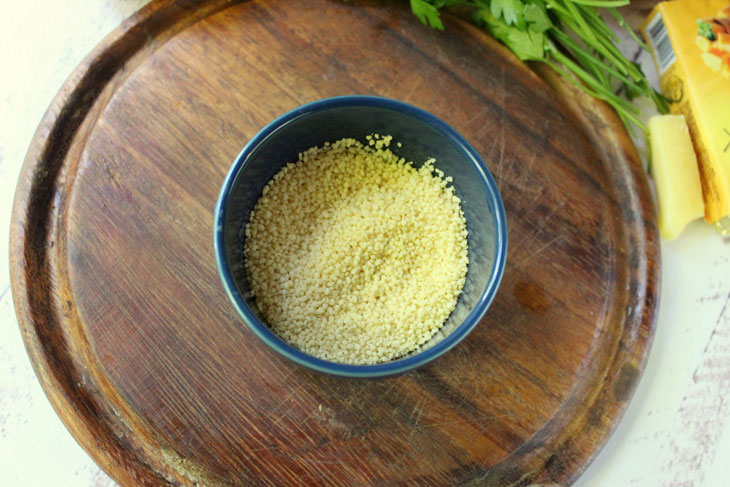 2. For one serving, it will be enough to take two large tomatoes. I recommend using tomatoes of the Mikado type, they are sweet in taste. Cut off the top of the tomatoes, remove the inner part of the pulp with a knife and a spoon. You should have two bowls of tomatoes.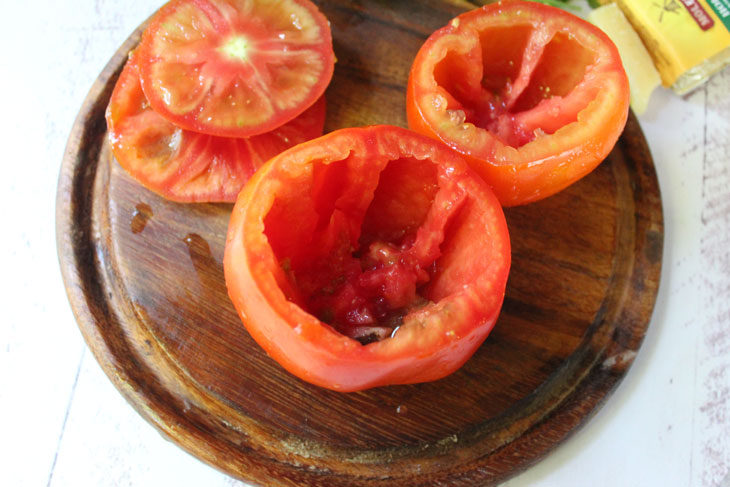 3. Cut the pulp of tomatoes into small cubes. Drain excess liquid, it is not needed for this dish, otherwise the filling will turn out watery.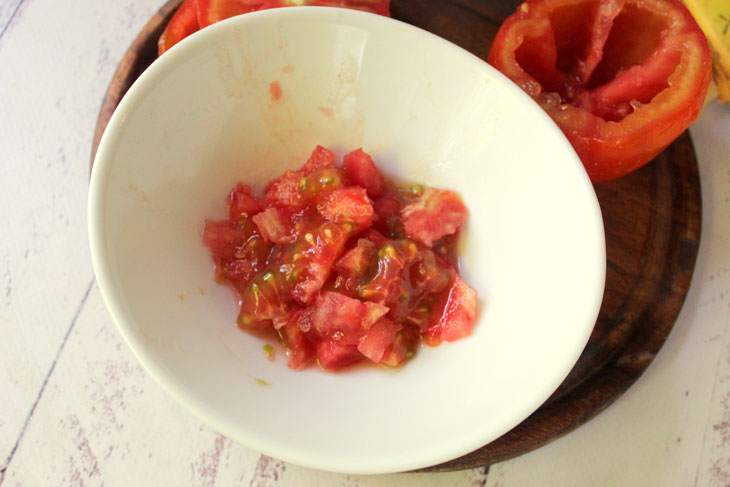 4. Meanwhile, the couscous absorbed all the liquid and increased in volume.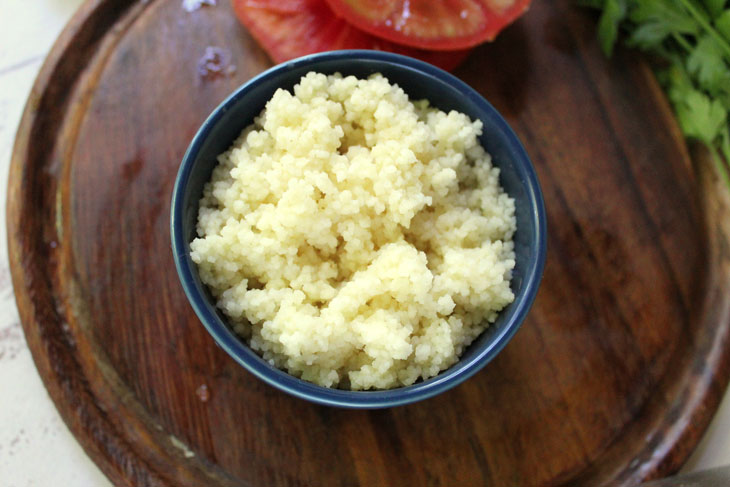 5. Cut melted cheese into small cubes. To make the cheese easy to cut, hold it for 10 minutes in the freezer.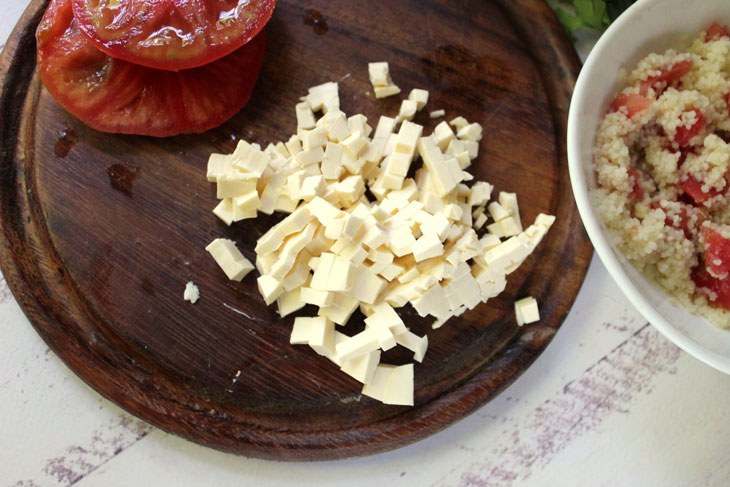 6. In a plate with tomatoes, send couscous, melted cheese, salt to taste and parsley. You can also add garlic, hot pepper, spices to taste here. Fill the filling with olive oil or mayonnaise.
You can also add bacon, meat or salmon to the filling if desired.
7. Fill the tomatoes with the filling tightly with a slide.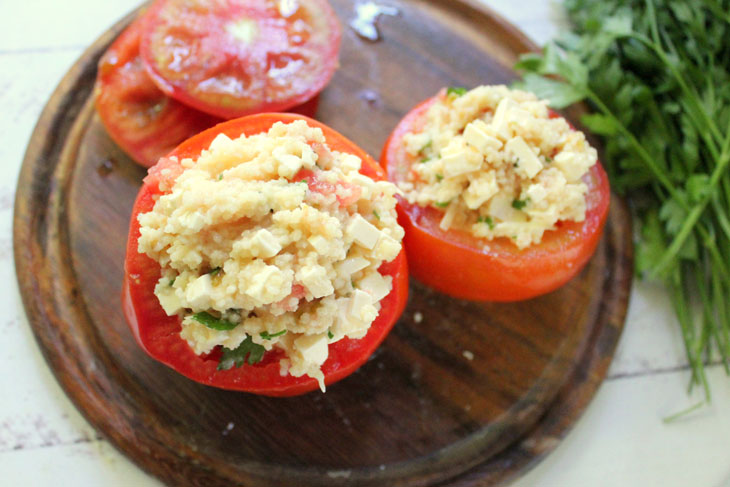 8. Sprinkle stuffed tomatoes with grated hard cheese and crushed nuts. Serve these tomatoes as a cold snack, as a snack.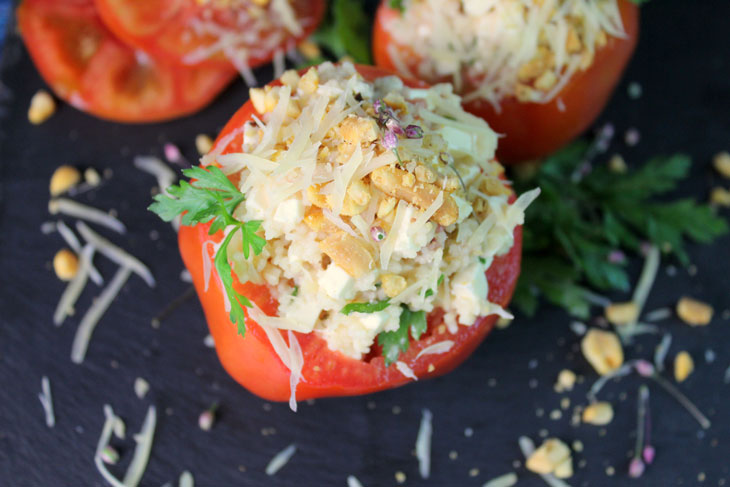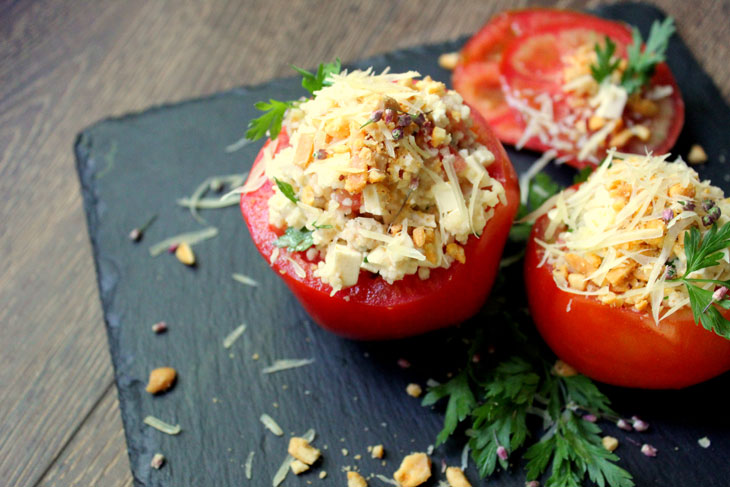 Enjoy your meal!