Today we are preparing a summer soup with cabbage, green peas and celery. Despite the fact that we will cook it not with meat broth, but with ordinary water with a minimum amount of oil, it turns out to be incredibly tasty, moderately satisfying and very fragrant due to the presence of fragrant celery, fresh herbs, favorite spices and bell pepper. This version of the soup will fit perfectly into the menu of adherents of proper nutrition and a low-calorie diet, and will also help out on fasting days. The soup turns out to be quite thick and looks very appetizing in a bowl, delighting the eye with bright colors of summer vegetables. It is desirable to cook such a soup at once and serve immediately hot with fresh bread or homemade croutons.
We will prepare the necessary products for cooking. Wash vegetables, pat dry and clean.
Ingredients:
Cabbage – 250 g.
Potatoes – 2-3 pcs.
Carrot (medium) – 1 pc.
Onion-1 pc.
Bulgarian pepper – 1 pc.
Celery petiole – 2 stalks.
Canned green peas – 150 g.
Fresh tomatoes – 2-3 pcs.
Refined vegetable oil – 3 tbsp. l.
Salt, spices, herbs – to taste.
Filtered water – 1.3 l.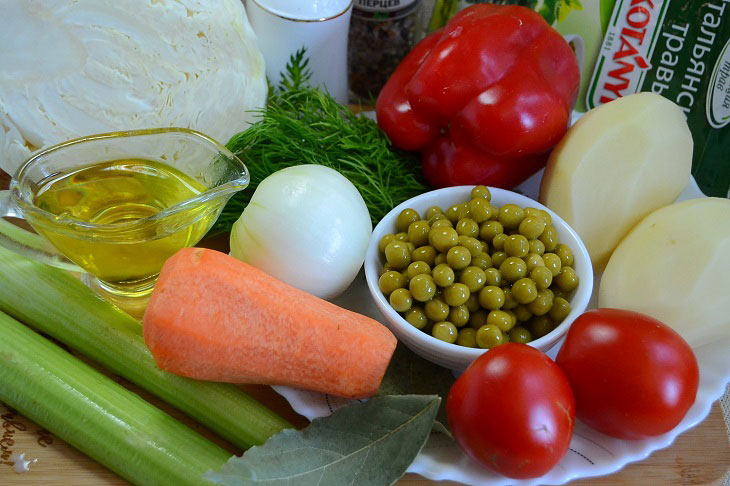 Cooking time: 45 minutes. Servings Per Container: 4.
How to cook:
1. Pour potatoes cut into small cubes into boiled water and cook it until half cooked over medium heat.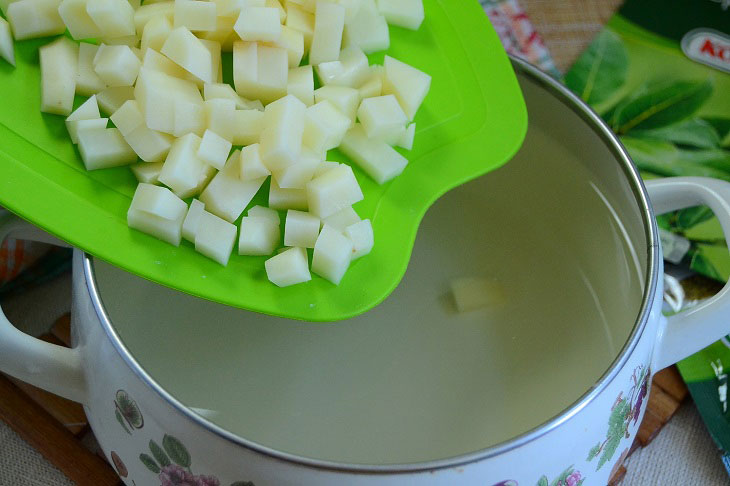 2. While the potatoes are cooking, cut the sweet pepper into strips. Cut the celery stalks into thin slices.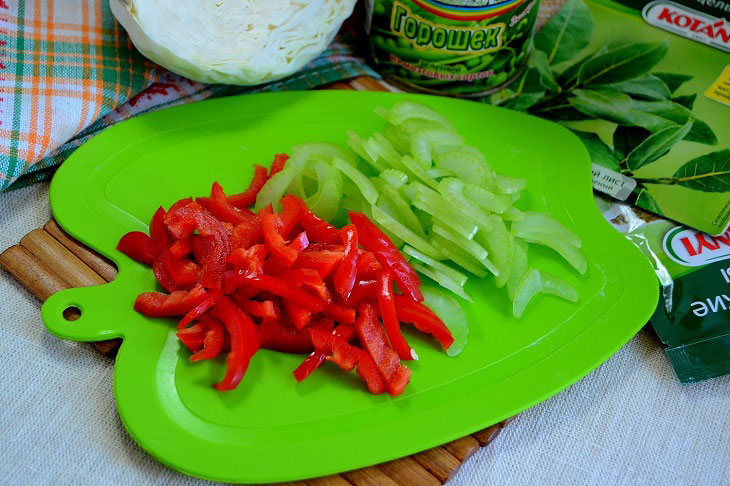 3. Ripe red tomatoes cut into cubes with a sharp knife.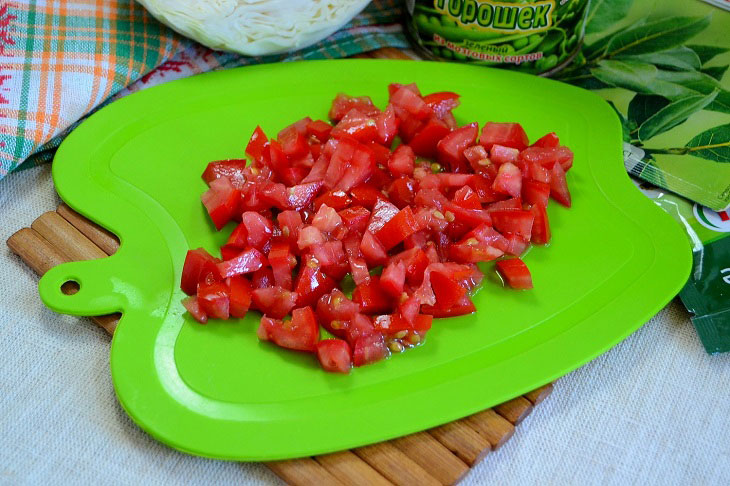 4. In vegetable oil, lightly cut onions and carrots. Simmer until transparent over low heat.
If you want to cook soup in a more high-calorie version, then instead of vegetable oil, take 45-50 g of butter to prepare the dressing.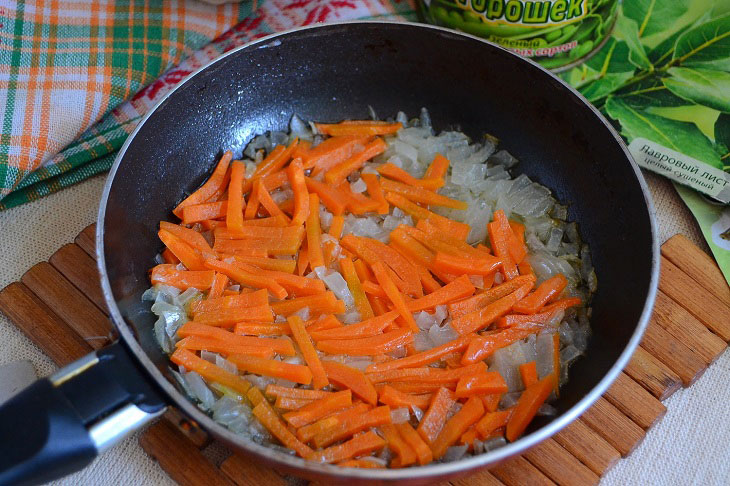 5. Add chopped not very large cabbage to the finished potatoes and bring everything to a boil. Reduce the heat and continue to cook until the cabbage is cooked. The density of the soup is regulated by the amount of cabbage and, if necessary, add it to the desired level.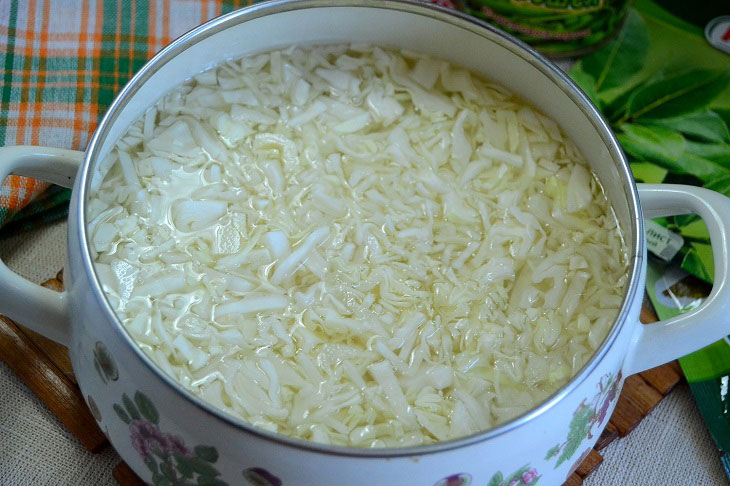 6. Pour sliced ​​sweet pepper and celery into the pan, as well as green peas. Cook for another 2 minutes at a gentle boil, so that the celery becomes soft.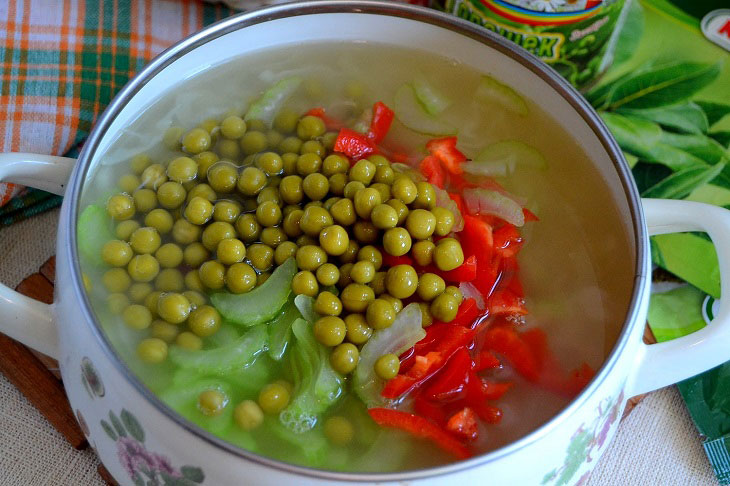 7. We put carrots and onions in a saucepan, season our fragrant soup with young cabbage, green peas and celery, salt, bay leaves, herbs and your favorite spices to your liking.
Choose the spices that your family loves. If you cook for a child, then their number should be minimal.
Bring the soup to a boil, stir and turn off the heat.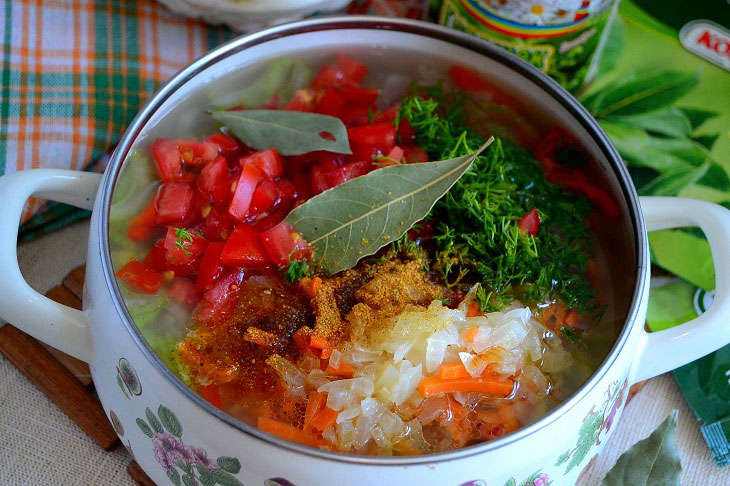 8. Let the soup brew under the lid for 10-15 minutes and immediately pour into plates. Serve hot with fresh bread. If desired, add low-fat sour cream or yogurt to the plate.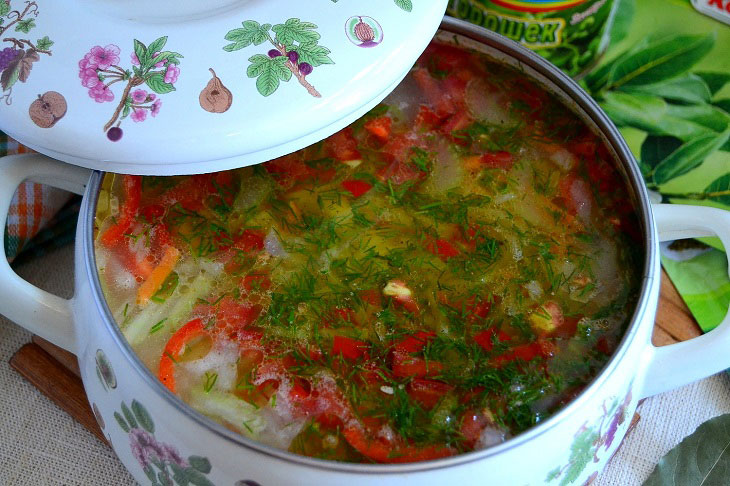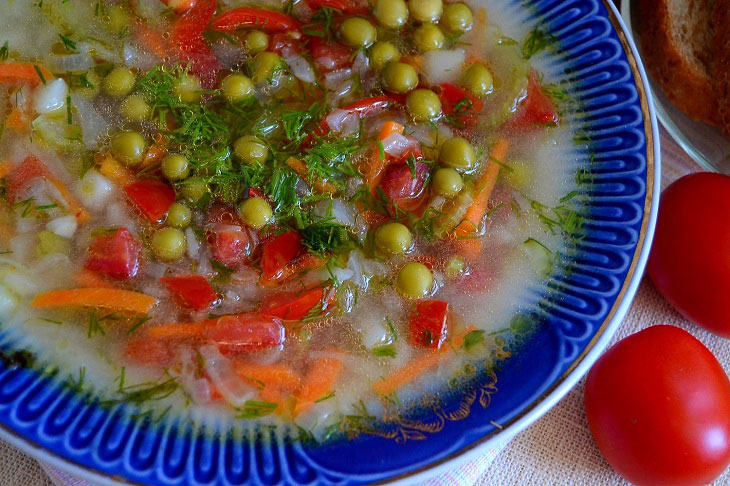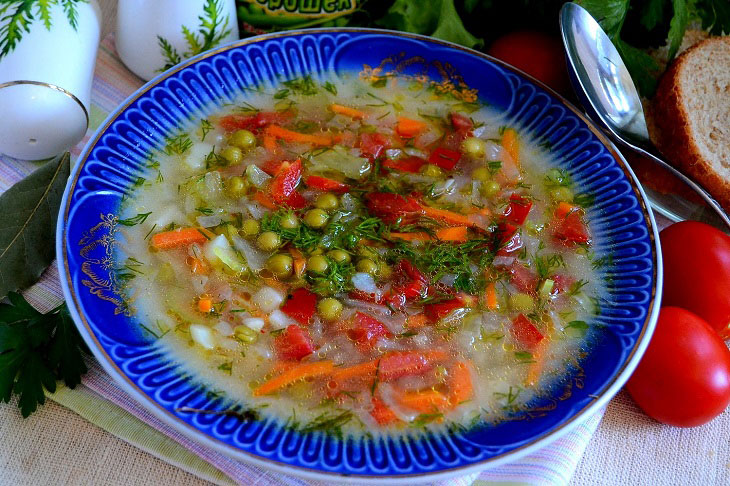 Bon appetit!