Sweets "Mulatka" are prepared according to the type of the well-known cake "Potato". They consist of almost the same ingredients – biscuits, butter, condensed milk and cocoa powder. But cakes are light and crumble in cocoa, and sweets are chocolate and crumble in coconut flakes.
According to this recipe, sweets are obtained moderately sweet, soft, with a pleasant chocolate flavor.
Ingredients:
Shortbread cookies – 300 g.
Butter – 150 g.
Condensed milk – 3 tbsp. l.
Cocoa powder – 3 tbsp. l.
Coconut shavings – 30 g.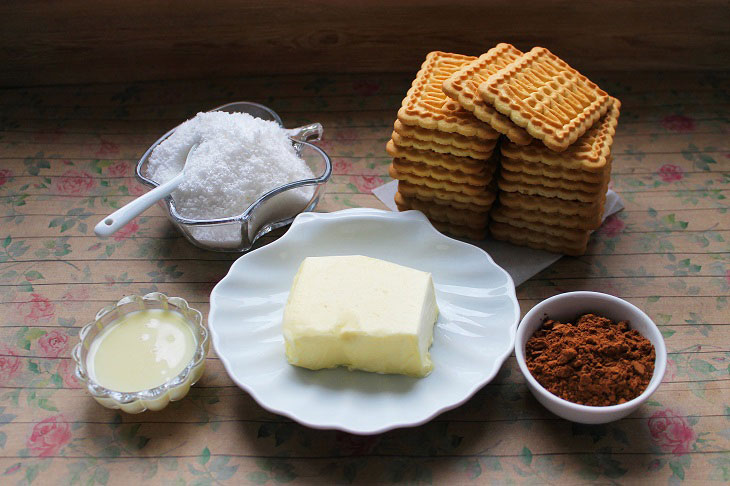 Cooking time: 60 minutes. Quantity: 12 pieces.
How to cook:
1. Remove the butter from the refrigerator 20-30 minutes before cooking so that it softens a little.
Pour coconut flakes into a deep plate, pour boiling water (20 ml), mix. Let it stand and swell a little.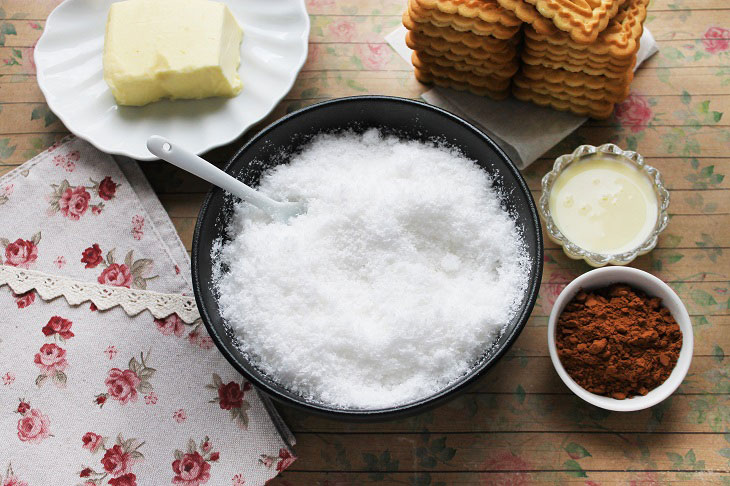 2. Break the cookies with your hands into pieces of arbitrary shape and put them in a blender bowl. Chop into crumbs.
You can grind cookies in any convenient way, for example, pass through a meat grinder.
Instead of cookies, you can use gingerbread cookies to make sweets. Use fresh cookies or gingerbread, otherwise the sweets will turn out very dry.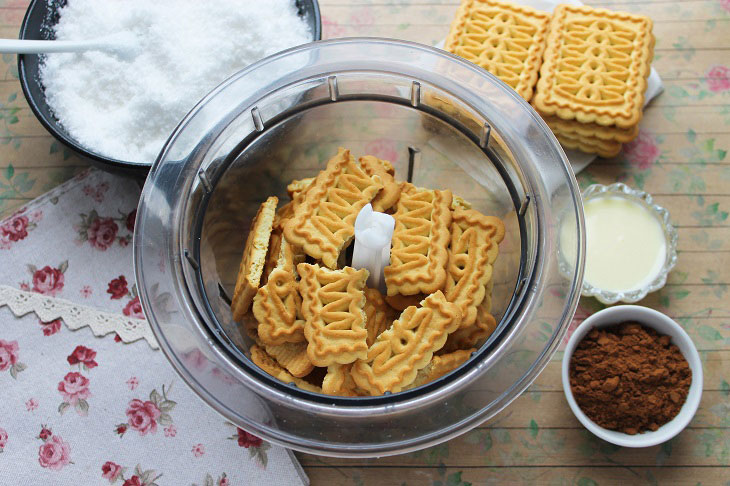 3. Put the butter in a bowl.
4. Pour the cookie crumbs into the butter.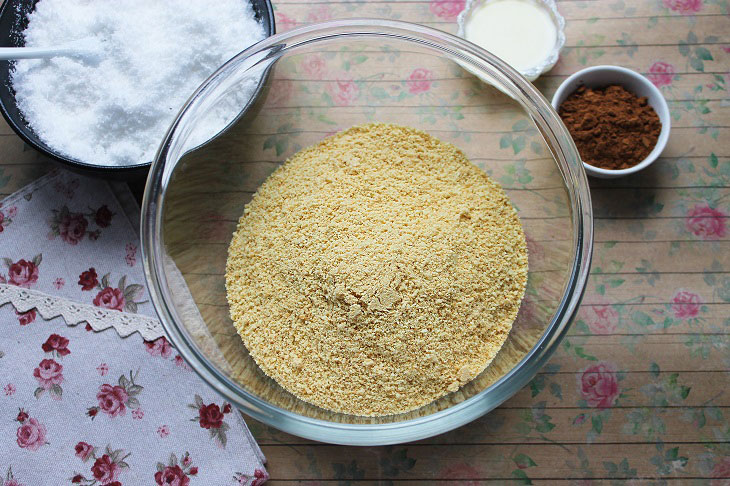 5. Add condensed milk and cocoa powder.
If you do not plan to give sweets to children, you can add 1 tablespoon of rum or 1 tablespoon of cognac to the candy mass.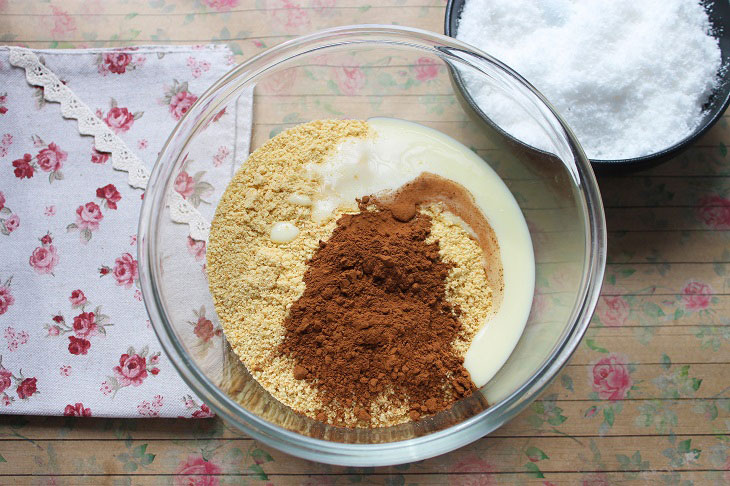 6. With your hands, knead all the ingredients well into a homogeneous mass. Then roll into a ball and refrigerate for 10 minutes.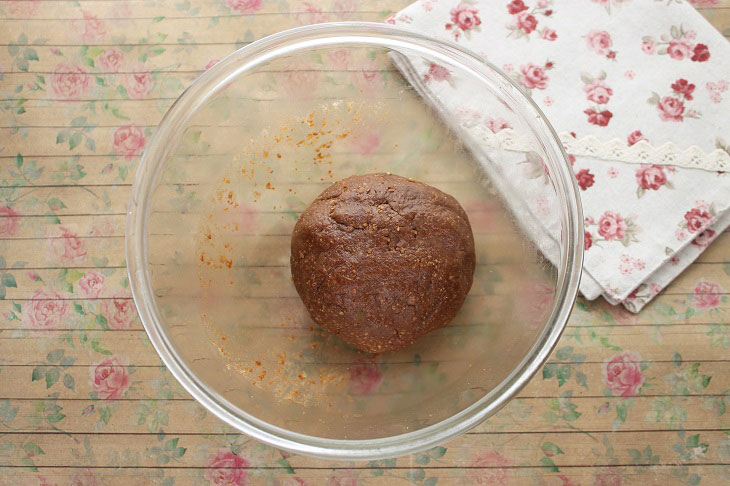 7. After the specified time, remove the chocolate mass from the refrigerator. Pour coconut into a flat dish. From the candy mass, pinch off a piece with your hand and roll it into a ball the size of a large walnut. Roll the ball in coconut flakes. The first candy is ready.
8. Make the rest of the sweets in the same way.
Put the Mulatka sweets in the refrigerator for 20 minutes, then serve. Happy tea!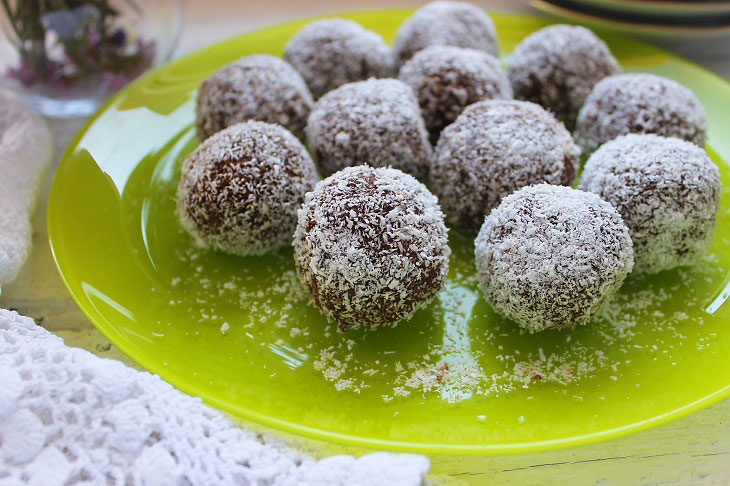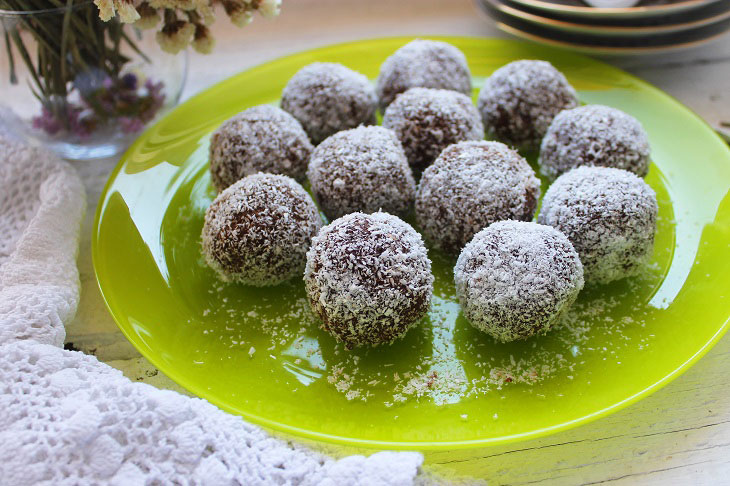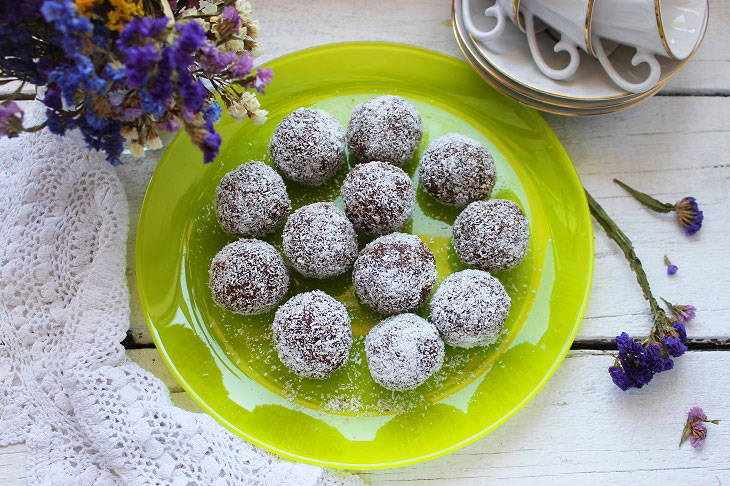 Bon appetit!