The recipe for the famous Hungarian paprikash is easy to recreate in the home kitchen. You will need chicken fillet, as well as juicy bell peppers, onions, tomatoes and sour cream (mixed with flour). The gravy will turn out thick and rich, with a pronounced aroma of sweet paprika, and chicken meat with sour cream sauce will be very juicy and tender.
Helpful Hints:
Paprikash is a very simple dish to prepare, if you do not break the technology, then the result will definitely not let you down. Do not overdry the tender white meat and add all the ingredients in order.
Pay attention to the quality of the sour cream you will be using. It must be fresh, pleasantly creamy in taste, and not sour!
Bulgarian pepper try to choose fragrant, with a pronounced taste of paprika – its taste and aroma will be completely transferred to the sauce.
Ingredients:
Chicken fillet – 300 g.
Large onion – 1 pc.
Puree from fresh tomatoes (without skin) – 100 g.
Sweet pepper – 2 pcs.
Ground sweet paprika – 1 tbsp. l.
Ground black pepper – 1 pinch.
Ground hot pepper – 1 pinch.
20% sour cream – 100 g.
Wheat flour – 1 tbsp. l. (incomplete).
Salt – to taste.
Water – 150 ml.
Vegetable oil or rendered pork fat – 2 tbsp. l.
How to cook:
1. Peel the onion, cut into cubes – not too small. Fry in a pan with vegetable oil (or heated lard) for about 2-3 minutes until the onion is soft.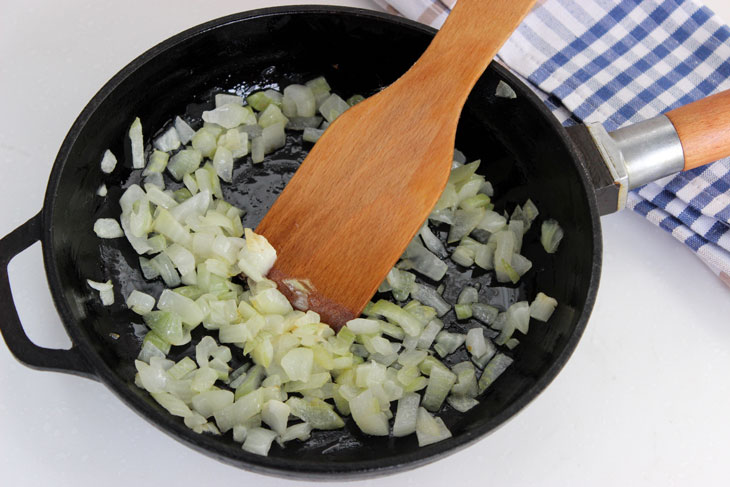 2. Cut the chicken fillet into small pieces. Add to the onion and sauté quickly until the pieces turn white on the top but remain raw on the inside. Sprinkle with ground sweet paprika, salt and ground black pepper.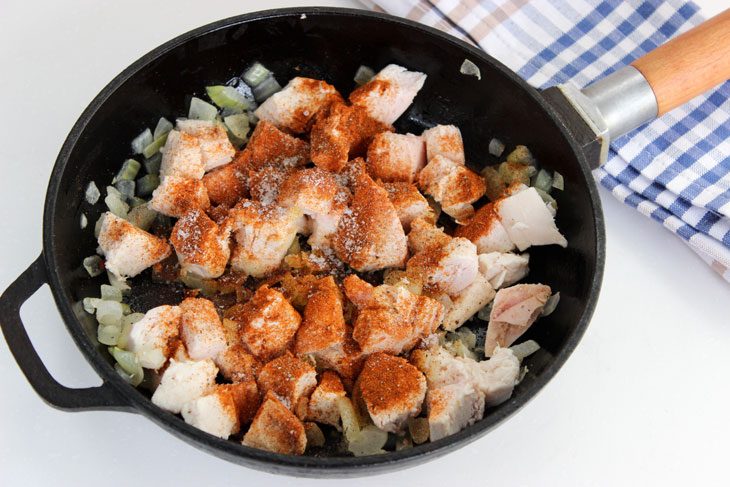 3. Add the bell pepper, cut into a cube of about 1×1 cm. Fry everything together for another 2-3 minutes, stirring regularly so that nothing burns.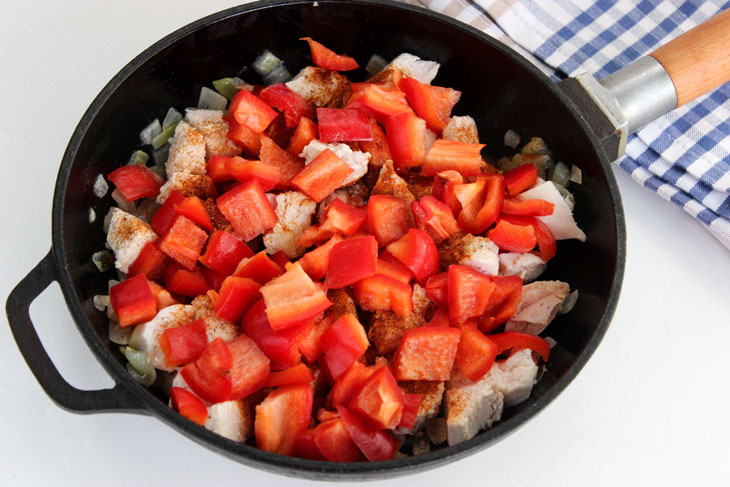 4. Pour the pulp of tomatoes, previously peeled and grated, into the pan. Fry for 1-2 more minutes, stirring constantly.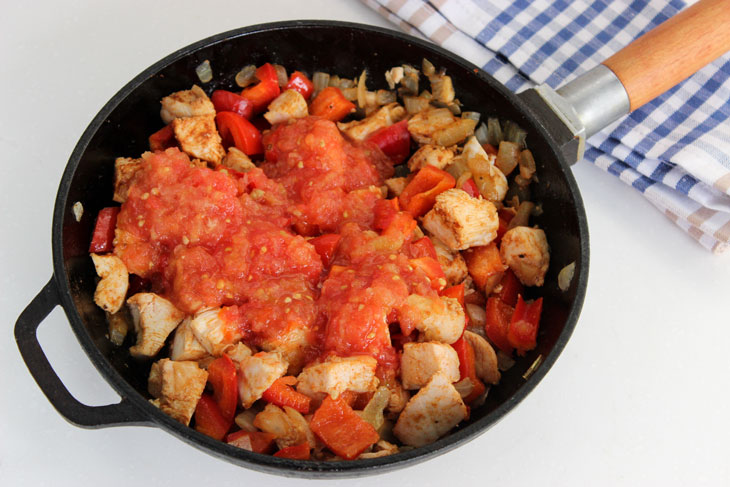 5. Pour in 150 ml of water (or chicken broth) – the liquid should cover the contents of the pan almost completely. Bring to a boil and simmer over low heat covered for 10 minutes.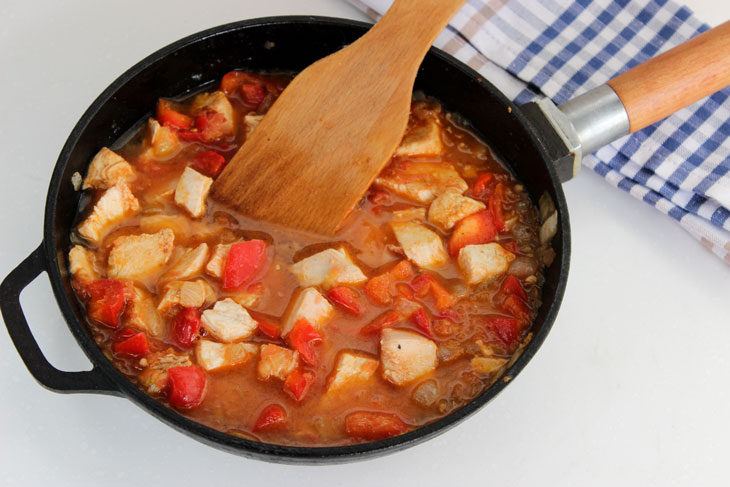 6. Combine sour cream with a tablespoon of flour (rub it thoroughly with a spoon so that there are no lumps) and add the resulting mixture to the pan. At the same time, add hot pepper to taste.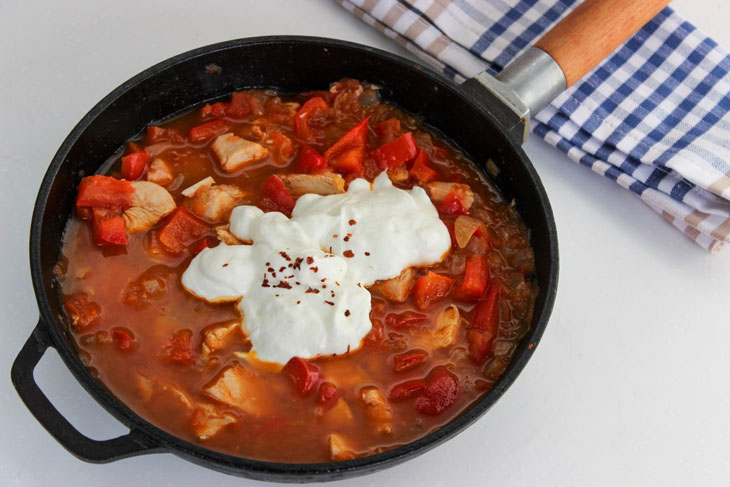 7. Stir and simmer for another 5-7 minutes on the lowest heat until the sauce thickens.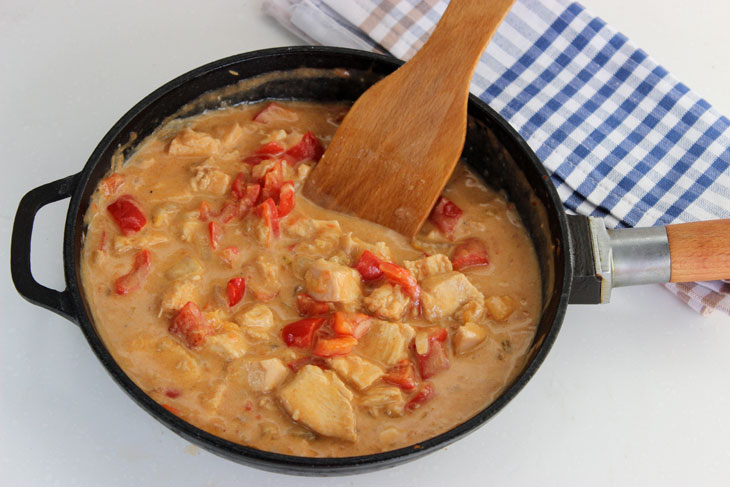 Serve chicken paprikash with wheat porridge, dumplings or pasta, mashed potatoes or boiled potatoes sprinkled with herbs.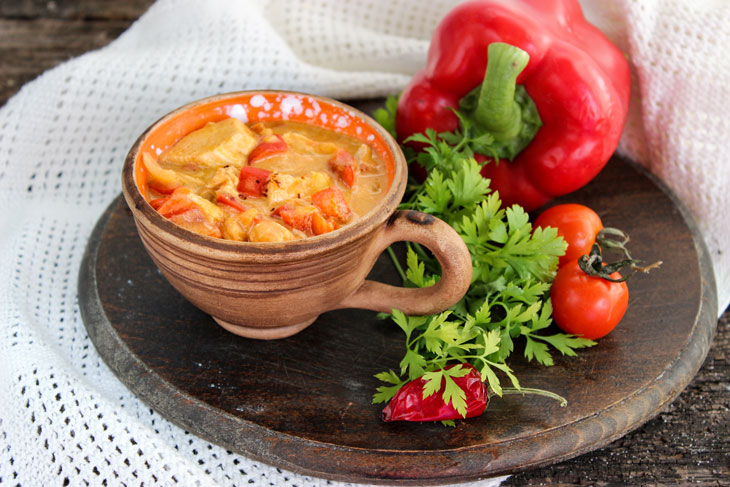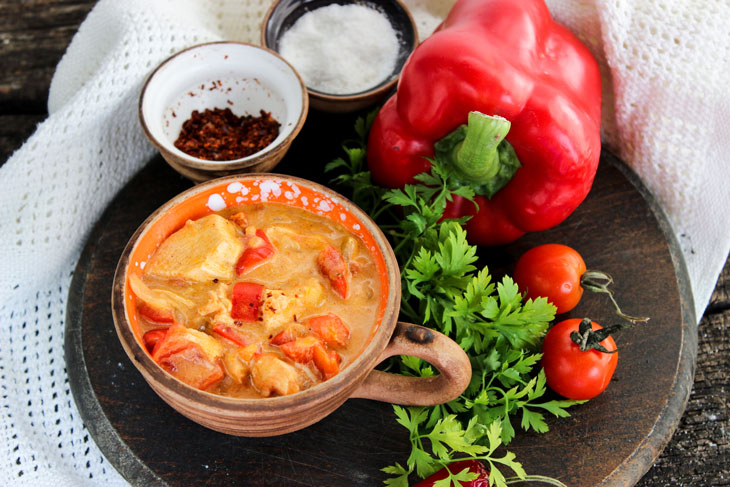 Enjoy your meal!