Today we offer to cook ajapsandali in Georgian style – vegetables pre-fried in vegetable oil, and then stewed in tomato with spices and herbs. The composition of ajapsandali includes eggplant, sweet and hot peppers, tomatoes, onions, garlic and, of course, fresh herbs.
At first glance, such a dish may resemble the usual sauté for us, but it differs significantly in taste, primarily due to the addition of a large amount of cilantro and basil, which are its integral components. When preparing ajapsandali, it is important to observe the same roasting of vegetables, and then not overstew them so that the vegetables do not turn into a puree mass, but retain their integrity.
Ingredients:
Eggplant – 500 g.
Tomatoes – 250 g.
Sweet pepper (red and yellow) – 250 g.
Onion – 150 g.
Parsley, cilantro, basil (purple and green) – ¼ bunch each.
Salt – to taste.
Black ground pepper – to taste.
Suneli hops – ¼ tsp
Utskho-suneli – ¼ tsp
Garlic – 2-4 cloves.
Vegetable oil – for frying.
Hot pepper – ¼ pcs.
How to cook:
1. Wash young eggplants, cut off the tails and cut into circles (no more than one centimeter), then put them in a container and salt well. Let the blue ones stand for about 20 – 30 minutes. During this time, the vegetables will release juice, thereby removing the unnecessary bitterness that is present in eggplant.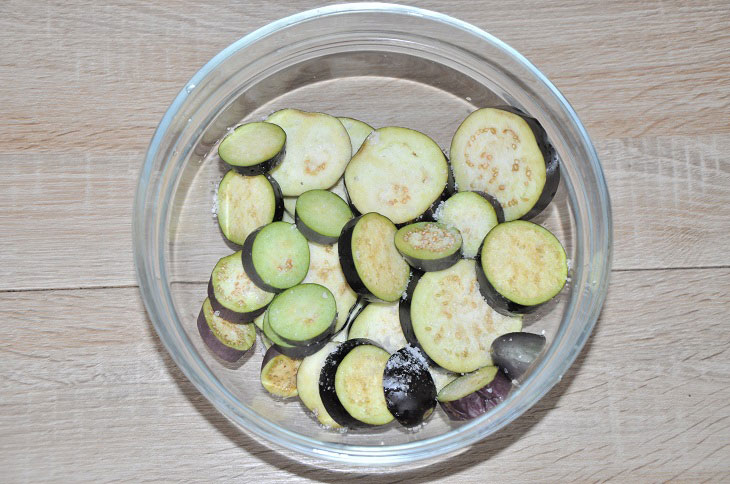 2. After the allotted time, lightly rinse the sliced ​​\u200b\u200baubergines under water and squeeze out the moisture well. Then fry in vegetable oil until soft and golden brown on both sides.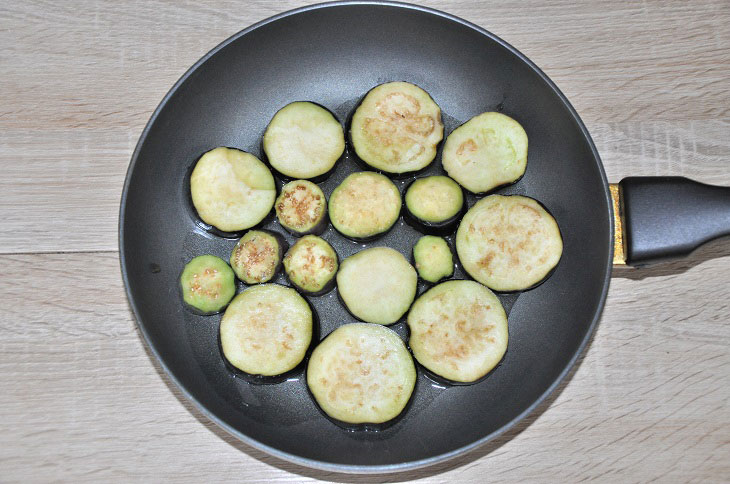 3. Put the fried blue ones in a saucepan with a thick bottom or a cauldron. To remove excess fat, after frying, vegetables can be blotted with paper towels, and then folded into a bowl for further stewing.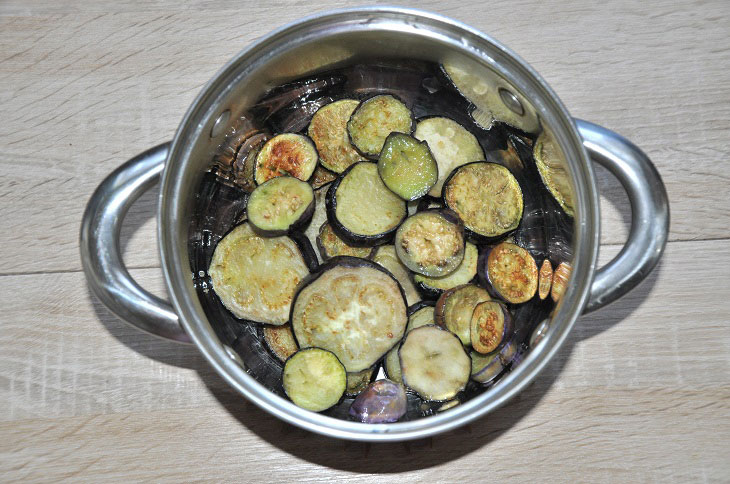 4. Sweet pepper (red and yellow), de-seeded, rinse under water and cut into large strips. Fry until soft in the same pan in which the eggplant was fried, adding a little vegetable oil.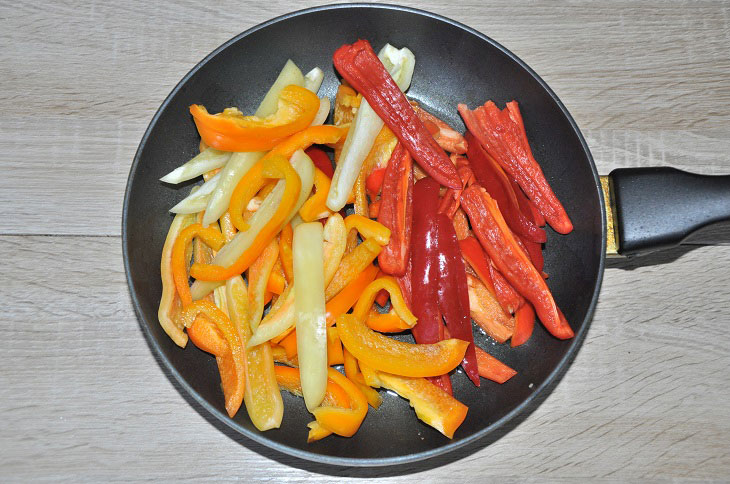 5. After the pepper is ready, put it in a saucepan / cauldron with eggplant.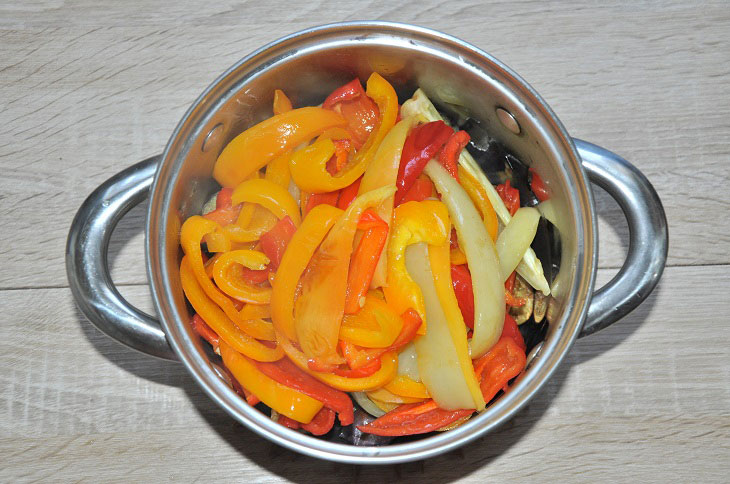 6. Onion (previously peeled and washed) cut into large half rings, then also fry until soft.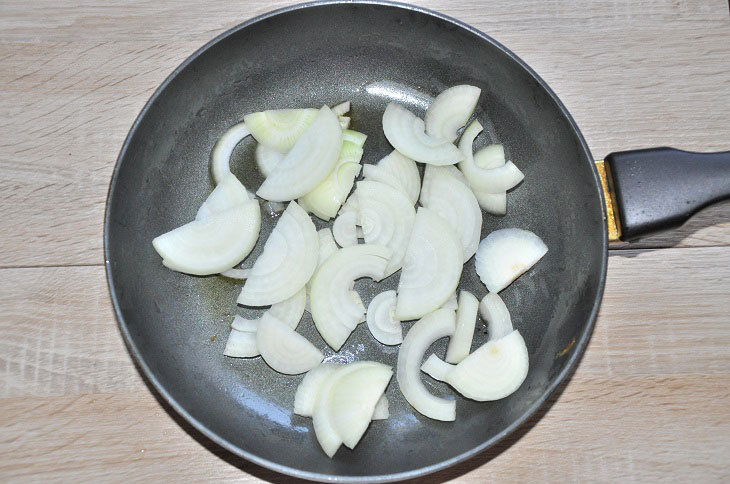 7. Add caramelized onions to the rest of the vegetables.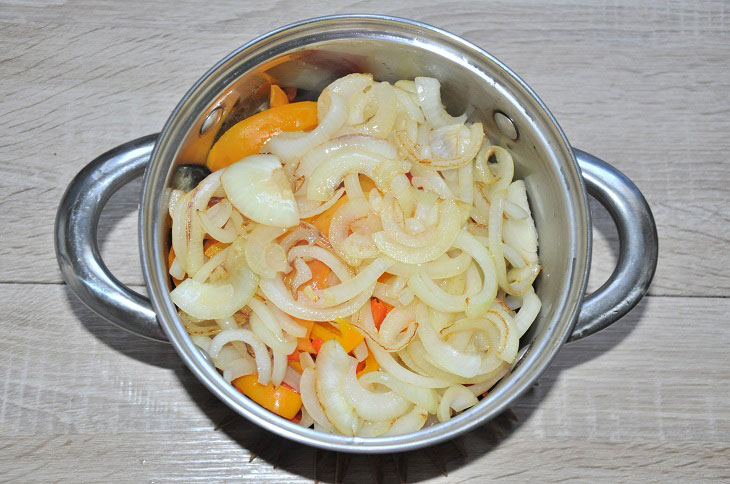 8. Rinse and peel ripe tomatoes and chop into tomato puree, grinding with a blender or grating. Pour the resulting tomato into a dry frying pan, add salt, ground black pepper and spices (hops-suneli and utskho-suneli) to taste, mix and simmer, covering the pan with a lid, for 5-6 minutes.
In order for the peel of tomatoes to be easily removed, fill them with boiling water for 1 – 2 minutes, then dip in cold water.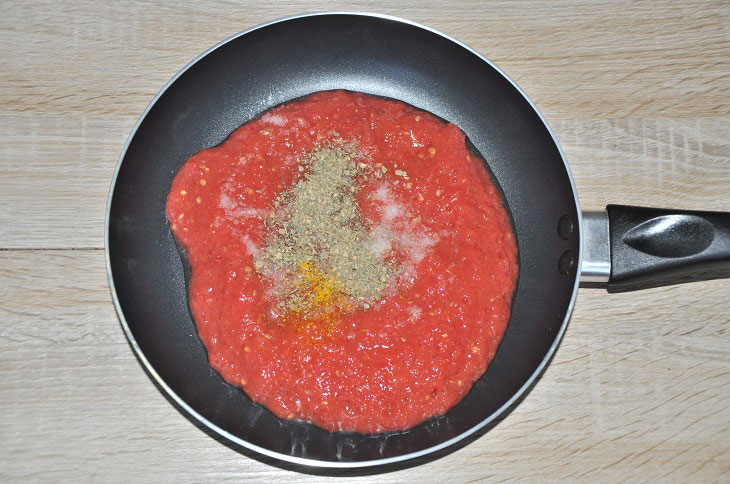 9. Pour the finished tomato to the vegetables in a saucepan / cauldron.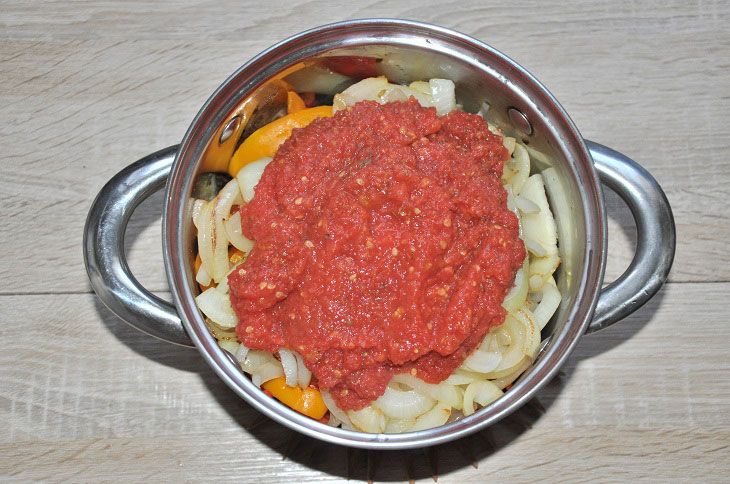 10. Add finely chopped hot peppers, garlic squeezed through a press and chopped greens (parsley, basil and cilantro) there.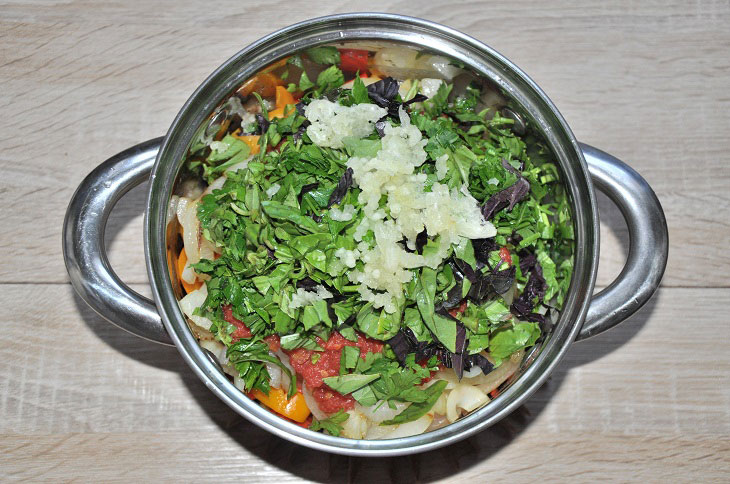 11. Gently mix the vegetables together. Cover the pot/cauldron tightly with a lid and let the ajapsandali simmer over low heat for 10-15 minutes. During this time, the vegetables should be saturated with tomato juice, the aroma of herbs, garlic and spices, while not losing their shape.
After the dish is ready, let it brew for another 15 minutes (with the lid closed).
Georgian ajapsandali is best served cold.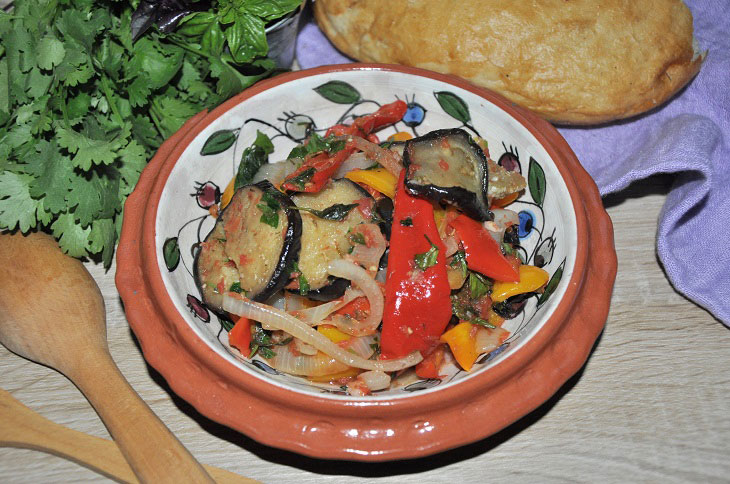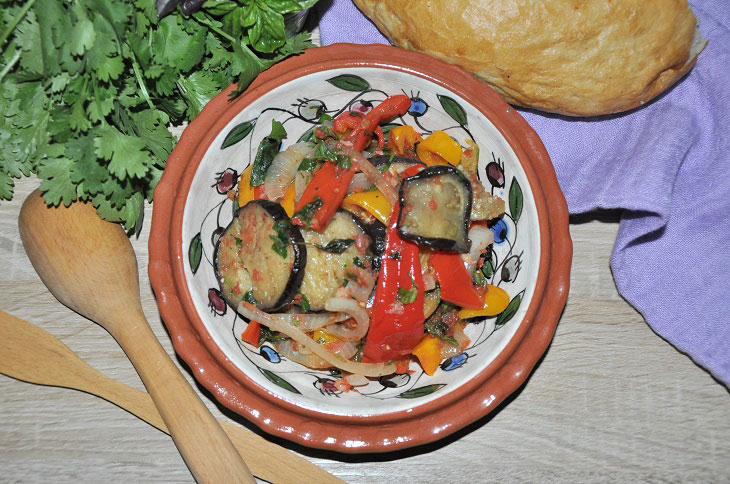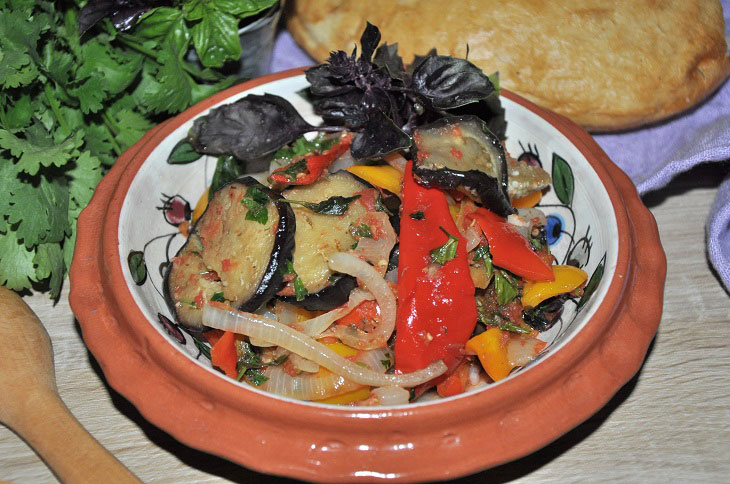 Bon appetit!