Vegetarian Olivier is an unusual version of a classic salad. For those who have excluded meat and sausage from the diet, this recipe is ideal for the diet.
We recommend using lean mayonnaise for the recipe – you can buy it or cook it yourself at home. Vegetarian Olivier can also be prepared for a festive feast – you get an elegant and original dish. For a salad, use a standard set of vegetables – potatoes, carrots, pickles and canned peas.
An easy-to-prepare and affordable recipe will come in handy for every housewife. If you boil vegetables in advance, then the dish can be cooked in a short time and quickly set the table.
Ingredients:
Potato – 200 g.
Carrots – 100 g.
Pickled cucumbers – 150 g.
Canned peas – 100 g.
Lean mayonnaise – 2-3 tbsp. l.
Salt, black pepper – to taste.
Greens – for serving.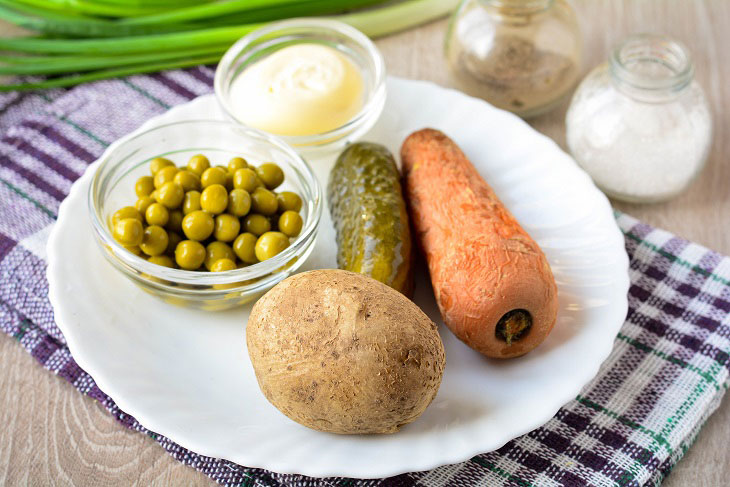 How to cook:
1. Rinse the root crops and boil in advance: potatoes and carrots. Cool vegetables and peel. Cut potatoes into cubes and place in a deep bowl.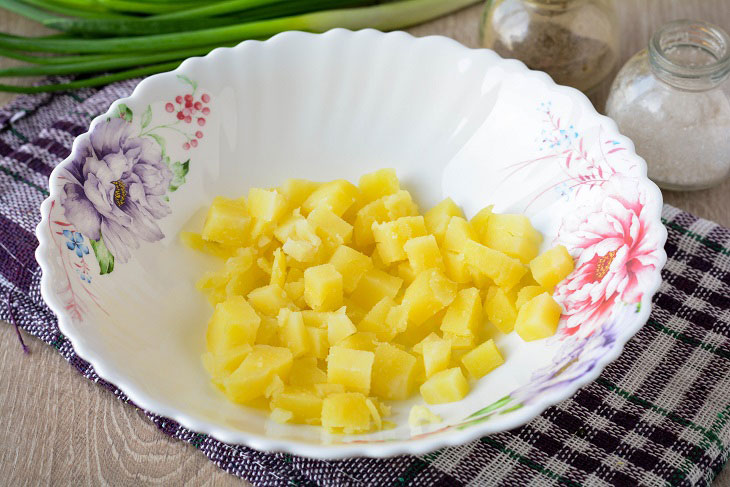 2. Also cut into cubes and carrots, combine with potatoes.
Carrots have a slightly sweet flavor and are ideal for a vegetarian Olivier.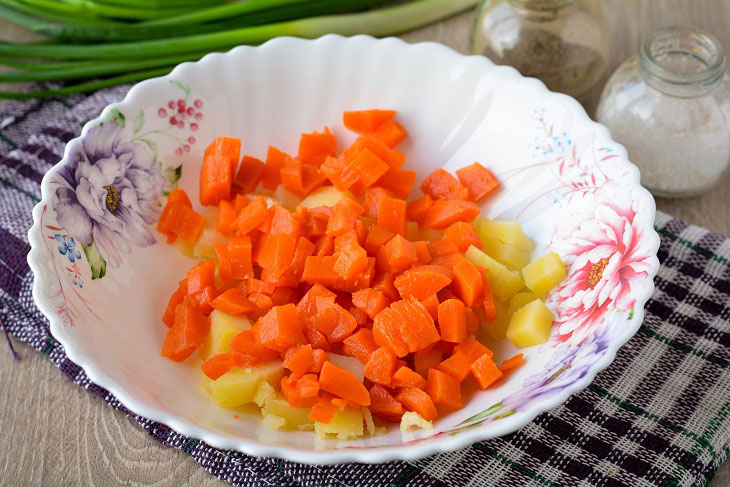 3. Cut the tails off the pickles, then cut them into cubes. Add cucumbers to the rest of the ingredients.
Cucumbers are best used not very sour.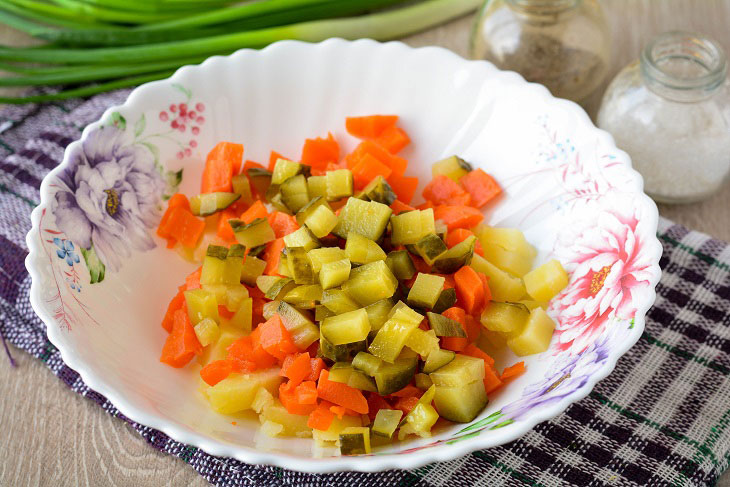 4. Drain the marinade from the canned peas, the beans should be soft and tasty. Throw the peas into the salad.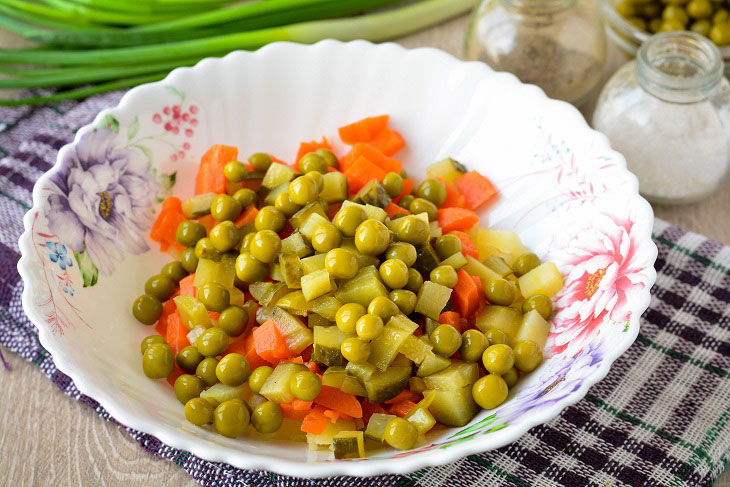 5. Salt and pepper to taste, add mayonnaise. The salad turns out to be hearty and tasty, besides vegetable, completely vegetarian.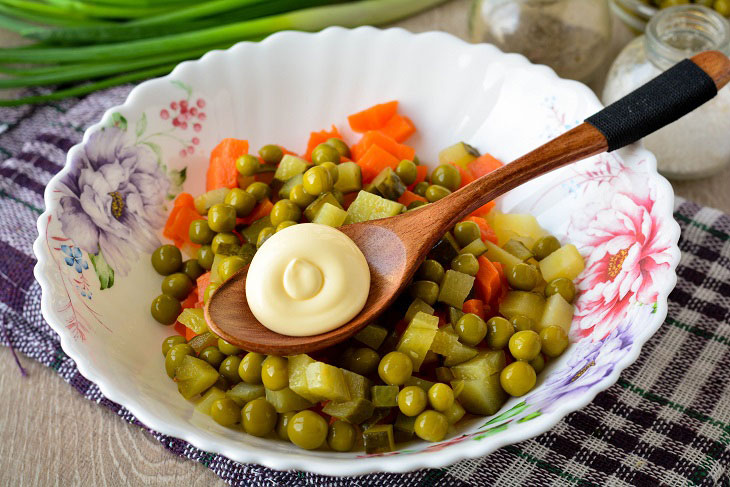 6. Stir the salad, refrigerate for 15 minutes and you're d1. Can be served at the table.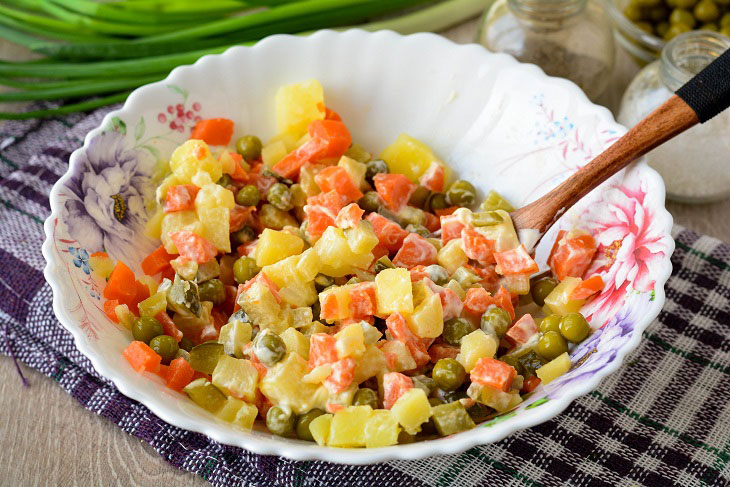 7. Add herbs to taste, for example, finely chopped green onions.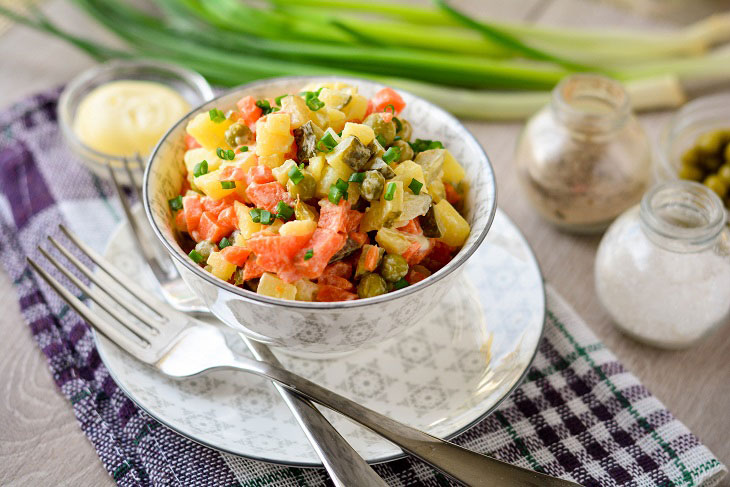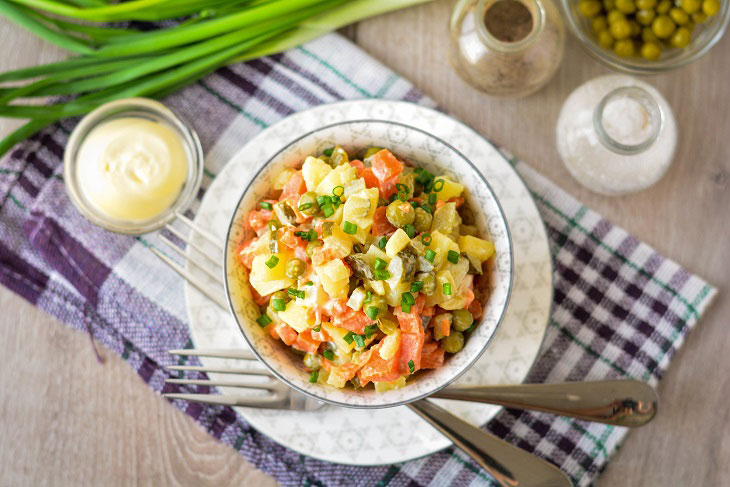 Enjoy your meal!