Village potato with chicken is a hearty and nutritious dish for the whole family. Prepared from simple and delicious products. For the recipe, take any parts of the chicken, we have wings, and potatoes. To make the dish tastier, you can add any sauce and spices. We used tomato sauce, which in the end will give the dish a beautiful and appetizing color.
The simplicity of cooking village-style potatoes has always attracted housewives – just put all the ingredients in a baking dish and wait until the chicken meat and potatoes become soft. In time, all products are baked almost the same, so the combination of chicken and potatoes is the most ideal. You can also cook village-style potatoes for guests when friends unexpectedly come to your house. Everyone will appreciate the dish.
Ingredients:
Potato – 500 g.
Chicken meat – 500 g.
Onion – 100 g.
Garlic – 1 – 2 cloves.
Vegetable oil – 1 – 1.5 tbsp. l.
Tomato sauce – 100 g.
Greens – for serving.
Salt, pepper – to taste.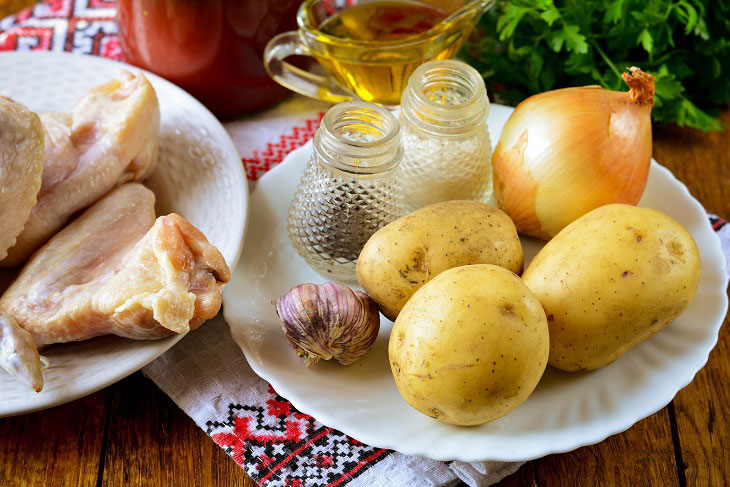 How to cook:
1. Wash the chicken meat, we have chicken wings, salt and pepper to taste. You can use other spices, such as ready-made seasoning for chicken.
Instead of wings, you can use chicken thighs, drumsticks or legs.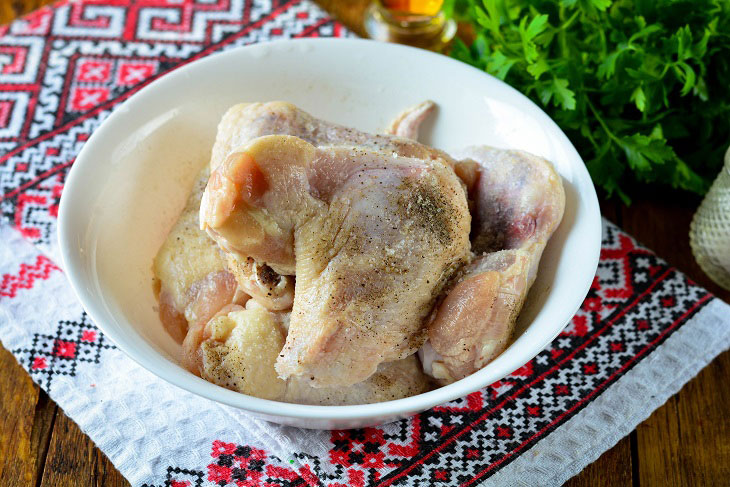 2. Drizzle the chicken with half of the tomato sauce, stir and marinate for 15-20 minutes.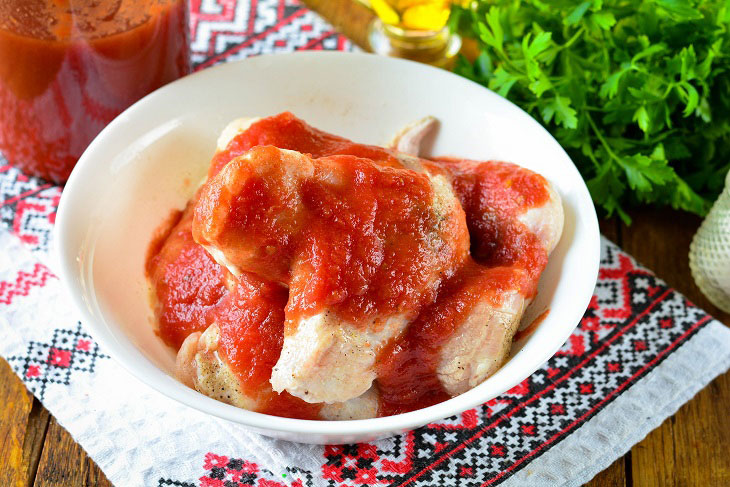 3. Lubricate the baking dish with vegetable oil, put the meat there in an even layer.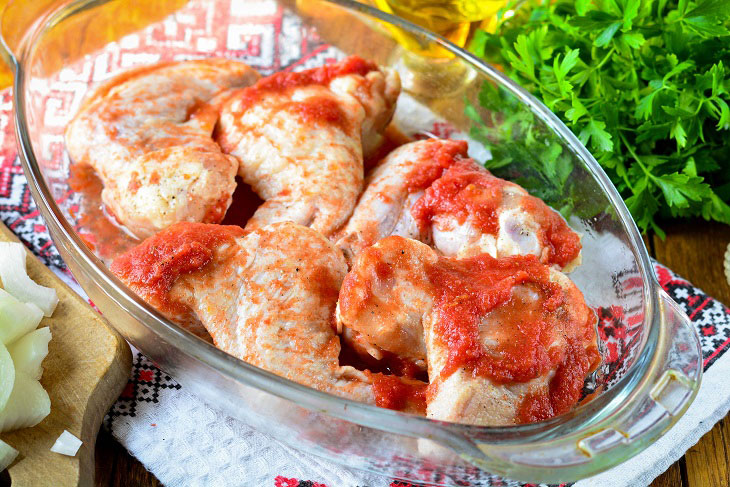 4. Place the chopped onion on top of the chicken and squeeze out some garlic. The meat will become more juicy and flavorful.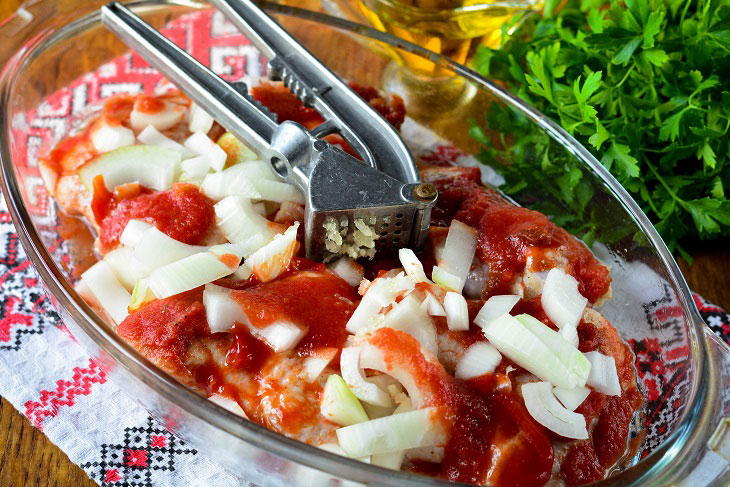 5. Peel the potatoes, cut them into cubes, lay them on top of the chicken and pour over the remaining tomato sauce.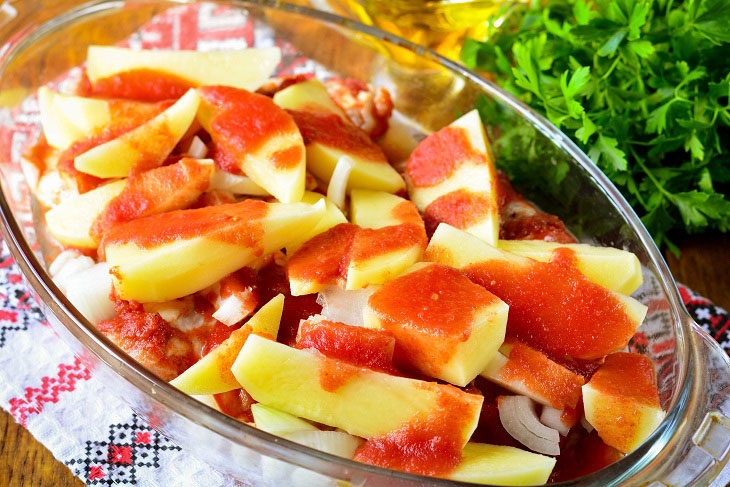 6. Bake potatoes in a country style for 40 minutes in the oven at 180-190C. You will get an excellent result – tender potatoes and soft chicken, and together – a dinner for the whole family and not only.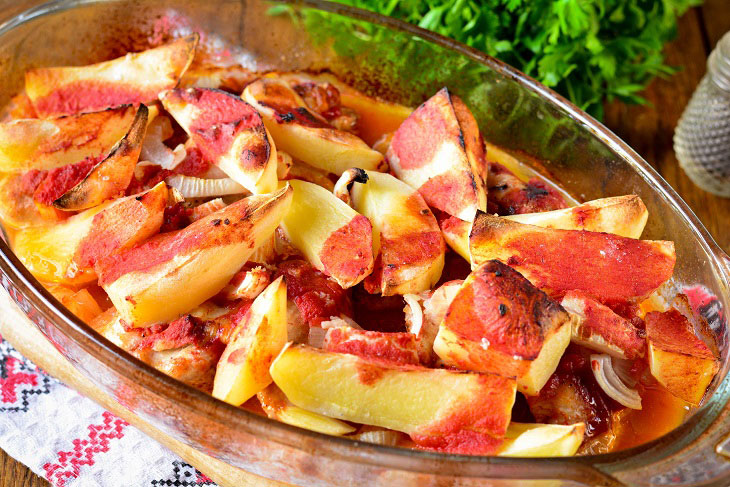 Serve potatoes in a village style immediately to the table hot. Sprinkle with fresh herbs if desired.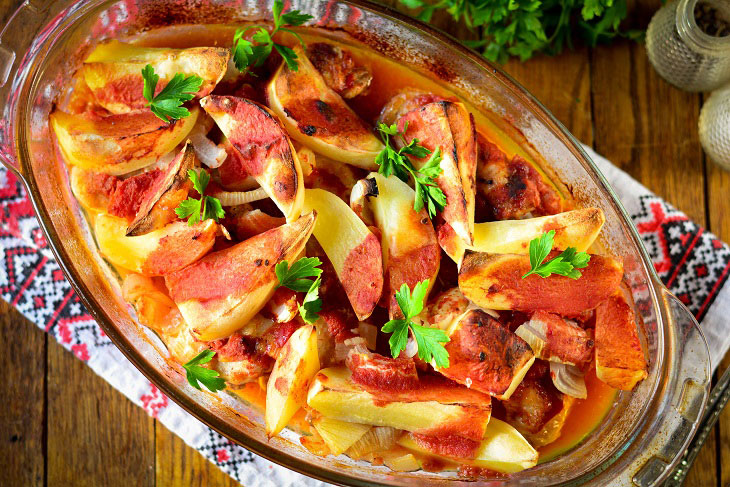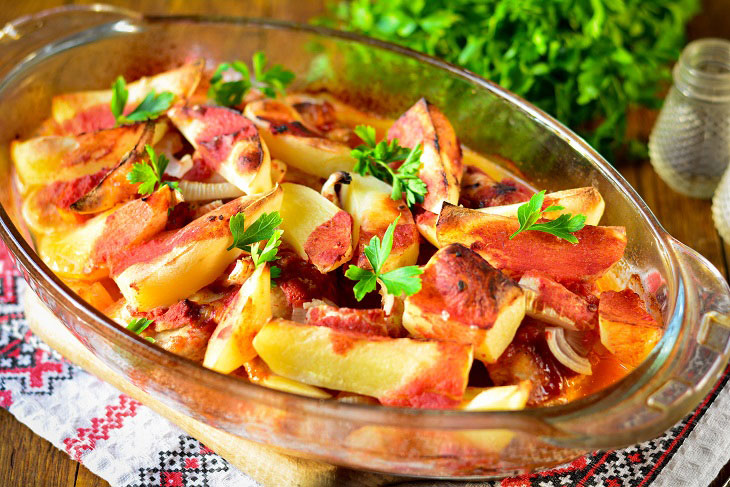 Enjoy your meal!