Today we offer you to cook a delicious and satisfying vinaigrette with an egg – a vegetable dish and very healthy. If you like this salad and want to diversify it a little, then add a boiled egg and a little mayonnaise instead of the usual vegetable oil. Such a vinaigrette turns out to be more satisfying and nutritious, but no less tasty than in the classic version.
For today's recipe, take potatoes, beets, carrots and pickles. You will also need onions and a chicken egg. For dressing, mayonnaise is used, which is ideally combined with all vegetables. To speed up the vinaigrette cooking process, it is better to cook vegetables in advance, especially beets, which are cooked for at least 40 minutes. With ready-made vegetables, the salad is ready in minutes.
Ingredients:
Beets – 200 g.
Potatoes – 150 g.
Pickled cucumbers – 100 g.
Chicken eggs – 2 pcs.
Carrots – 100 g.
Onion – 50 g.
Mayonnaise – 100 g.
Salt, black pepper – to taste.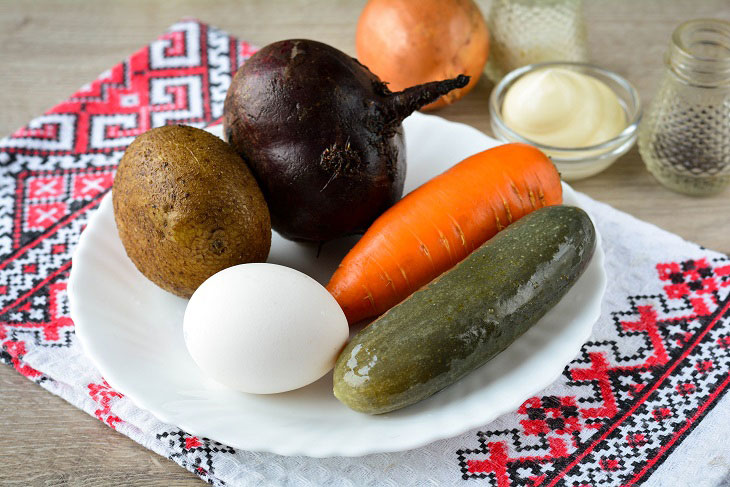 How to cook:
1. Rinse root crops – potatoes, carrots and beets, pour cold water and put to boil in a saucepan. After 20-25 minutes, take out the potatoes with carrots – they are ready.
Boil the beets for half the time. Then also take out the soft boiled beets, cool all the vegetables completely.
Also separately boil a hard-boiled chicken egg – cook after boiling water for 8-9 minutes. Cool the boiled egg as well.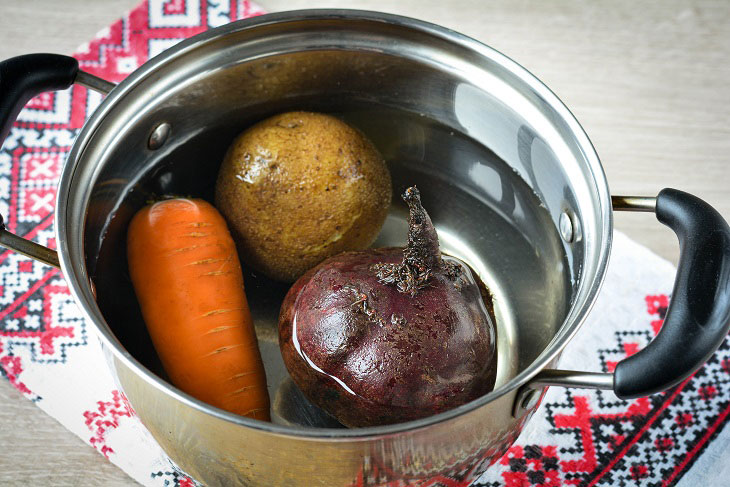 2. Cut the peeled onions and pickles into cubes, put the food in a bowl.
Onion will give the vinaigrette a light spicy note.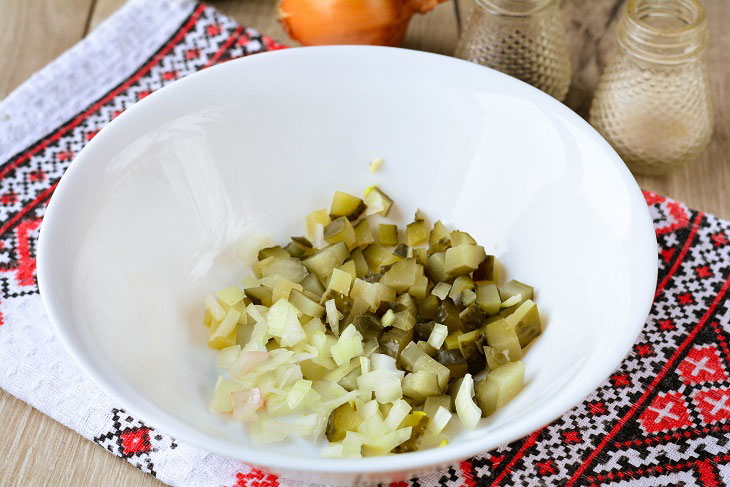 3. Peel all cooked vegetables – potatoes, beets and carrots. Grind these root vegetables, add vegetable cubes to the salad.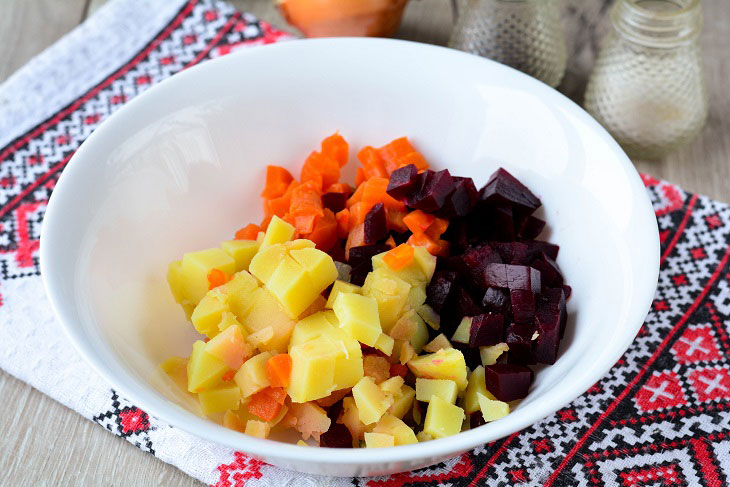 4. Cut the boiled egg into cubes and add to the rest of the products.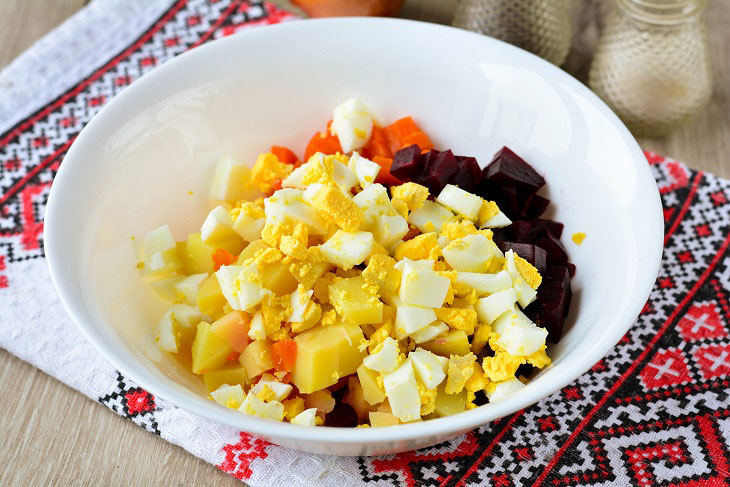 5. Dress the salad with mayonnaise, salt and pepper. Mayonnaise can be used with any fat content.
If you do not like mayonnaise, try replacing it with sour cream.
Mix the salad and the dish is ready.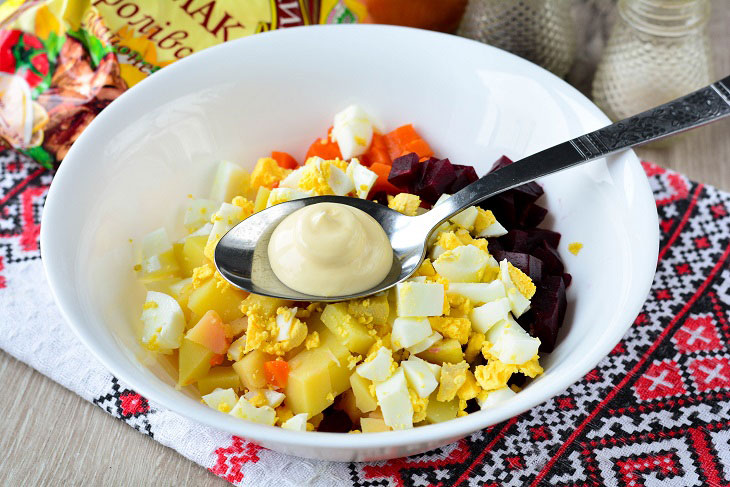 Ready vinaigrette with an egg can be served immediately.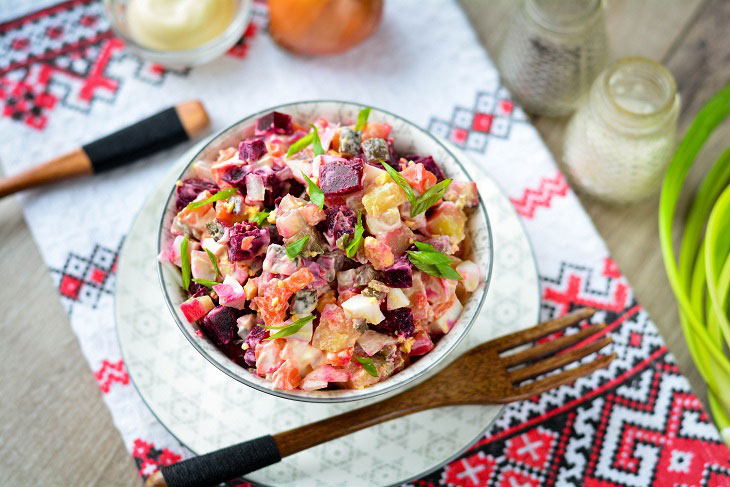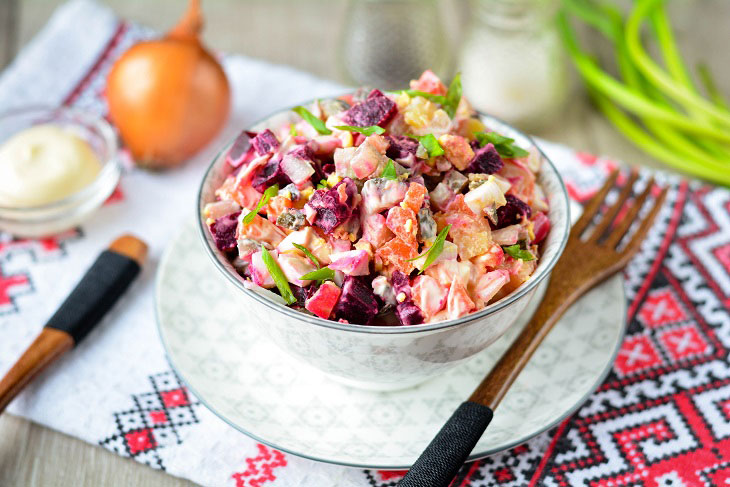 Enjoy your meal!