A warm salad of pumpkin, zucchini and chicken fillet with notes of rosemary will be a worthy decoration not only for a family dinner, but also for any celebration.
Salad of baked vegetables and chicken with scrambled eggs turns out to be hearty, but at the same time tender and fragrant. Since the chicken fillet is marinated with rosemary, its pleasant smell will be captured from the whole salad.
The process of preparing a fiery salad will take no more than 40-50 minutes: vegetables and chicken fillet will be baked for about 30 minutes, a thin omelette is cooked for no more than 10 minutes, vegetables can be cut and peeled in 5-7 minutes. A serving of salad is enough to feed two or three people.
Ingredients:
Chicken fillet – 400 g.
Soy sauce – 4-5 tbsp. l.
Spices 10 vegetables – 2 tbsp. l.
Fresh rosemary – 3-4 sprigs.
Pumpkin – 150 g.
Zucchini – 150 g.
Butter – 25 g.
Spices for chicken with paprika – 1 tsp.
Chicken egg – 1 pc.
Dill – 3-4 sprigs.
Flax seeds – 2 tsp
How to cook:
1. Wash the chicken fillet.
2. Transfer it to a bowl, pour in soy sauce.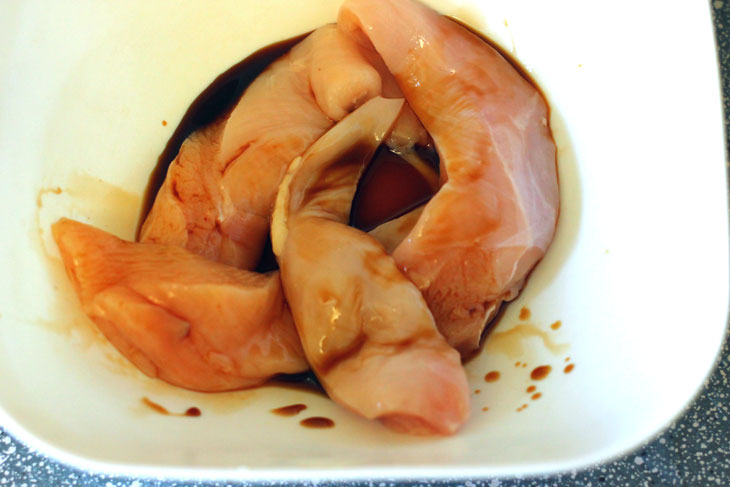 3. Add spices to 10 vegetables. Intervene.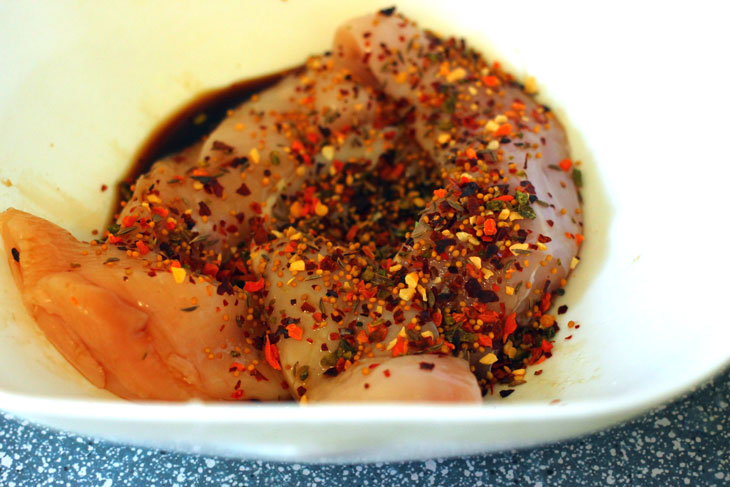 4. Place a few sprigs of rosemary on top and leave to marinate in the refrigerator for 30 minutes.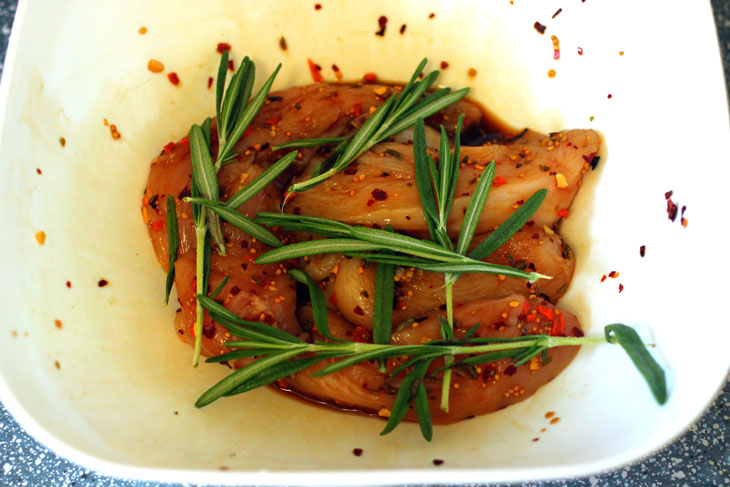 5. Peel pumpkin, wash, cut into cubes. Line a baking sheet with parchment paper and place the pumpkin on it.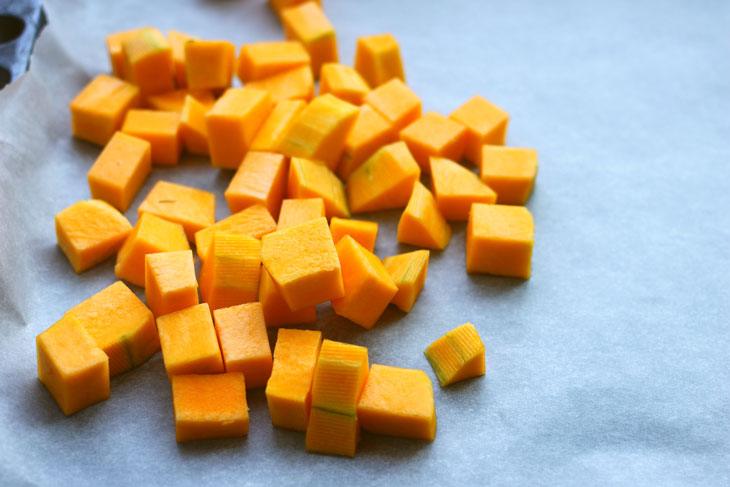 6. Wash the zucchini, cut into cubes and transfer to a baking sheet with the pumpkin.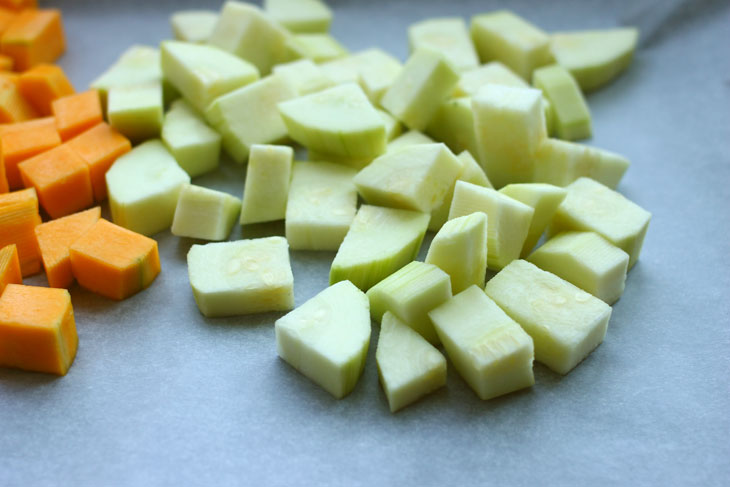 7. Melt the butter, add spices to it and stir.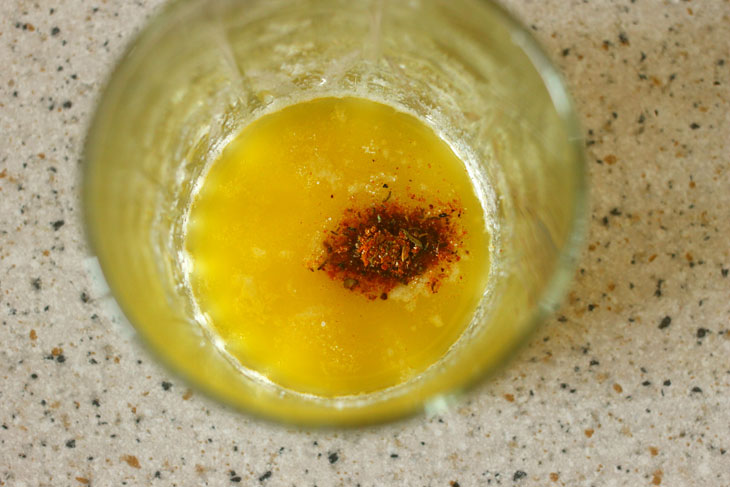 8. Butter the vegetables on the baking sheet. Put the chicken fillet next to it and place the baking sheet in the oven. Bake at 180 degrees for about 30 minutes. In the process, meat and vegetables can be turned over.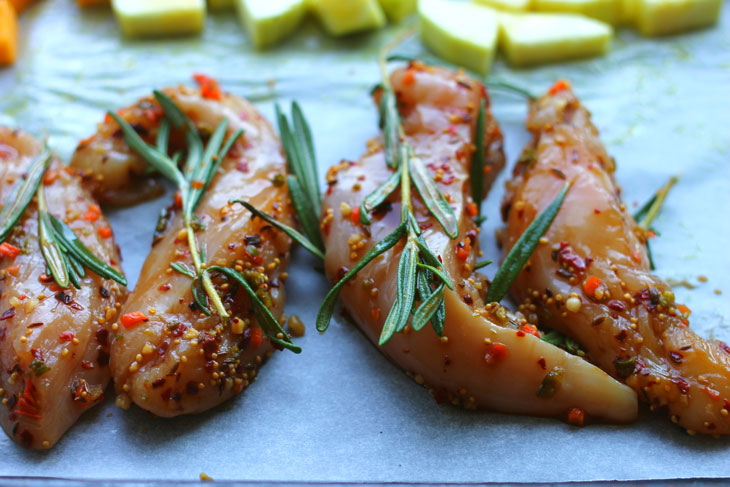 9. Transfer cooked vegetables to a bowl.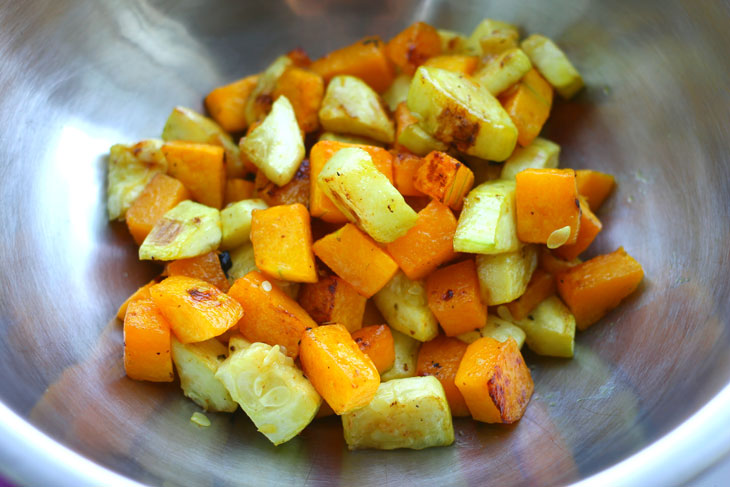 10. Crack an egg in a glass.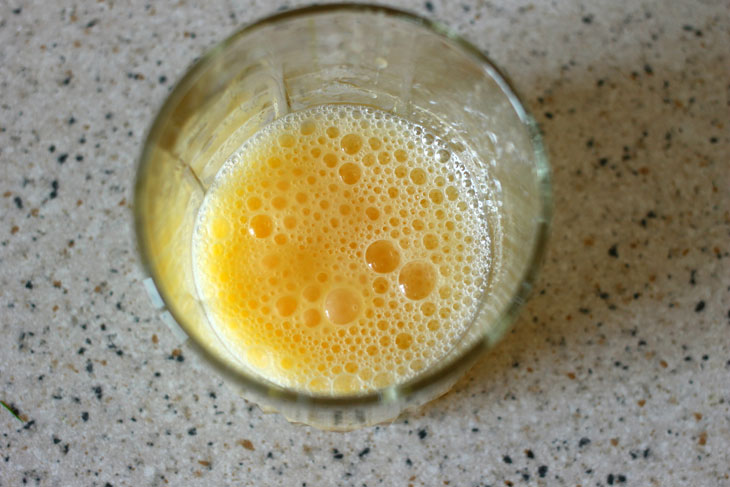 11. Pour the egg mixture onto the parchment in a thin layer and place in the oven. Cook at 190-200 degrees for about 10 minutes.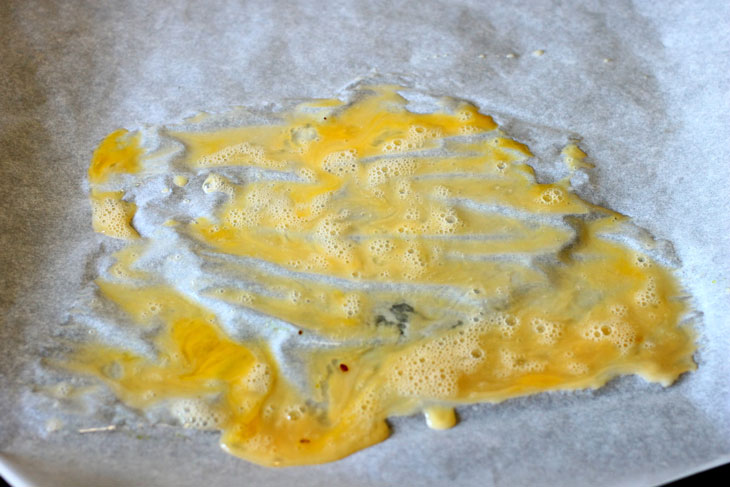 12. Cut the chicken fillet into pieces.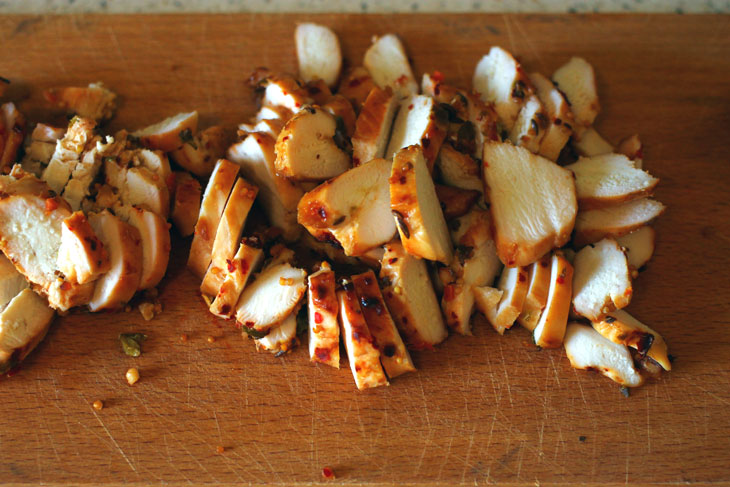 13. Transfer the fillet to a bowl with vegetables and add fresh dill.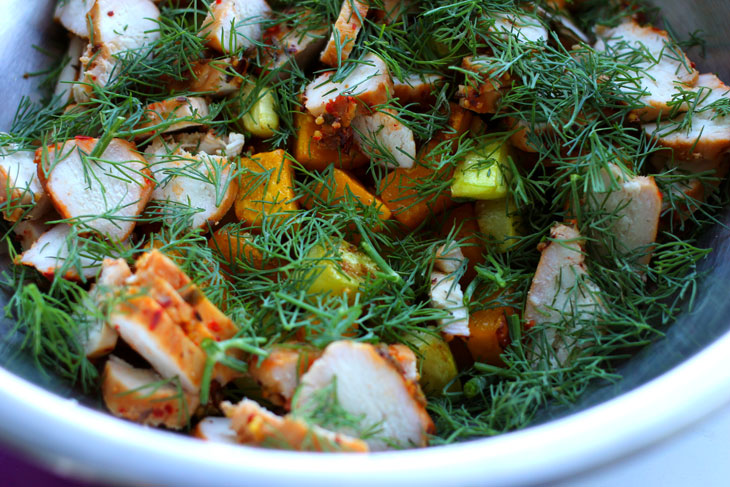 14. Cut the omelet cooked in the oven into pieces and add to the bowl. Sprinkle with flax seeds. Stir the salad.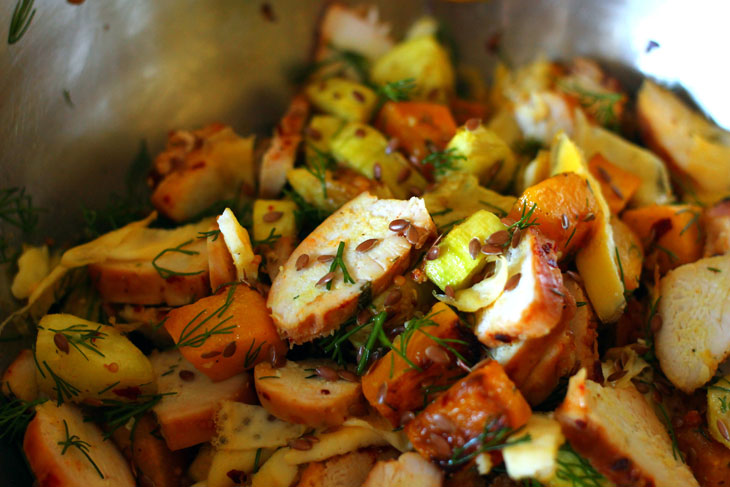 Serve garnished with rosemary sprigs.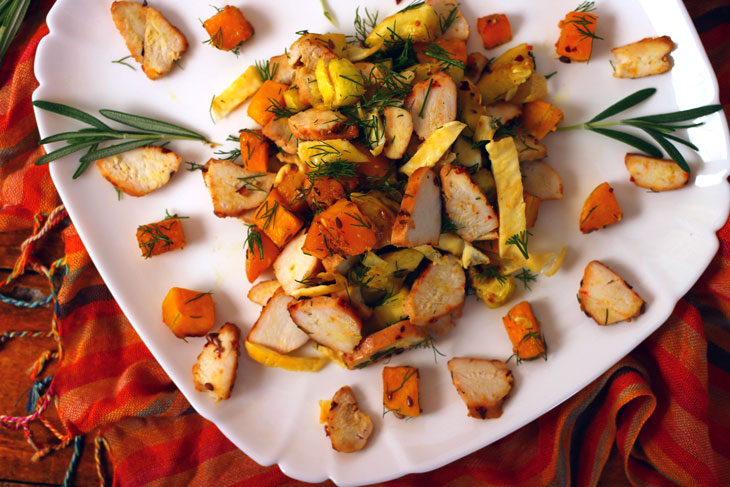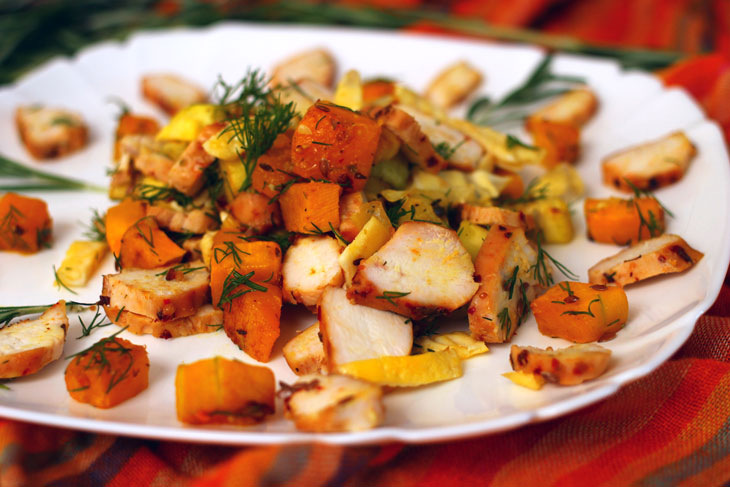 Enjoy your meal!