According to this recipe, you can cook champignons in a quick way, but so tasty that you just lick your fingers! The active cooking time is only 1 minute, and then the mushrooms need to be infused for 2 hours at room temperature and 1 hour in the refrigerator.
Mushroom appetizer is excellent. Mushrooms are dense, smell delicious with garlic and spices, brackish-sour (in moderation). From the indicated amount of ingredients, the yield is small, only one serving, so you can safely multiply everything by 2-3 times if you are cooking for a large company.
Ingredients:
Champignons – 300 g.
Vinegar 9% – 2 tbsp. l.
Vegetable oil – 1 tbsp. l.
Sugar – 0.5 tsp.
Salt – 0.5 tsp.
Black peppercorns – 2 pcs.
Allspice – 1 pc.
Bay leaf small – 1 pc.
Garlic – 2-3 cloves.
How to cook:
1. Wash the mushrooms thoroughly with a washcloth in running water so that there is no sand and other contaminants (it is not necessary to clean the mushrooms from the upper skin). Refresh the cut on the leg. Cut large champignons into 2 or 4 parts, and leave medium and very small ones whole.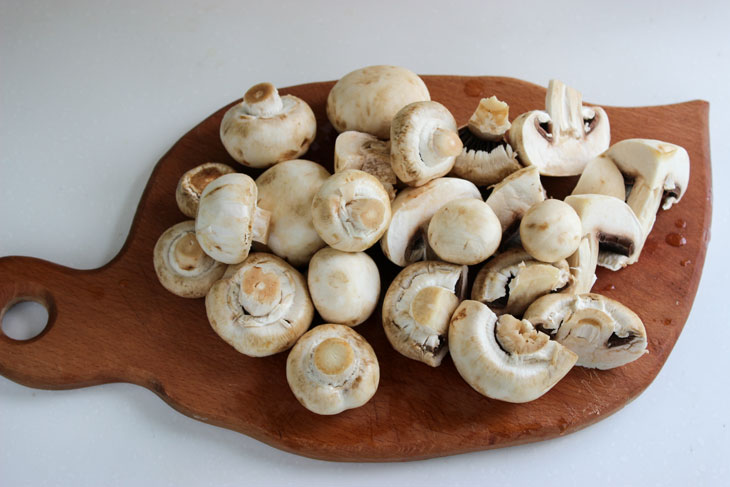 2. Place the mushrooms in a saucepan or small saucepan. Add 0.5 tbsp. l. vinegar and pour 400-500 ml of boiling water from the kettle. Bring to a boil and immediately remove from heat. Without draining the water, leave it in it for 20-25 minutes, covering the pan with a lid. Vinegar with this recipe is used table, a strength of 9 percent.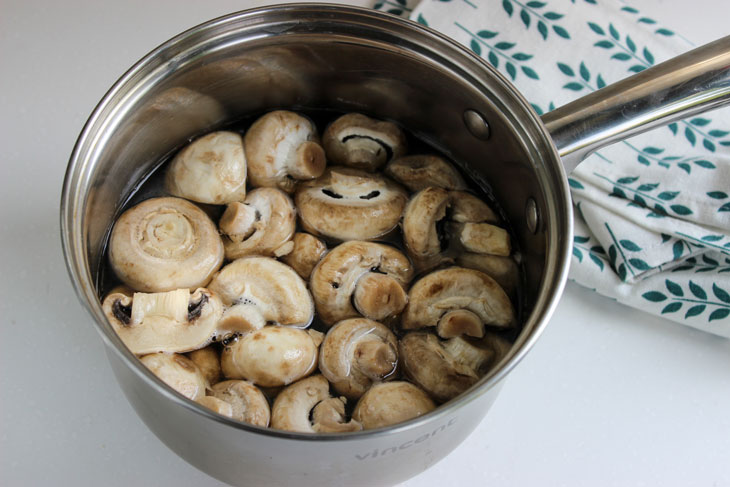 3. Prepare the mushroom marinade. Mix the remaining table vinegar (1.5 tablespoons), refined vegetable oil, salt and sugar. There also put a small bay leaf, a few peas of black and allspice, and also add a couple of cloves of garlic passed through the press.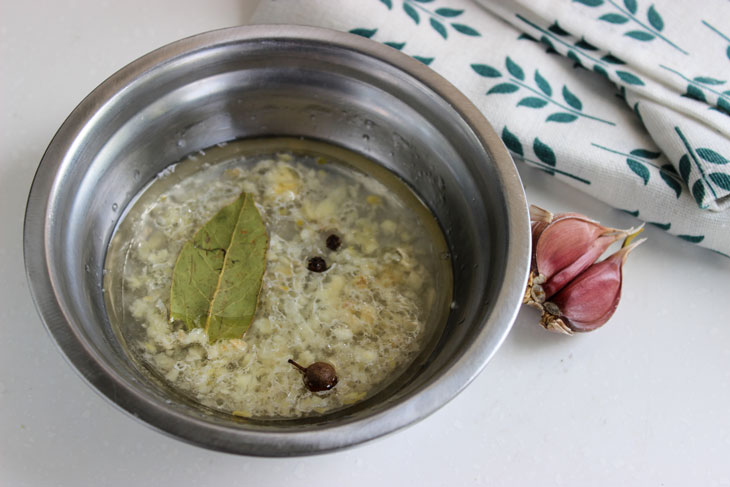 4. Drain all the water from the mushroom pan where they were cooked. Season with marinade, shake vigorously. Leave to marinate at room temperature for 2 hours (stir occasionally). During this time, they will infuse, at first it will seem that there is not enough liquid, but they will give their own juice, so the marinade will be enough.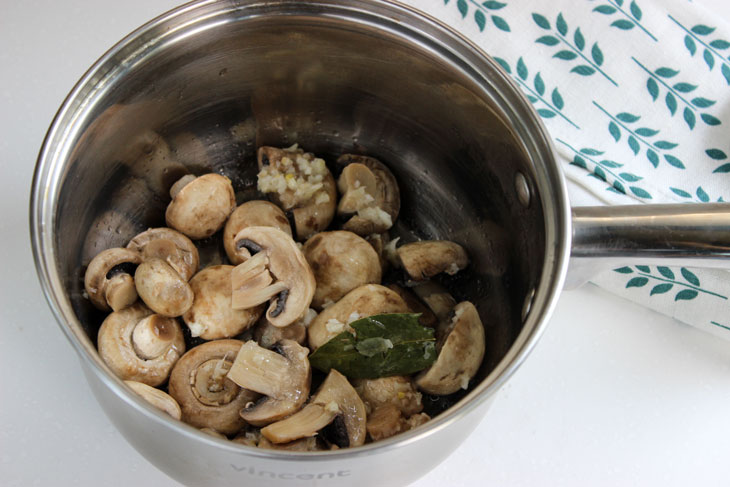 5. Then transfer the mushrooms to a jar along with the marinade and all the spices. Cover and place in refrigerator for 1 hour. During this time, they will finally "reach" the desired taste and cool properly.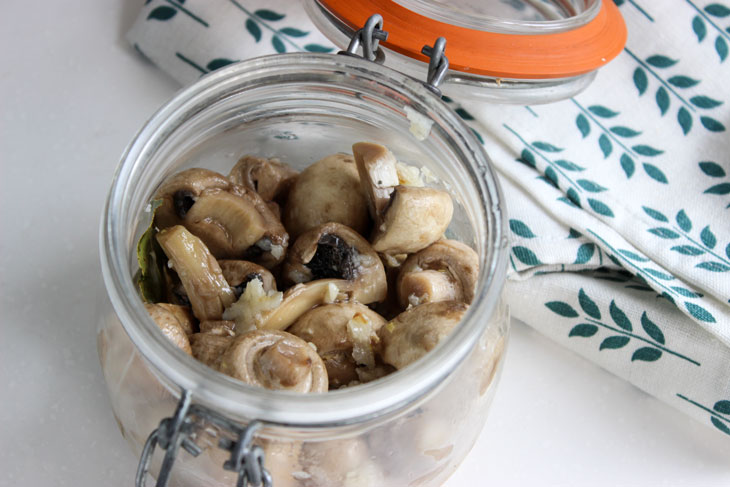 Serve cold. Mushrooms marinated with garlic and spices will be an excellent appetizer that you will want to repeat more than once!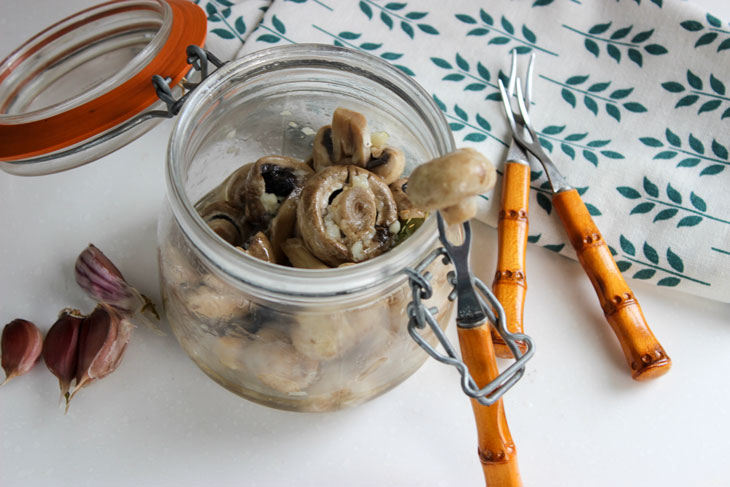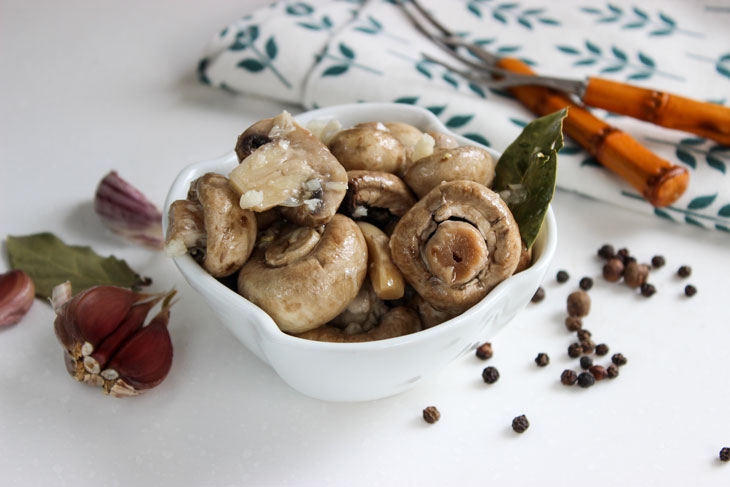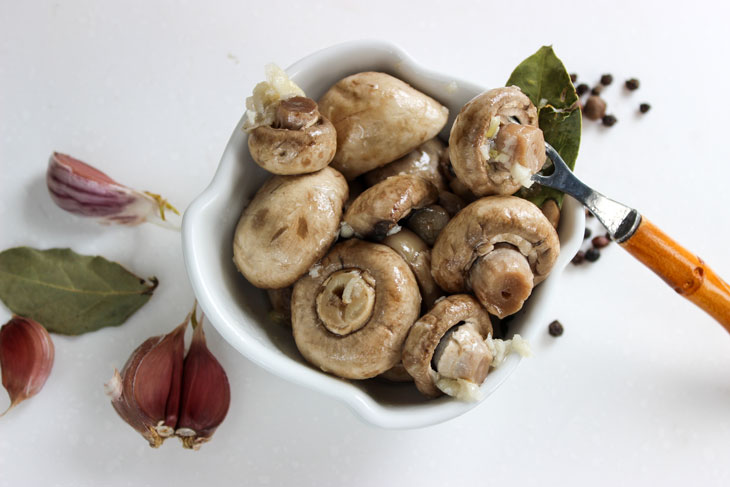 Enjoy your meal!