Autumn is the hottest time for preparing winter preparations. I want to cook everything and more so that the winter is full, bright and tasty. Surely, your family has their favorite recipes that have been tested over the years. So, we want to offer to prepare zucchini as milk mushrooms for the winter. The salad is very juicy, aromatic and tasty. A jar of such a blank will not be superfluous at a picnic. The salad is perfect for cereal or vegetable side dishes, meat, especially barbecue, and fish dishes.
Ingredients:
Zucchini (peeled) – 2 kg.
Sugar – 125 g.
Table vinegar 9% – 125 ml.
Vegetable oil – 125 g.
Salt – 1 tbsp. l.
Garlic – 1 head.
Ground black pepper – 1 tsp.
Parsley – 1 bunch.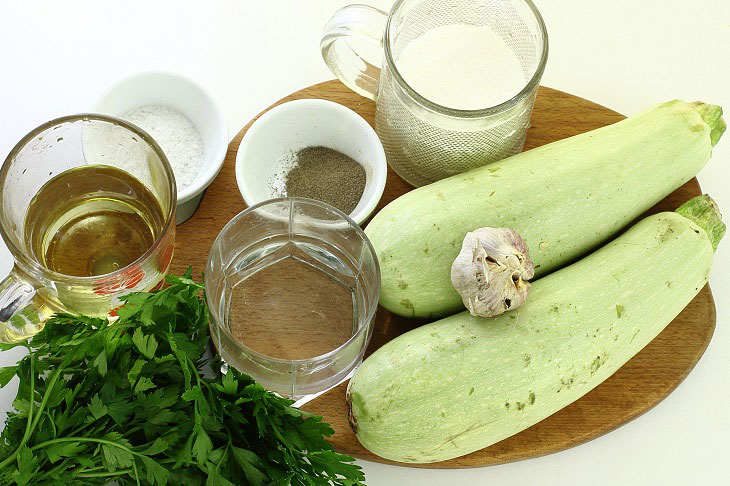 How to cook:
1. To prepare a salad, ordinary zucchini or zucchini are suitable.
You can use both mature and young fruits. The main thing is that the vegetables are juicy.
Young zucchini do not need to be peeled, but mature fruits need to be de-seeded and peeled. Cut the prepared zucchini into medium pieces and transfer to a saucepan for cooking.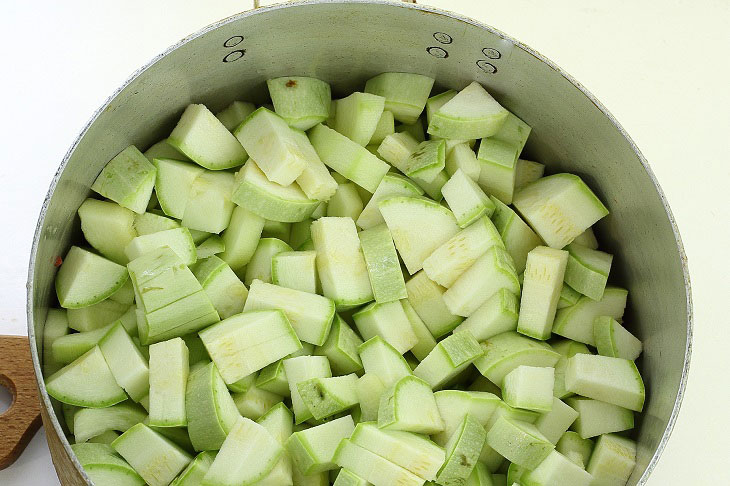 2. Add sugar and salt. Stir until evenly distributed.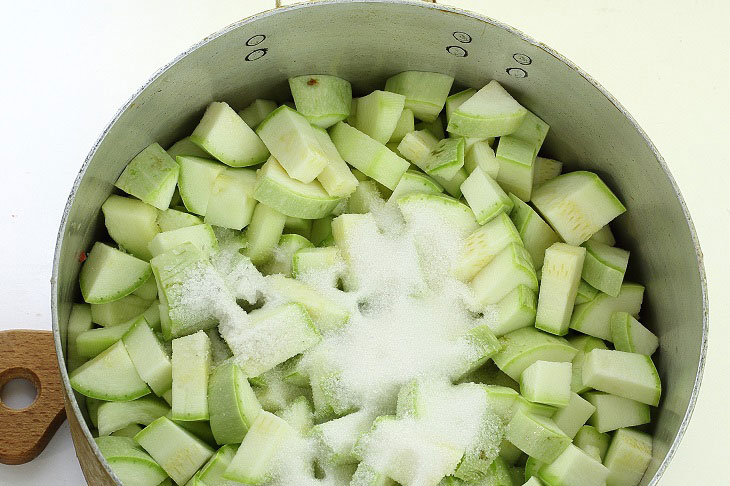 3. Add ground pepper. Pour in the oil, always odorless, and table vinegar. Mix well. Already at the initial stage, slices of zucchini will begin to release juice.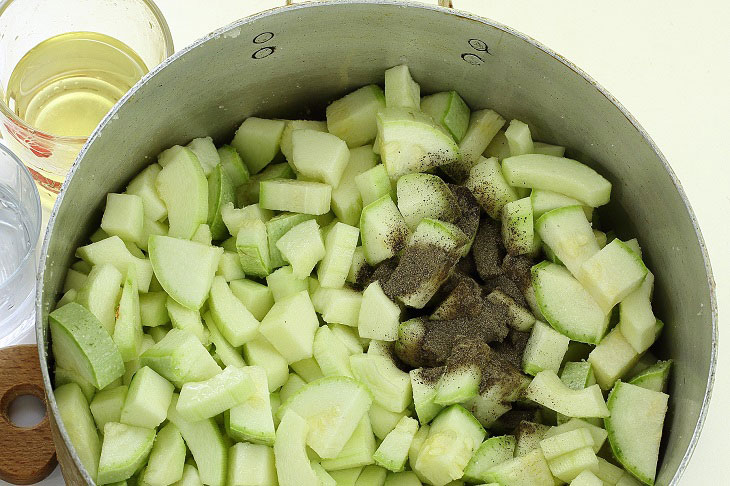 4. Rinse the parsley thoroughly, cut off the thick stems. Finely chop the leaves. Peel and wash the garlic. Cut into rings. Send both ingredients to zucchini. Stir.
If desired, the amount of garlic can be increased, and instead of parsley, take dill.
Cover and leave for 6 hours. Every 40-50 minutes, stir so that all the squash pieces release their juice. Closer to 5-6 hours of pickling, zucchini will be almost completely covered with juice.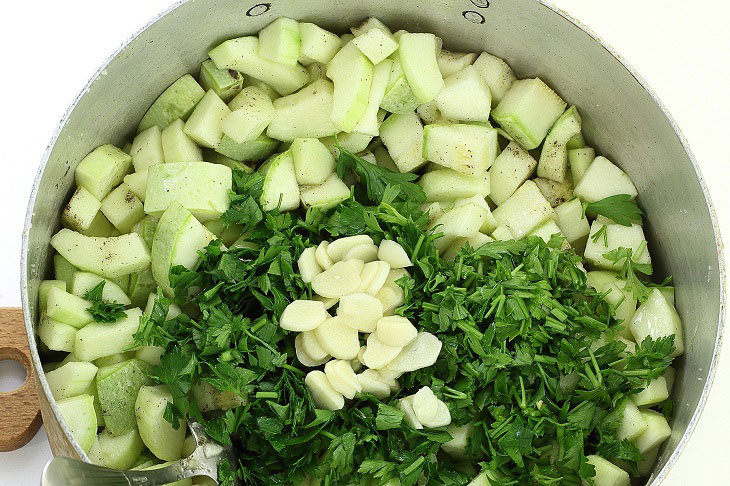 5. For canning, it is best to use small jars. Rinse containers and lids with baking soda. Rinse thoroughly with running cold water. Sterilize in a convenient way.
Pack marinated zucchini in clean containers. Shake well so that the pieces fit tightly together. Pour the remaining juice in the pan over all the jars. Cover with sterile lids. Line the bottom of the pot with a paper towel. Move the jars of zucchini. Pour warm water over the neck of the jar and send to the fire. Once the water boils, sterilize for 25-25 minutes over moderate heat.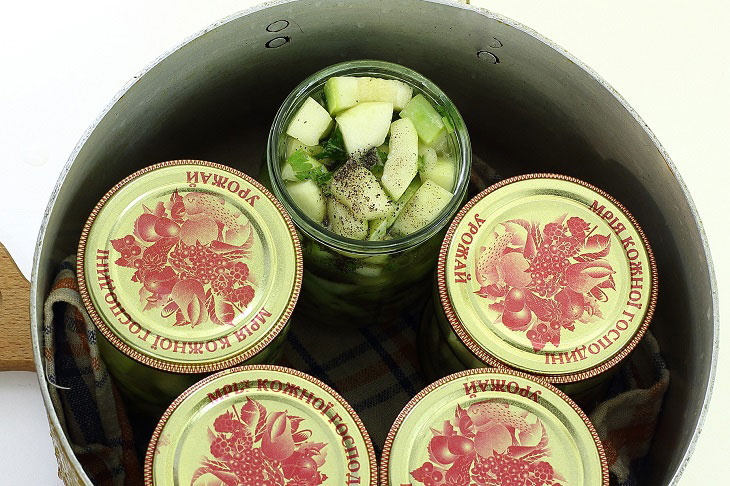 6. Seal tightly with a seaming key, turn over and wrap with a warm blanket. After cooling, store in a pantry or basement.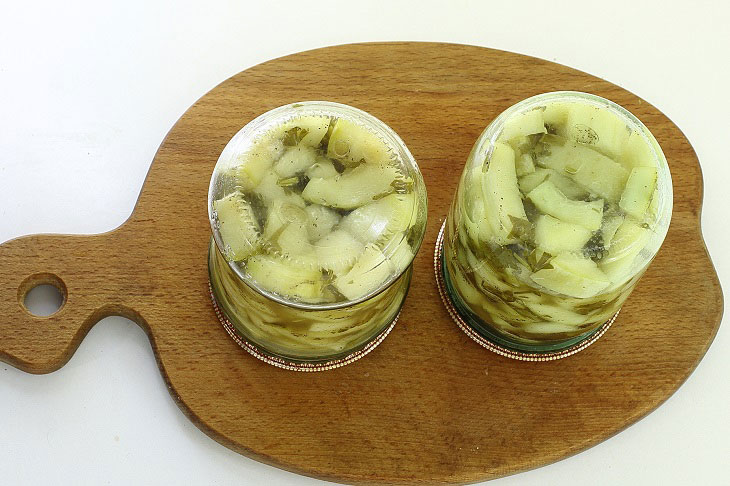 Zucchini are ready for the winter.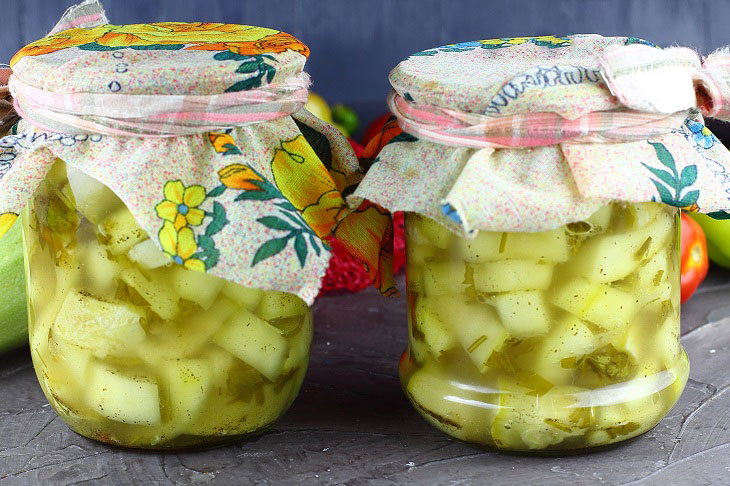 Enjoy your meal!