An unusual recipe for summer baking is zucchini pie-casserole. It has no basis from the test. All products are simply mixed, laid out in a mold and baked until cooked. In appearance, the finished dish is more like a casserole. But more flour is added, the texture is denser, not as tender as zucchini casseroles, it tastes like a pie. Very tasty, quite satisfying, but not heavy.
This is a basic recipe, based on which you can come up with different variations. The neutral taste of zucchini makes it possible to add minced meat, chicken meat, sausage, ham, mushrooms, soft and hard cheeses, cottage cheese, and other vegetables to it. In order for the cake to bake well, the zucchini should not be grated – they will give a lot of juice and even more flour will be required. It is better to cut into small thin slices and mix with other products in this form.
Ingredients:
Zucchini – 400 g.
Flour – 0.5 tbsp.
Sour cream – 3 tbsp. l.
Egg – 2 pcs.
Garlic – 2-3 cloves.
Greens – a big bunch.
Salt – to taste.
Vegetable oil – 2 tbsp. l.
Turmeric – 0.5 tsp
Paprika – 0.5 tsp
Ground black pepper – to taste.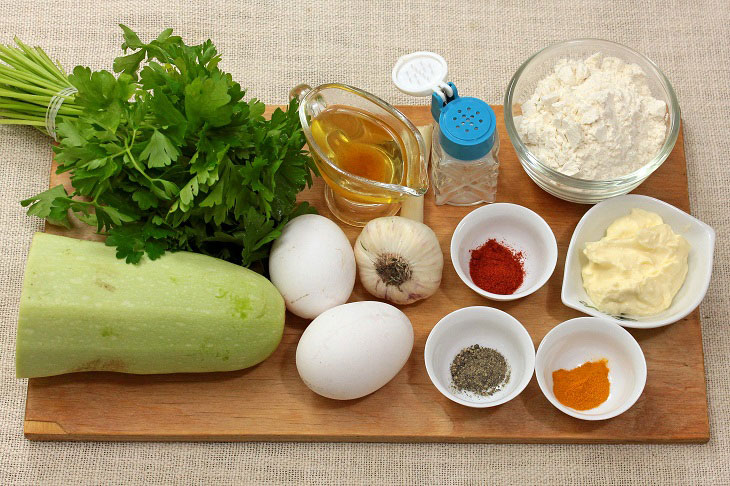 How to cook:
1. Cut the skin off the zucchini, cut the flesh into small thin slices. The thickness is not more than 1 cm, if the zucchini is cut into large pieces, the cake will not have time to bake inside, it will dry out on top.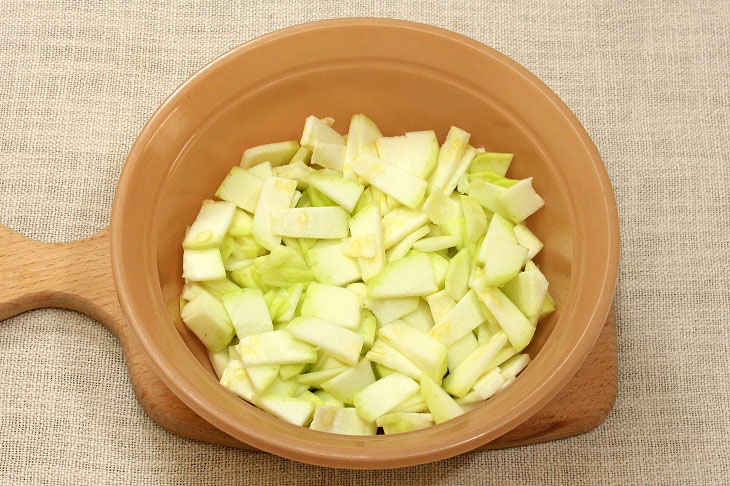 2. We take any greens, at our discretion: parsley, dill, cilantro, spinach, or we make a mix of several types. Finely chop, add to zucchini. Squeeze the garlic cloves through a press or cut into thin plates and pour into a bowl with zucchini.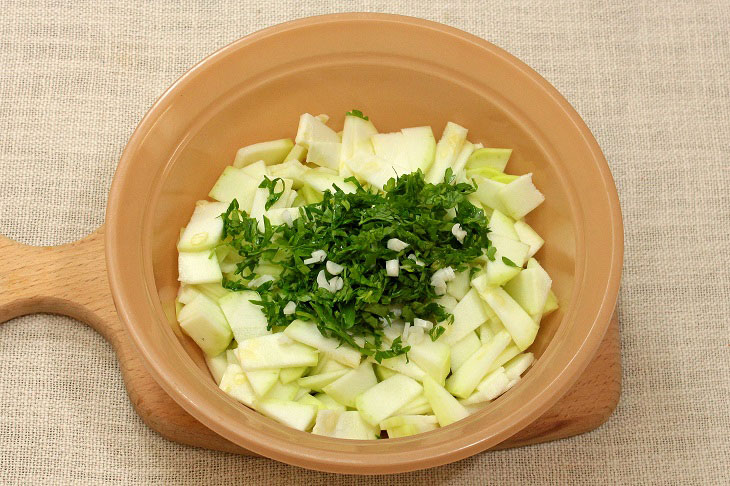 3. In a separate bowl, break the eggs, add sour cream and pour in refined vegetable oil.
4. Beat everything with a whisk until smooth. Add flour, spices and salt.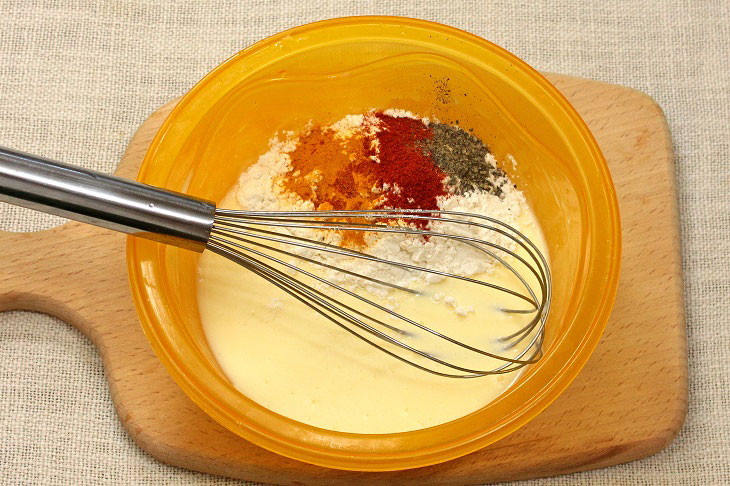 5. We mix.
The filling should turn out without lumps, in terms of density, like low-fat sour cream.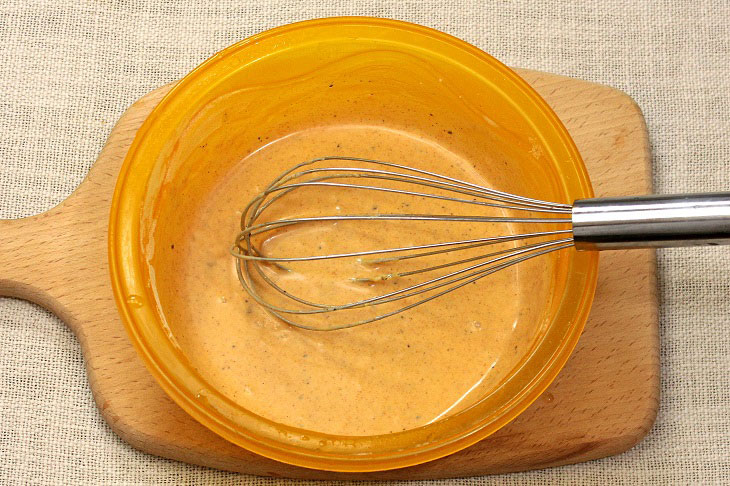 6. Mix filling and zucchini. Next, preheat the oven to 180 degrees.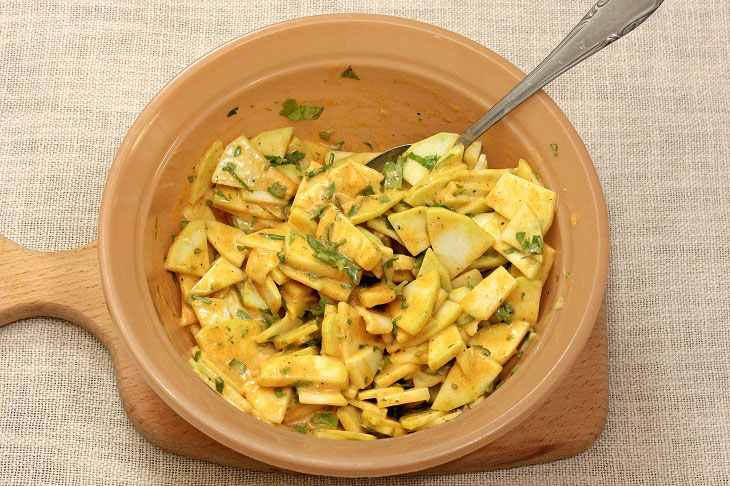 7. Lubricate the form with butter and lay out our product. Level the top.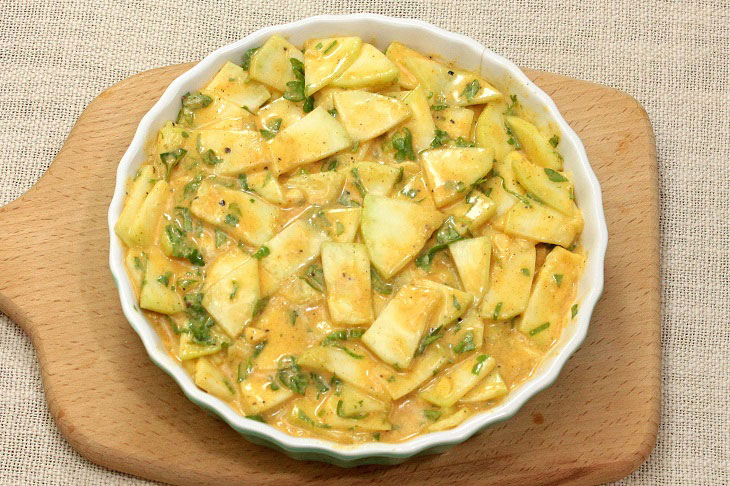 8. Put on the middle level of the oven and bake for 40-45 minutes. The finished cake will become dense, the top will brown well.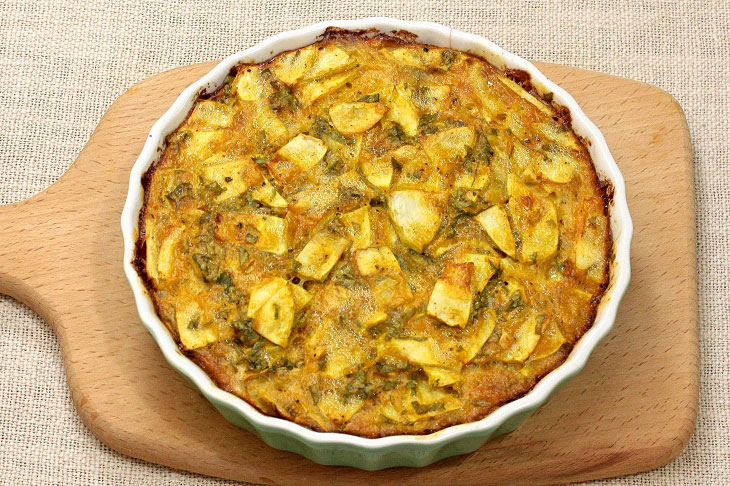 9. Take the cake out of the oven and let it cool in the mold. Then cut and serve with sour cream or tomato sauce or supplement with fresh vegetables.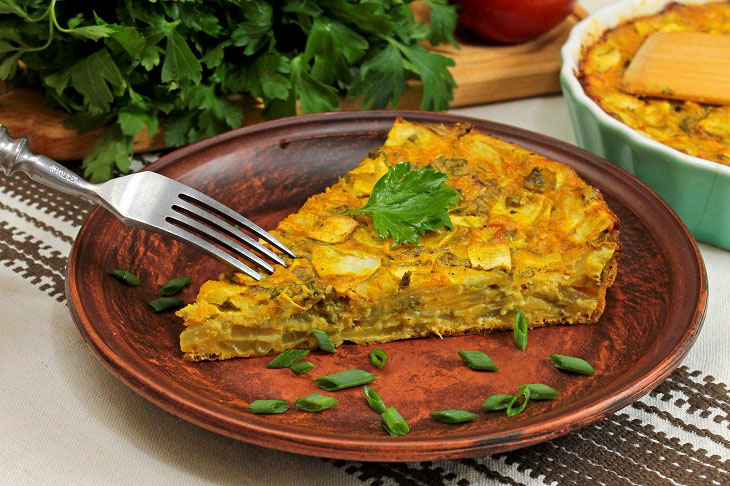 Bon appetit!