Incredibly delicious young zucchini rolls with chicken that will not leave anyone indifferent! The recipe is very simple, does not require much effort. Zucchini cooked in the oven, perfect for a diet menu. This amount of ingredients will make 4 servings.
Ingredients:
Zucchini (young) – 2 pcs.
Chicken breast fillet – 1 pc.
Hard cheese – 50 g.
Olive oil.
Salt.
Ground black pepper.
Ketchup.
Wooden skewers – 8 pcs.
How to cook:
1. You can add 2 cloves of garlic to the filling. It must be peeled and very finely chopped, or grated on a fine grater. The press in this case will not work, as the garlic will turn into a liquid porridge. To taste, you can add ground paprika and dried herbs.
Only young zucchini are suitable for the recipe. Mature ones will be too tough.
Buy chicken fillet chilled, good quality. Look at the date of packaging and be sure to smell it to keep the meat fresh.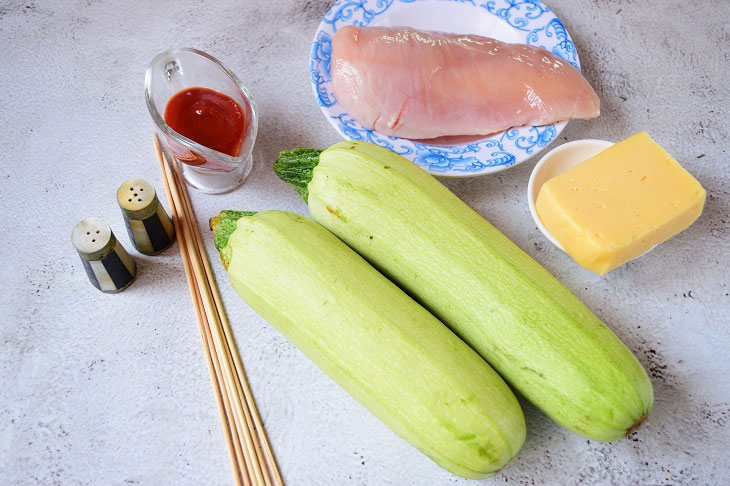 2. Rinse the zucchini thoroughly and cut into thin strips. It will be most convenient to cut the zucchini in half, and then cut into strips. If your vegetable peeler has a thickness adjustment option, use it. The thickness of the pieces should be 5 millimeters. It is important. Because those that are too thick will not curl, and those that are too thin will fall apart.
Line a baking sheet with parchment. Brush with a little olive oil. Put a baking sheet with zucchini in an oven preheated to 180 degrees and mark for 6 minutes. This is necessary so that the rolls roll better. Raw zucchini of the desired thickness cannot be rolled up.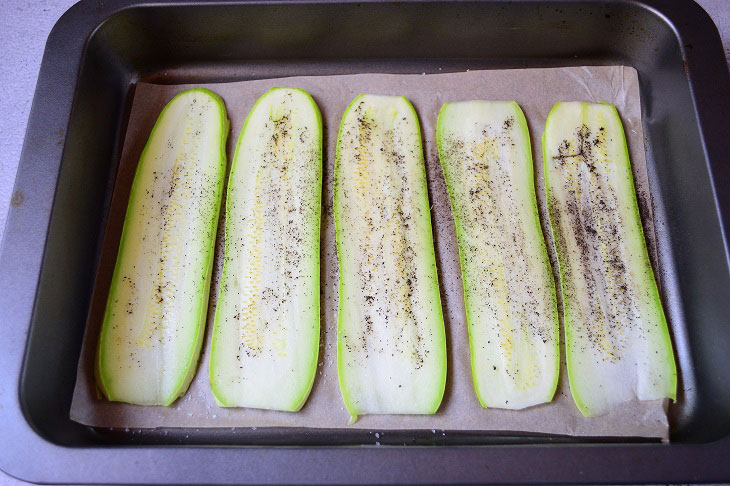 3. Rinse the chicken fillet with running water, dry with a paper towel. Cut into thin strips. Can be lightly beaten with a kitchen hammer. Salt, pepper, leave for 10 minutes to marinate the fillet.
If you want to add garlic, add it along with salt and pepper.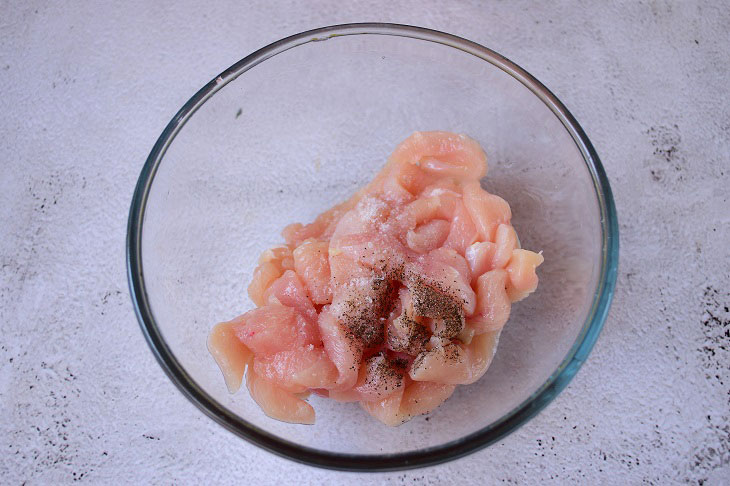 4. Arrange the meat on the prepared zucchini strips.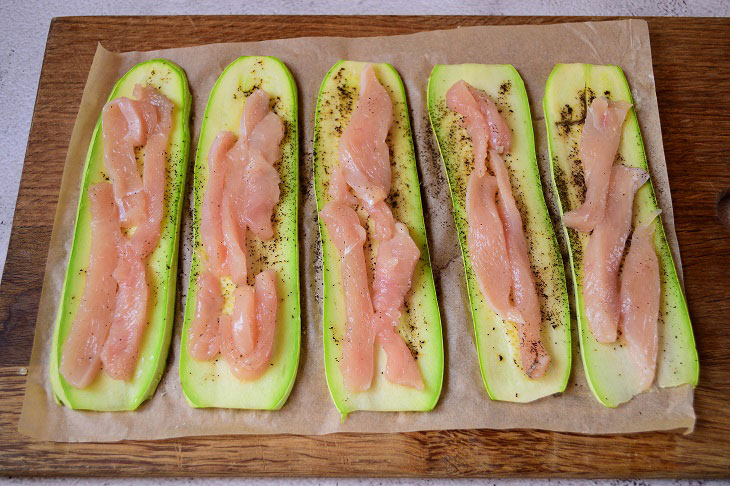 5. Add grated cheese and some ketchup. Don't overdo it or the sauce will run out with the cheese during baking.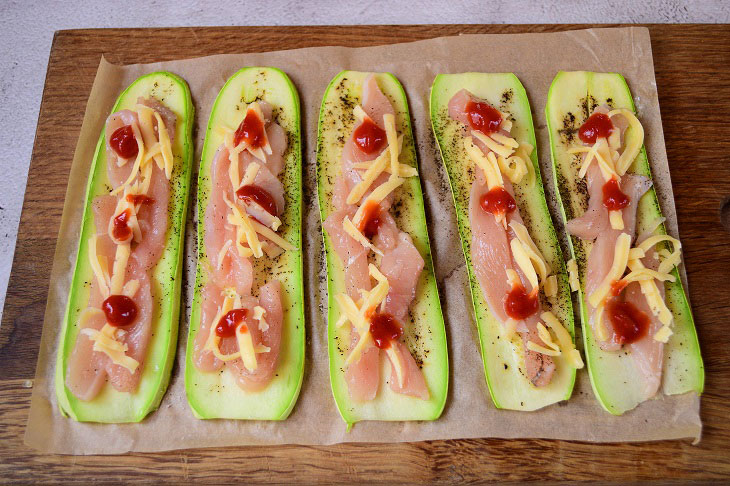 6. Roll up the rolls and pierce them with skewers.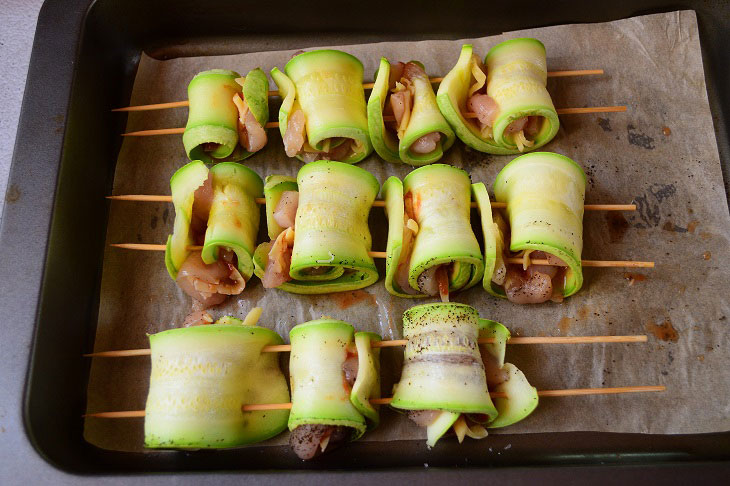 7. Bake at 180 degrees for 25 minutes.
Serve with greens and vegetable salad.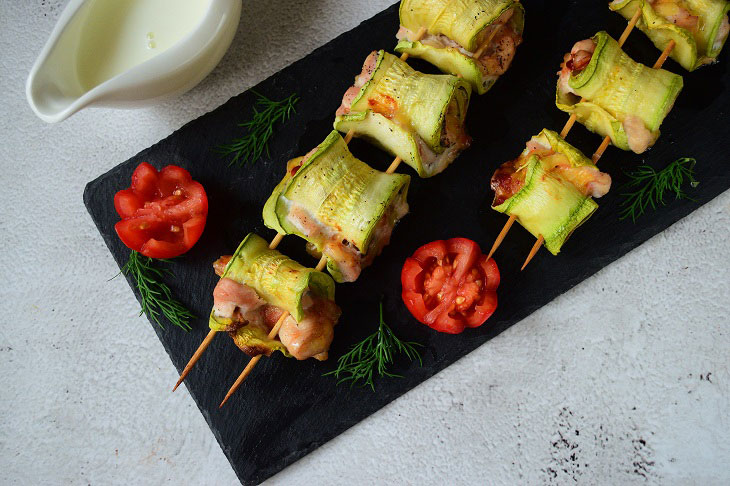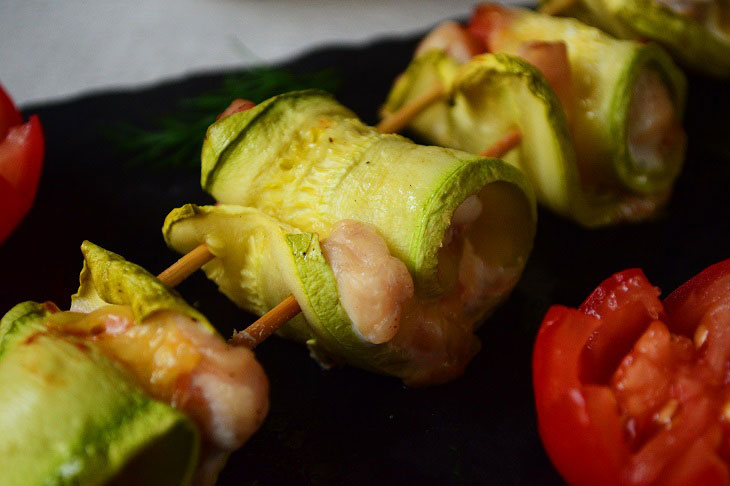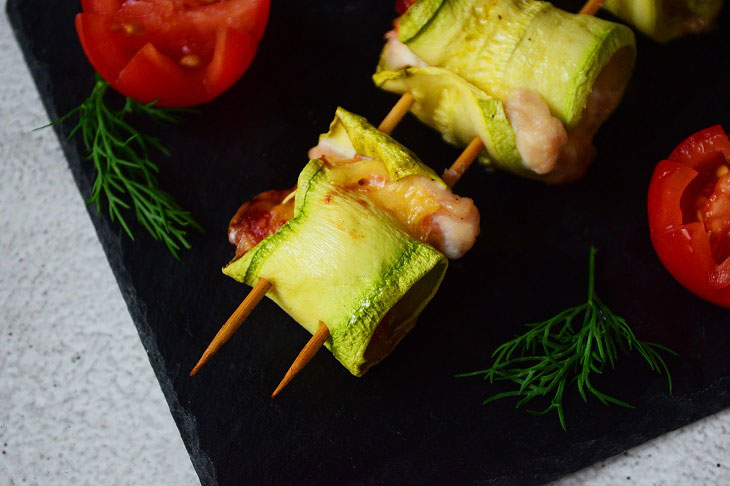 Enjoy your meal!