Zucchini stewed in sour cream is an indescribable deliciousness. In addition to the amazing taste, this vegetable appetizer is quite easy to prepare. For its preparation, it is worth buying young zucchini with a green peel. Cut the vegetables into circles first, and then each of them into 2 or 4 more parts. You can stew zucchini in the most ordinary pan or use a cauldron. Sour cream is suitable with any percentage of fat content. To make the dish more fragrant, you need to add vegetables such as onion, pepper and tomato to it. For lovers of spicy snacks, you can also put chopped garlic and hot peppers.
You can serve ready-made stewed zucchini absolutely without any side dishes, since this vegetable appetizer turns out to be very satisfying anyway. However, if there is a desire, then you can boil the new potatoes or bake them in the oven with the skin on.
Ingredients:
Zucchini – 1 pc.
Tomato – 0.5 pcs.
Onion – 1 pc.
Sweet pepper – ¼ pcs.
Salt – to taste.
Ground black pepper – to taste.
Vegetable oil – 50 ml;
Sour cream with any percentage of fat content – 1-1.5 tbsp. l.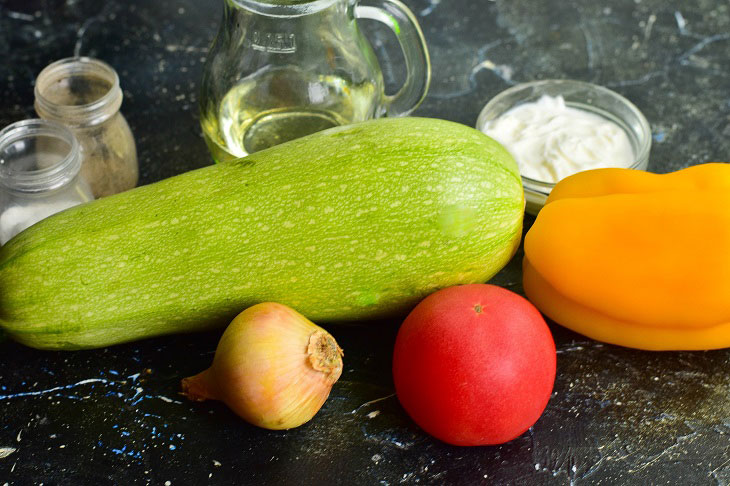 How to cook:
1. Wash all vegetables. Clean the zucchini. Cut it first into circles, and then each of them into 4 parts.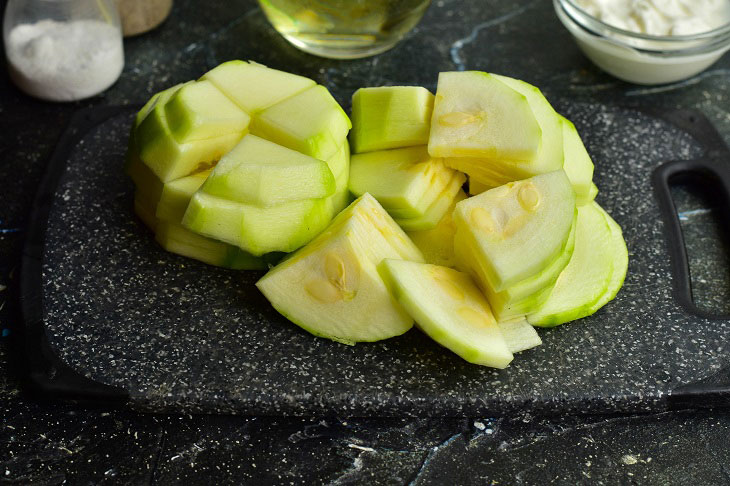 2. Heat vegetable oil (25 ml) in a frying pan. Fry the zucchini slices until golden brown on both sides. Be sure to spread the zucchini in a single layer in the pan.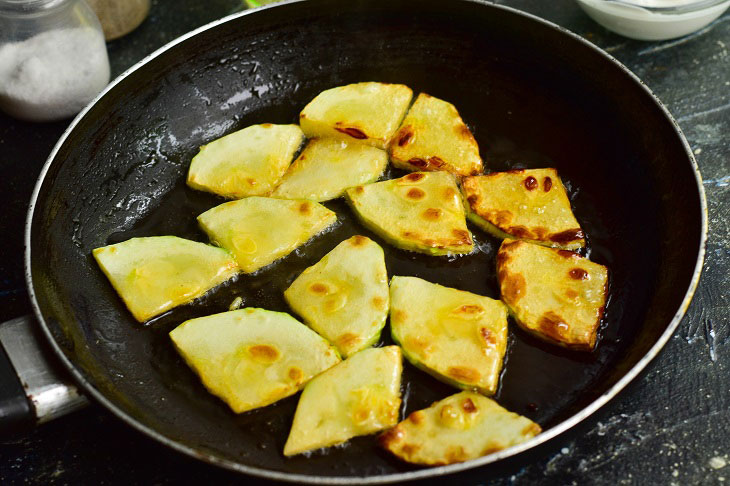 3. Cut the onion, tomato and pepper into pieces.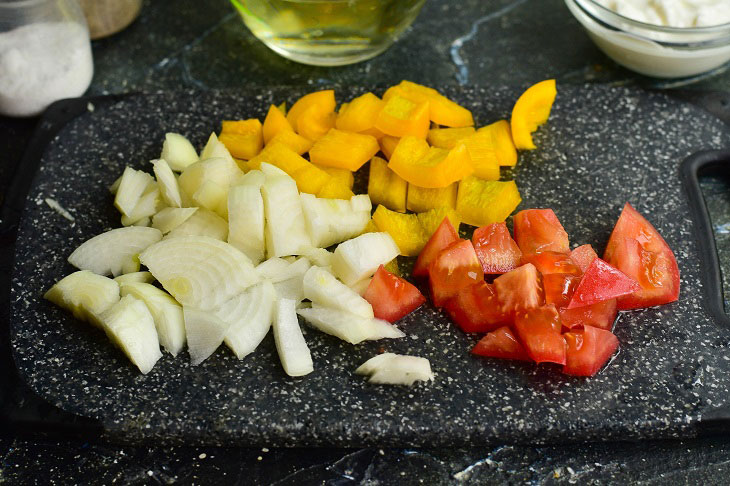 4. Pour the remaining vegetable oil into another pan, put the vegetables. Fry them for 1-2 minutes over medium heat. Do not forget to stir them periodically so that they do not burn.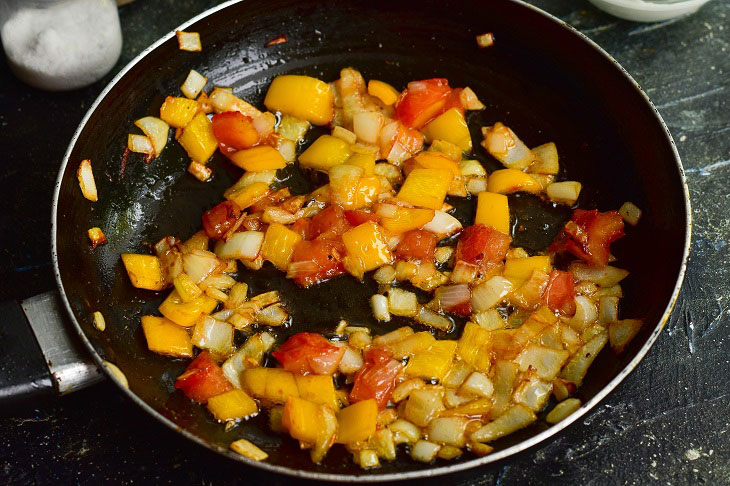 5. Then put the fried zucchini on them.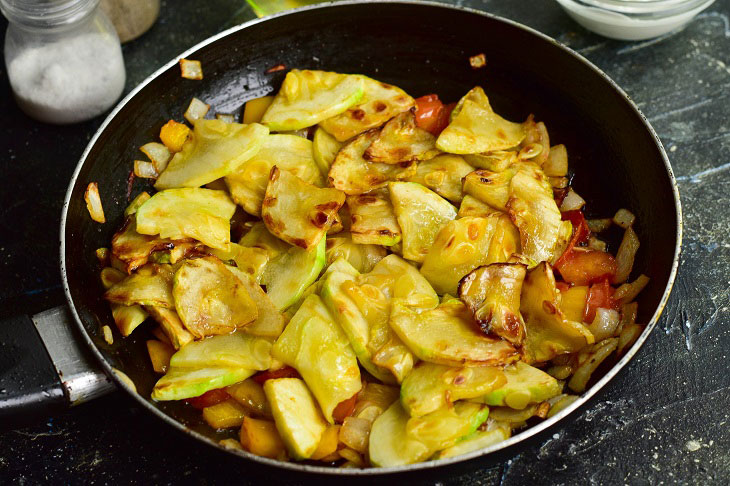 6. Add sour cream, salt and ground black pepper. At the same stage, if you wish, you can add some other spices.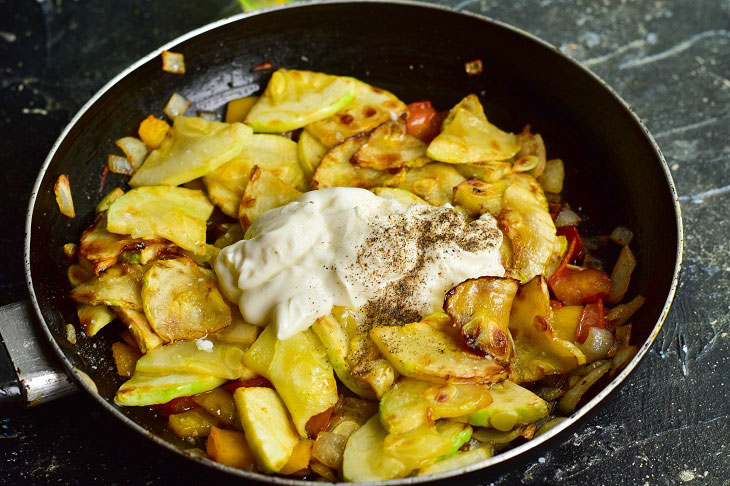 7. Stew vegetables over moderate heat for 3-5 minutes.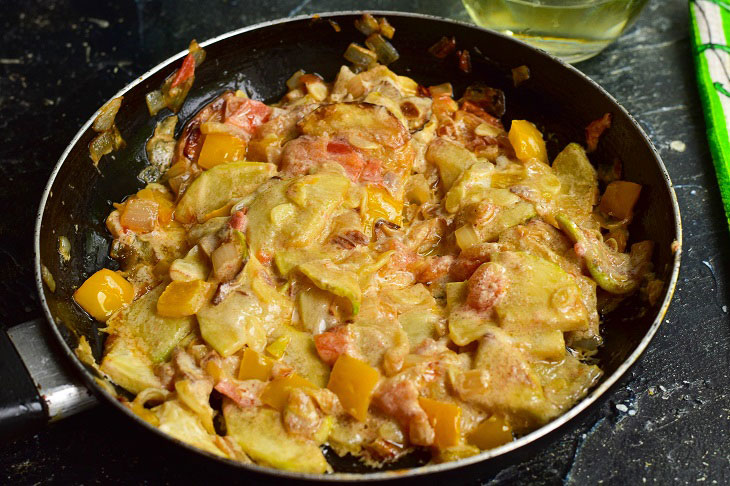 8. After that, put them on a beautiful dish, you can put a sprig of dill or any other greens on top.
Serve zucchini stewed in sour cream to the table immediately or when they have cooled.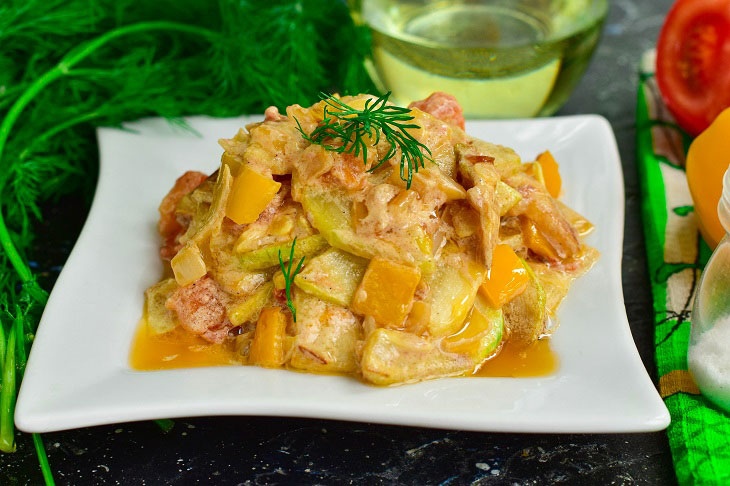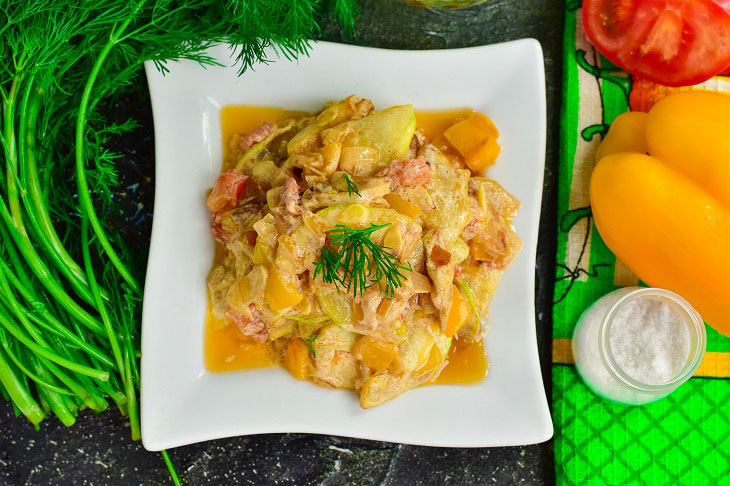 Enjoy your meal!