You and your guests will love this appetizer of zucchini with tomatoes and garlic – a proven and easy-to-prepare recipe. Tender zucchini with juicy tomatoes is tasty and healthy.
If you like to cook simple and savory snacks, then this recipe will definitely come in handy for you. Zucchini – perfect for any dish. They make delicious pancakes, stews, meatballs and even cakes. Zucchini and tomatoes are the perfect duo that is often combined in cooking. To make the appetizer even more delicious – add garlic and fresh herbs. Zucchini will become rich and original.
Ingredients:
Zucchini – 300 g.
Tomatoes – 150 g.
Parsley – 5 g.
Mayonnaise – 100 g.
Vegetable oil – 50 g.
Wheat flour – 50 g.
Salt, black pepper – to taste.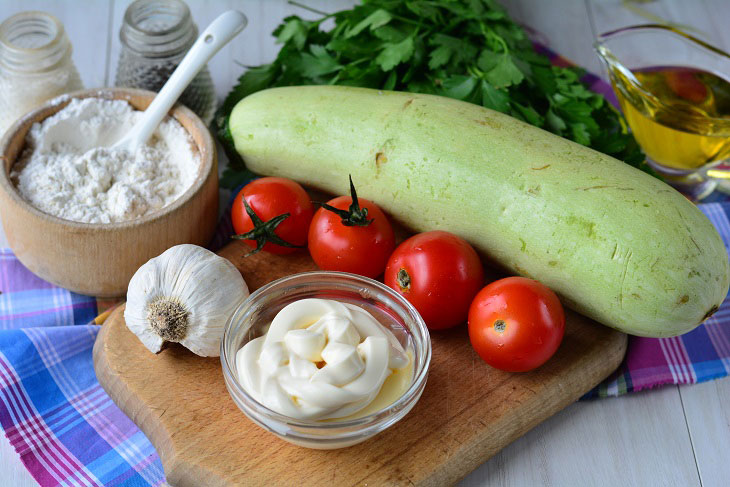 How to cook:
1. Rinse the zucchini, cut off the stems. Then cut the vegetable into medium slices.
If the peel is thin and young, do not cut it. It is also important that the zucchini has young and tender seeds inside.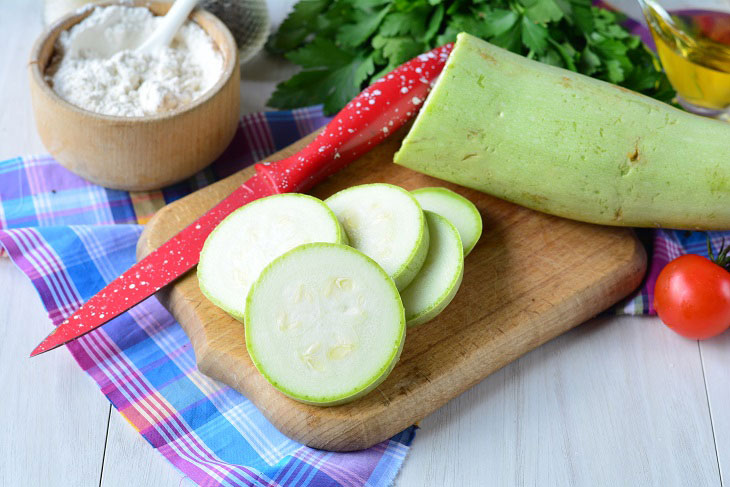 2. Then bread the circles of zucchini in flour – so when frying you get a golden crust.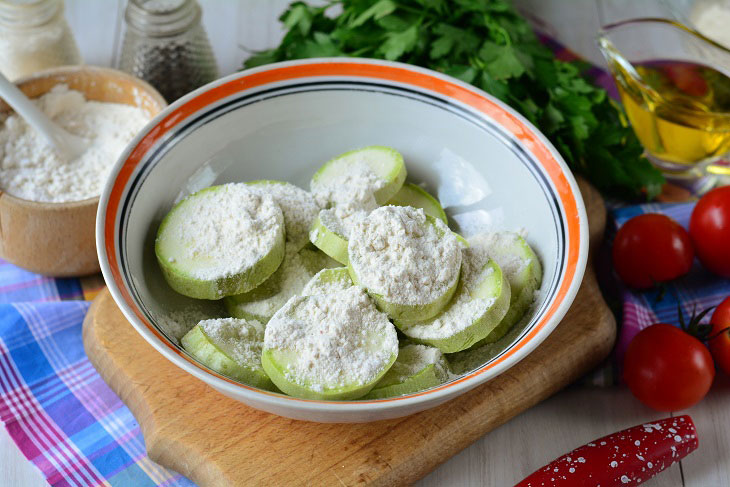 3. Heat oil in a pan, add zucchini.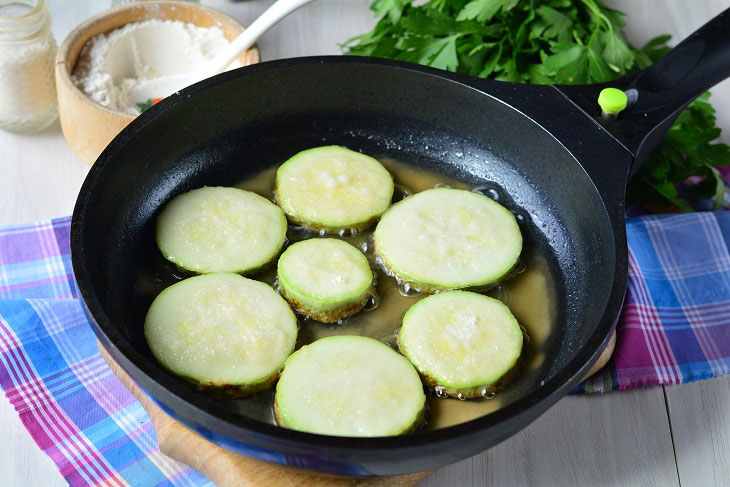 4. Fry the zucchini on both sides for 3-4 minutes. Salt and pepper to taste. The zucchini will become soft and golden. Place the fried vegetables on paper towels to remove excess oil.
Do not overcook the zucchini so that they do not become too soft.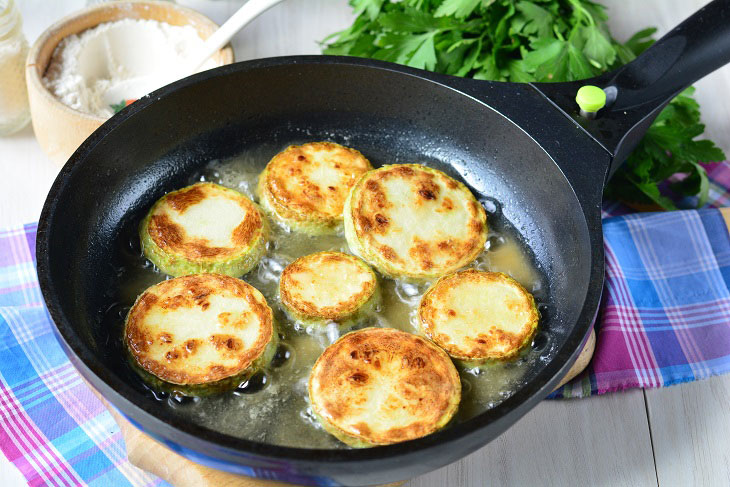 5. While the zucchini is cooling, prepare the sauce – mix the mayonnaise and squeeze the garlic to it through a press. Stir.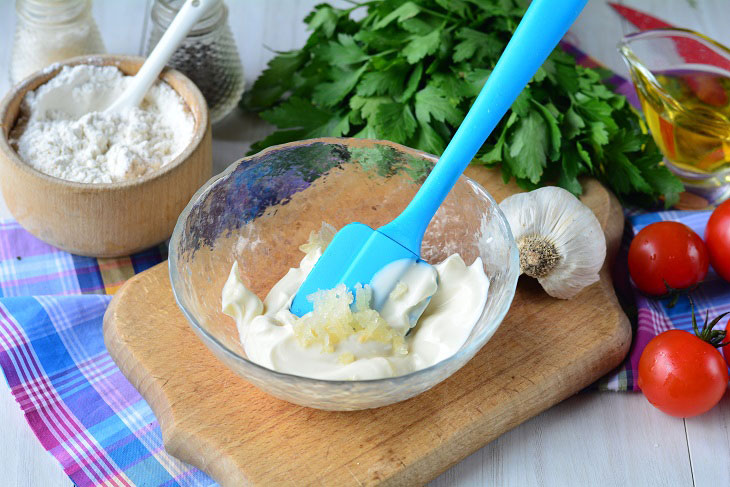 6. Put the zucchini on a plate, grease each circle with mayonnaise.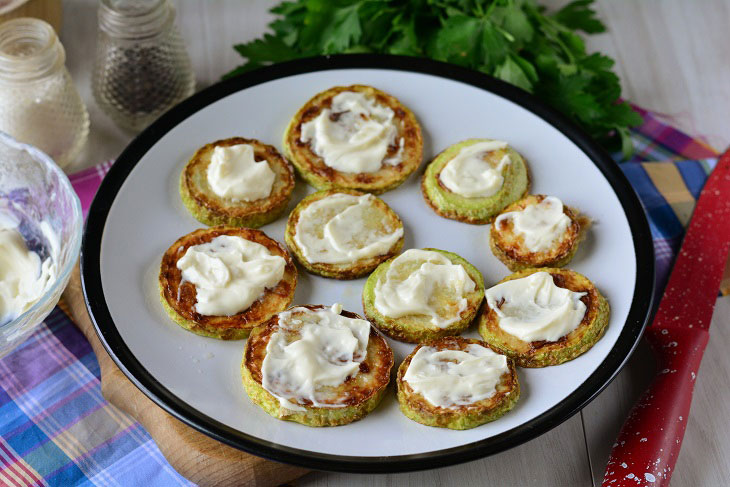 7. Then put sliced ​​​​tomatoes on the zucchini and decorate the appetizer with parsley leaves. If the tomatoes are very large, cut them into half rings.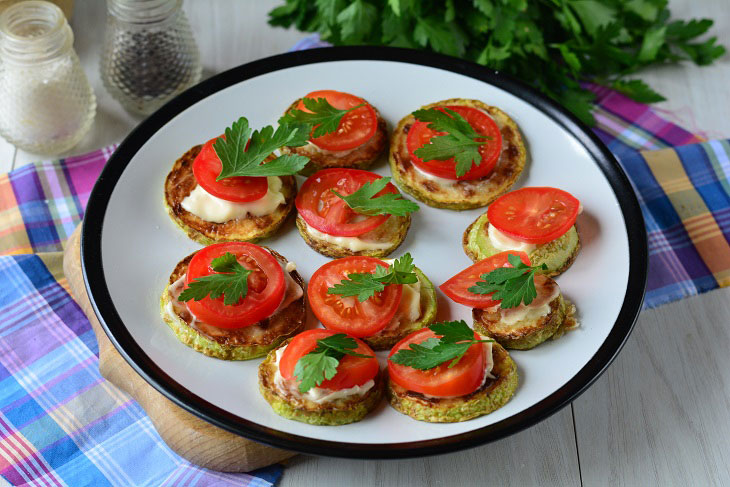 8. Put the finished snack in the refrigerator for 15-20 minutes, and then serve.
Such an appetizer will decorate your feast and family holiday. Despite the simplicity of preparing such a dish, zucchini are bright in taste and memorable.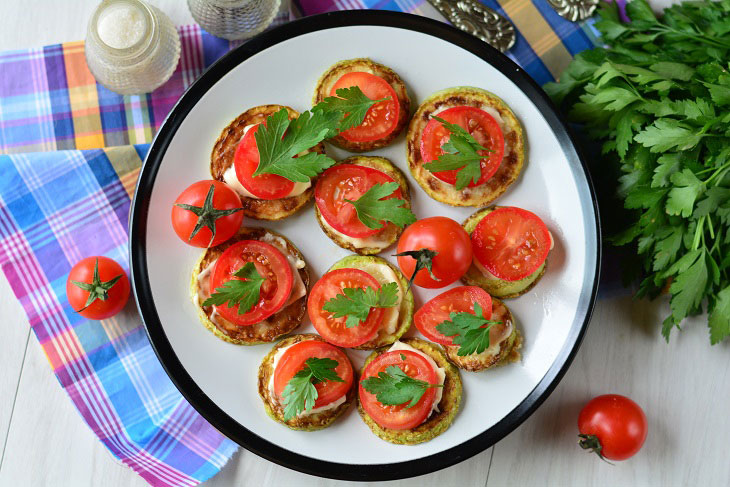 Bon appetit!